Phuket is a lush, forested and mountainous island located in the Andaman Sea and well known for its sandy beaches and lip-smacking food. Being geographically separate from the rest of Thailand and on the ancient trade route between China and India, Phuket has a number of cultures defining its cuisine today, including influences from central Thailand, China, Europe, Malay and India. Phuket Old Town probably has the best concentration of restaurants on the island where you can discover a number of really high quality, diverse and affordable restaurants. In this Phuket Old Town guide, I've outlined where to eat in Phuket Old Town on a budget.
The food that you will find in the Old Town of Phuket is a real mix- from sweet or spicy, ranging from stuffed pancakes, rice-based glutinous snacks, fish curries to various pork dishes, soupy noodles in pork broth, fried fish, prawns squid and oysters papaya salad, beef and sticky rice. The street food stalls are the best place to sample cheap and freshly prepared food, although there are many, many restaurants to choose from too. Apart from the emphasis on seafood, pork and beef as food staples, Phuket is also a vegetarian's delight. Visit during the Phuket Vegetarian festival to taste delightful food using sweet and sour fried tofu, mushrooms and rice noodles using a variety of fresh veg like baby corn, beans, carrots and snow peas.
WHERE TO EAT IN PHUKET OLD TOWN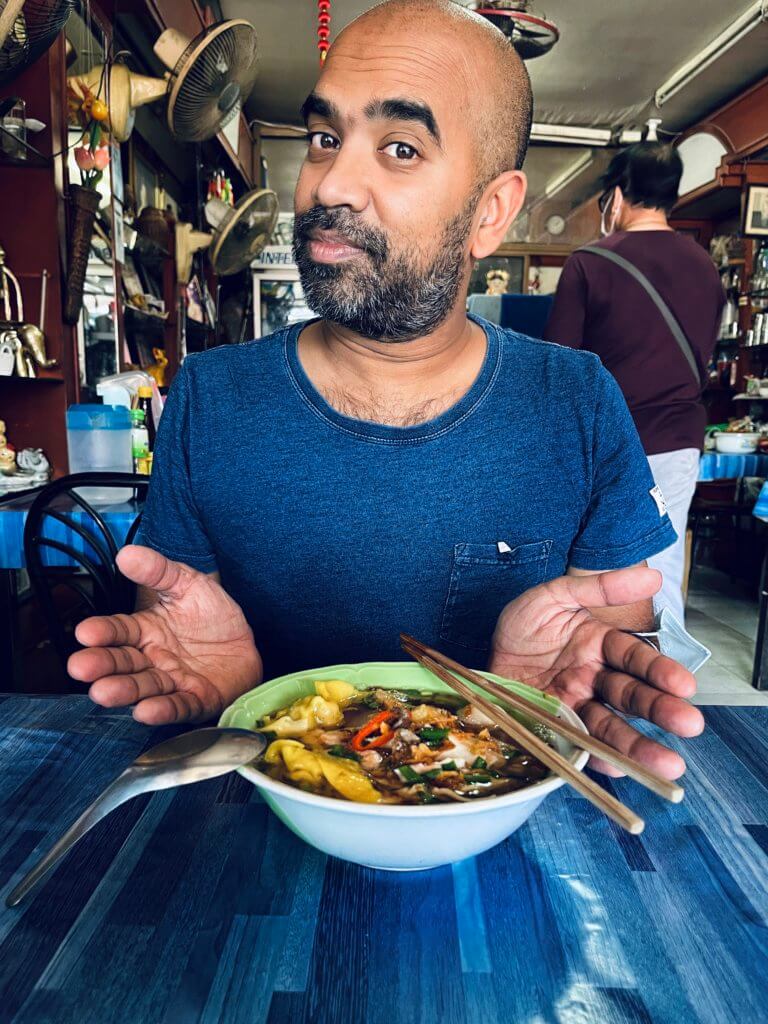 1. Ko Yoon Phuket Noodle
Mee Pad Hokkien or Stir-fried Hokkien Mee or Hokkien Noodles is one of the classic dishes that Chinese immigrants brought from the southern area of Fujian province to Phuket & the Khao Lak area. The Phuket version of this dish consists of thick yellow (egg) noodles fried with seafood, pork and vegetables.
Ko Yoon Phuket Noodle has the must-try Hokkien mee in town. I truly love the taste and especially the soup with full of dried shrimp flavour. The restaurant is small and intimate with a few tables so come early during the lunch hour to grab a seat. The place has an intimate retro vibe packed with eclectic items collected by the owner over the years. it feels very much dining in someone's living room.
2. Khun Jeed Yod Pak Restaurant
Another must visit restaurant that celebrates the fusion of Thai-Chinese food culture that is unique to Phuket is the Khun Jeed Yod Pak Restaurant. For the last 30 years they have specialised in serving a dish called Radna, a savoury noodles that comes with pork, beef, chicken or seafood but comes enveloped in this glorious gravy. It tastes even better with toppings, which include a variety of eggs, meats and fish, as well as dumplings. Appetisers, including pork and chicken satay, are also available. Their delicious Thai Coconut milk custard is a must if you love sweets.
3.Aroon Po Chana
Your food tour of Phuket Old Town has to include their iconic 'roti' joints. Run by Indian Muslim families for the last 60 years that originated from Southern India, their version of roti is more savoury and closer to the original Indian 'parotha' rather than the thinner, crispier tourist staple which is drenched in nutella or layered with bananas.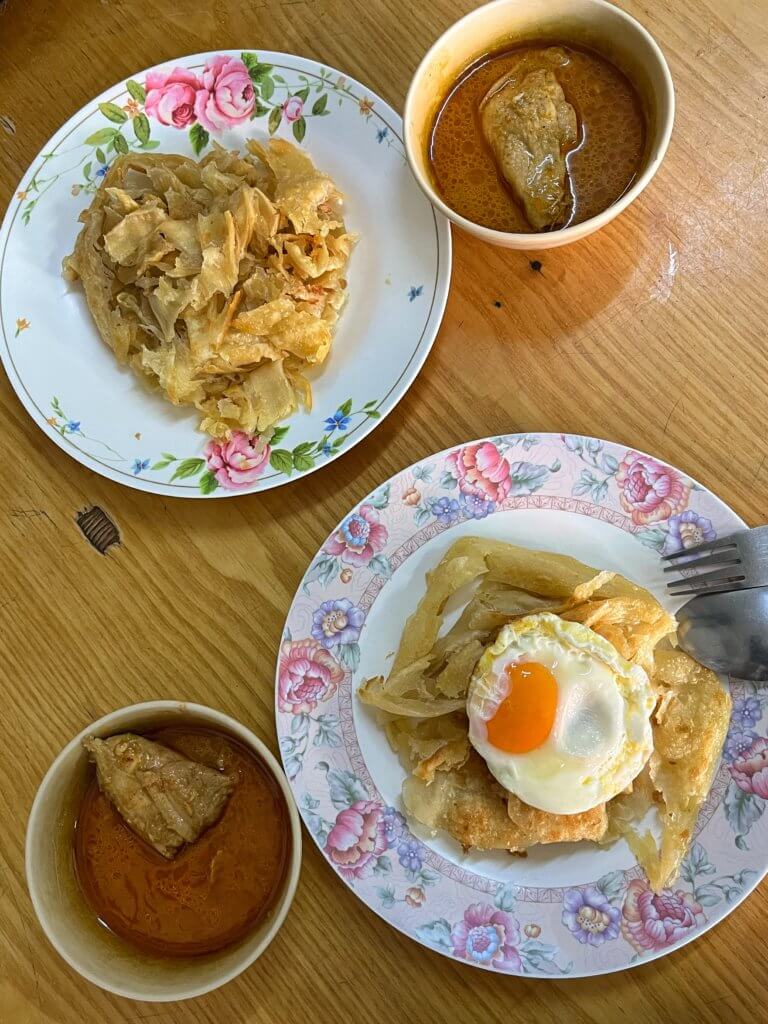 My go to roti joint is Aroon Po Chana on Thalang Road. It is a breakfast only joint so come early and ask for their roti which is traditionally served with a choice of chicken and beef curries in small bowls. My only issue , if I can complain, is their size of the bowls. You will need a couple of extra servings and roti before you can leave happy. Still, it so cheap to eat here. You will eat well in Phuket Old Town and will never spend much money. Tip: Order a cha-chuk – a unusual cross between tea and coffee. Like Hong Kong tea, this strong brew is made with condensed milk and sugar, but it's frothy from having been poured repeatedly between two decanters.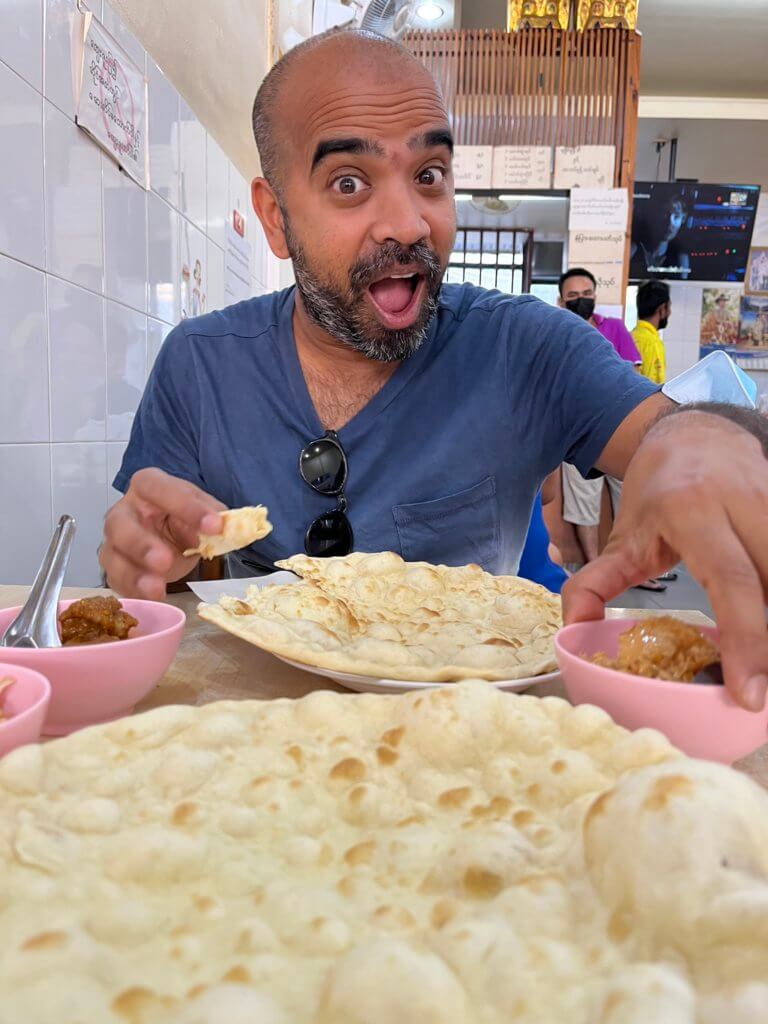 4.Mingalar Coffee Shop
This hidden little teashop , tucked away behind the market is another breakfast only joint that serves the local Burmese working community who form a sizeable minority here. Here, you can savour Burmese style chicken curry, crispy samosas accompanied by naan freshly prepared in their wood-fired tandoor which can be washed down with some sweet tea.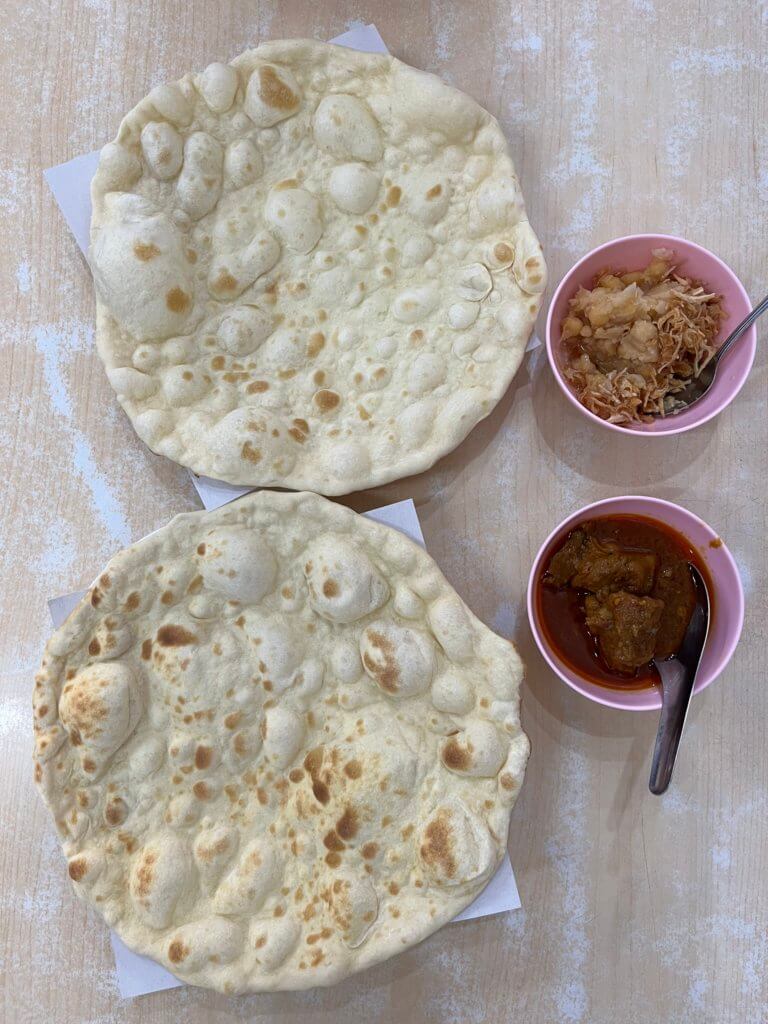 Starting at just 50 baht, this place is incredible in terms of value and quality-the only issue like Aroon is how many times you will want to order their curry and naan.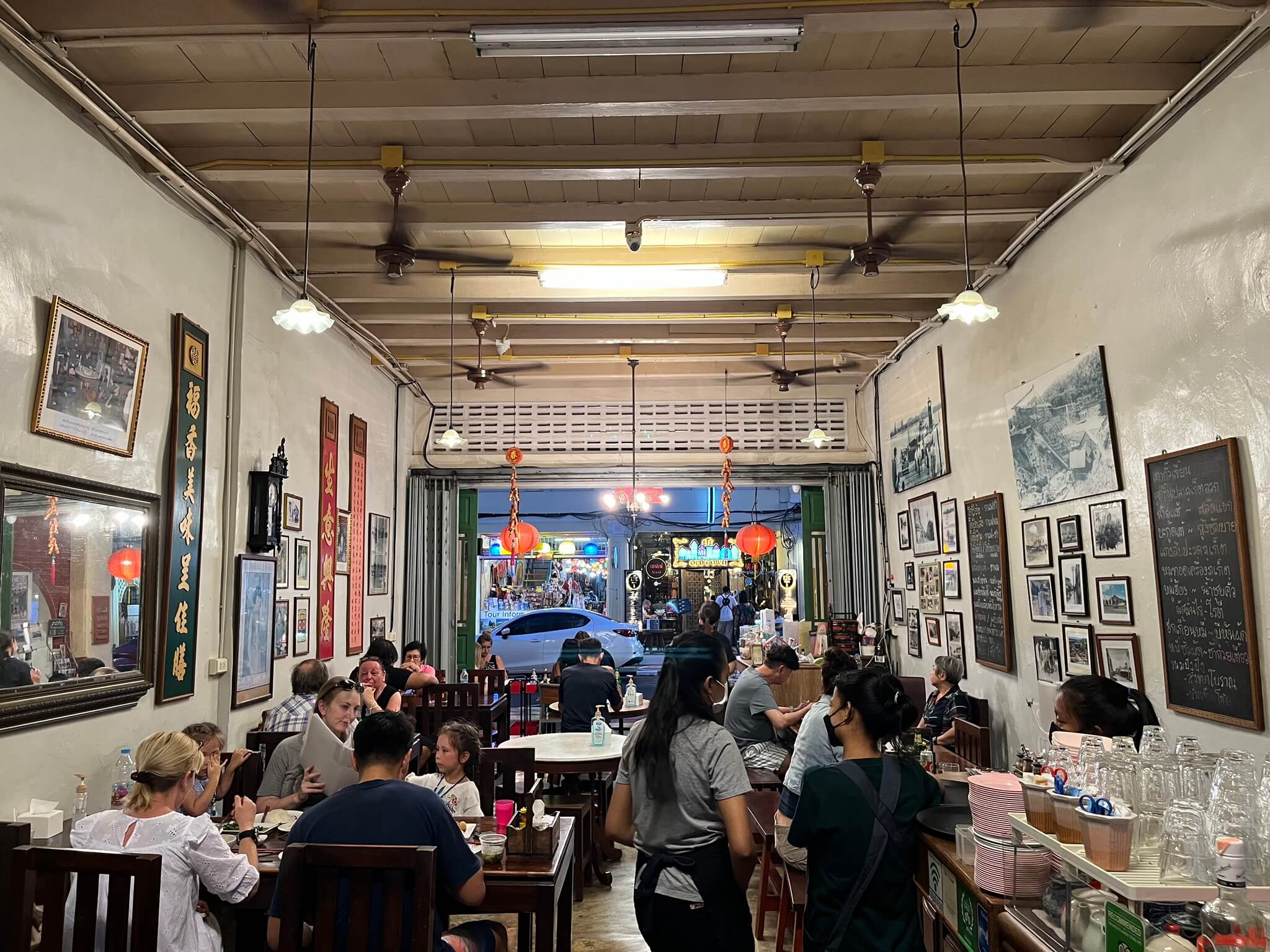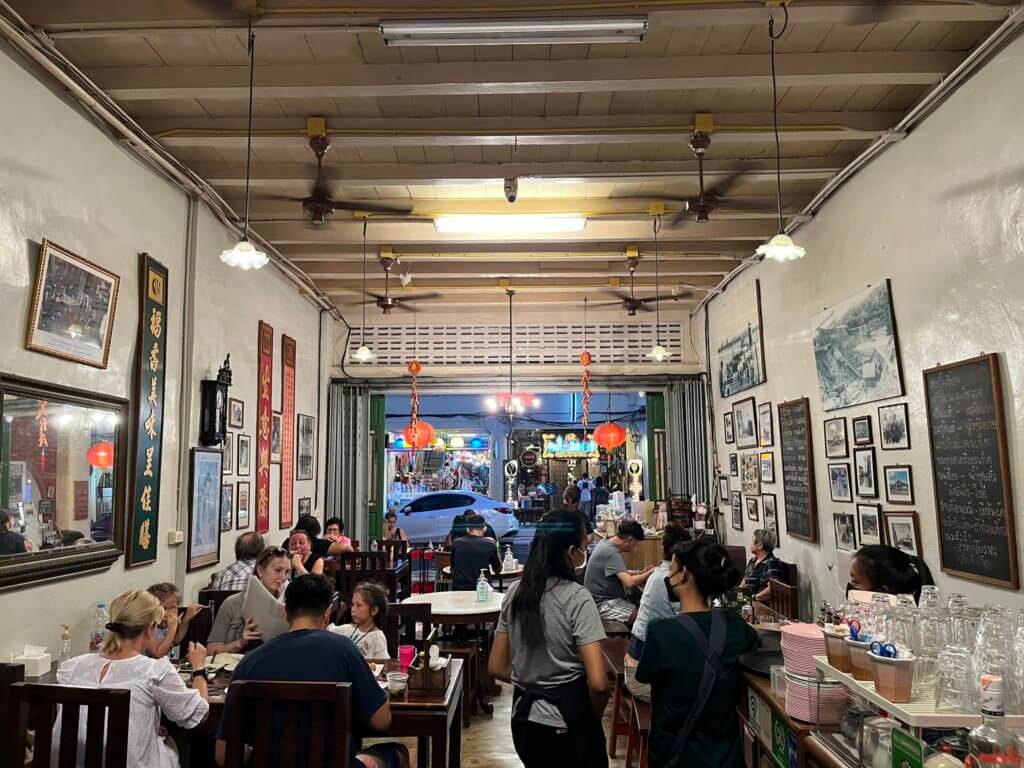 5.KOPITIAM By Wilai
Kopitam , filled with nostalgic photos from the island's past is a lovely place to dine, serving classic Peranakan dishes-Massaman curry is a winner but their best dish is their Hokkien Mee.
6. Boonrat Dim Sum
Another classic breakfast institution in Phuket Old Town is Boonrat Dim Sum which has been serving dim sums to locals since 1917. The dim sums here are based on original recipes from Guangzhou. You get an incredible spread of dim sums here with all kinds of incredible fillings- from steamed pork to crab and shrimp dumplings to seaweed-wrapped minced pork-spoilt for choice. They serve from 6-10am so come here very early if you want to get a seat.
7. Jia Chai Vegetarian Restaurant
There's an incredible choice of vegan/vegetarian restaurants in Phuket Old Town but this was by far my favourite. They offer a buffet where you can choose 3-4 items from just 50 baht- best value meal in Phuket. They offer a really delicious veg massaman curry ( with seitan) Ka Prao Hed-mushrooms stir fried with holy basil and also rare dishes like Gaeng Kee Lek-a curry made from the kee lek leaves.
8. Vegetarian restaurant: Nong J
Delicious food and incredible value, with all dishes around the 50 baht mark. From their fried 'chicken' to duck in curry paste, green curry, papaya som tam salad and dumplings -everything you will eat here is delicious. Another really good option for vegans and vegetarians visiting Phuket.
Also check out Mark Wiens ( my go to source for understanding Thailand's food culture ) excellent guide to the best places to eat and drink in Phuket Old Town.
9. Ding Li Ji Fan
This is a fabulous joint if you want to try dishes like Khao Man Gai, the Thai variation of Hainanese chicken rice and also dishes like Bak Kut Teh soup which literally translates as Pork Rib Tea is a flavourful broth infused with herbs such as Dong Quai, cinnamon & star anis.
10. Little Open Cafe- Thai and European Food
Fast, tasty and really affordable with traditional dishes like Pad Thai, Tom Yum Soup and Pad Prik Pao ( chicken stir fried in holy basil ) starting from 50 baht and located in the heart of the market, this was our go to joint if we were looking for a quick and affordable lunch or dinner.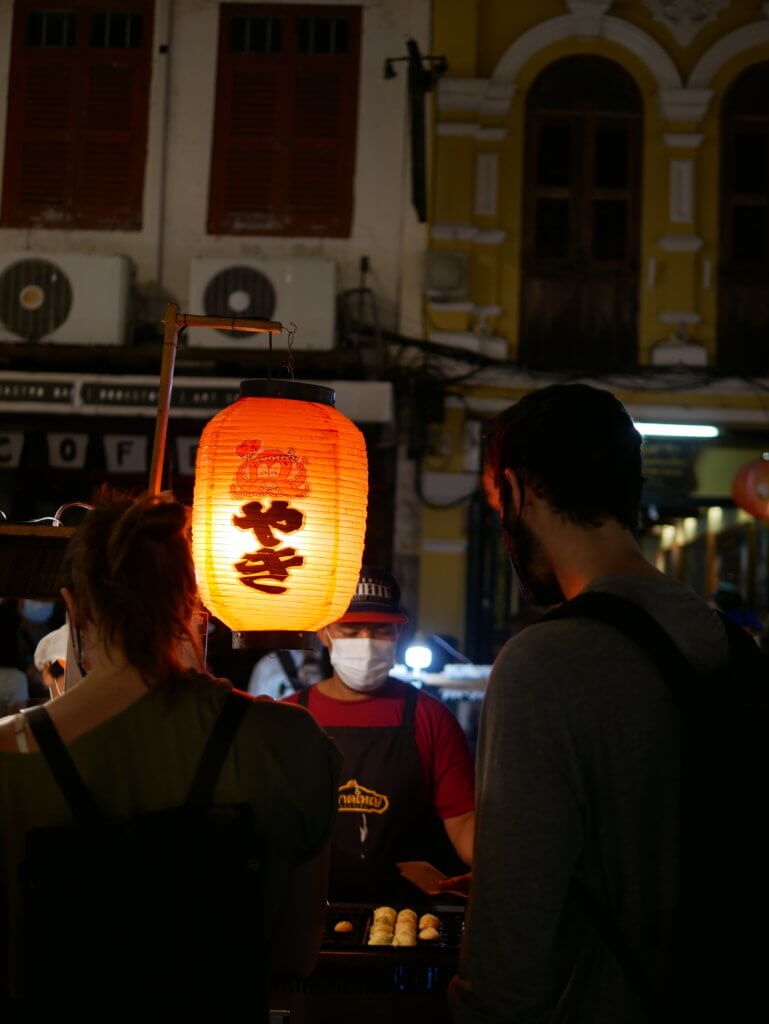 Bonus tip: Visit the Sunday Walking Street Market
Last but not least, on Sunday, pay a visit to the bustling Sunday Walking Street Market ( Lard Yai Market ) along Phuket Town's Thalang Road is a must. It takes place between 4 and 10pm and you'll find some fantastic local streetfood vendors , discover local handicrafts plus find a colourful array of street musicians of all ages ( and quality ) performing.
WHERE TO DRINK
11. The Shelter Coffee Phuket
This was my favourite coffee shop to work from- fantastic coffee, delicious nourishing fruit bowls & a very cozy, relaxed vibe. WiFi is great and there are a few plug points. There's a lovely hidden back garden you can chill with a book if you need a break from the screen
12. Sri the shophouse
This Korean & Japanese minimal cafe style in a quiet lane in the heart of the old town is a great place for coffee, good place to work from plus they serve delicious cakes.
AFTER HOURS
Old Town of Phuket doesn't have a nightlife scene like in other parts of the island. There are however a few really nice bars worth checking out if you are staying in the area.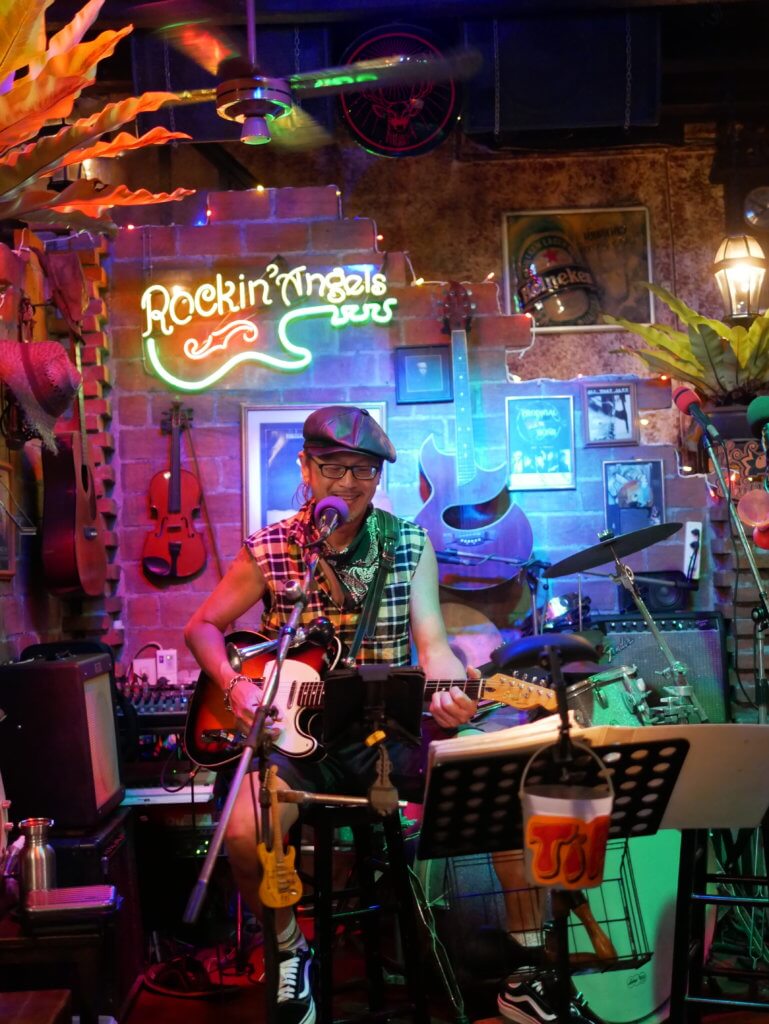 13. Rockin Angels Blues Cafe & Band
This is really nice place for live music and moderately priced local beers.
14. Anfield Cafe
This was our favourite bar for live music ( not for any other sentimental reasons !)
15. Good Vibes P-Town
This was probably the bar we liked most in Phuket Old Town- very chilled out electronica, lo-fi beats , lovely atmosphere in line with their name and great cocktails too.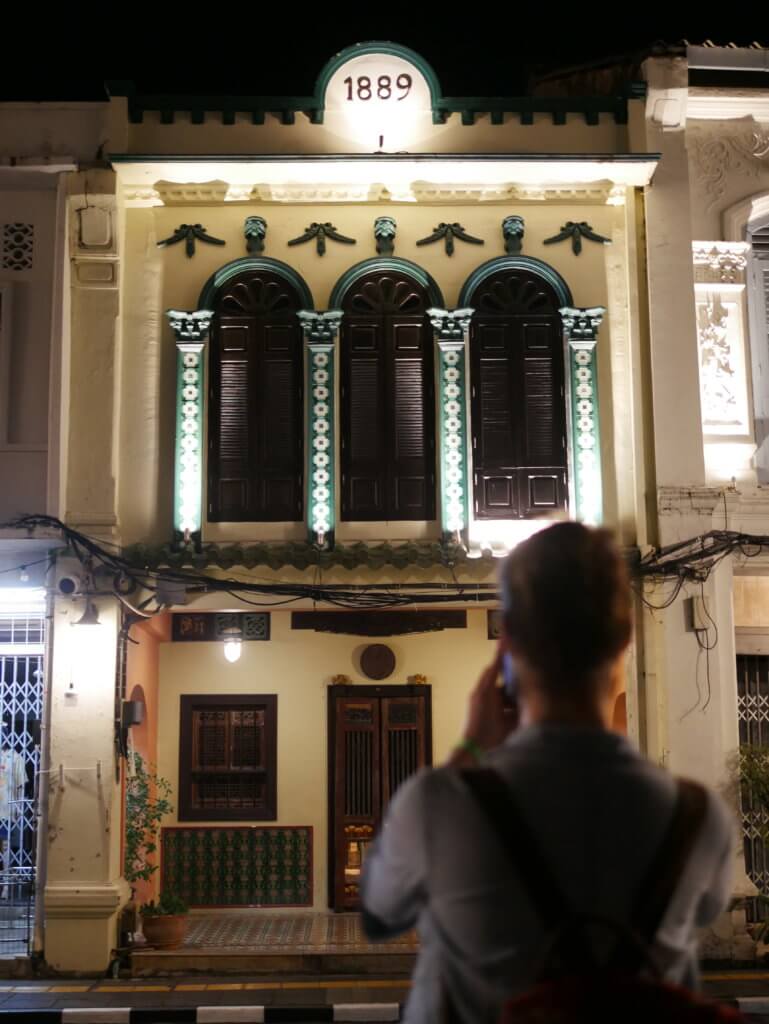 Disclaimer
This article was supported by Fan Club Thailand but as always, the opinions and photos in the article are all my own. This post was produced in collaboration with the Tourism Authority of Thailand (TAT) and Traverse Events.