By Amy Woodyatt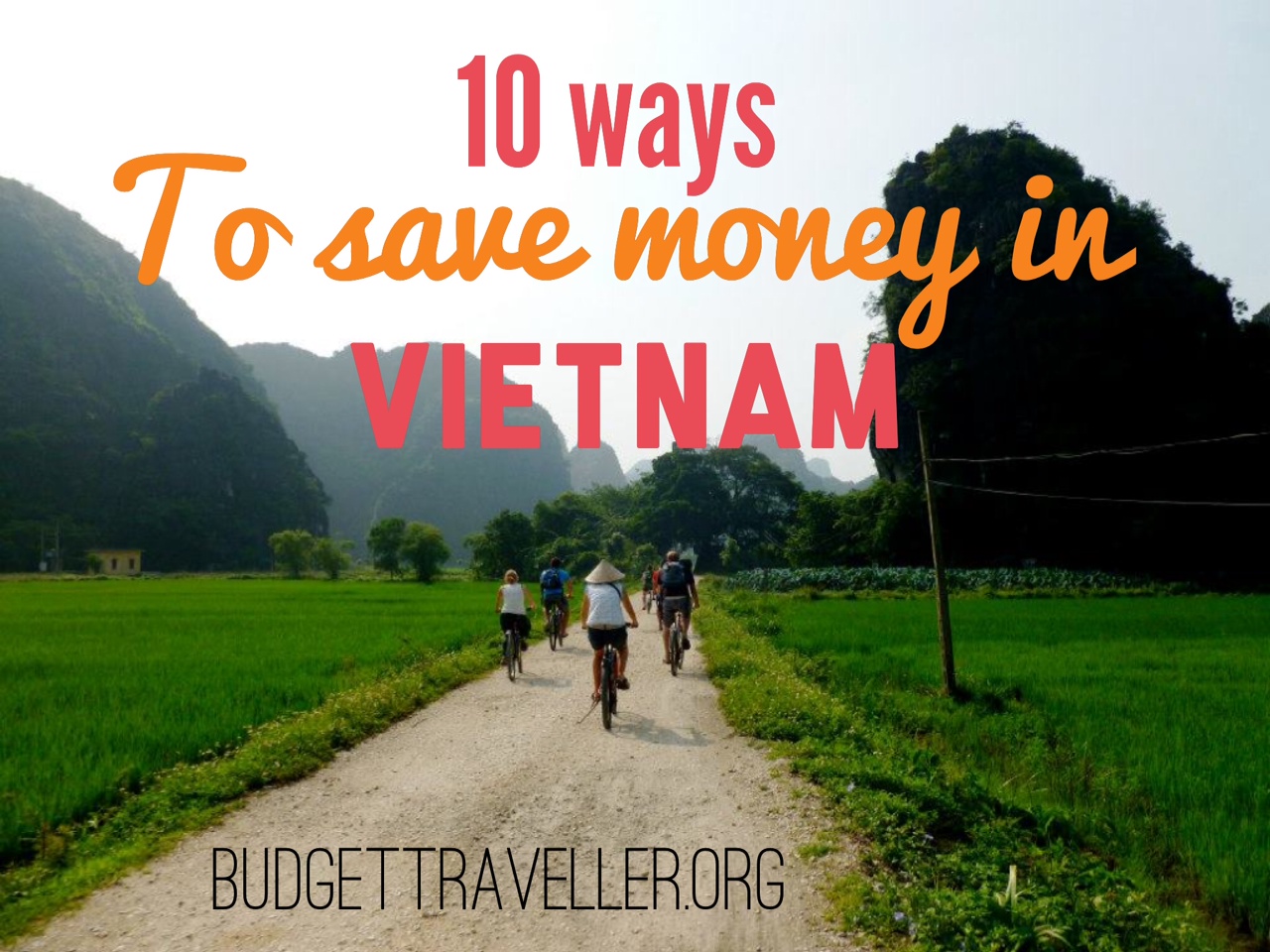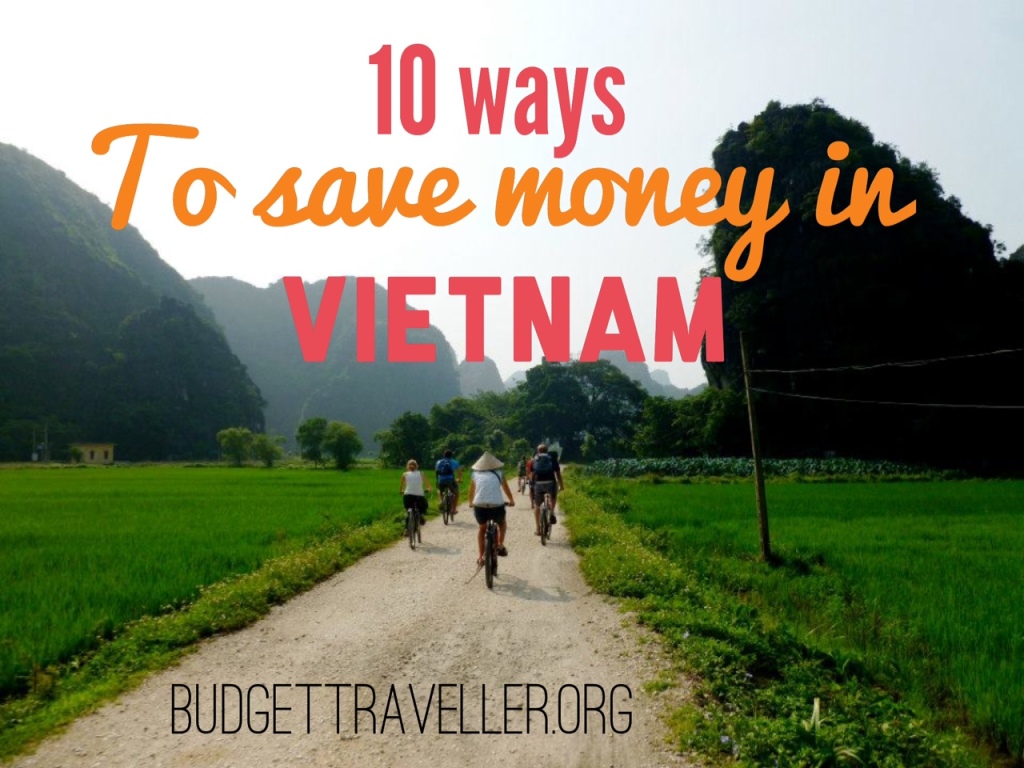 I started my love affair with Vietnam in the way that most tourists do – in my living room, watching an old war movie. The lush green forests and wild jungles, the endless rice terraces, the huge rivers… I had to go. Vietnam is a beautiful and fascinating country, and despite it's surge in popularity as a tourist destination in recent years it can still be seen on a budget. Here are my tips for ways to save money and enjoy Vietnam…
1. Eat local food
Over the past decade Vietnam has become a hugely popular tourist destination, and as a consequence of this a lot of restaurants and hostels serve Western food (at Western prices!) – however, this is rarely worth the extra cost, as local street food is cheap, delicious, and cooked in front of you! Eating at street stalls is not only one of the best ways to munch and slurp your way through the many different kinds of Vietnamese cuisine, but is also incredibly cheap. Pho, a tasty rice noodle broth, costs just under $2 (£1.23) a bowl, and rice dishes are similarly priced. Local restaurants are generally only marginally more expensive, charging under $5 (around £3) for similar dishes.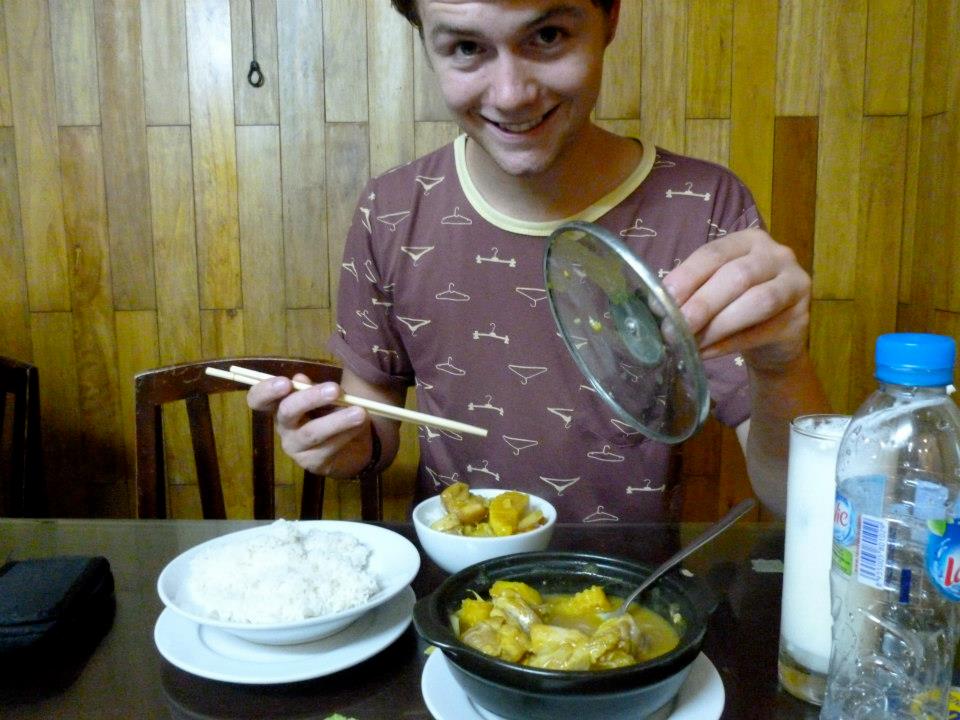 Alternatively, if you want a truly authentic Vietnamese dining experience I recommend having a peek at Withlocals It's a site that connects local hosts with hungry travellers – each host offers a different package, and experiences range from eating a meal with a local family to being taught how to cook the dishes yourself. Prices range from $5-50, but also bear in mind that some of the hosts are offering activities as well as a hearty feast!
2. Drink bia hoi
Beer in South East Asia is cheap, with a bottle of Tiger or Saigon costing around $1. However, a cheaper alternative is bia hoi. Often dubbed 'cheapest beer in the world', bia hoi is a draught beer freshly brewed on the day and served from a keg or container on the side of the street. Nothing beats sitting on a street corner littered with plastic chairs and locals, sipping this cheap and cheerful beer.. and at around 15-30 cents (that's just under 10 pence… yes, PENCE), even the risk of getting a particularly watery batch is worth it. A great place to sit and watch the world go by.
3. Refine the art of haggling
In recent years, Vietnam has earned itself a notorious reputation amongst tourists. Although everybody's travelling experiences are different and many leave the country with nothing but good things to say about Vietnam, there are always stories to be heard of 'Vietscam' – locals ripping tourists off and using intimidation to get money from them. Selling tactics in Vietnam tend to be more confrontational and aggressive than the ones used in other South East Asian countries (like, say, Thailand). As a tourist, expect to be charged more than the item or service is worth, but don't take it personally or feel intimidated – instead, be confident and find ways of haggling. In some cases, learning a little Vietnamese can work well, or simply knowing when to walk away from a sale.
4. Refine the art of sightseeing
Many of Vietnam's tourist hotspots are its beautiful natural scenery – this can make a day's sightseeing cheap, if not free. Exploring an area on your own can be a lot cheaper than paying for an organised tour – renting a bike is ludicrously cheap (bike rental in Hoi An costs just $1 a day!), and local buses between cities and towns cost next to nothing, although don't expect the journey to be comfortable. A lot of Vietnamese cities are also very walkable (Hanoi in particular), and are full of free temples and museums. Pick up a map from your hostel and take yourself on a walking tour around the city.
5. Be smart with your cash.
Again, some travellers go through Vietnam meeting only kind and genuine locals, but unfortunately there have been numerous reports of tourists having difficulty dealing with cash – one of the most common problems seems to be shop owners refusing to give tourists correct change. Pay with cash as close to exact change as possible. Also be wary of ATM charges, as these can unknowingly rack up.
6. When making long journeys, sleep on the overnight bus
If you are travelling extensively through Vietnam, you will almost certainly be making some looooong journeys – we're talking 8 hours plus. Save on a hostel by taking these journeys at night – this is not a guaranteed good night's sleep, but you can always spend the next day dozing at the beach or taking it easy wandering around your next destination.
I recommend using Bookaway for planning Bus trips in Vietnam.
7. Book your rooms tactically
If you are travelling as a couple, or just as a group of friends, most guest houses charge per room and not per person – in some cases it can be just as cheap to stay in a private room as it is to stay in a dorm, so compare sleeping options and prices before booking the first hostel you come across. Teaming up with fellow travellers heading in the same direction should also be considered, as it is always easier to negotiate the price of rooms and transport when there are a few of you.
8. Booking in advance can also have its advantages
Some hostels and guesthouses offer free bus stop or train station pick up, which can save money on taxis. Be sure to check this when you book!
9. Shop around for tours
A lot of Vietnam can be explored without much guidance for free, but there are some parts of the country that you might want to explore with an organised tour. A tour of Ha Long Bay which includes a night's sleep on a junk boat is definitely worth the extra spend. These excursions are geared towards tourists, and this is reflected in the price tag, but it is worth mentioning that not all tours are the same. Shop around and make sure you ask what is included in the price – is food, drink and transport included? Or are you paying for something you don't want? Ha Long Bay tours range from the cheaper 1 day and 1 night on a junk boat option, to a full throttle 5 day booze cruise with watersports and added extras. There are huge variations in price and type of tour, and prices start at around £25 and get increasingly expensive from there. Visit a few hostels, websites and agencies before you settle on a tour, and see what else is on offer!
10. Get clothes made for you
Tailored suits and skirts can be made to order for a fraction of what you would pay in Europe. Not really a way to save money while you're travelling, but for those forward thinking scrimpers and savers, a great opportunity to invest in some serious threads for the return home.