One of my takeaways from the pandemic was that you don't have to go far or try too hard to find adventure, even in your own city. Our long 'mental health' walks allowed us to discover parts of Berlin we normally would have never have visited. We never used our smartphones or followed a set path and destination on these walks. This element of unpredictability definitely turned the simplest trips into an adventure. As we quickly transitioned from the pandemic back to the almost normal life, I wanted to retain that sense of misadventure in my future travel adventures. The exhaustive nature of researching a destination before travelling to a destination and going through countless reviews can sometimes suck all the magic and joy away from travel. I tried to remember travels from my pre social media days where I would be walking around a city, trying to read a map, asking locals for directions. Sometimes I would dip into my guidebook for tips and recommendations. Yes. Those trips involved getting lost. A lot. Somehow in the process of getting lost, we would find ourselves in some random beautiful bar or diner.
Sometimes, getting lost would not be fun. Sometimes the guidebook tips would not be overrun with other backpackers or closed down. However, those are the high and lows of travel. Just like with most experiences in life. When I look back at all these trips, I never remember the pain of all those bad experiences. They are now scars I proudly wear. I do remember the faces of people I met. Some of whom I am still in contact with. Some of whom I have never met or likely to meet again.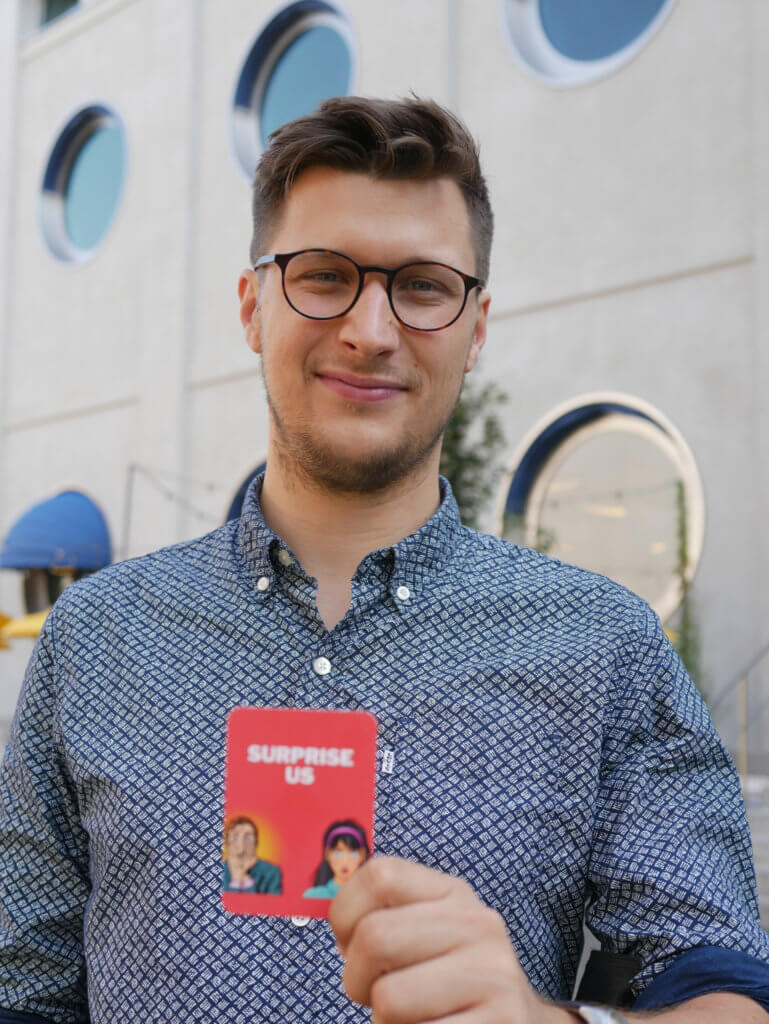 I started thinking of how I could recreate the magic of trips of old, where I would meet locals, get lost, make mistakes. How about a holiday which involved no guidebook and also no social media? A trip where you depending entirely on tips from locals. The biggest challenge for me personally is that I find it hard to muster the courage to speak to locals, an issue I think many of us face. To make it easier, I came up with the idea of a deck of cards. Each card would have a question to some of the most important questions on holiday like 'Where is a good place for coffee?" or 'A bar popular with locals' or ' Best place for ice-cream' Cards would be divided into 6 sections: Morning, Lunch, Afternoon, Evening, Dinner and Night. Questions would be tailored towards the time of the day. By introducing an element of gamification, I hoped that it would help break the ice easier with locals. Now I had the idea, the challenge was to design and create the cards plus to find a destination where I could test the idea.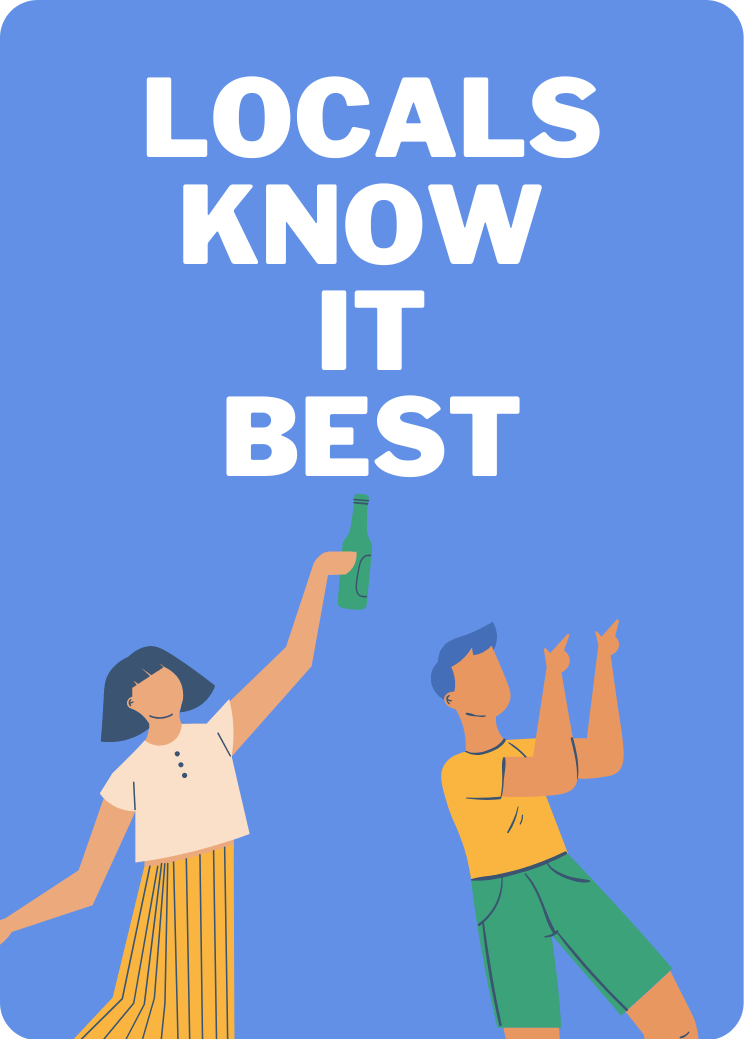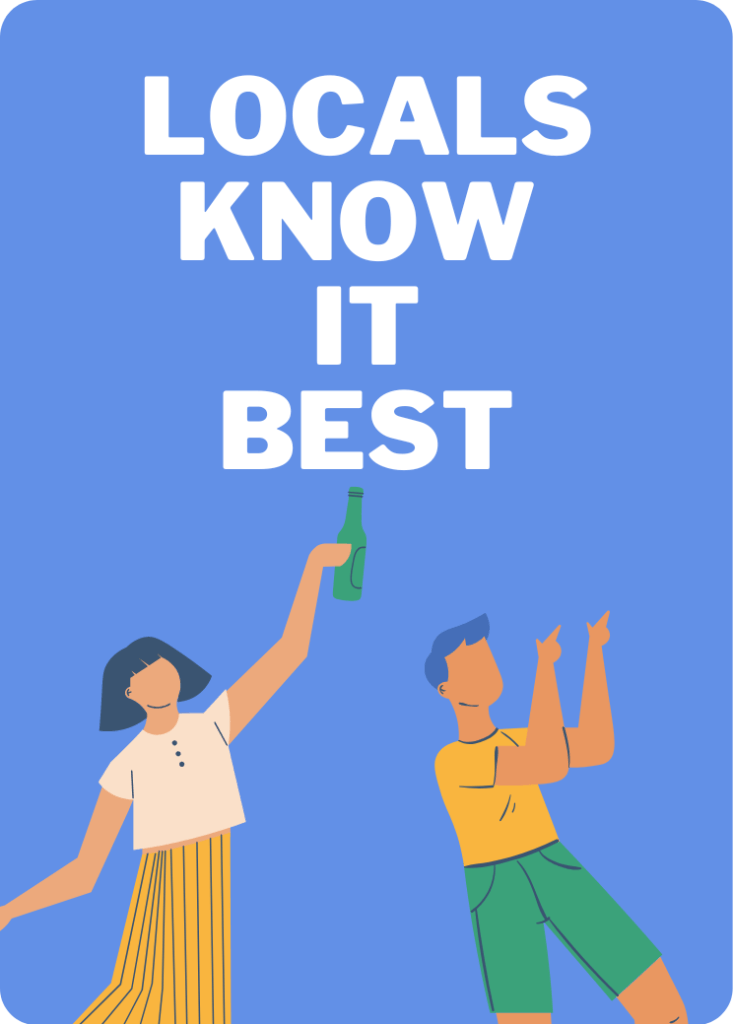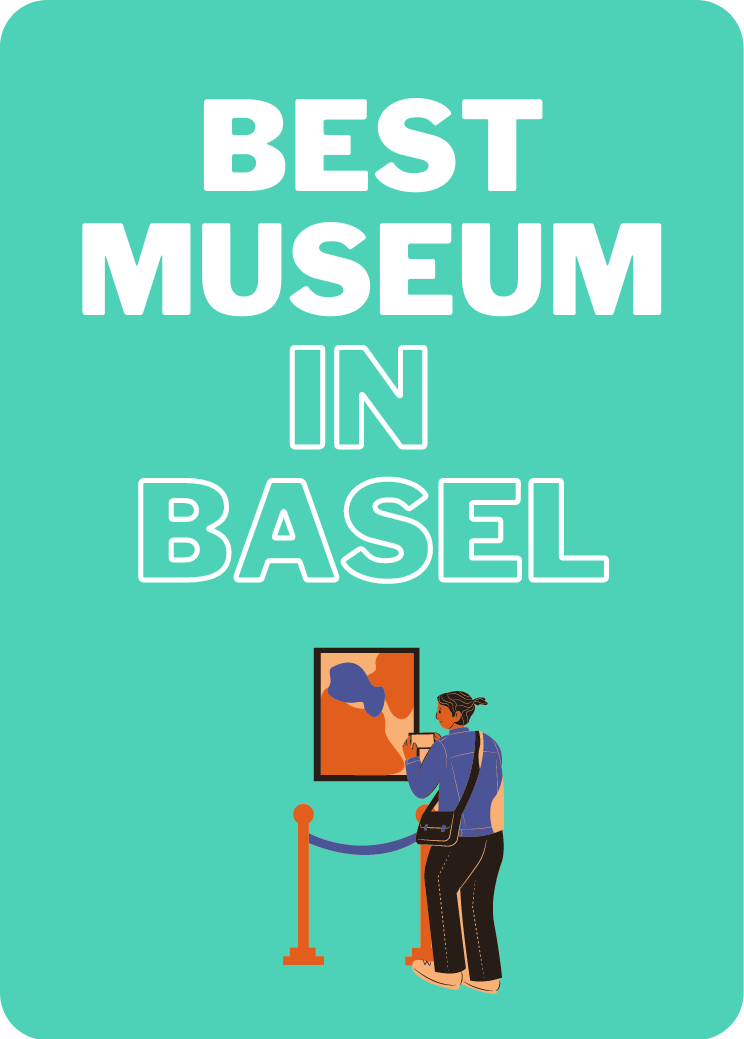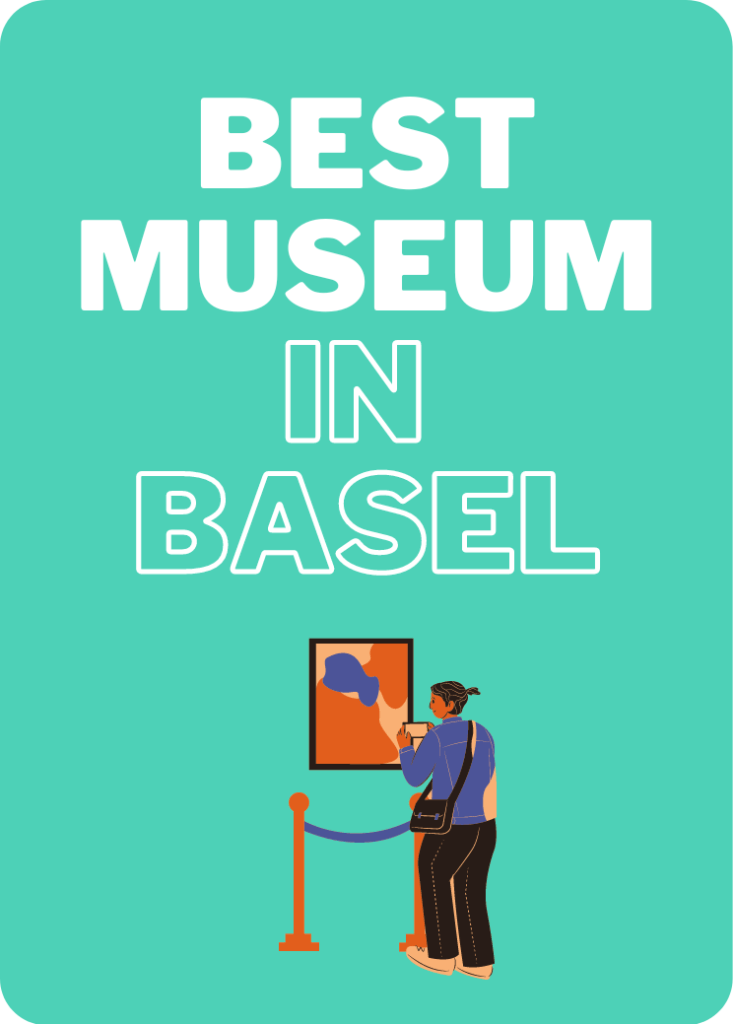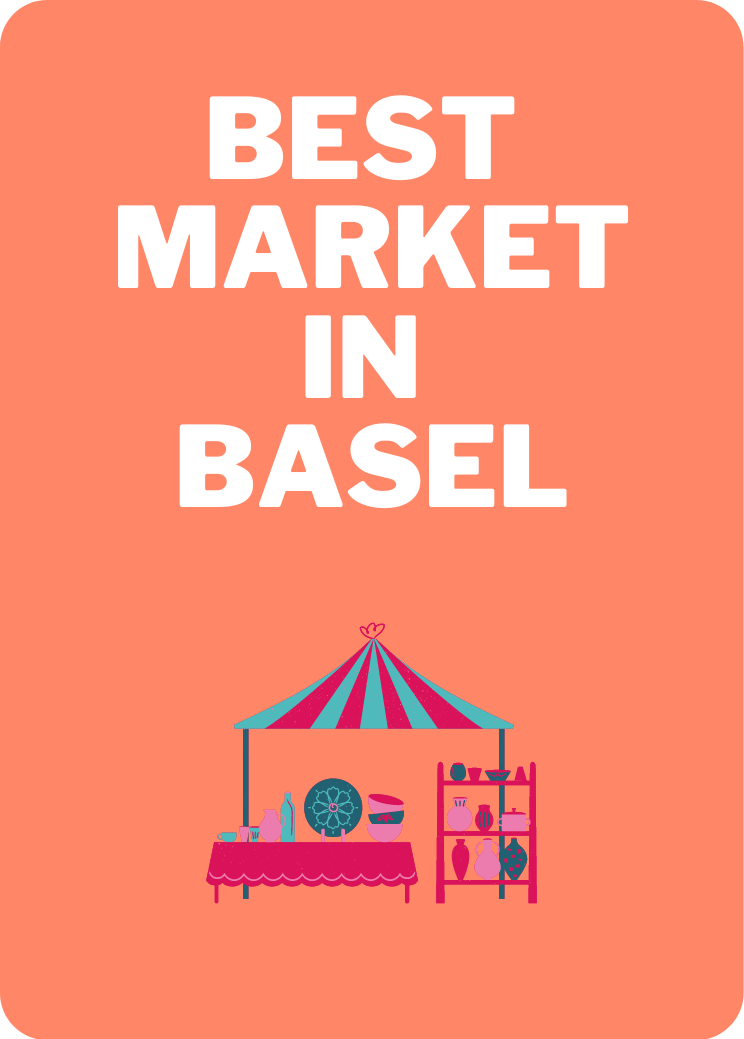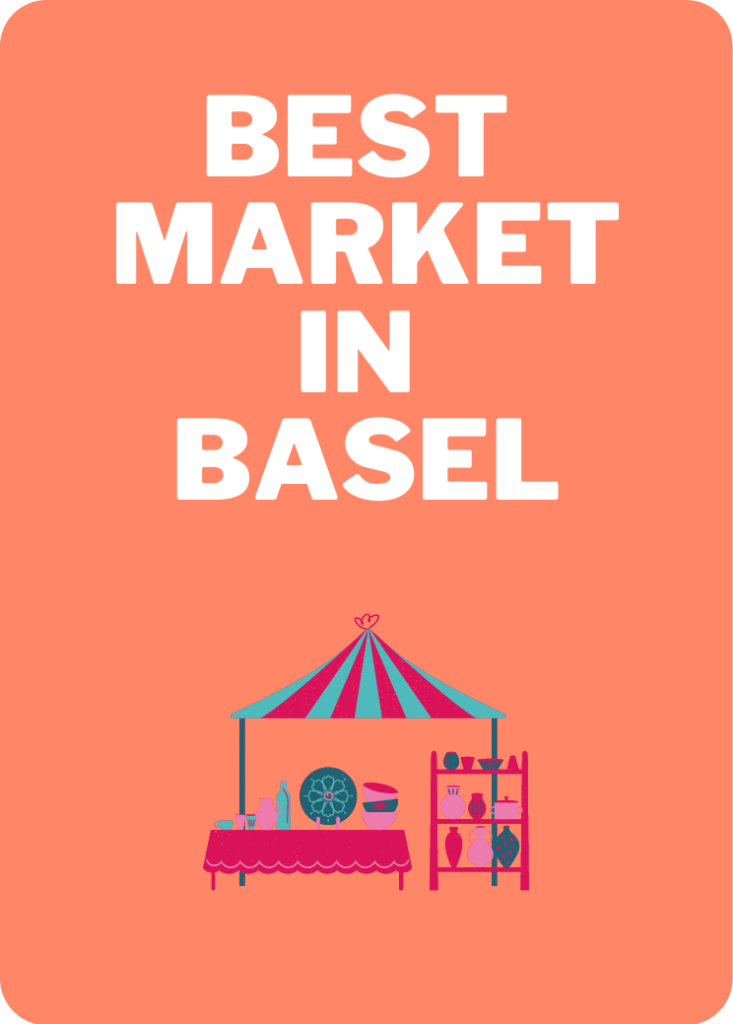 I've always secretly fantasized being a graphic designer and thanks to Canva, they's made that almost a reality. It is so easy to create a professional looking poster or cover for ebook.
View this post on Instagram
I decided to dig deep into Canva and after playing around with a few ideas for templates for the card game, I came up with something that looked fun and professional. The initial feedback was fantastic from friends and after printing a dummy set, I realised I could, almost anyone with a sense of design and imagination, could come with their own set of playing cards.
The last important part of the challenge was picking a city. Initially I thought it could be quite fun to do the challenge in my home town Berlin. However, having lived here for almost 6 years, I already knew the city well. I would have to find a city which I had absolutely no clue about. It was around then, this was around April 2021, I had a chance conversation with the head of PR from Basel Tourismus, Isidora Rudolph. I had never been to Basel and also hardly explored Switzerland. The city was a complete unknown quantity to me other than the fact that it was a city by the Rhine. It was also a city where France, Germany and Switzerland met. A meeting point of many cultures and influences, Basel sounded like the ideal city to meet locals and launch the idea.
How did it go?
We visited Basel at the peak of summer on a late weekend in July. We arrived late afternoon and checked into the very stylish Silo Hostel. Basel is one of the more expensive cities of Europe so we wanted to find a balance between comfort, price and quality and this hostel represented that. We could have stayed at a canalside hotel which was close in price but for me one of the best reasons to stay in a hostel is that you tend to get better tips from staff there which was crucial for the success of our challenge.
Day 1
Klara
Tip: Discovered randomly while walking through Kleinbasel
On the first evening we wondered through Kleinbasel. Aimlessly wondering through a new town with no destination in mind is one of life's greatest pleasures. It also gives you a chance to get your bearings, checkout the neighbourhood. We popped briefly into Agarwal , a huge Indian Grocery food store where I picked up some nice Indian snacks- you can take the Indian out of India but not the Indian out of.… Around the corner of Agarwal, we discovered Klara, a food court that serves culinary treats from Japan, Argentina, Thailand and Africa. It looked busy, nice ambience so we gave the place a go. We ordered a delicious Pad Thai from Bug a Thai, one of the food vendors in the court. While ordering the good we got speaking to the lady who was serving us, Jasmine. We mentioned we were from Berlin and visiting Basel for the first time. I then explained to her the nature of our trip and our challenge to discover Basel with the help of our card game. She was curious to see the cards, so we showed them to her. I then asked her to draw a card from the evening section. The card she drew?
'My favourite place for sunset.' Her eyes kind of lit up when she drew the card. ' Sunsets are my favourite thing!' She recommended we go to the Dreirosenbrucke for sunset. Since it was already quite late and past sunset, we saved that tip for later.
Day 2
The Kunstmuseum Basel
Card: My favourite museum in Basel
Tip from Christian, manager of Silo Hostel.
Our first tip of the day was from Christian the hostel manager. He recommended us to visit the Kunstmuseum Basel which houses the second largest public art collection in Switzerland, after the Kunsthaus Zürich and is listed as a heritage site of national significance.Its lineage extends back to the Amerbach Cabinet, which included a collection of works by Hans Holbein purchased by the city of Basel and the University of Basel in 1661, which made it the first municipally owned and therefore open to the public museum in the world. Its collection is distinguished by an impressively wide historic span, from the early 15th century up to the immediate present. Its various areas of emphasis give it international standing as one of the most significant museums of its kind. These encompass: paintings and drawings by artists active in the Upper Rhine region between 1400 and 1600, and on the art of the 19th to 21st centuries.
Basel Munster
Tip: Random stumble!
From Kunstmuseum you can see the dreamy spires of Basel Munster so we decided to go for a wonder to explore. Together with the Mittlere Brücke, the Basler Münster (Cathedral) is probably the most famous landmark in Basel. With its red sandstone walls, colourful roof tiles and twin towers, no other building adorns the cityscape of Basel like the Cathedral. The former episcopal church, was built between the years 1019 and 1500 in the Romantic and Gothic styles. The crypt, the chancel, the tomb of Erasmus of Rotterdam, the Gallus gate and the two cloisters are witness to a fascinating tale of construction over a period of several centuries. The piazza in which the Cathedral stands is today a popular meeting place and is often used for concerts and events.
The Pfalz
At the back of the Munster, we discover the Pfalz , a terrace that offering wonderful views over the Rhine and one of the most popular viewpoints in the city. From the terrace we could see the 'Reaction Ferries' crossing the Rhine river and since we needed to hop to Kleinbasel, we decided to try them out.

Hop on the ferry
We hopped on 1 of 4 passenger ferries that cross the Rhine from one bank to the other, using nothing but a steel cable and the current of the water. Popular with locals and tourists like, it is a quick and convenient way of crossing the river and offers a fantastic perspective of the city and definitely worth checking out.
Lunch: Restaurant Weinbar Sonne
Tip from Tanya
We stopped by at the newsagent on Rheingasse and got talking to Tanya who manages the place. For lunch she recommended we try Restaurant Weinbar Sonne just across from her for their delicious pizzas. We tried their salami pizza with a pint of beer- really tasty and also well priced for Basel.
Gelateria Di Berna
Card: My favourite ice-cream place
Tip from Sacha Kohler, Kunstmuseum Basel
Inspired by their camping holidays in Italy along the coast between Livorno and Follonica, three brothers-Michael, David and Hansmartin started Gelateria Di Berna in Bern where their Italian style gelato ice-cream using organic local products and eccentric flavours ( think ginger/fruit mixes and the like) are all the rage. After Zurich, they just opened a new outpost in Basel when we travelled there in August 2021. We never would have known about Gelataria Di Berna unless we got chatting to Sacha Kohler at the Kunstmuseum Basel who drew the 'My favourite Ice cream' card. Turns out Sacha is quite a gelato afficionado. Gelateria Di Berna was really lovely ice-cream and perfect for the weather. ( 30c at the end of July )
He later emailed me to say that he also wanted recommend 1 more favourite places which we sadly did not have time for – Eisuru Glace in the local Markthalle ( Especially their black sesame flavour )
Buvette DreiRosen
After the ice-cream at Gelateria Di Berna, we got a little lost about what to do next. It was a really hot afternoon. The locals were all gathered by the banks of Kleinbasel, going for a dip in the river to cool down. Looked like a lot of fun but we didn't have our swimsuits with us. I contemplated asking a local for some help but then noticed all of them queuing at one of these wee makeshift container units that had seen all along the riverbank here. We decided to queue at one of these container units by the Dreirosenbrucke- Buvette DreiRosen. These buvettes – part bar/ part restaurant , I later discovered are a classic feature of summer in Basel. There are also the cheapest place for a beer in Basel and it is not cheap here so if you are looking for a nice cold cheap beer with a view, come here.
Schall and Rauch.
After our beer, we continued our walk down Kleinbasel back to the old town. We gravitated back to Rheingasse to a bar we had spotted next to Restaurant Weinbar Sonne called Schall and Rauch. I think it was the happy smiling face of owner, Martin waving at a friend while we walked by earlier that had initially caught my attention. I walked past the bar and popped our head and said hello and he then asked us where we were from. The bar was mostly empty. Business was slow with locals all gathered by the river. So he had time to entertain us and within a few minutes , we had perched ourselves at the bar, drinking one of his signature cocktails called 'Adam.' The base is a ginger liqueur with rum, grapefruit juice, cassis and a cherry on top- it tasted amazing. Martin was great company and host.
Dinner- Za Zaa
We headed to Lebanese restuarant, Za Zaa on recommendation from a few locals and this was probably our best meal of the trip.
The place was packed. The service was wonderful, food beautifully presented and the ambience was lovely. On recommendation of the lovely Flo, we ordered their Mezze platter to share which had cold and hot plates of food that included their smoky delicious baba ganoush, beetroot hummus, halloumi fries and falafel balls, basmati rice and chicken kebabs. I can't remember everything I ate but it was all delicious with a special nod to the kebabs-incredible. We washed this down with their caipirinha cocktails which were delicious. This was hands down one of the best Middle Eastern restaurants I've dined in Europe.
Day 3
Eiscafe Acero
Card: I get my caffeine fix here
Tip from Flo, Za Zaa
Another popular establishment on Rheingasse next door to Restaurant Weinbar Sonne and Schall und Rauch is Eiscafe Acero, a cafe and extremely popular icecream parlour with lots of unusual, dairy free and vegan options. ( Long queues everyday for their ice cream-always a good sign) However, we had come for their coffee and their beautiful backyard garden. This was a tip from Flo from Za Zaa.
'It is the perfect place to start your day.' he told me dreamily and he wasn't wrong. On a sunday morning, it was blissfully quiet and we had the whole garden to ourselves at 10am. Great coffee and lovely service too. Next time in Basel, we will try their ice-cream.
Solitude Park
On our way to catch the Wild Maa ferry across the river to the Paper Mill ( tip from Christian, manager at the hostel) , we strolled through the beautiful Solitude Park next to the Rhine and the Museum Tinguely ( Later discover that Niki Saint de Phalle and Tinguely were partners in life and art, the 'Bonnie and Clyde of the Art World' ) we discovered one of Niki de Saint Phalle's colorful painted polyester sculptures. I'm a huge fan of her buxom, bold and beautiful sculptures and followed her work ever since I saw an exhibition of hers in Nice. So this was a really cool discovery.
Basel Paper Mill + Wilde Maa ferry
Card: Surprise Us
Tip from Christian, Silo Basel Hostel
1 of 4 ferries to cross the Rhine, we hopped onto the Wilde Maa ferry from Kleinbasel to St Alban in Grossbasel. It was perfect on Monday morning -we were the only people on the crossing.
The ferry drops you off in the scenic area of St Alban, an upscale residential district of Basel dotted with villas and Gothic and baroque merchants' houses. Our main reason for coming here was to see the Basel Paper Mill museum but it is sadly closed on Monday morning. This is where not using a mobile phone and checking beforehand can hurt on a trip.
Still, we enjoyed wondering around the narrow winding streets and seeing the old timber-framed buildings- really feels like stepping back into a different era. We witnessed the old gateway to the city-the St. Alban-Tor, known locally as the "Dalbedoor" which is the gateway to the St. Alban quarter of the city.

Marktplatz
Card: My favourite market in Basel
Tip from Mike, Silo Hostel
Our next stop was the bustling Marktplatz, recommended by Mike one of the cooks at the Silo Hostel Basel. The marktplatz is dominated by its vibrant rouge red 16th century town hall. During the week, there's a busy weekly market where locals come to buy fresh vegetables, fruit and flowers. After a quick cup of coffee at the marktplatz we ventured up Gerbergasse to checkout the shops.
Lackerli Huus AG
We stumbled upon Lackerli Huus by chance. One of their friendly staff members gave us a chance to sample one of their famous Basler Leckerli biscuits, a ginger biscuit popular in the region that reminded us a lot of Lebkuchen gingerbread cookies that are a popular Xmas treat in Germany. Sabrina is a sucker for lebkuchen so we had to pop in to sample more of their delicious biscuit specialities. Tasty stuff. We ended up buying a box of their famous Lackerli biscuits to take back home.
Tapas del Mar Spalenburg
Stuffing ourselves with all that delicious Leckerli had killed our appetite a bit so we wanted a light bite to eat so the moment when we saw the sign of Tapas del Mar, we decided to give it a try. ( Nice gaggle of locals were drinking wine on their outdoor terrace so that gave us some confidence. ) Everything we ordered here was tasty- classic Pulpo alla Gallega, Salmorejo- cold tomato soup from Andalucia ( perfect for a hot day), Patatas Bravas and Boquerones en Vinagre– fresh anchovies, marinated in vinegar. Really good quality food, good service. Prices here are not cheap but in Basel, we came to expect that.
Johann Wanner Christmas Store
I lived in Edinburgh for many years and one of the novelties you can find in the city is not one but three year round Christmas shops. However in terms of scale and variety, this shop ( just around the corner from Tapas del Mar ) was astounding. I don't think I've ever been to Xmas shop like this. If you are the person who lives and dreams of Xmas, then you will love this place.
Tubing down the Rhine with the iconic Wickelfisch
Card: Favourite thing to do in Basel
Tip from Basel, Tourist Information Point
In the summer, the most popular thing that locals do to relax, cool down in the heat is to go for a swim down the Rhine river. Everytime we walked down Kleinbasel , we saw people of all ages drifting down the river. Most people use their"Wickelfisch" , a swim bag where they can store their clothes and valuables securely, to float down on the gentle current through the city. Plenty of places on Kleinbasel to dry yourself. I was super impressed at the number of showers and toilet facilities along the river- this city really knows how to enjoy summer. Plus, don't forget all the marvellous buvettes for enjoying an ice cold drink. Note: Sometimes the current can be pretty strong so it is advisable to check conditions before you go for a dip- Basel tourism website is a good place to check.
Klybeck /Kleinhuningen
Card: Surprise Us
Tip from Marina
Many locals we met including the lovely Marina we met at Flores recommended to visit the port area. On the list of places here, the popular Nordstern club was mentioned a few times but sadly we didn't have time to visit this iconic club on the water.
After the hustle and bustle of Kleinbasel, there was a very calming and haunting feel about the whole port area. It was very quiet on the Monday evening we visited. The only thing breaking the silence were the odd comings and goings of boats passing through the canal and the odd seagull mooching on the boats moored by the dock. Maybe it is something about me and the sea or it could have been the surrounding age old industrial ambience that brought on an intense pang of nostalgia. I suddenly had an urge to hop on one of the boats and take off.
This desire for exploration and adventure maybe also because of the location, for here in the harbour, specifically you will find the Dreilandereck , an concordesque upright statue that marks the point where Switzerland, Germany and France meet. You can observe it from the Sandoase bar ( tip from Anne, Silo ) , toes in the sand with a beer in hand, at this classic summer beach bar. ( ..which transforms into a cosy winter village later in the year I've been told )
Grenzwert
Card: A bar where locals go
Tip from Martin, School und Rauch
We finished off our trip with delicious cocktails at Grenzwert -excellent tip from Martin. The bar has a nice relaxed almost speakeasy style ambience. Precovid, the bar was hosting more live music events so keep an eye out on their Facebook page when you are in town.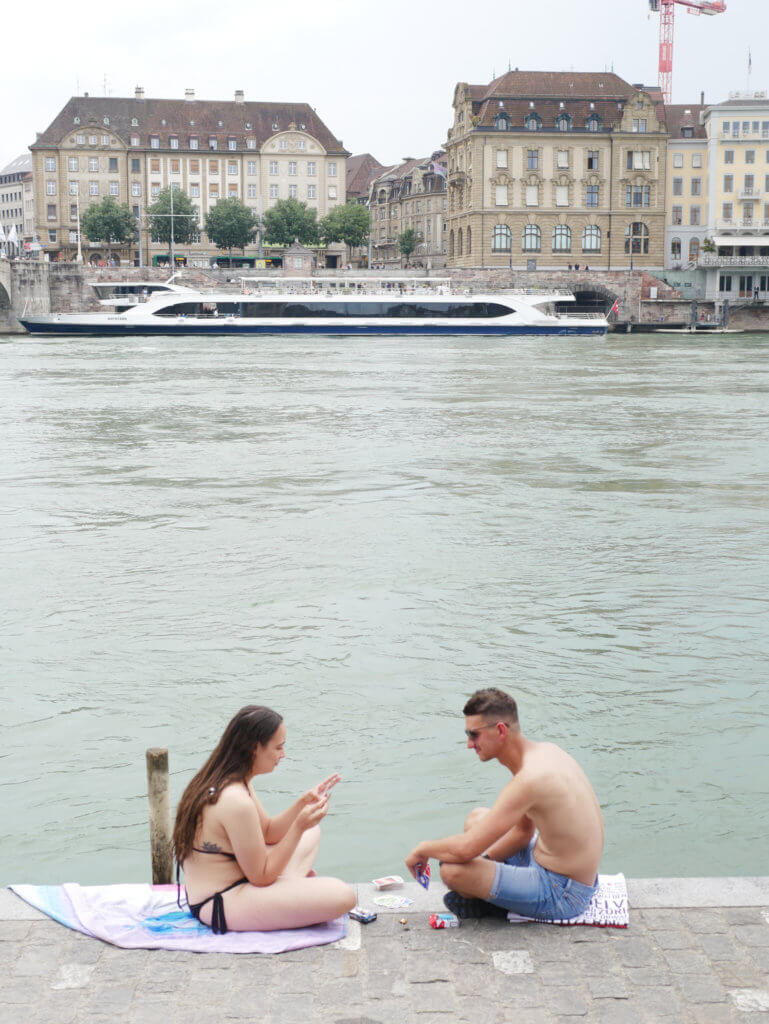 Verdict
Overall, both me and Sabrina found it quite a liberating and interesting experience exploring Basel with the help of our card game. I was really impressed with the quality of the tips and the enthusiasm of locals when we approached them with the idea. We did have the odd local who wasn't too keen but overall the experience was positive. I had a few lovely emails from the people we spoke to asking how we got on and also telling us how much they loved the idea of the card game.
Few negatives. We did get lost a lot. Old fashioned map bailed us out a few times and we had to ask locals for help with directions. Apps like Google Maps make you so self reliant and travel easy…without access to them felt at times quite stressful, especially in a new city. However on the other side, the aimless wondering of finding a place made us slow down a bit , get lost a bit and that's how we stumbled upon spots like Tapas del Mar and also the Xmas shop for example. I think once we got used to the idea of not using the phone, we found it more easier but your brain gets so wired….Sometimes, during busier times of the day like lunchtime we found it hard to find locals to talk to, especially on weekends. We realised that sometimes, you just have to give into the flow and just follow your nose, gut feeling when you explore a new city. That's when you have a real adventure or misadventure. We probably would have never visited the Paper Mill and St Alban area if we knew it was closed but then again we loved wondering through the area in the solitude of the early morning hours.
Would I do this again? Yes. I'd love to discover a new city and play the game. However, I think I would need to make some small amendments to the cards.
The toughest part of the challenge is getting out of your shell, having the guts to talk to a stranger. It is not an art that comes easily to me. I think it is something a lot of people struggle with when on holiday or even at home. So if you are considering a lo-fi, non tech, no guidebook vacation and just depending on locals , here are some tips to get you started when it comes to talking to a local.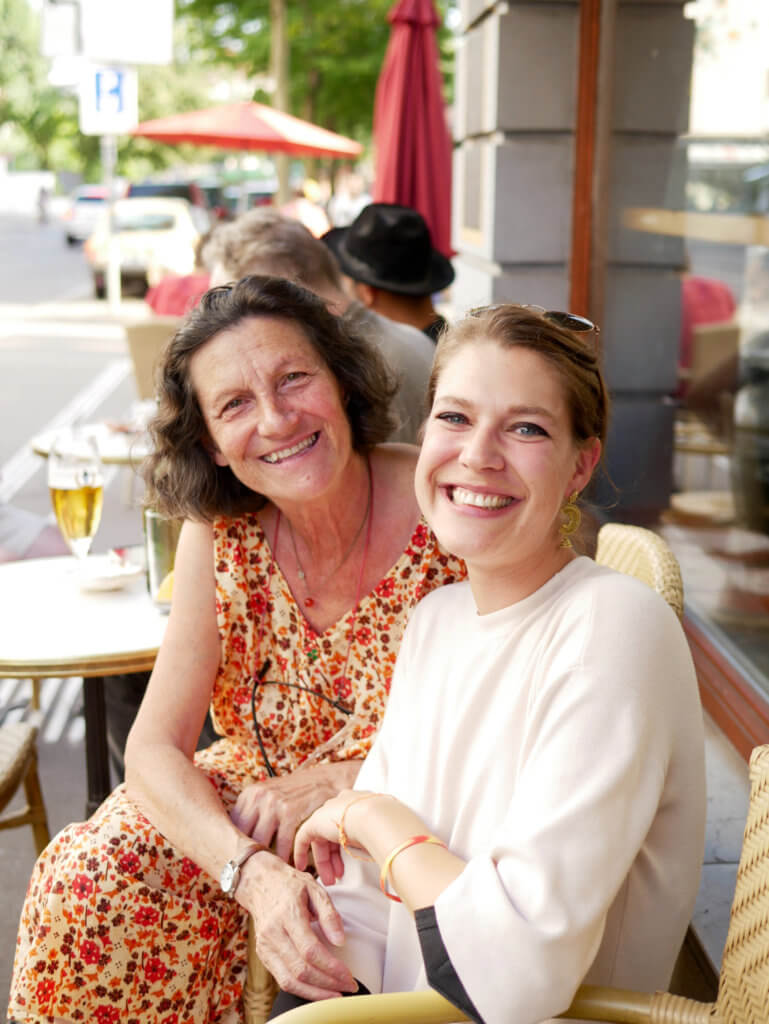 How to speak to a local
Rules of engagement with locals vary from country to country but here are a few basic tips to get you started
1. Master a few key local phrases
Few basic phrases can make such a difference when breaking the ice. Learning the local equivalent of "Hello' 'Thank You' , 'Good Morning" , 'Do you speak English' and 'Where is a good place to drink beer' is sometimes all you need to get by.
2. Be expressive
If you are struggling to find the right words or don't know the local lingo expressive body language can make a big difference. A smile always helps to break the ice and endear yourself immediately to most people. Simple gestures like mimicking to take a drink might seem ridiculous or banal to you but can make a huge difference and get the conversation rolling.
3. Checkout local events
Sometimes, it can be tough in certain countries to casually chat to strangers. It helps to join an event like maybe a food tour or wine tasting or a cooking class or even a quiz night at the local to get the chance to meet a local. People will be more relaxed and open and this is where you're likely to have a more meaningful interaction.
4. Go to locals only places
Your best bet to finding locals on your trip is to try and frequent bars or restaurants which are popular with locals. Some of these places tend me to be away from the centre of town and embedded in one of the neighbourhoods of the city so don't be afraid to spread out, get off the beaten path a little. Ask at your hotel or hostel reception for tips for the most local friendly neighbourhoods. Once I have a sense of which area or part of town is popular with locals, I'll often go for a little run in the area to get a feel of the city. Running first thing in the morning is great for so many things including getting a pulse of a city.
5. Go where you can see locals
My rule for a good place, usually filled with locals is to see if there is a clear glass where you can casually checkout the vibe from outside and also smell the food. Also, if you see the menu in English outside, I tend to give it a miss.
Buy the game?
The Locals Know It Best, Basel card game can be purchased with a free city map at the Tourist Information office in the Stadtcasino, Basel. Click here to buy the game.
You can also drop me a line [email protected] if you would like to buy a copy of the game.
Where to stay in Basel: Silo Hostel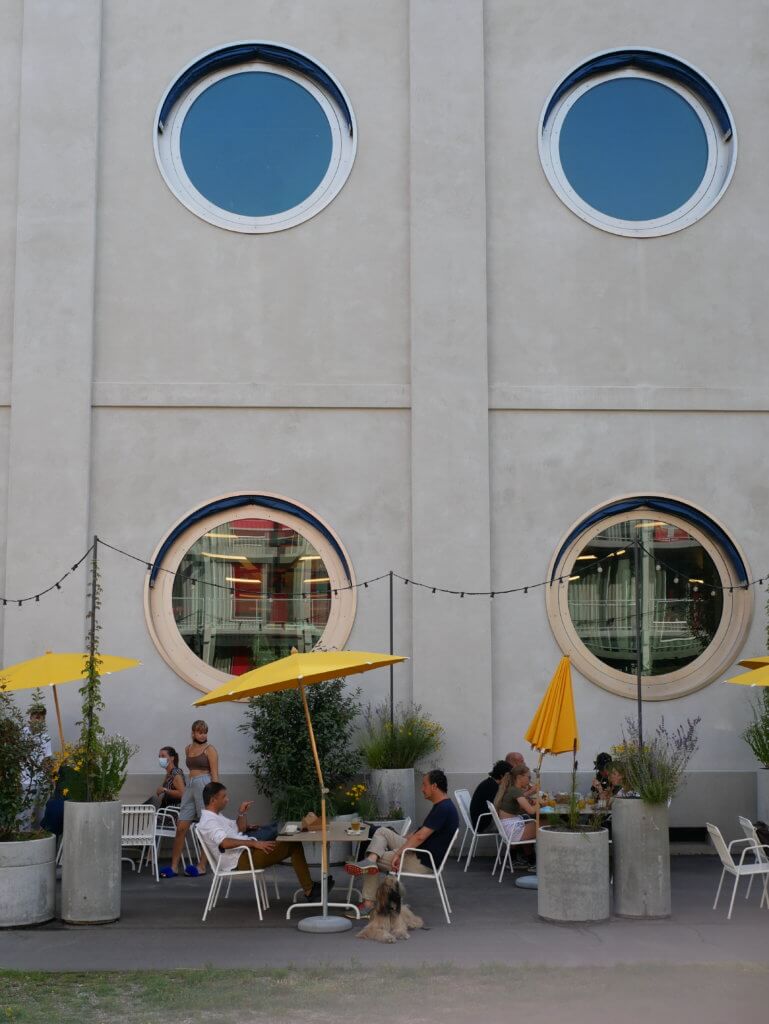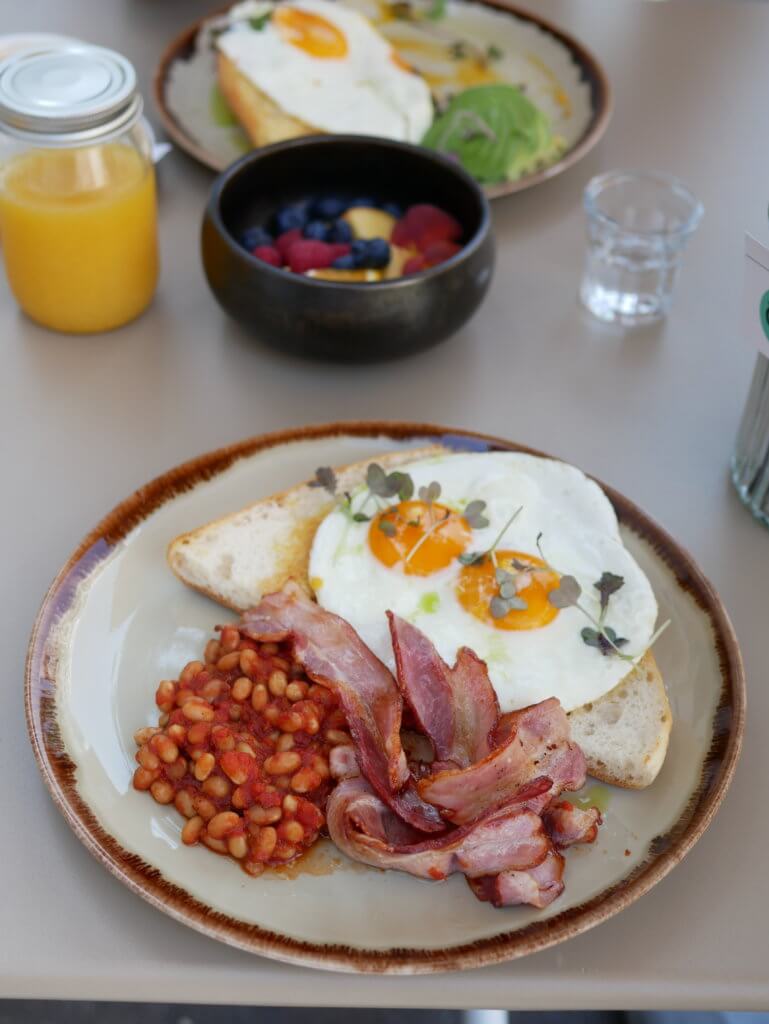 Situated in the up-and-coming hip neighborhood of Erlenmatt Ost within walking distance of the Badischer Bahnhof, this design and culture hostel with restaurant is located inside a former grain warehouse of the city of Basel that was renovated in 2020 by the architect, Harry Gugger. Spread across three floors the hostel has a fantastic in house restaurant, three meeting rooms plus a hostel with 10 dorms and 10 doubles. The menu at restaurant is varied with excellent all day breakfasts plus everything from homemade soup, salads to pasta , grilled local fish or their signature pork ribs. It is a bit pricey for a hostel but the quality of the food here was amazing so keep that in mind. The rooms are spacious and well spaced out with very comfy beds plus the shared facilities-showers and bathrooms are very clean and stylish. The staff are super helpful and friendly so you will be well looked after by Christian and his team.
Special thanks
The Locals Know it Best, Basel Edition card game was produced in partnership with Basel Tourismus. Huge thank you to Isidora Rudolph and everyone at Basel Tourismus for supporting the idea and making it reality.. Also a huge thank you to all the amazing Basel locals who we met and took part- Julie from Bug a Thai, Sacha Kohler from Kunstmuseum Basel, Martina, Flo from Za Zaa, Martin+Ann+Christian- Silo Hostel, Martin-Schall & Rauch, Robert from Grenzwert for sharing your beautiful city with us and being part of our little card game.