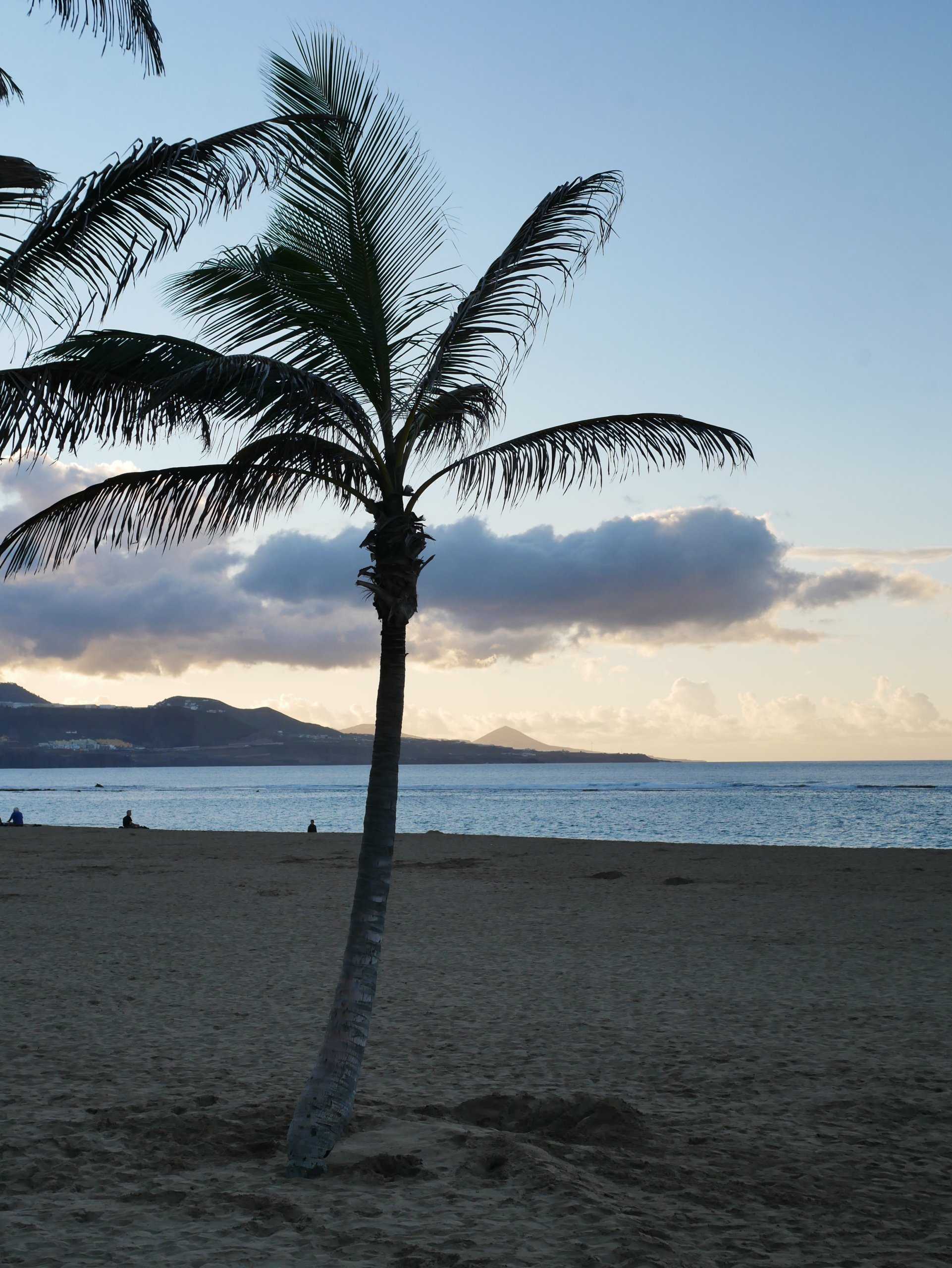 Introduction
On my run earlier today in the old town area of Las Palmas de Gran Canaria , Vegueta, I discovered a walking path by the sea. It felt like a glorious release to be running again by the sea. For a while, my eyes lost themselves in the frothy sea. I looked up at the colourful rusty collage of oil rigs and shipping tankers in the distant horizon, lonely and contemplative. Soon the expansive port area of Las Palmas came into sight and then the surreal sight of palm trees framing the main motorway leading into the concrete skyscrapers that dominate Las Palmas de Gran Canaria. For a moment, I felt I could be in Asia, Africa anywhere, but Europe. It is December and the temperature at 9.30am in the morning is 19 degrees celsius. The temperature rarely dips below 18C and barring the odd deluge of rain showers that swamp the island, it feels very pleasant. I look at the map and realise we are just 67 miles (108 km) off the northwest coast of the African mainland. In many ways Las Palmas de Gran Canaria Gran Canaria is a curious mix of influences which makes the island a very interesting place to visit, especially in the current situation with Covid-19. I've put together a guide to Las Palmas de Gran Canaria – best places to visit, eat and drink. I hope you find it useful. If you have any questions, shoot me a comment below or email me kash AT budgettraveller.org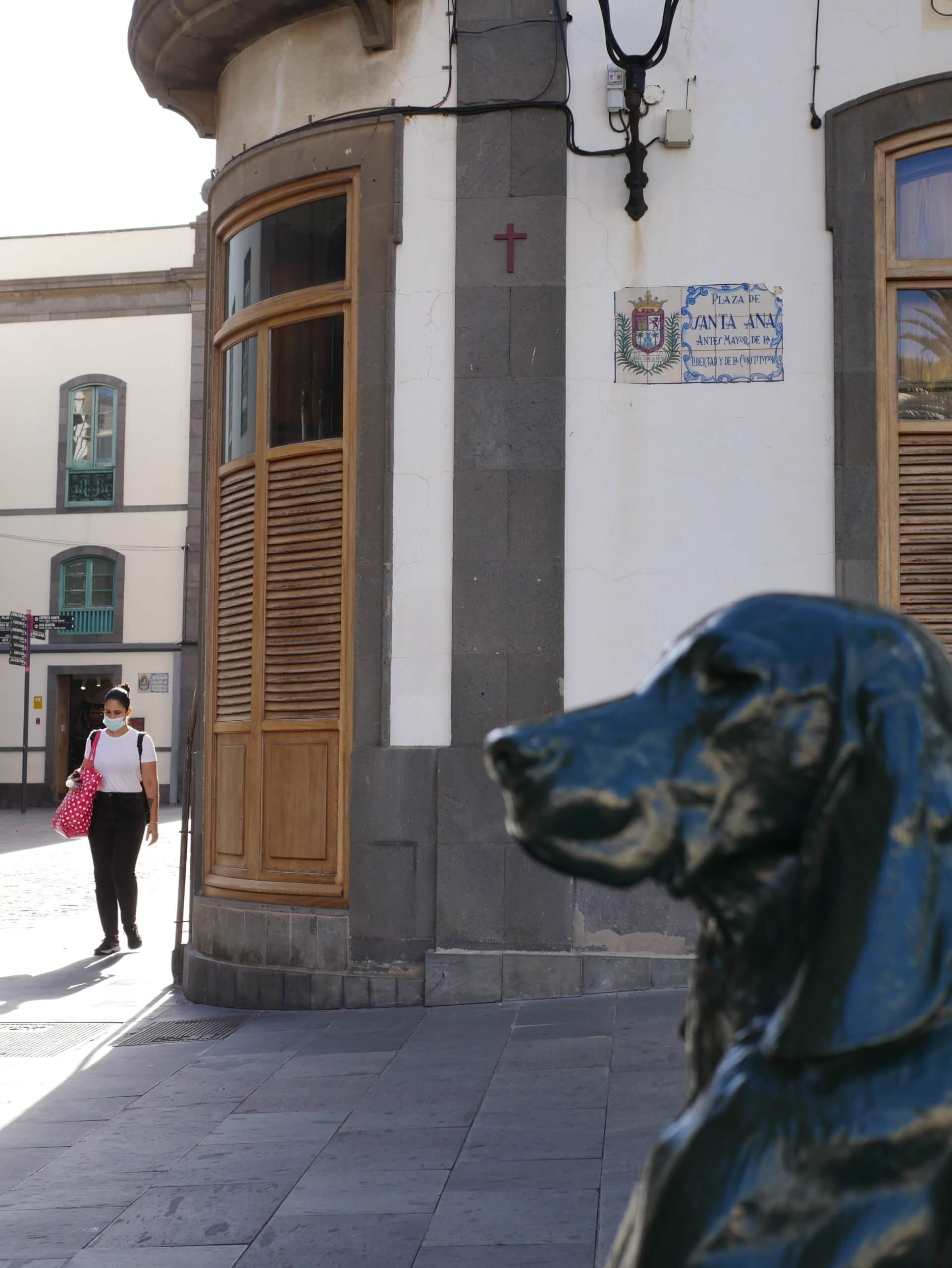 Good to know during COVID-19
1.Rate of infection is low in Gran Canaria and is currently one of the safest places to visit in Europe. The situation in neighbouring Tenerife is different where infections are higher. The situation can change quickly, from day to day, so my advice would be to check the official tourism portal for all the latest news and regulations.
2. Condor, easyJet offers direct flights to Las Palmas de Gran Canaria: From London journey time is 4 1/2 hours, from Berlin – 5 1/2 hours.
3. Have a PCR test within 72 hours of departure: Anyone arriving in Las Palmas de Gran Canaria must show a negative PCR test result that is less than 72 hours old. More info here.
4. If you visit Gran Canaria, I definitely recommend hiring a car, especially in the current situation. That said, we used public transport to travel throughout the island and it felt safe with everyone wearing masks inside the buses and also in public spaces.
5. Bring an extra layer, waterproofs and hiking boots- Being in the Atlantic, the weather can be temperamental, especially in Winter so I do recommend bringing a waterproof jacket and also some hiking boots. The weather in general is really nice and in December hovers around the 18-21C mark. It is much warmer in the southern part of the island which has all the purpose built resorts while in the north, the weather is slightly more interchangeable. I much prefer the north though – more on that later.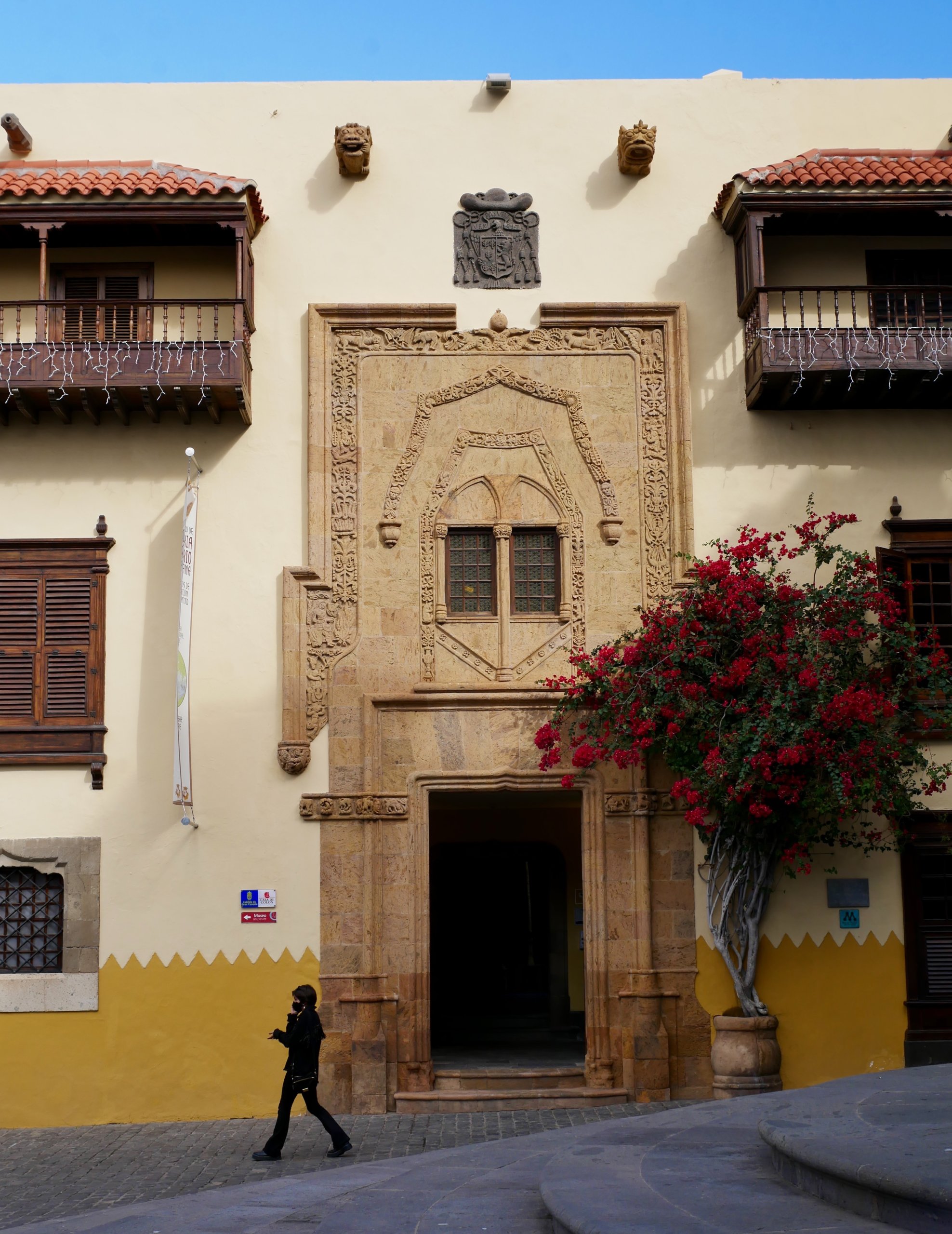 History
Juan Rejon founded the city in 1478 and named it 'Real de Las Palmas' after the invasion of the Castilian army. A few years later, in 1492, Christopher Columbus spent some time on the island, on the way to his epic voyage to discover the Americas.
The island was extremely desirable to the British, and in 1595 under the commandeering of Francis Drake, Las Palmas was attempted to be plundered in The Battle of Las Palmas. After the repelling of this attack, the poor island was again besieged in 1599 by the Dutch. Throughout it all, Las Palmas was able to maintain her identity and integrity.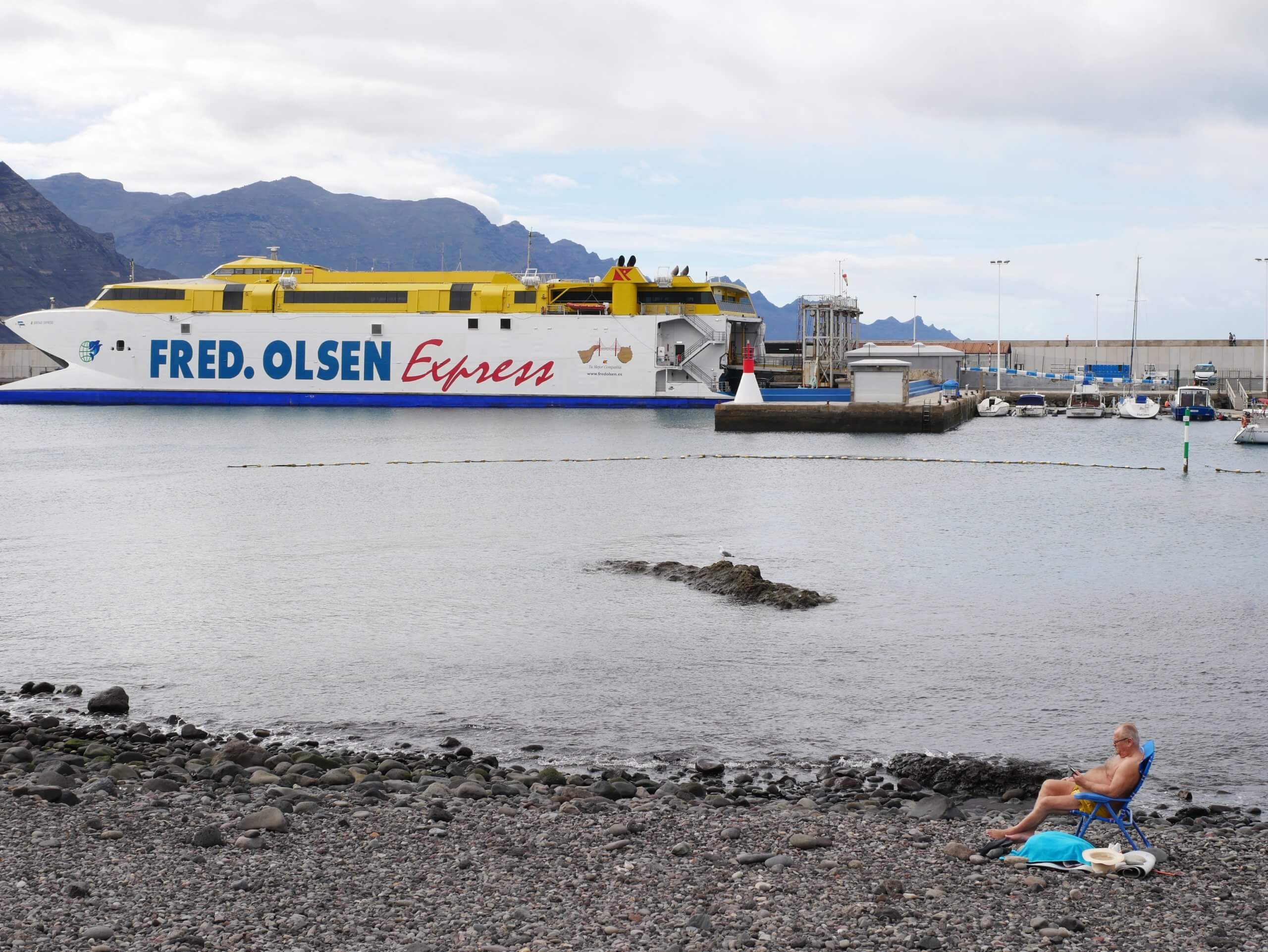 Getting there and away
It is possible to get to Las Palmas de Gran Canaria via air and sea routes. Gran Canaria International Airport has flights from Madrid, Barcelona, Bilbao, the UK and other places in Europe and Africa. Bus Number 60 takes you from the airport to the city centre. The Port of Las Palmas is a popular port of call for many cruise ships. There are ferries plying every day from the neighbouring islands and less frequent ferries from mainland Spain.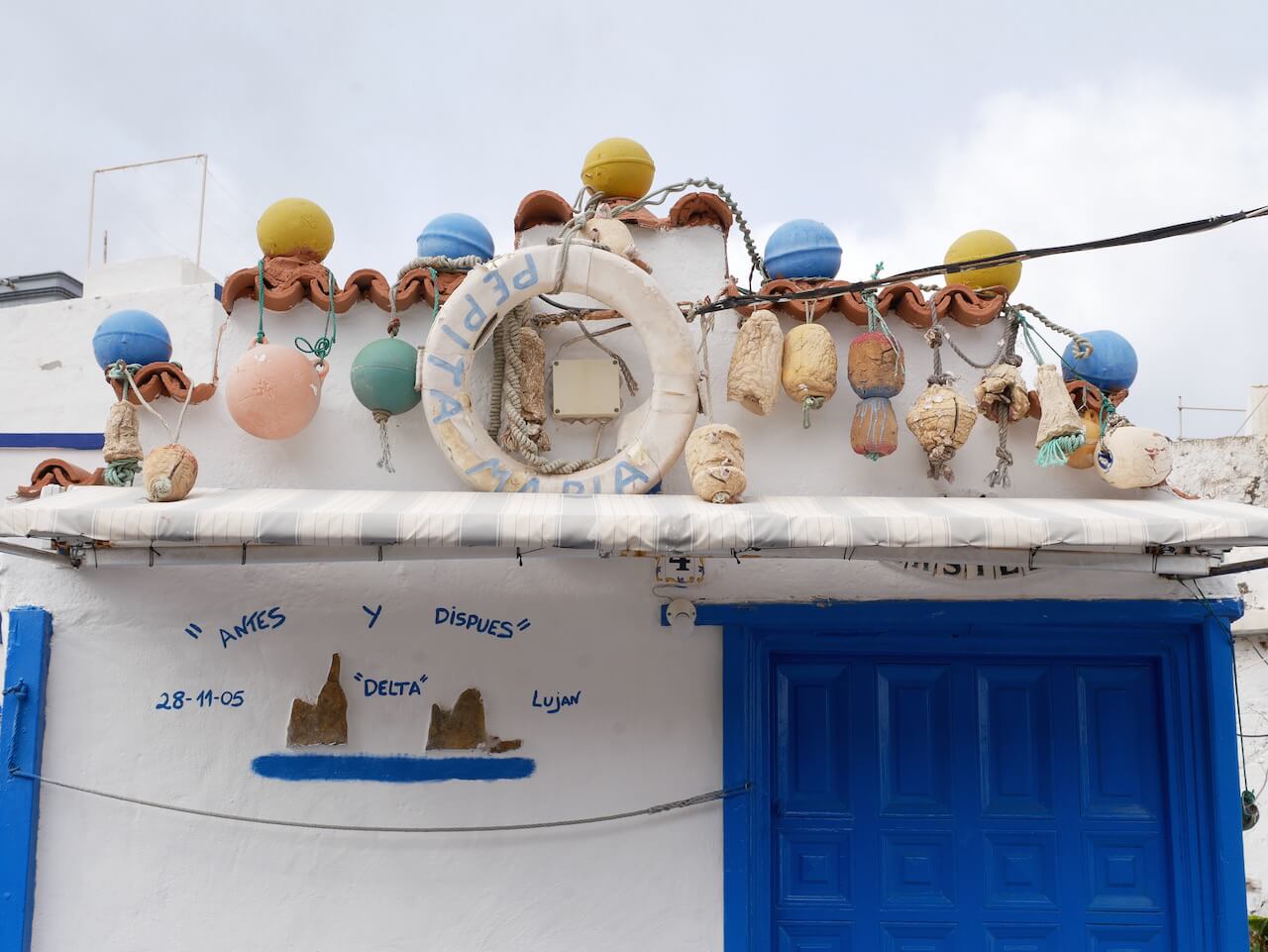 Things to do in Las Palmas de Gran Canaria
Visit Casa Colon-where Columbus stayed during his visit
This grand colonial style mansion in the Old Town of Las Palmas (Calle Colon 1) is heaving with artefacts related to Columbus' voyages, the pre-history of the Canaries before the arrival of the Europeans. Originally, the Governor's House, this is where Columbus would come and stay when he visited the Canaries, on the way to his long voyages to the Americas. The ornate building and the central interior courtyard are a fine example of the colonial architecture with Arab and Roman influences. Columbus, that famous sailor and explorer from Genoa, reportedly had to make a stop at Gran Canaria to repair an errant rudder of one of his ships. Wherever, he stopped, Columbus left his mark. In this case – in the three permanent exhibition rooms dedicated to his name.
Essentials: Casa Colon is open from 10:00 AM – 6:00 PM, Monday to Saturday and on Sundays and holidays, it remains open from 10:00 a.m. to 3:00 p.m. Entrance fee for adults is €4, €2 for students between 18-23 and people over 65 and entrance is free for kids under the age of 18/
Casa Colon is free to visit on Sunday on these following dates-April 18, May 18, May 30, June 24, September 27, October 12. Check the Casa Colon website for latest prices and opening hours. http://www.casadecolon.com/horario-y-precios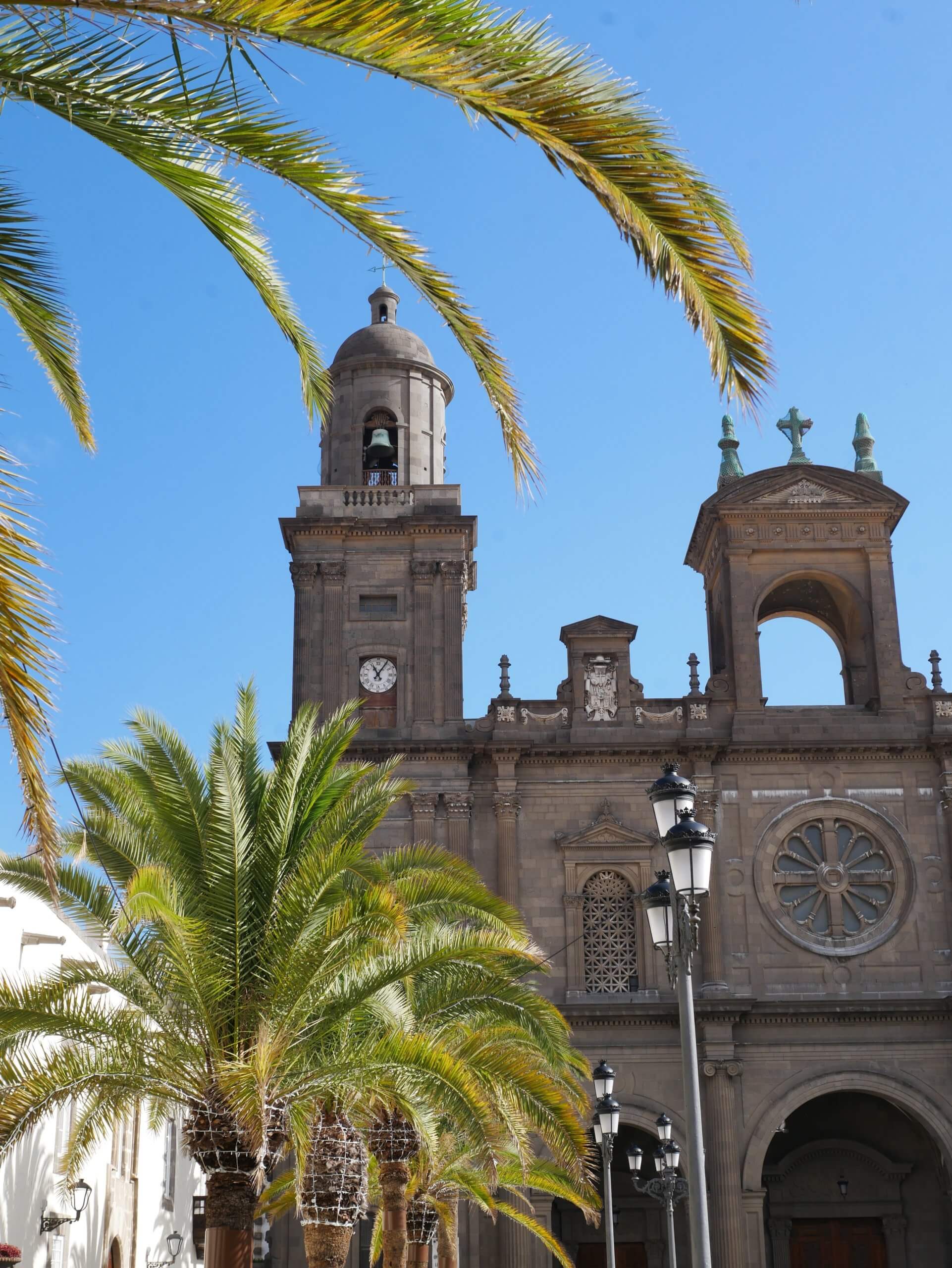 Climb the tower of Cathedral de Santa Ana
Cathedral de Santa Ana or more simply known as Las Palmas Cathedral is an important symbol of Canarian religious architecture and is a Roman Catholic Church located in the vicinity of the Plaza Mayor of Santa Ana. The imposing interior of the Cathedral reveals fully well its Gothic architecture – with nave and double aisles, a sanctuary, elegant stained glass windows and polished wooden pews. The most prominent feature are the piers fashioned in the form of palm trees. Hop to the top of the Cathedral de Santa Ana Bell Tower by lift – you get a fantastic panorama of the historic buildings of Vegueta and the harbour beyond.
Essentials: The cathedral is open to visitors from 10am to 4:30pm on weekdays, 10am to 1:30pm on Saturdays. Entry fee is €3 per person. If you wish to use the lift, it costs an additional €1.50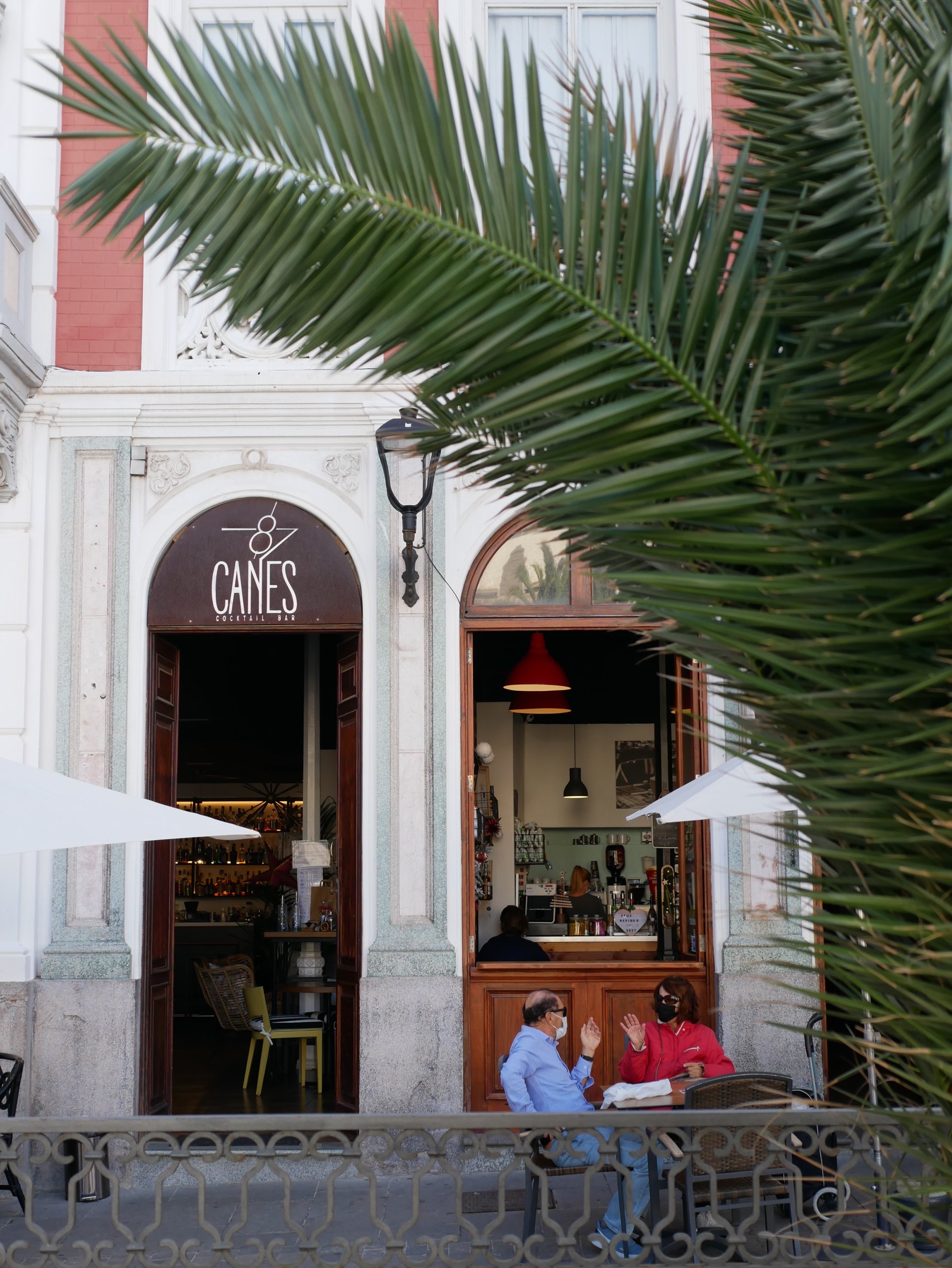 Top tip: 8 Canes Cocktail Bar
If you are visiting the Cathedral, definitely recommend grabbing a drink at the stylish 8 Canes Cocktail Bar on the square (Plaza Sta. Ana, 2) As you've guessed from the name, cocktails are fantastic here plus they do serve local Dorada beer on draft and have a good selection of local wines at good prices.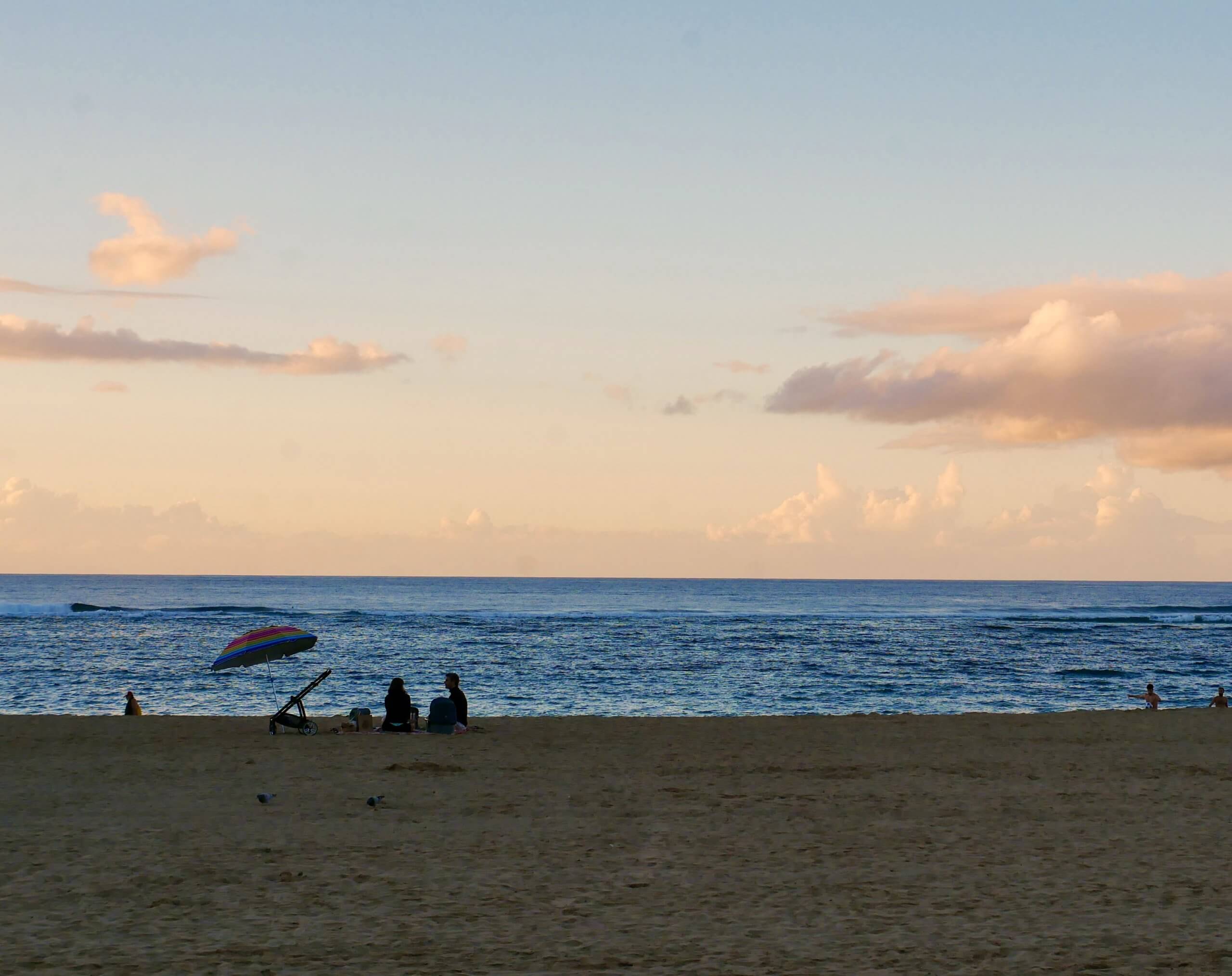 Relax, drink and play @ Las Canteras Beach
I never knew about the crescent shaped Las Canteras beach before my trip and now it goes down for me as one of the best I've seen in the world. The stunning backdrop of the cliffs and the jam-packed promenade, heaving with an odd mishmash of architectural styles, shops, restaurants and tourists alike create a heady concoction – always something new to see and enjoy when walking along the 2 mile long beach. The beach is perfect for a wee dip, adults and kids alike – the offshore natural lava reef (known as 'La Barra') acts as a natural wave breaker, ensuring only the calmest of waves reach the shore. These conditions also make it conducive for snorkelling – creating a local environment of underwater sea creatures that are undisturbed by the tumultuous nature of the sea. If the suns out, bring your own drinks and snacks (there is a Spar handily located in the middle of the promenade) and hire a deck chair from one of the friendly local attendants. Costing just €5 to hire for the day, it is the perfect day out in Las Palmas de Gran Canaria!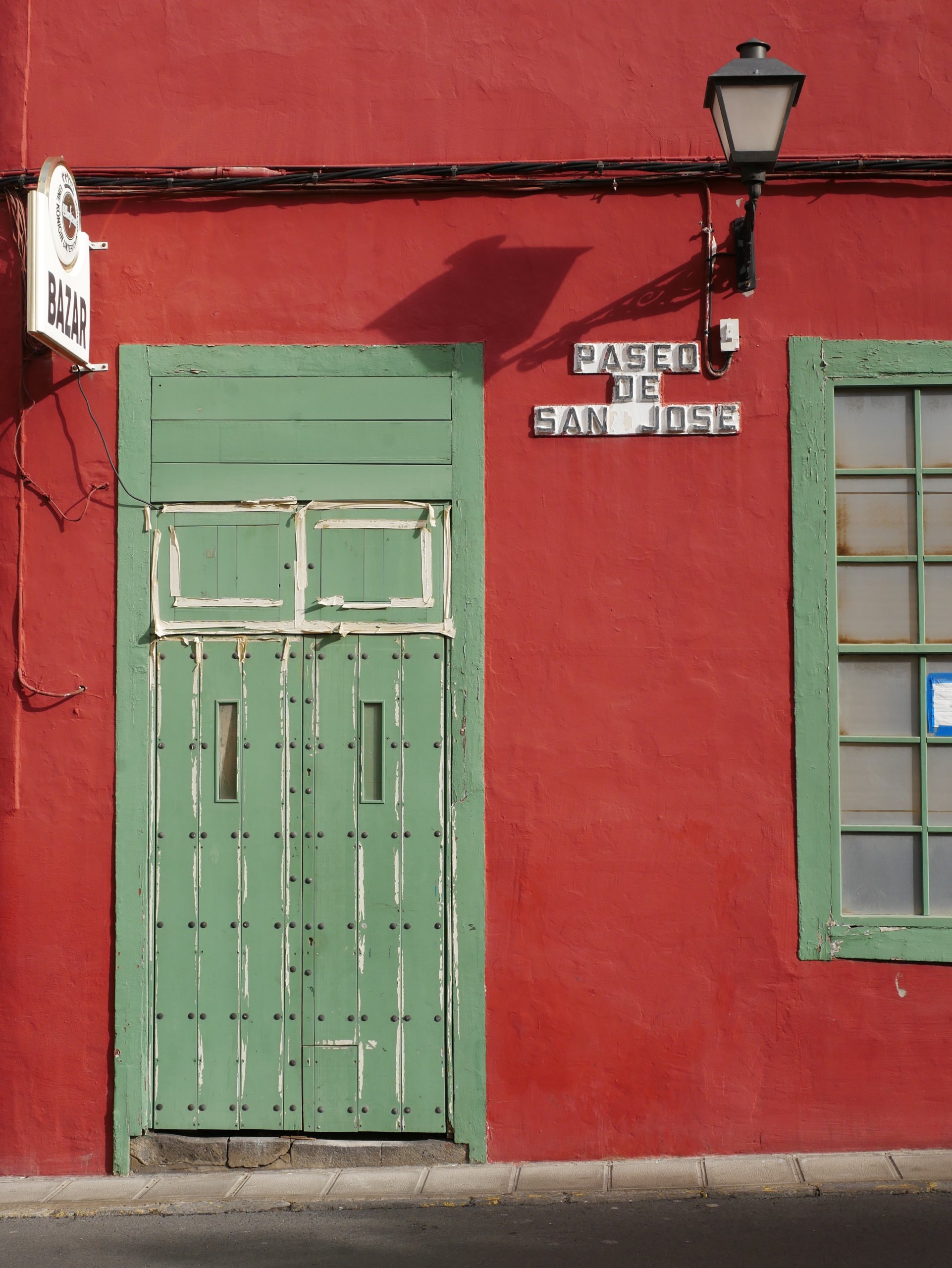 Explore Vegueta
My favourite part of my stay in Las Palmas has been staying in Vegueta, the historic and oldest district of the city. Yes, it would have been amazing to rent an apartment near Las Canteras but living in the heart of the old town, waking up everyday amidst all the beautiful historical buildings is a dream. One of the key things to look out for is the rich mix of architecture here. There is a strong influence of modernist architecture which was influenced by the native artist Nestor Martin-Fernandez (who has a beautiful museum dedicated to his life story which I recommend visiting). You'll see few examples in Vegueta and neighbouring Triana. Here's a few pictures that will give you an idea of what to expect.
Top tip: While in Vegueta, make a point of visiting the local food market –Mercado Vegueta. It has a refreshingly local and no frills vibe with a fantastic range of local produce on offer.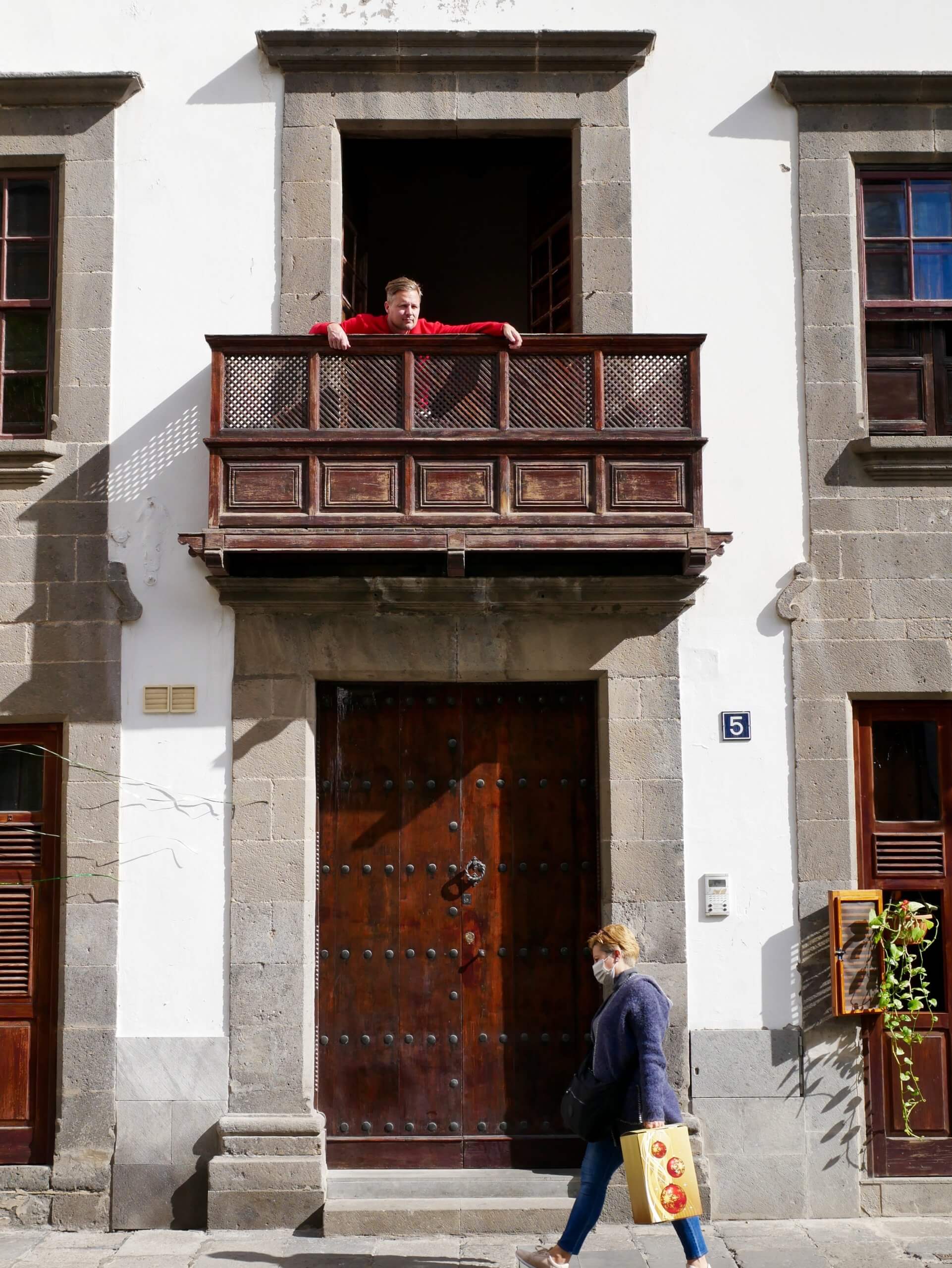 Top tip: Calle de Los Balcones
One of my favourites points of interest in the area is Calle de Los Balcones , which during the first centuries of the city's existence hosted some of the wealthiest families on the island. The historic buildings on this street are a master class in the evolution of architecture in the Canary Islands from the 16th to the 19th century. Gothic, Renaissance, Neoclassical and Mudejar elements abound. On this street you will also find the fantastic CAAM – Atlantic Center of Modern Art.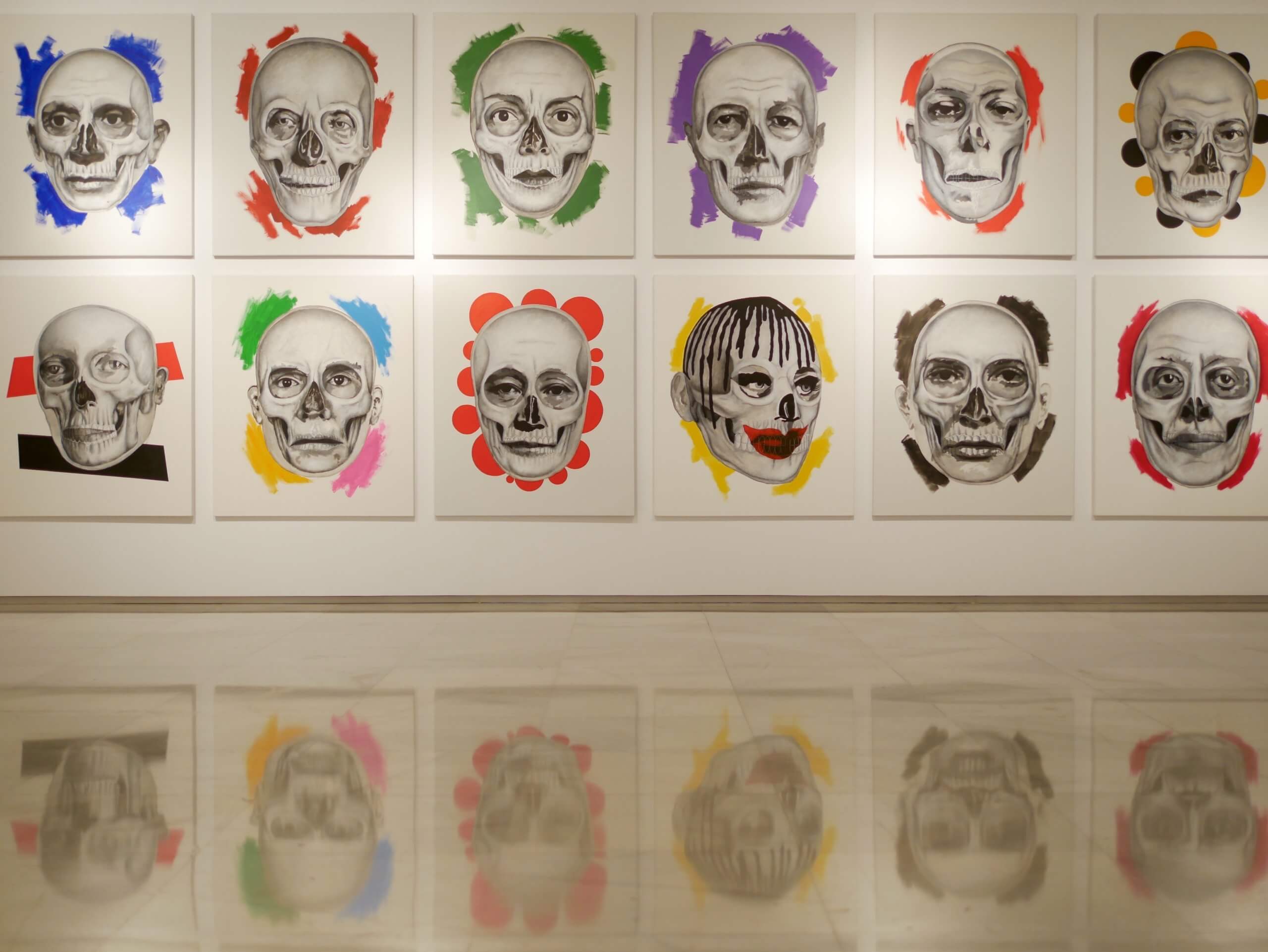 6. The CAAM aka Atlantic Center of Modern Art
The CAAM is a museum of contemporary art located in Vegueta, Las Palmas. The CAAM itself is a pleasant, pale yellow coloured traditional building with a neo classical facade.
Since, the Canary Islands are a melting pot of different cultures, this is reflected too in the choice of artworks used to represent the region. Works of art from Europe, Africa and the Americas, showcase the prodigious talent of the Canaries. This idea of 'tricontinentality' is a resonant theme throughout the museum.
Canarian artforms and artists are well represented here : you will get to know about the 'Informalist Movement' of Manolo Millares, Pablo Serrano and Martin Chirino. Another movement to look out for is the Grupo El Paso and art by names like Cristina Iglesias, Luis Gordillo and Jose Maria Sicilia among others.
Essentials: Los Balcones 11, Free entry! Open Tuesday-Saturday from 10 am. to 9 pm & Sunday from 10 am. to 2 pm. Closed Mondays, holidays, 24 and 31 December.
Where (& where not) to eat & drink in Las Palmas & beyond
Las Palmas and neighbourhoods of Triana and Vegueta in particular offer a fantastic choice of places to eat and drink. My favourites include, Bodegon Pachichi (Calle los Martínez de Escobar, 51), one of the oldest bars in the city. Drinks prices are fantastic here – local cana beer is €1.50 and a glass of wine starts around the €1.70 mark. They have a small limited range of simple, cheap plates of tapas on offer to soak up the alcohol – from olives and local Canarian cheese to Papas Arrugadas (baked wrinkly Canarian potatoes) smothered in the local mojo sauce. Other Las Palmas favourites include Amigo Camilo – best seafood in town and incredible prices. Always reserve ahead, especially on the weekends (Calle Caleta 1). Block Cafe and Mumbai Sunset Bar is best for sundowners and for affordable great wine, great service, I would go to Volga. If you have a weakness for Portuguese pastries like the classic Pasteis de Nata, hop to Dulces de Portugal. They have delicious chocolate filled donuts too plus great Delta Portuguese coffee.
In Vegueta, I recommend Cerveceria Y Picoteo Te Lo Dije Perez for tapas and beers, Dos Balcones for affordable breakfast or lunch – the owner is a character and has great banter.
Any bars or places I would not recommend? I have to say, I was disappointed with La Buena Vida which was recommended by a few friends – lovely service but beer was watery. Maybe the kegs needed to be changed. One I would definitely avoid is the Benito Roof Cocktail Bar – attracts a certain kind of clientele and the waiters were not the friendliest. Drinks prices were not bad but I definitely did not like the vibe of this place.
In terms of clubbing – have no clue and would not recommend anyone with half a brain to go clubbing at this point of time, until Covid-19 is eradicated.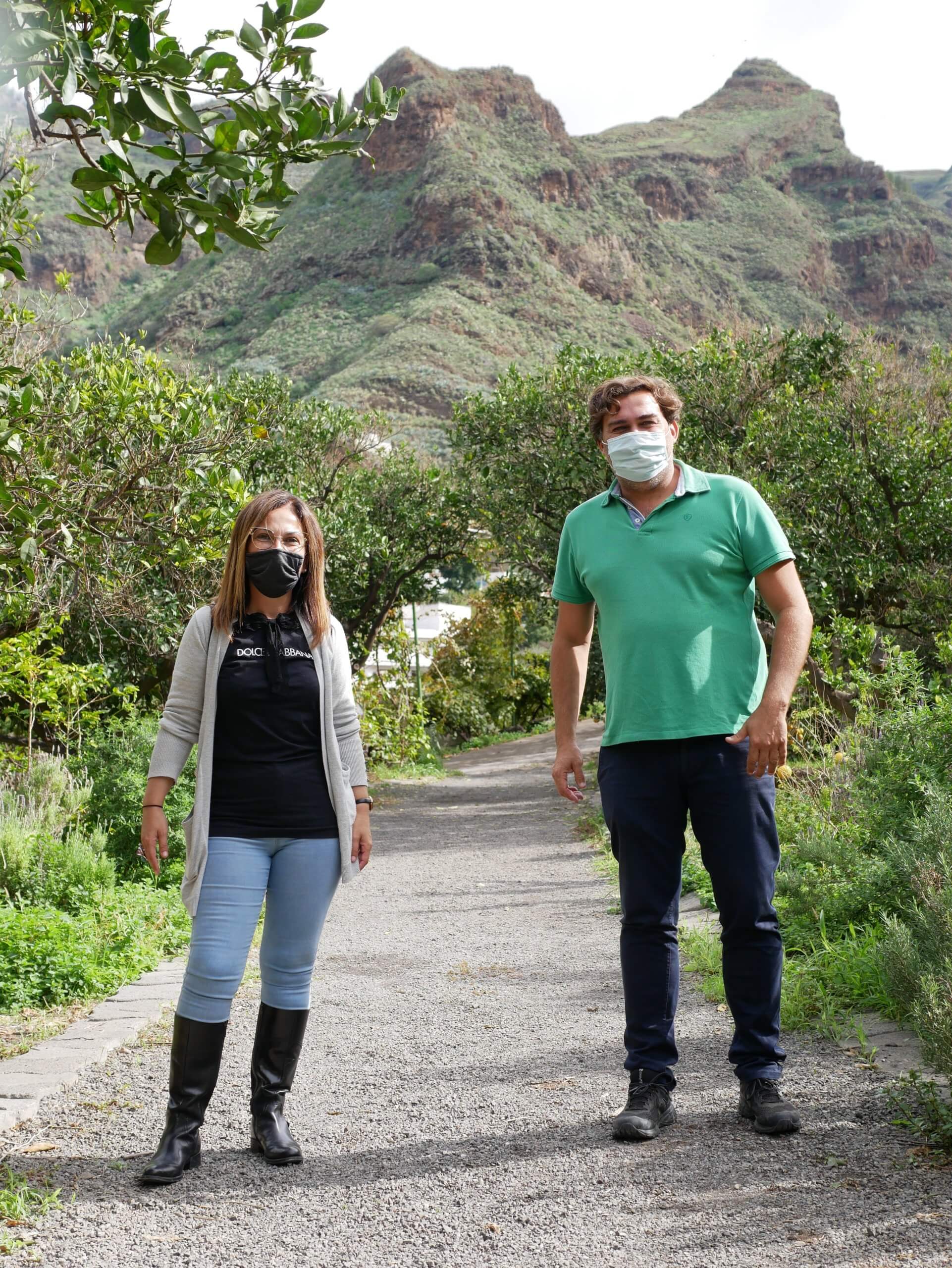 Good to know
All the bars and places mentioned with the exception of Pachichi have outdoor seating options – this would be our preferred method to avoid any close contact. With the temperatures rarely dipping below 17-18C at night, it was perfect. Wherever indoor seating is available, like Pachichi for example, the number of seats is limited so there's plenty of social distancing. Locals and restaurant owners seem to take lots of precautions, surfaces were wiped down regularly and waiters wore masks at all times- it felt very safe here.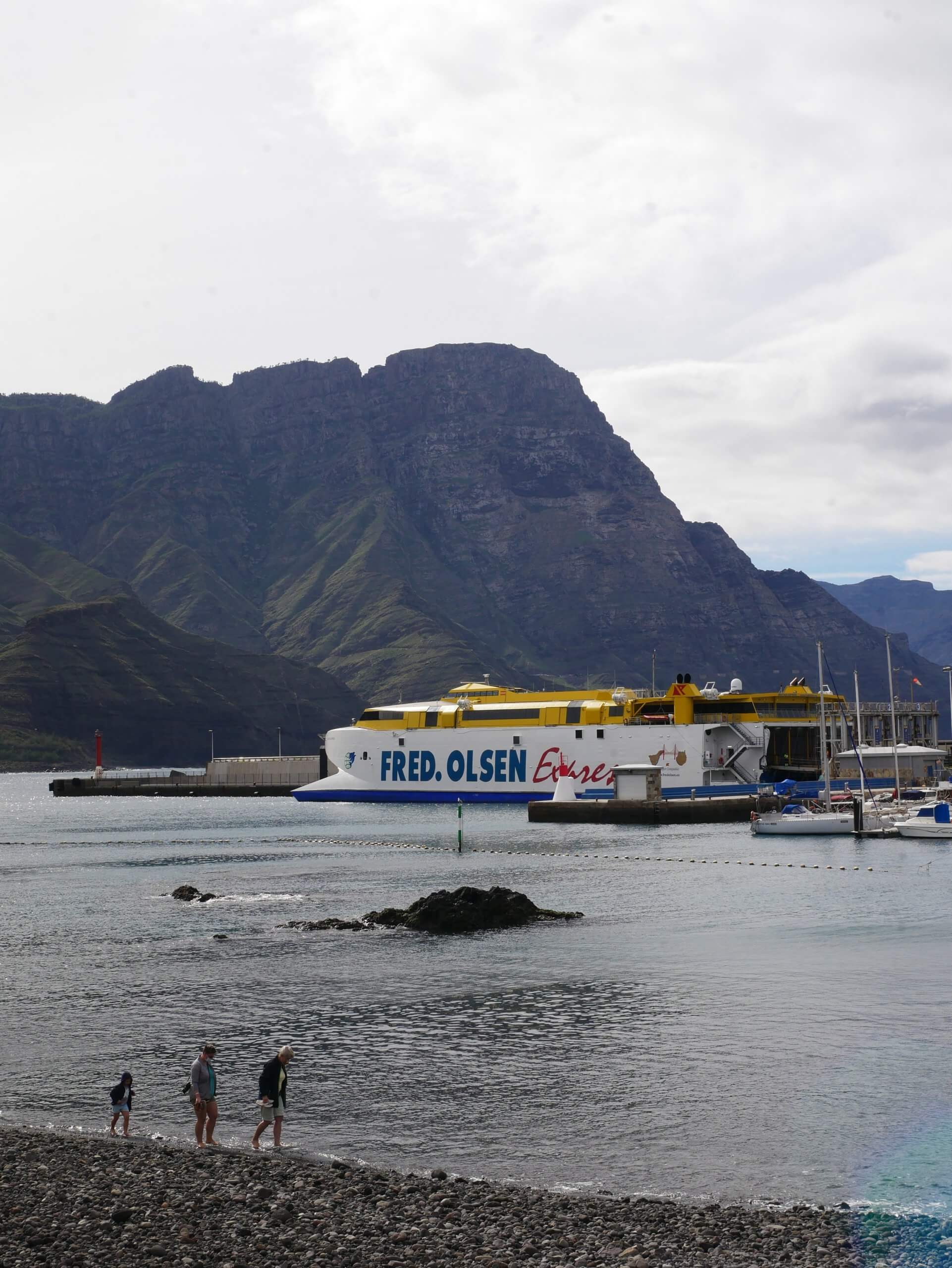 Day trips from Las Palmas
Teeming with picture perfect historic towns plus a rich coastline with a few excellent beaches and scenic fishing villages, there's plenty of choice for visitors to choose from when it comes to picking the perfect day trips from the capital city, Las Palmas.
Since we sadly cannot drive, the equation was pretty simple for us. We chose places easily and readily accessible by the island's excellent public transport network. We took a guided tour of the northern half of the island on one of the days – I would definitely recommend this and our guide, especially if you are short on time or cannot drive like us.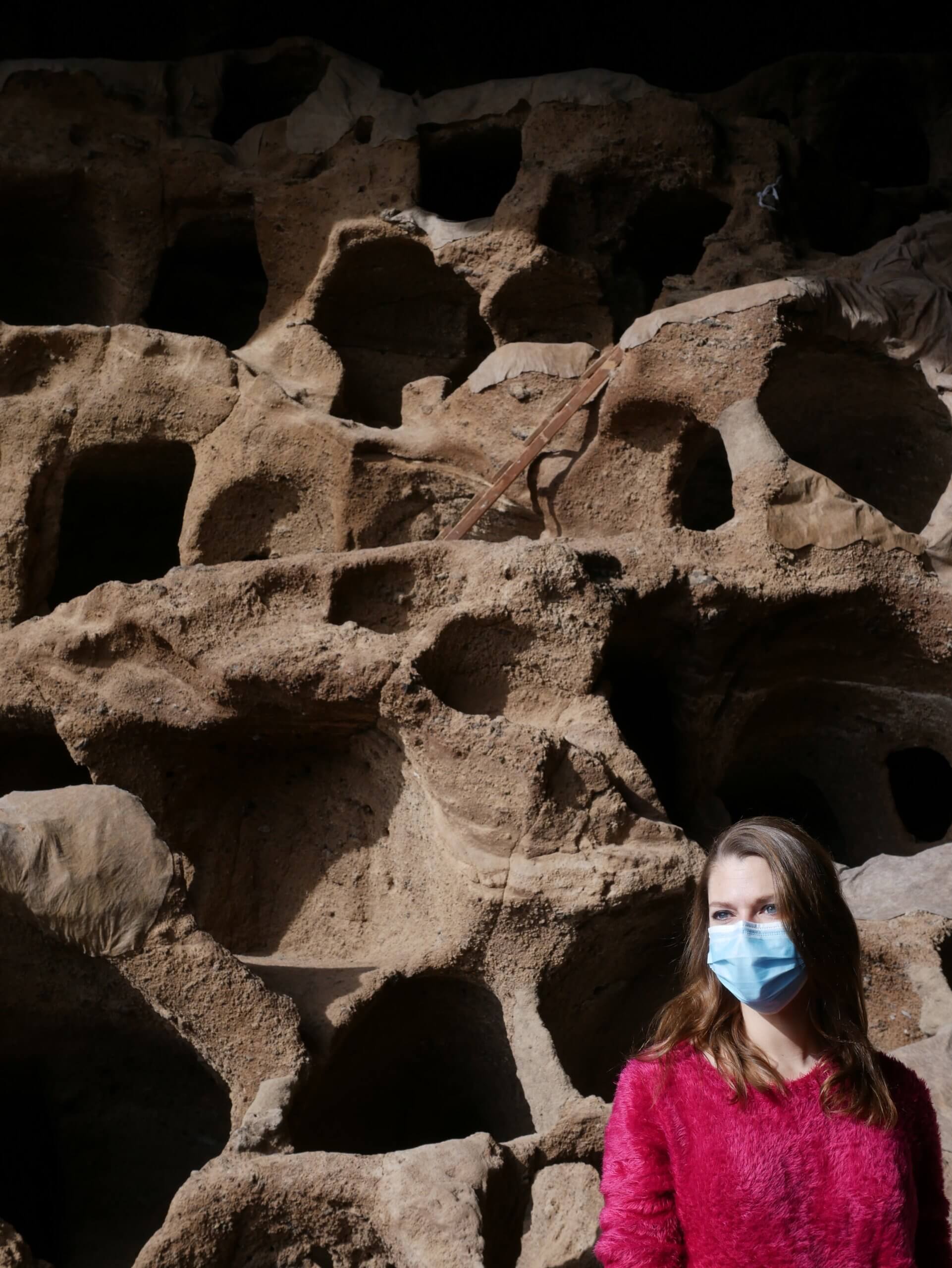 1.Caves of Gran Canaria
One of the unmissable sights of the island, is the spectacular network of man made caves, many that hark back to the earliest inhabitants of the Canary Islands – the indigenous Canarians, "Gaunches'. Not much is known about what happening to them after the Spanish invaded – the Guanches either died during the invasion or were assimilated into Spanish society.
The caves all had their own specific function and purpose – the Cenobio de Valerón (Santa María de Guía) for example served as a communal granary. Perched high in the cliffs, sheltered from the elements, it shows the ingenuity of the natives. Other caves like the Cuatro Puertas in Telde for example were exclusively carved from the volcanic rock to provide shelter and protection to the Gaunches from the elements. A distinctive feature of this cave are the 4 doors that mark the entrance to the cave. The views from here are spectacular.
Cenobio de Valerón – we visited with the help of our guided tour. Cuatro Puertas is possible via public bus from Las Palmas with a change in Rotonda Daora.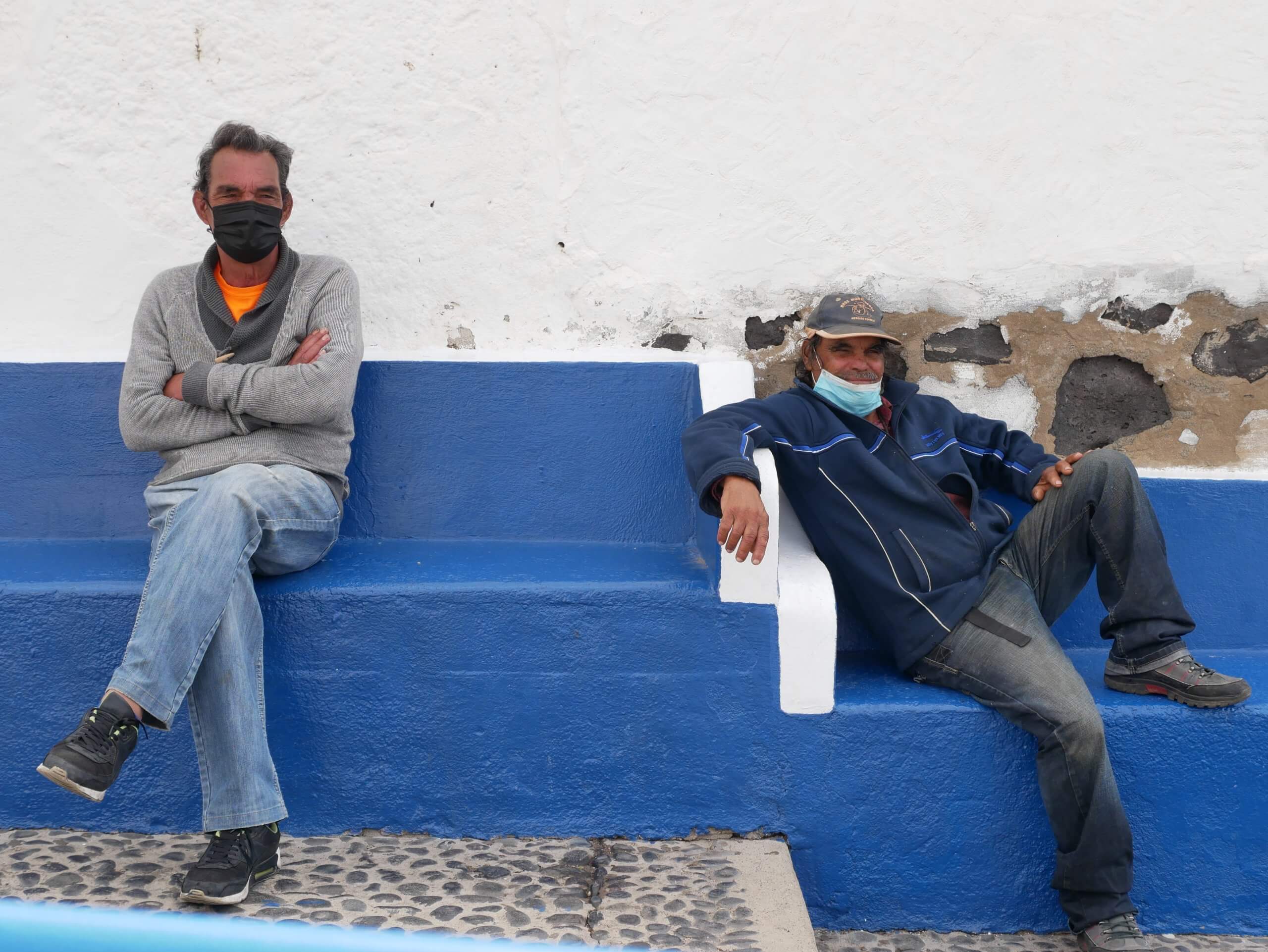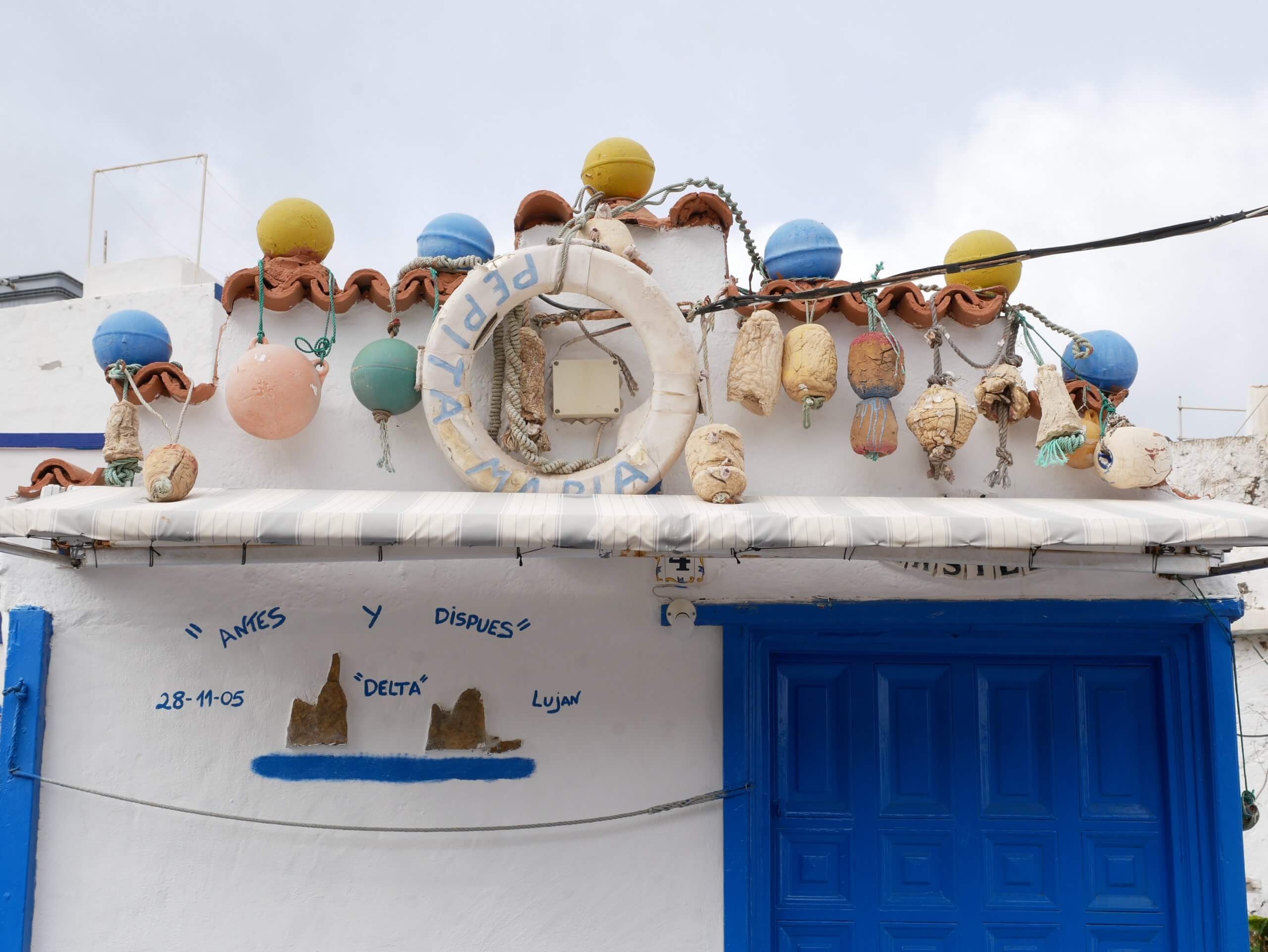 2. Agaete
I loved Agaete. With its white washed houses and dreamy location off the north western corner of the island, coming here reminded me if I had arrived in a fishing village in the Cyclades or maybe somewhere like Cadaques in Costa Brava. My only regret is not having more time here. It is sleepy during the week but on weekends, the town is rammed with islanders who all come here for some R&R plus enjoy the dreamy views of the bay and Tenerife in the distance.
If you love good seafood, definitely spend some time in the fisherman's district of Puerto de Las Nieves where you'll find a nice black sand beach plus you can see the ferry for Tenerife leave the port. Try dishes here like the typical, Sancocho Canario, a dish which consists of a fresh grilled fish, salted and spiced and served either with the typical flour of Canary islands, gofio or mojo picón. From the harbour, the centre of Agaete is just a 15 minute walk. Highlights of your walk should include the beautiful Church of La Concepción and its dreamy square.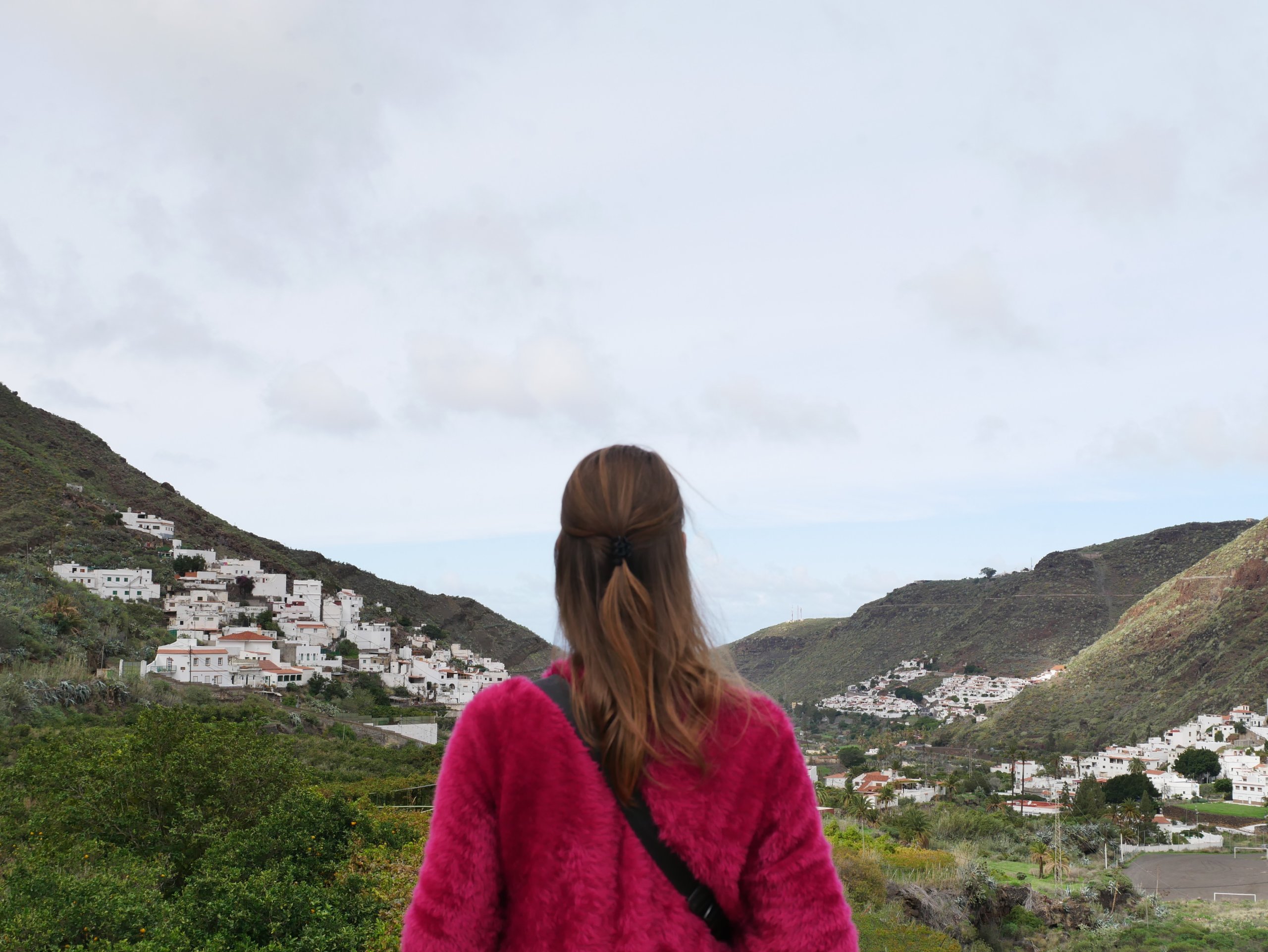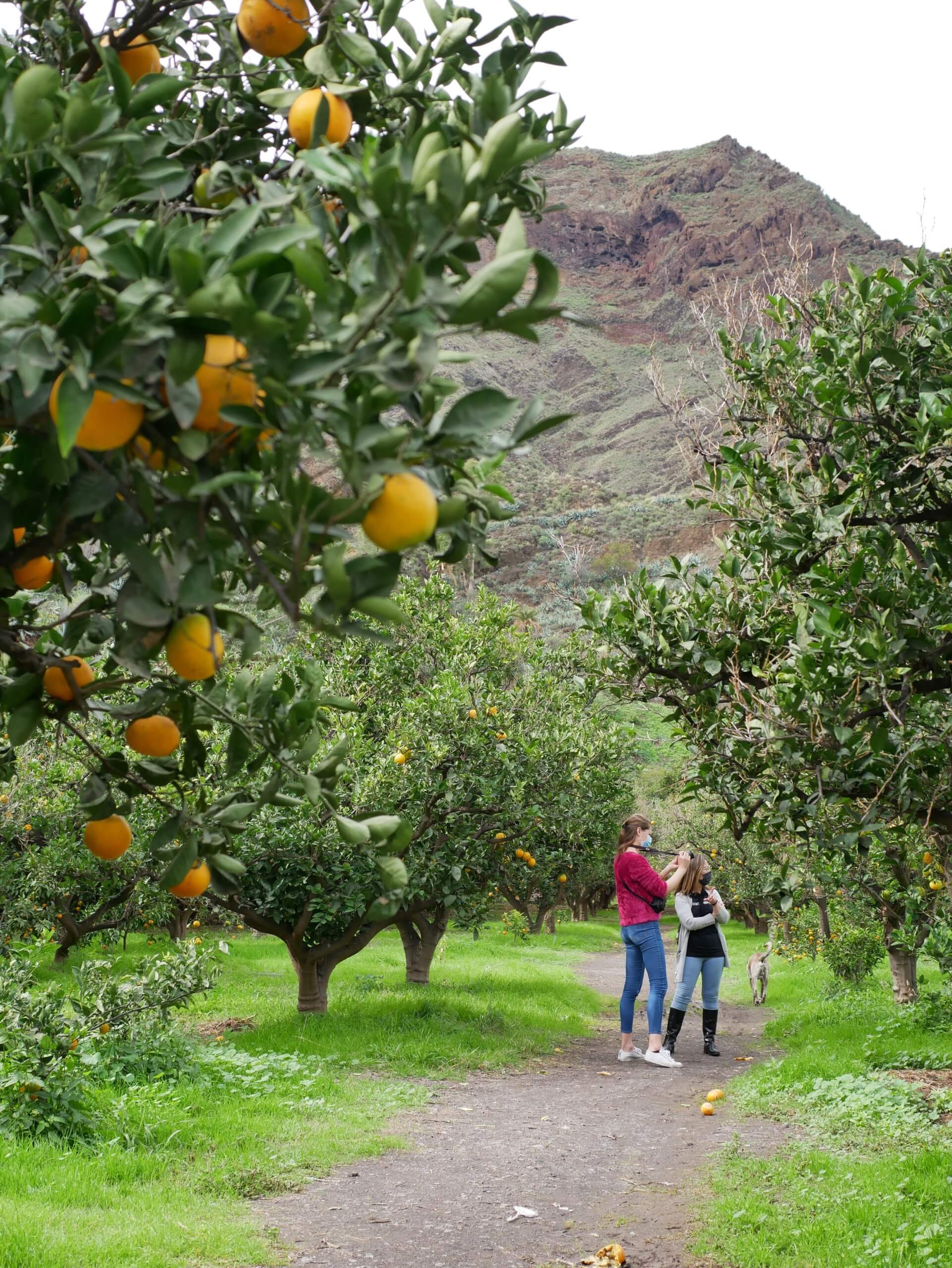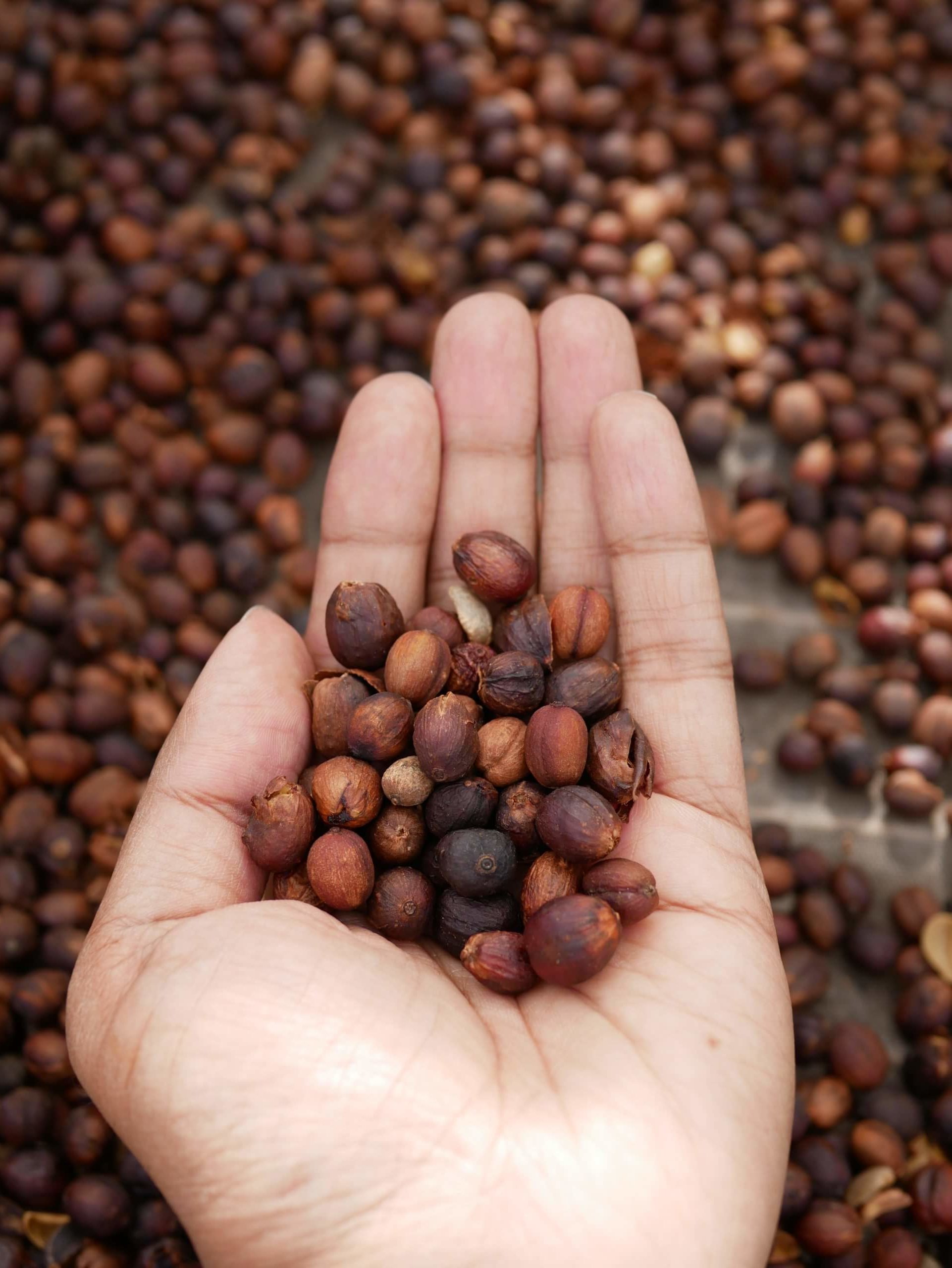 3. Bodega Los Berrazales- the only coffee plantation in Europe!
The Bodega Los Berrazales , located in the Agaete Valley, has to be one of the best kept secrets on the island of Gran Canaria. A 200 year old farm with their own wine, avocado, papayas and oranges, their unique call to fame is that since the beginning of the 19th century, they have also dedicate the land to growing coffee beans (mainly Arabica Typica, although they have recently cultivated the Geisha variety) and as far as I am aware, are the only coffee plantation in Europe. The farm is open for tourist tours where, in 90 minutes, you can learn about what is behind every cup of coffee. Visitors can discover how coffee is grown, dried, and hulled, before it is transformed into brown beans.
I recommend taking either the 90 minute guided tour of the plantation where visitors are explained the history plus also get a chance for coffee tasting.
4. Maspalomas
At the time of writing this, I am yet to visit Maspalomas but I have been told, with its warm weather, epic sand dunes and dreamy lighthouse, it is definitely worth visiting.
Top tip: Checkout the Nomad Gastro Market at Holidayworld Maspalomas. It follows the food hall concept where you can try different cuisines from all over the world.
Where to stay in Las Palmas on a budget
Friendly staff, bright and open space. Comfortable rooms, lots of family activities ranging from surf to yoga lessons (can be booked on arrival), pizza nights with beers on their open terrace overlooking the sea…the idea of falling asleep and waking up to the sound of waves – HiTide Surf Hostel is a fantastic option for backpackers, surfers and digital nomads looking for an affordable but fun space to stay in Las Palmas.
Other hostels I would recommend in Las Palmas include the laid-back, Ventana Azul Surf Hostel. Other options outside of Las Palmas – if you're looking for something more relaxed and down to earth, interested in yoga and meditation, definitely checkout the Casa Calma Yoga Guesthouse in the dreamy town of Agaete (see above for more about why I loved this place).
If you are looking for apartments or bungalows, definitely worth checking out Villas in Gran Canaria -prices start from €85 a night for a bungalow sleeping 4 people.
Disclaimer
This post was produced with the kind support of Gran Canaria Tourism Board. All my opinions and views, good and bad, expressed here are entirely my own.
Huge thanks to Katerina and the Gran Canaria Tourism Board for their support during our stay in Gran Canaria. Checkout their website for more ideas and inspiration for visiting the island. Eternal gratitude and love to Maria for showing us her beautiful island and sharing that magical day with us. Plus, thanks to Traverse Events team for making this collaboration with Gran Canaria Tourism Board possible. You guys are the best.