I've visited a fair number of amazing hostels now thanks to my Luxury Hostels of Europe project.
What I love about the luxury hostels project is the amazing diversity of cool hostels that exists out there. Each hostel is unique, has it's own quirk that makes them memorable.
There are however a few key, defining characteristics that bind them all together under the umbrella of being a 'luxury hostel. The most obvious one is the style and design aspect.  Comfortable rooms. The other key characteristic of all the luxury hostels that trumps the rest for me is the 'home away home' feeling. From the first moment you walk in there is a familiarity that is comforting.  I was privileged during my recent Lisbon jaunt to stay at not 1 but 2 unique 'home away from home' hostels in Lisbon recently.  Home Hostel Lisbon and Lisboa Central Hostel. Just when you think that Lisbon could not have anymore amazing hostels….
Here's my review of the first hostel I stayed in- ' Home Hostel Lisbon'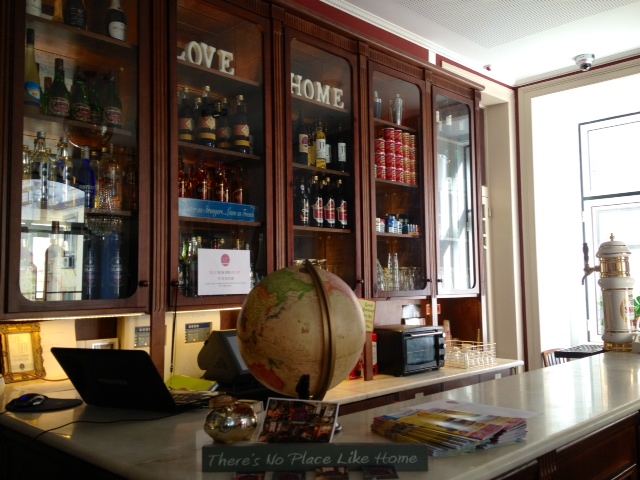 Location
Location of this hostel is fantastic. It's in a cracking location right in the middle of the Baixa district.Several of Lisbon's key sightseeing attractions are within walking distance plus there is a clutch of fantastic, moderately priced restaurants and bars nearby.
The hostel
Home Hostel is one of those hostels where from the moment you step in you feel a warm blanket of happiness around you. Every member of staff I met was friendly and helpful. Even the team of cleaning ladies I would meet in the morning would wish me. The staff make a real effort to know each and every guest.
Besides the cool staff, the colourful ambience of the hostel's common, social spaces makes this a unique hostel.
The lounge here is my dream lounge. Lots of plush comfy sofas that you just sink into and can happily fall asleep on. During the day I would happily be sitting on the sofa, checking my mails on my laptop using the hostel's excellent wifi connection. You have the biggest widescreen TV you can imagine with a DVD library of more than 150 films. The interior decor is a pleasing mix of vintage and contemporary minimalist.
They have a very cool, well stocked bar which also doubles as the reception desk. In the evenings, the small intimate bar area with a few long tables becomes the meeting point where guests congregate and get to meet each other. In the mornings, they serve a simple but nice breakfast that consists of bread, cereals, jam, nutella and coffee. Don't forget to try 'Mamma's homemade pumpkin and nuts jam'- I think I must have wolfed down 5 slices of bread pasted with that delicious stuff.
Other few cool features to point out:there is free wifi available in the common room areas and it is excellent. There is a common kitchen for guests to use.
Genius idea
They have a blackboard in the common room called 'Share my ride' where guests share details of their rides to the airport and pick-up times allowing fellow guests to share their ride & save money.  Every hostel should have a board like this. Brilliant idea.
The outstanding feature of this hostel? Mamma's dinner
My personal highlight was the hostel 'mamma's' superb 3 course meal. For just €10 you can book a place at one of 'mamma's' legendary dinners where you are treated to a delicious three course authentic Portuguese dinner with wine or beer or sangria. Nothing breaks down barriers amongst strangers like good food, company and nice wine and all these three ingredients are available in abundance in at Home Hostel. Plus you have the warmth and magnetic personality of 'mamma' who really makes you feel like you are a guest in her 'home.'
The dinner ends with a toast where guests get a small shot of 'Ginjinha', the excellent local cherry brandy or a small glass of Madeiran Port Wine.
Rooms
Guests can choose from a choice of 4, 6 and 8 bed dorms. Rooms are spacious with each bed having a huge secure storage locker – large enough for a big backpack to go in. Bunk beds are custom made wooden beds, very sturdy and don't creak and are very comfortable to sleep in. You have a private curtain so you have your own privacy. Each bed comes with a private light and power point. Rooms are air conditioned so it's easy to get a good nights sleep. The bathrooms here are all shared but of a nice standard. Clean and 2 on each floor so it never gets too overcrowded.
No ensuite bathrooms or private room? How can this hostel qualify as a Luxury Hostel….
I hear you screaming at me from behind your computer screen. I know. I am breaking the rules here.
If there was one area this hostel could improve on , is the availability of private rooms and ensuite bathrooms in some of the dorms. ( Plus wifi in the bedrooms) I had a chat with one of the owners, Andre and this is an area he is keenly looking to address in the very near future. The hostel would be then perfect for me..
For me, the hospitality along with the design, character and facilities is what makes this a true luxury hostel. No wonder Hostelworld users voted Home Hostel Lisbon as the best medium sized hostel in the world.
It's not a hostel I'd personally recommend for couples but if you are travelling in a group or going solo and looking to meet people, then Home Hostel is your perfect home away from home in Lisbon.
How to book
Book directly via the Home Hostel Lisbon website http://www.homelisbonhostel.com/
Room rates in low season range from €10 for a bed in a 8 bed dorm and €14 for the 4 bed dorm, prices doubling in peak season ( August)
Disclaimer: While my stay at Home Hostel Lisbon was sponsored, the views represented in this post are entirely my own.