Hoax Liverpool is one of a few brand new, purpose built luxury hostels that are cashing in on the trend of 'luxury hostels' ( or 'poshtels' ) across Britain.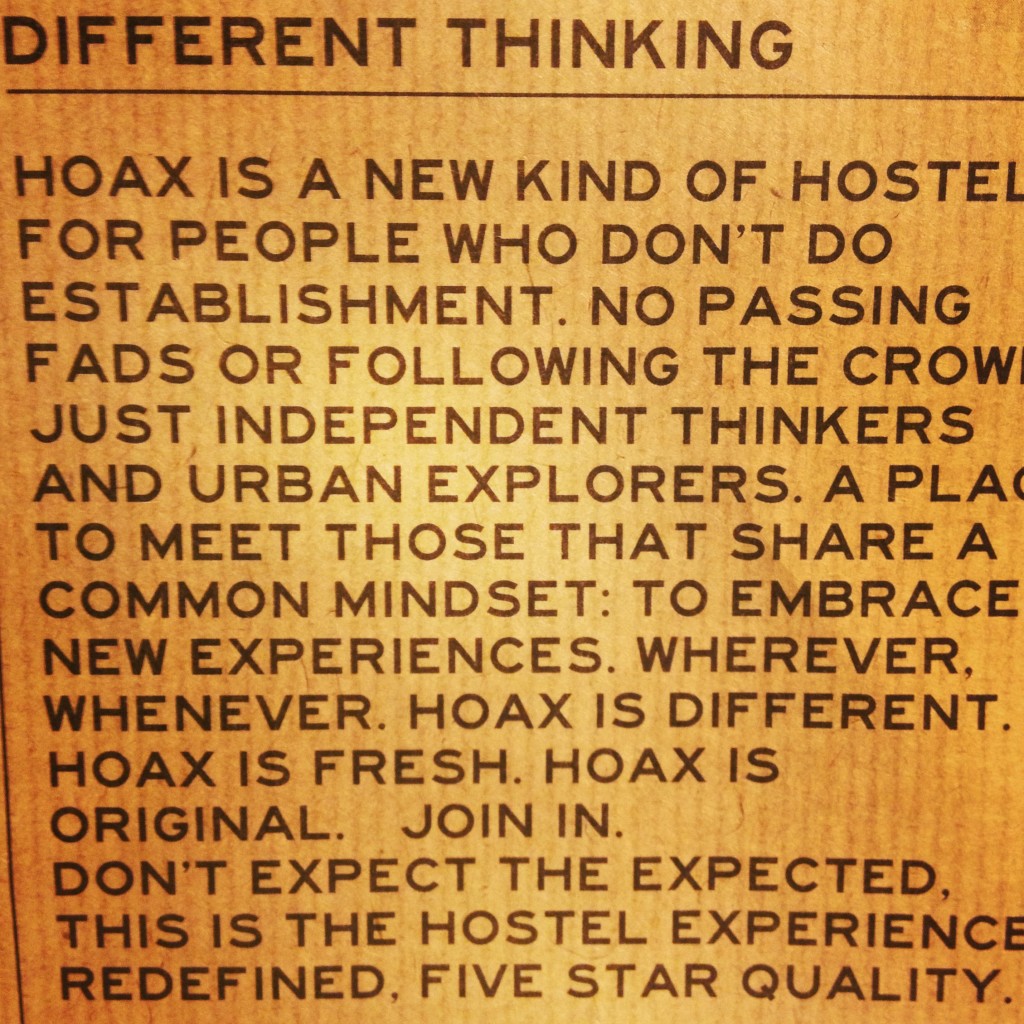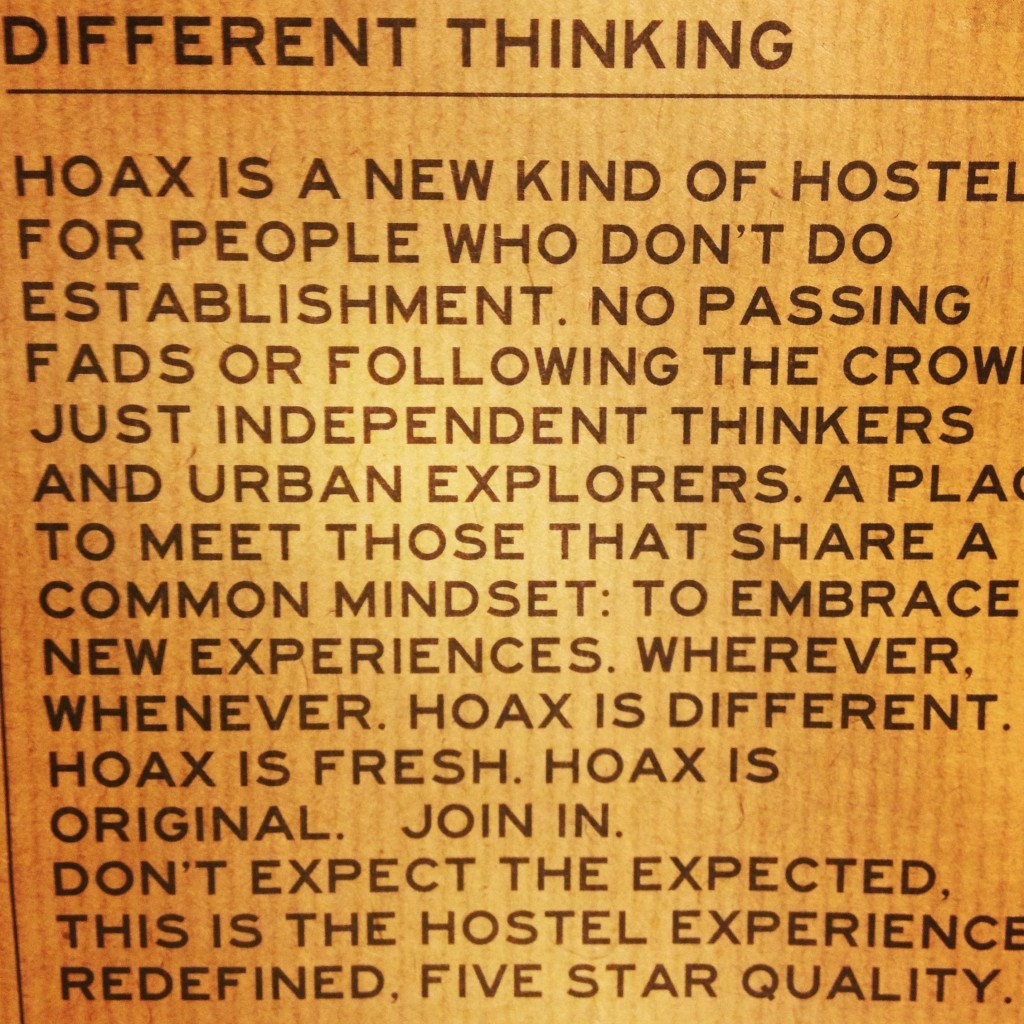 Location
The hostel is just a 10 minute walk from Liverpool Lime Street , just around the corner from the Cavern and just off Matthew Street, the birthplace of the Beatles and the heart of the city's party zone. Not ideal if you are a light sleeper.
Rooms
I stayed the first night in their private ensuite double room.  The room is stylish and comfortable, on par of what you would expect in a 3 star hotel. Bed has a quirky base made from beer crates. On my second night of my stay, I switched to their 4 bed ensuite dorm. The room was clean. Each guest has access to their own locker. ( Note: Bring your own lock ) The 2 tiered bunk beds were more than comfortable, each equipped with a private light and power socket.
Facilities
The building has a rich history- it was formally a tea and grocer's warehouse back in 1829 and a century and a half later you would have found the Robert Wade Smith department store here. This is the place where the 80's casual trend began.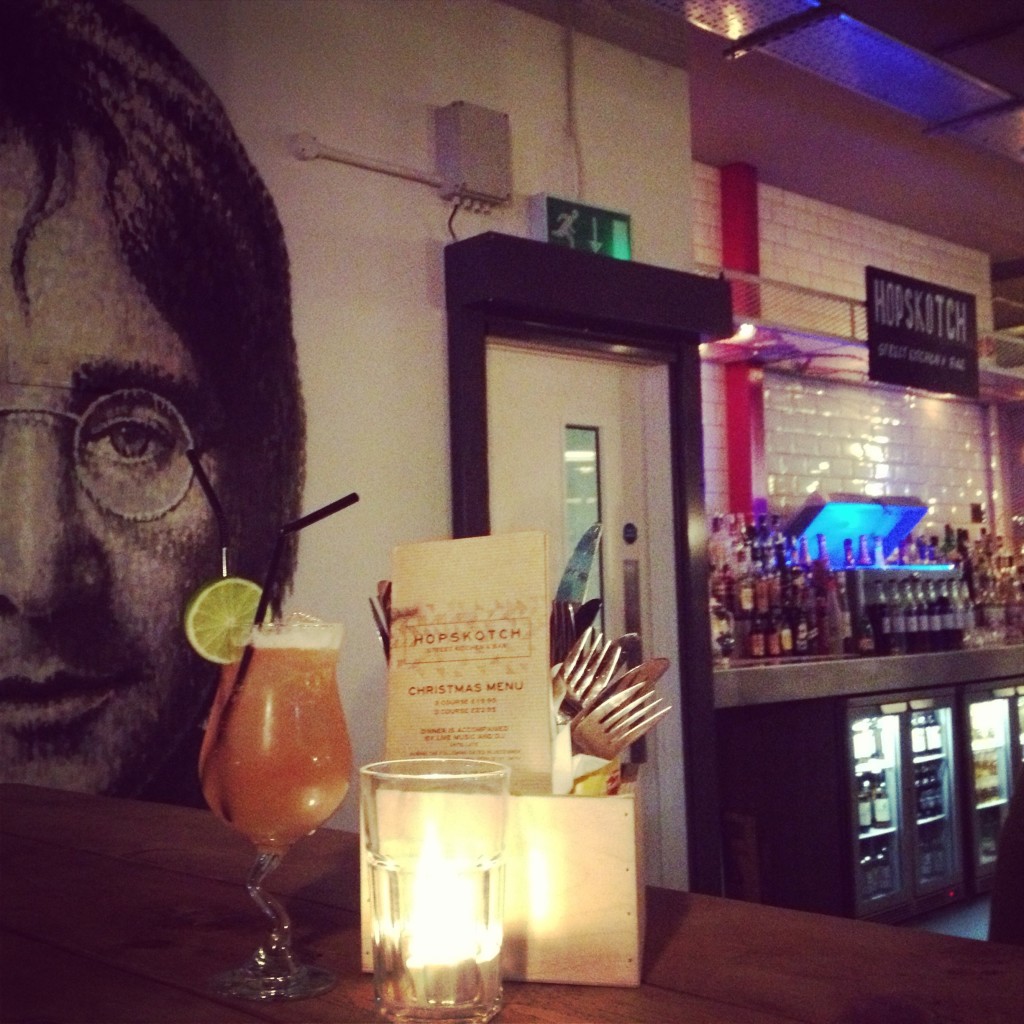 Nowadays, the building has still retained a bit of that edgy street vibe which is reflected in it's graffiti art walls daubed with murals of local icons like John Lennon. Staff were helpful with lots of suggestions for places to eat and bars to checkout. There is free excellent wifi available throughout the building.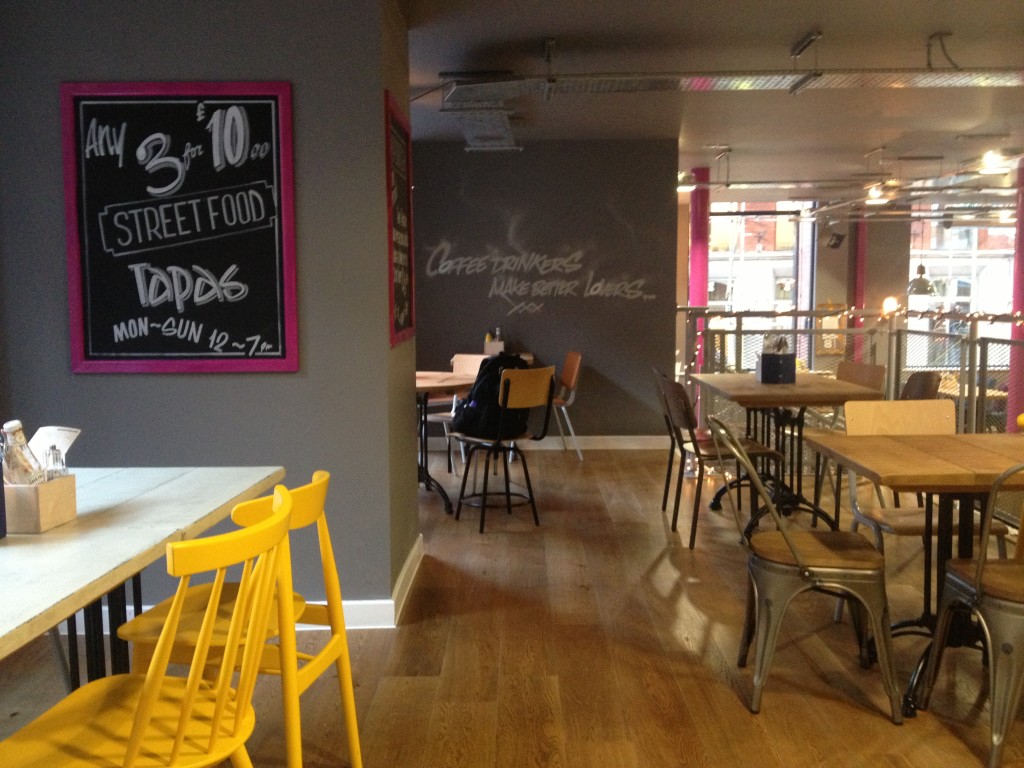 The star feature of the hostel is their very cool restaurant/bar called the 'Hopskotch' which attracts a nice mix of locals and guests. You can enjoy craft beers here on tap or choose one of their excellent cocktails ( Snoozeberry is the best) and soak up the booze with the help of their tapas style international street food menu ( starting from £4.75. They are currently running a promotion where you get 3 items from the street food menu for £10 from 12-7pm ) . You can choose from a wide variety of tasty international bites-from All American Ribs to Shredded Beef Tacos to 'Palak Chole'- a spinach and chickpea curry served with naan bread. If you're looking for bigger portions, you can go for their excellent Yeti Burger or try their delicious goat curry served with rice, peas and fried plantain ( £12.95 ).
Downstairs, they have a common room which is a bit quiet and lacking in atmosphere during the day but at night 'The Hatch' comes to life as a live music venue. You can expect to see a lot of emerging talent from Liverpool's vibrant music scene at the 'Hatch.' On Wednesday's if you fancy a go yourself, they have an open mic night. On Tuesdays, they have an excellent quiz night where the grand prize is a crate of beer and £20. The questions are tough, so come well prepared.
Other key facilities- there is a common kitchen that guests can use. At the moment, it lacks a bit of character but I hear there are plans to improve this. All guests get a free continental breakfast which is your basic affair of tea, coffee, toast, cereals and jam to start your day. If you fancy something more filling, I definitely recommend upgrading to their fry-up breakfast for £3.95 which is served at the Hopskotch.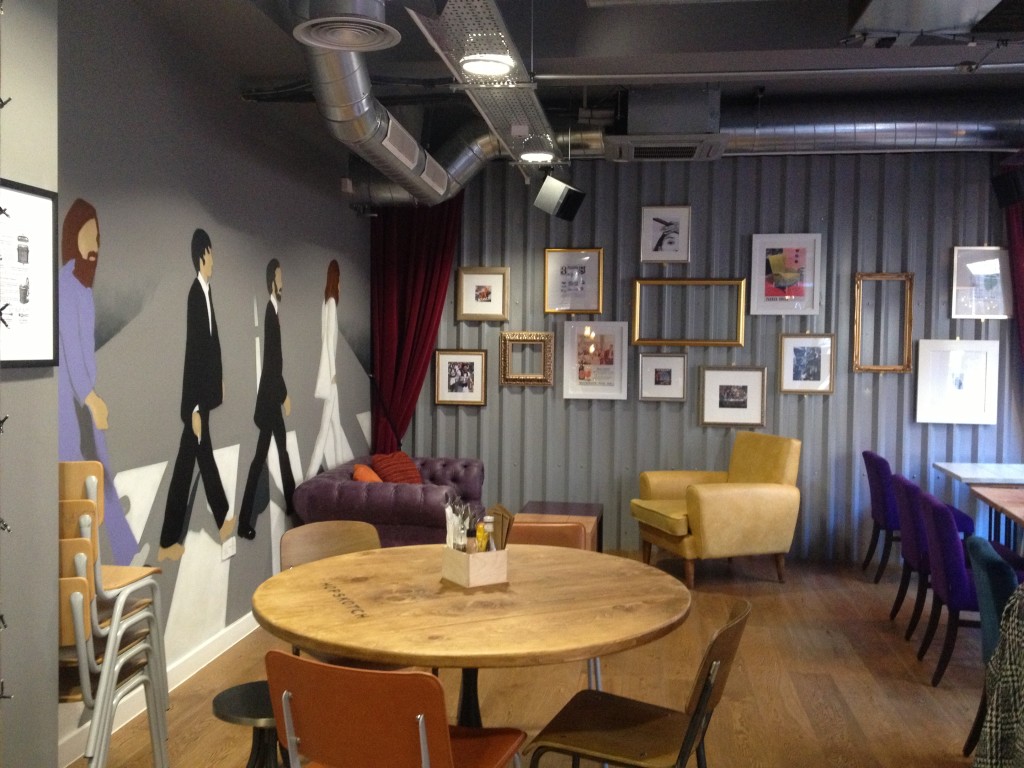 Verdict
Loved the design, layout and facilities like the Hopskotch bar. It's a hostel with great promise. Sure it is a bit on the noisy side so if you are a light sleeper then avoid. However if you are here to have fun, then I can't think of a better place to stay in Liverpool.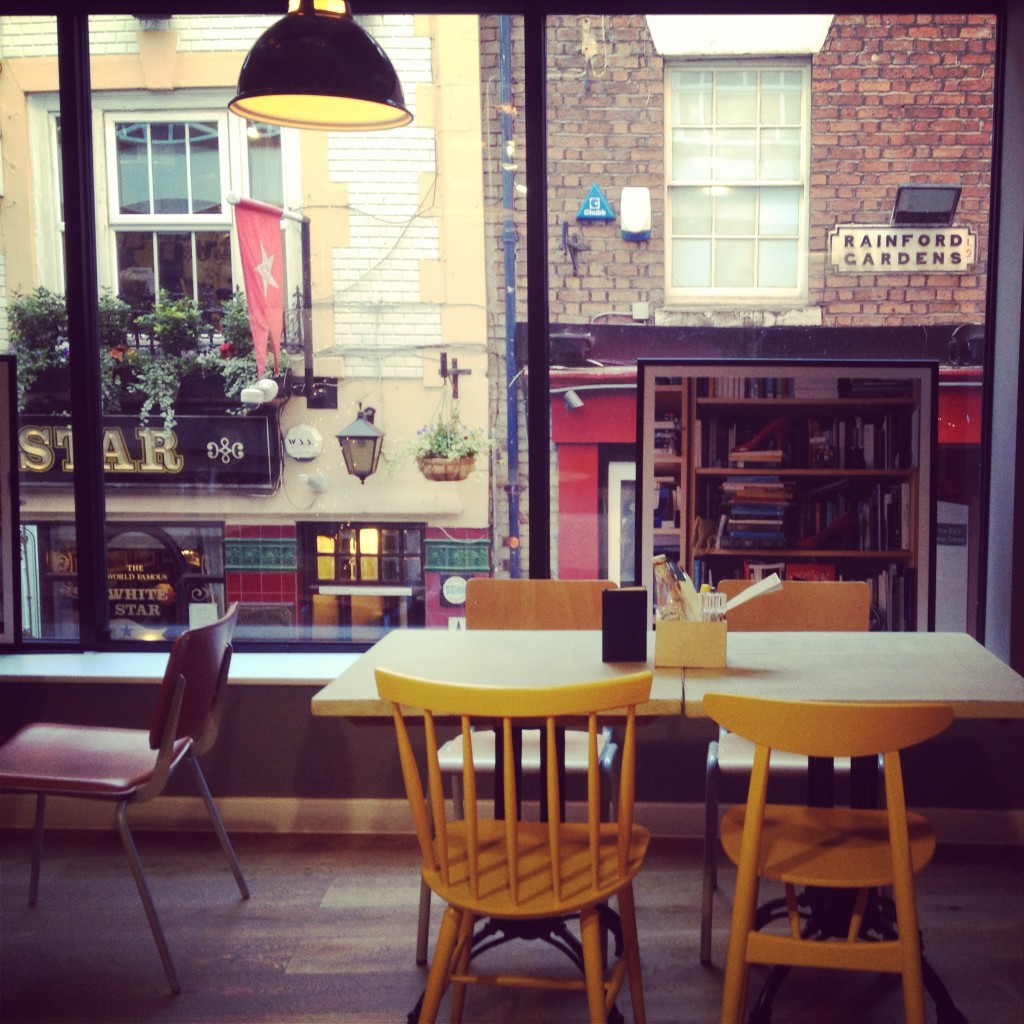 Essentials
Book at hoaxliverpool.com
Hoax
54 Stanley Street, Liverpool
L1 6AU
0151 908 0098
Dorm beds from £14.50 B&B, doubles from £54
Related articles