By Kate Bailward 
So, now you know what to ask for – where to go? There's a great selection of places and even the most expensive foreign restaurants will rarely cost you more than €30-35 per head. I'm going to be recommending trattorie as the top end of my scale, however (up to €20/head), as well as mentioning the best bars for aperitivi and late night munchie attacks. Oh, and if you're here in Catania, get in touch
1. Trattoria "da Andrea", Via Vittorio Emanuele Orlando, 89/91
Lunches can be difficult if you want anything more than an arancino or light snack in Sicily, so this place is a godsend. It's only open at lunchtime, and is always full of locals, which is the best sign ever. You won't find a written menu here – it's just whatever is being cooked in the kitchen that day.
There is a certain amount of choice, but don't expect to get anything exotic: this is well-cooked, local food and the expectation is that you'll have a pasta primo, then some form of secondo, with the choice being basically between meat, fish or vegetarian. Coffee comes from the cafe over the road with no extra charge – the waiter will head out with a tray and return 5 minutes later with your dose of bean juice, piping hot from the espresso machine. Puddings are also available, but – word to the wise – if you want something sweet, go up the road to Dulcissima (Via Dalmazia, 81) instead, because their granita is out of this world.
Expect to pay between €17-20 per head for a full meal with wine and water.
2. Trattoria di Fiore: Classic Sicilian fare, Via Coppola, 22
The service is often slow here, because it's a two-person operation – mamma in the kitchen, and her son waiting tables – but the food is worth waiting for. Go with friends and enjoy chilling out over local wine and conversation as you watch the world go by. It might be best not to go when you're already starving hungry, though, as you'll end up killing each other. A full meal with antipasti, wine, water and mains shouldn't cost you much more than about €12-15 a head.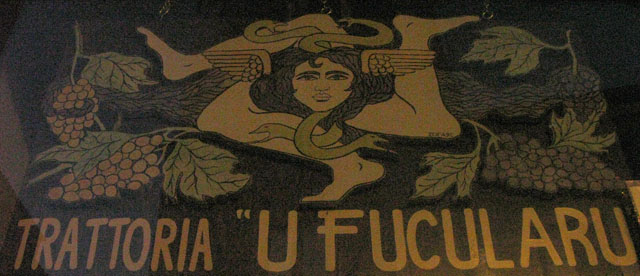 3. U Fucularu, Piazza Ogninella, 6
I went here recently with a large group of my neighbours to celebrate our street's Saint Day (yes, seriously!). We all had the antipasto buffet (caponata highly recommended) and carne secondi (polpette di cavallo, sausages and cipollate, plus horse steaks and involtini for those that still wanted more). On top of that there was local red and white wine, still and sparkling water, fresh fruit (melon and pineapple), and brownies and vanilla ice cream.  All this for €17/head. Pretty flipping amazing. I've also eaten pasta dishes here, but I'd recommend going for the grilled meats, as they're seriously good.
4. Missori Living Space, Via Mario Sangiorgio, 10
Aperitivo is one of the best Italian inventions ever: buy a drink in the early evening and you automatically get given food. Missori does one of my favourite aperitivi because it's perfectly possible to have a full meal, as opposed to some bars where you just get crisps and snacks. All the food is freshly made on the premises and just keeps appearing out of the kitchen until you can't possibly eat any more.  Then you can dance it off as the DJ plays until he's told to stop. I've had many a great night out at this bar without coming anywhere close to breaking the bank, with wine at about €4-5 and cocktails at €6-7.
5. Agorà Hostel (aka Ostello): Piazza Curro, 6
Ostello is one of the liveliest places to go for a drink outside of the main bar crawl area of Catania. It's pretty much always packed and you can get cocktails for €4-5 while listening to the regular music and performance events. Monday night is couscous night. If you're staying in the Hostel itself, evening meals (which aren't expensive to start with) are subsidised on the basis of a limited (but good) buffet selection of the main menu.  Don't forget to check out the downstairs restaurant, which is set in an underground cave formed by an old lava flow, and has a river running through the bottom of it.
6. Ruyi Chinese Restaurant, Piazza G. Verga, 7/B
Sometimes you just need a break from Italian food, and this is a good place to get well-cooked, great value Chinese. You won't find this restaurant on Trip Advisor, but more fool everyone who follows their advice, because Ruyi is streets ahead of the Chinese restaurant that's top rated in Catania on TA. It's right next to the Excelsior Hotel and the Courts of Justice, the service is friendly and the food's great. Expect to pay about €7-10 per head for a starter, mains and rice without wine.
7. Via Plebiscito / Via Nino Martoglio junction
The best horsemeat is to be found on Via Plebiscito. It's not the most salubrious area of town, but keep your wits about you, don't act like a flashy idiot and you'll be fine. At this junction you can take your pick from any number of places and they'll all be good, which is why I haven't recommended any particular one. Take a seat at a table or just get your food cooked and put into some bread to eat at the side of the street. Either way it will be cheap, hot, and fantastically good. The speciality is horse meat, but if you're squeamish about such things then you can go for cipollate or involtini instead. Expect to leave smelling of charcoal smoke and having had a great meal for significantly less than €10.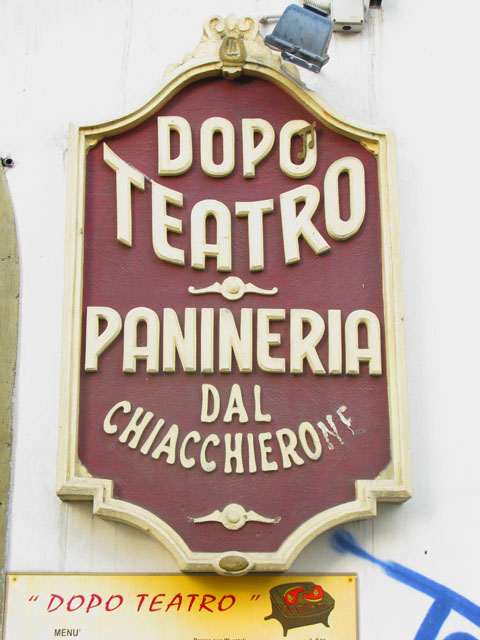 8. Dopo Teatro: Via Coppola, 4
When the Sicilians talk about a panineria, it's probably not what the English are expecting. Sounds like a sandwich shop, right? In fact, a panineria in Sicily is more like a kebab shop. Often they're streetside, just outside a butcher's shop, but Dopo Teatro has its own premises. On entering, there's a display case of the various meats on offer. Whatever you choose, it's done to order. Point at the meat you most like the look of, then choose from dense, round, Sicilian bread, or soft, chewy sub rolls to hold the meaty filling, as well as whatever salad you want. Thin-sliced horse steaks are flash-grilled on hot bars, while chicken or veal involtini and horse burgers are cooked more slowly. Add chips, mayonnaise and ketchup for the full late night eating experience, and perch on a stool inside the tiny shop, or a bench just outside and watch the craziness of the nightlife in Via SanGiuliano and the Teatro Massimo area.
9. Etoile D'Or: Piazza Umberto, 6/7 and Via Dusmet, 7
If you've got the late night munchies but don't want grilled meat, this is the place to go. It's a pasticceria (bakery) that's open all hours, but more often than not I seem to find myself there post-bar and karaoke at 3am, stuffing my face with white chocolate cornetto for the princely sum of €1.30. It *will* explode and dribble down your chin (prompting the following comment from a male friend one evening as I wiped hot chocolate off my chin and then licked it off my finger:  "Some guys would be really turned on by that …")  but it tastes amazing, so it doesn't matter if you look like an idiot / porn star. AND, there's a friendly guy on the cash till who will join in with renditions of bad 80s pop songs at 2am. The perfect place to finish your night.
Biography:
Kate Bailward (aka Katja) is a cat-loving, trifle-hating, maniac driver, writing and eating her way through life in Sicily as a straniera.