Visitors fly to Madeira Island for its mild climate all year round, breathtaking views and a warm welcome.
But how does it fare for cheap places to eat?
Local blogger, Ana Vasconcelos of FromMadeiratoMars.com fame shares with us her 5  favorite cheap eats in Funchal.
1. O Castelo dos Hamburguers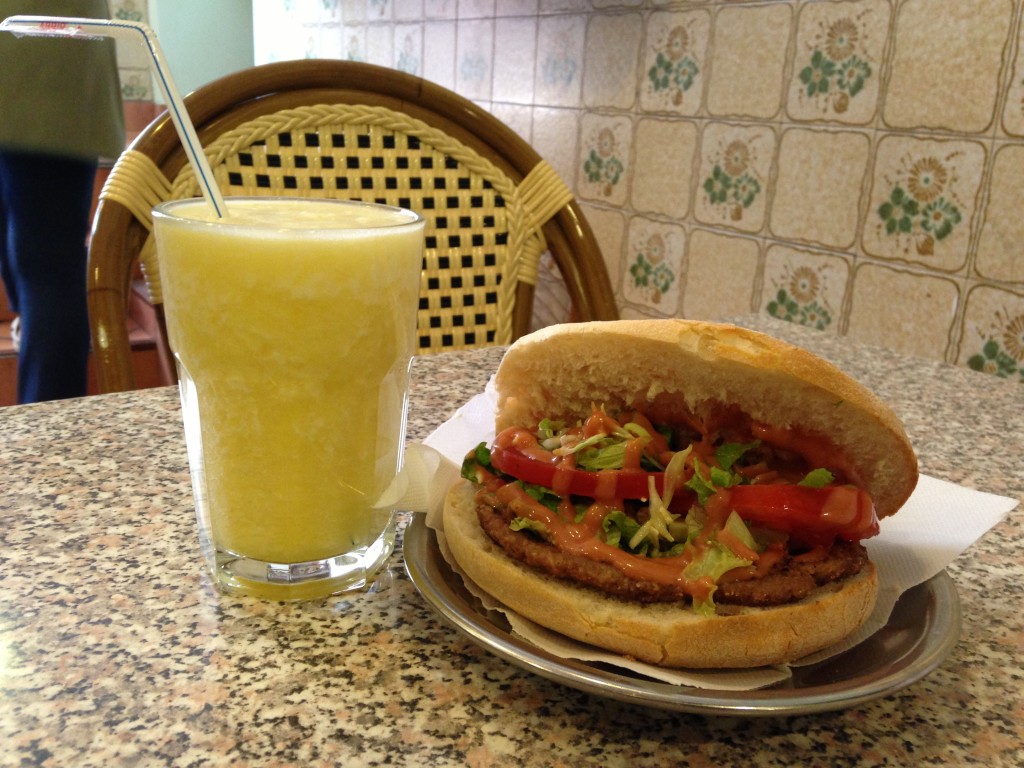 A family business, for 32 years the formula for these delicious, homemade burgers have remained unchanged.
It's located just a 5 minute walk away from the "Dolce Vita Shopping center" right in the city downtown.
A warm bread wraps up a delicious combination of lettuce, tomato, meat and a secret sauce which you accompany with one of their excellent homemade milkshakes or juices.
An unforgettable taste!
Cost of hamburgers range from €2.50 to €3.10
The most popular milkshakes flavors are avocado, passion fruit, mango and strawberry.
Cost of milkshakes range from €1.90 to €2.10
It opens daily except on Sundays and closed for the month of August.
Rua da Carreira nº 304 – São Pedro 9000-402 Funchal : +351 291 756 616
2. O Calhau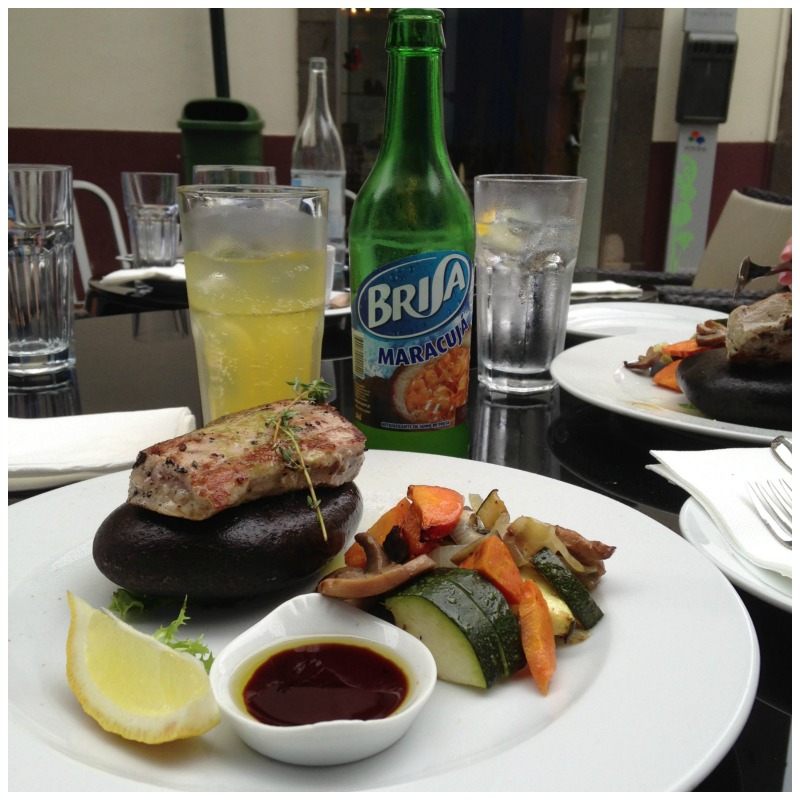 More than a shop, a lounge, a restaurant or a terrace, this recently opened hotspot is situated right beside the Cathedral Sé and has a great personality.
Painted in a vibrant blue with white sofas and chill out music, this is a place to hang out alone or with friends, enjoying quality food and drinks at any time of the day.
Kitchen is opened 7 days a week from 9am -11pm.
Several menus are available for lunch, dinner where you can choose from their freshly prepared sandwiches, tapas, drinks and  excellent Nespresso coffee. Nice staff and service is good.
My tip? Try the tuna steak cooked on the Calhau (Typical pebble you find in Madeira's beaches) It literally melts in your mouth.
Cost: €8,50
Rua João Gago, 2 C 9000 – 071 Funchal :+351  291 221 717
3. Mercearia Dª Mécia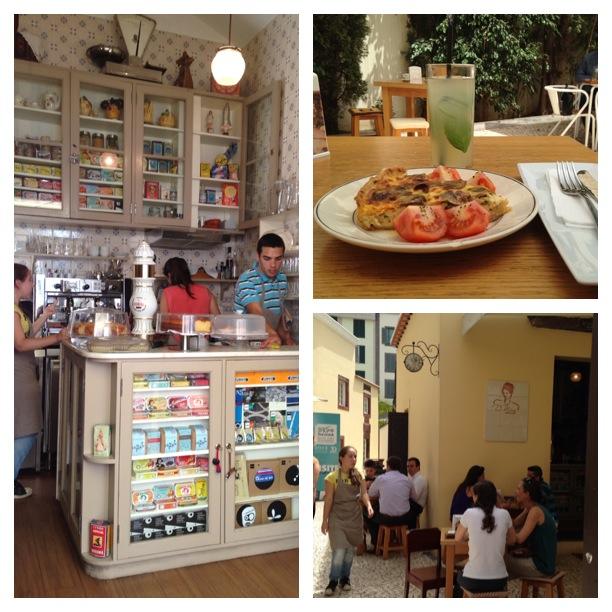 With it's eyecatching interior décor, this is definitely a place to drop by, mingle with the friendly staff, enjoy their home made snacks and just relax.
It also doubles up as a shop where you can purchase genuine Portuguese creations, such Ach Brito soap,  ceramic swallows of Bordallo Pinheiro, Emilio Braga's notebooks and objects that can be considered collectible but still continue to be produced, such as the 'Tricana' canned sardines.
As a place to eat, I loved the fresh lemonade and the "quiche" of the day: chicken curry, peas, carrots and soy cream, accompanied with sliced tomatoes. Delicious!
Cost for both: €4
They also offer the exclusive queijadinhas made with fresh cheese and lemon.
Rua dos Aranhas, n. 26, 9000 Funchal
4. A Capelinha Caffé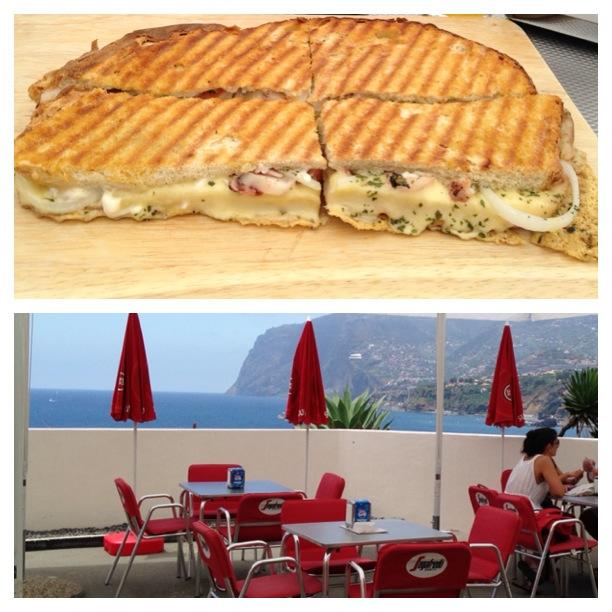 XL or XXL?
That's the question you have to decide when ordering the tasty toasties from here.
Located on the top floor of Centromar shopping center and blessed with a stunning view over Cabo Girão (one of Europe's highest cliffs), Capelinha Caffé, is definitely worth a visit!
You can enjoy their popular huge toasties with shrimps, squid fish, meat or vegetarian.
They are delicious and their average cost is €5,65.  The XXL size easily serves 2.
Centro Comercial Centromar, piso 1, loja 67
+351 291 625 043
5. Ateneu Café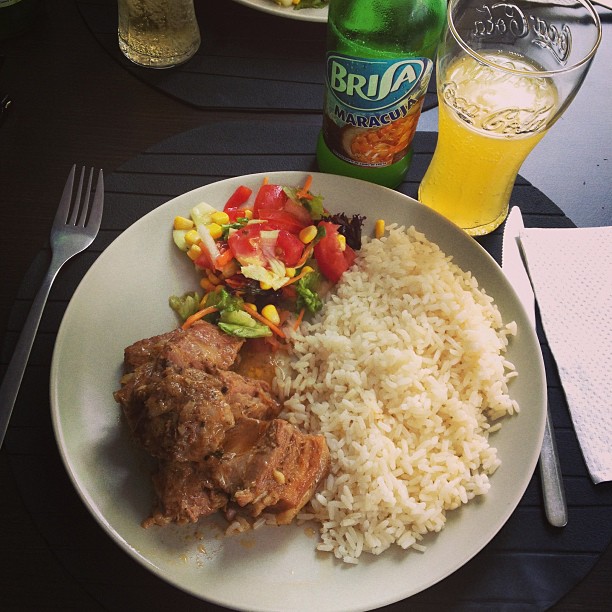 The building in the centre of Funchal originates from the late 19th and is where the popular annual Flower Festival was born.
It was refurbished in 2012, reborn as restaurant with a terrace, a small bar in the patio and also functions as an art gallery.
The café is open on weekdays and dinner is by reservation only.
There's always a dish of the day. This day I enjoyed spicy pork with rice and salad washed down with the local passion fruit drink, Brisa Maracujá .
Cost: €5,50
Rua dos Netos,9000-084 Funchal
+351 964 514 818
For more tips of things to do in Madeira please hop over to the Maderia Tourism website