Everyone has a ski story. Even if they haven't gone skiing in their lifetime.
Almost most of these stories inevitably involve someone breaking something. 'My brother broke his collarbone at 31' or ' My nan broke her collarbone at 81' are some of the encouraging responses when I tell them the news.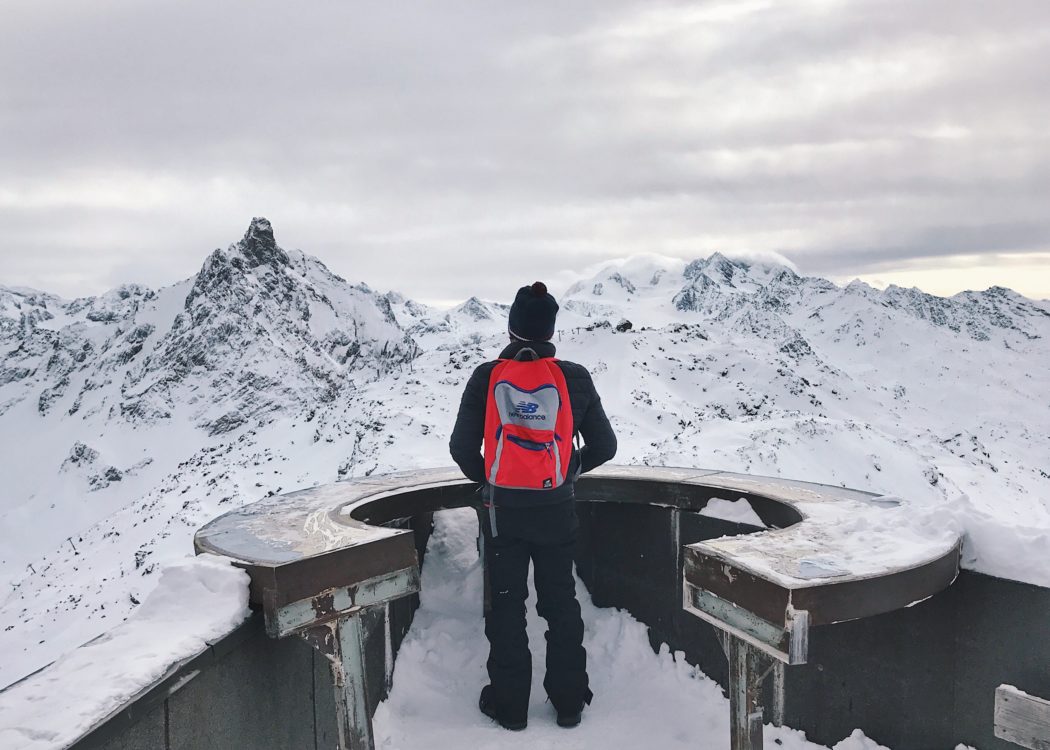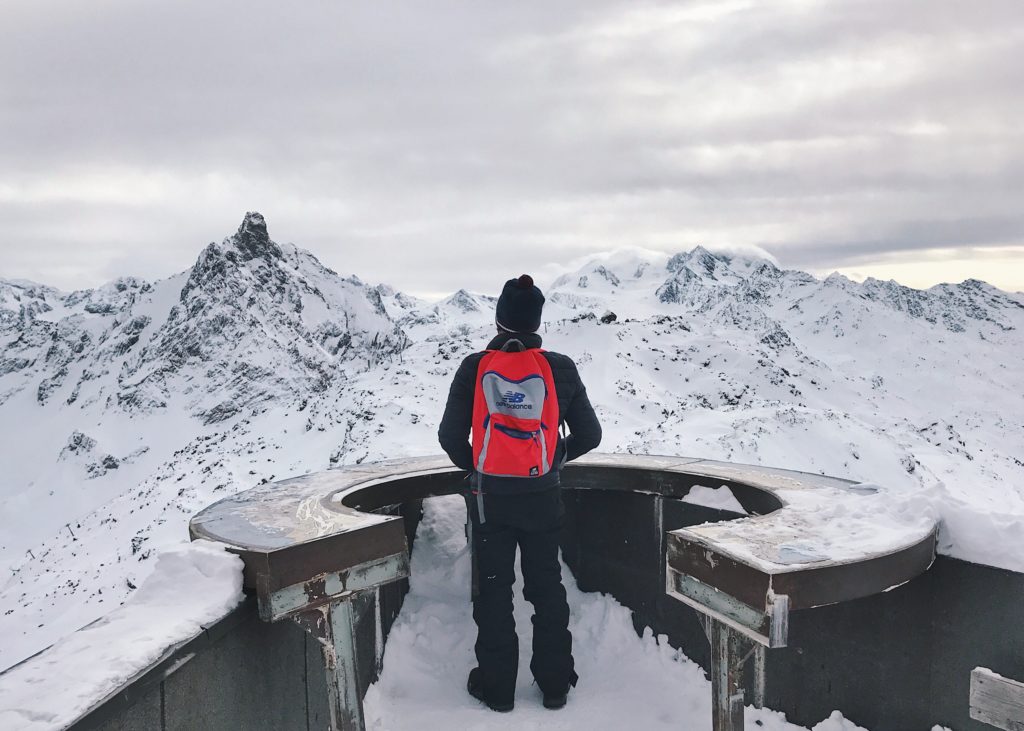 I am going skiing for the first time at the ripe old age of 37.
Some stories are reassuring. In the period of my research about whether it is utter madness or genius to go skiing, I discover the fact that for some people skiing is not just a sport. It is a religion. A unique lifestyle.
'You will love it, absolutely love it', the receptionist at my new co-working space in Lisbon confides in me one mellow January afternoon. Her eyes are sparkling like the distant waters of the Tagus. Then they grow a little sad and nostalgic. 'I miss skiing. It has been a few years since I went skiing.'
I have a friend and fellow member of the bloggerati  who is another piste addict. Every year he incurs the envy of his adoring fans and family with his epic videos on Facebook of skiing. If he's not zipping at 80 mph under cobalt blue skies you will find him rocking the party in his Ziggy stardust outfit on the tables of La Folie Douce. I am not convinced about skiing at 80 mph but the idea of Apres Ski, has me hooked. I don't mind an 80's costume party too. It does get the train of thought going: one day I am going to follow in his footsteps to this unknown world.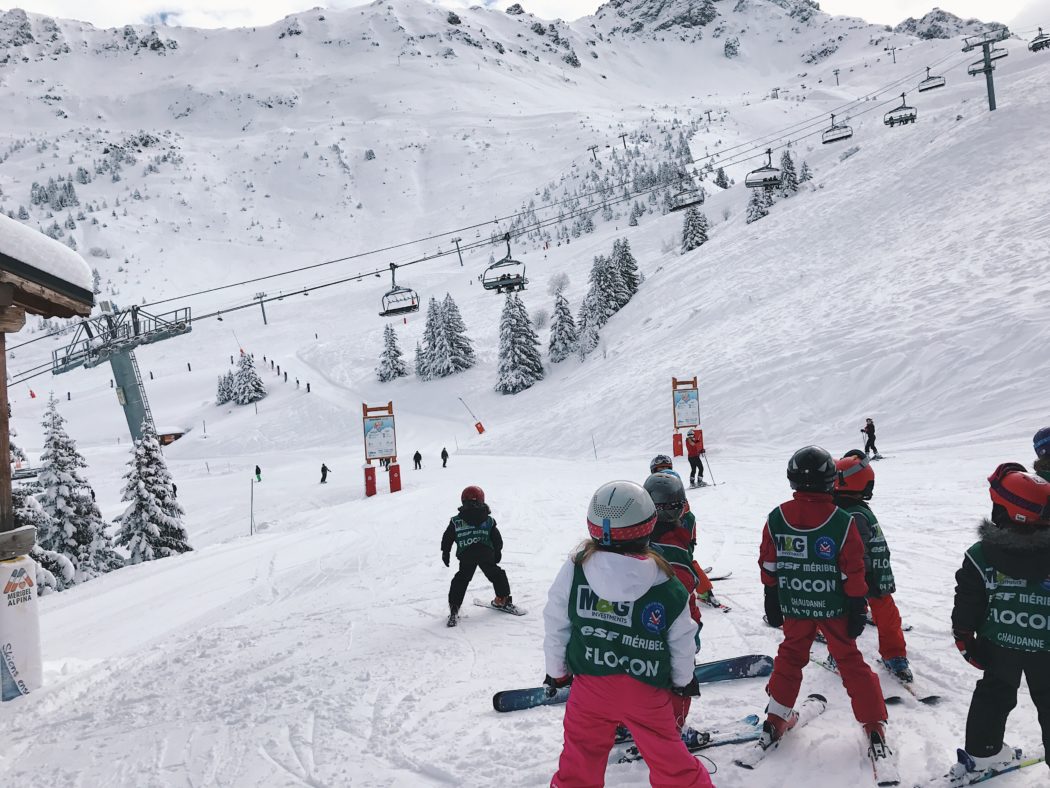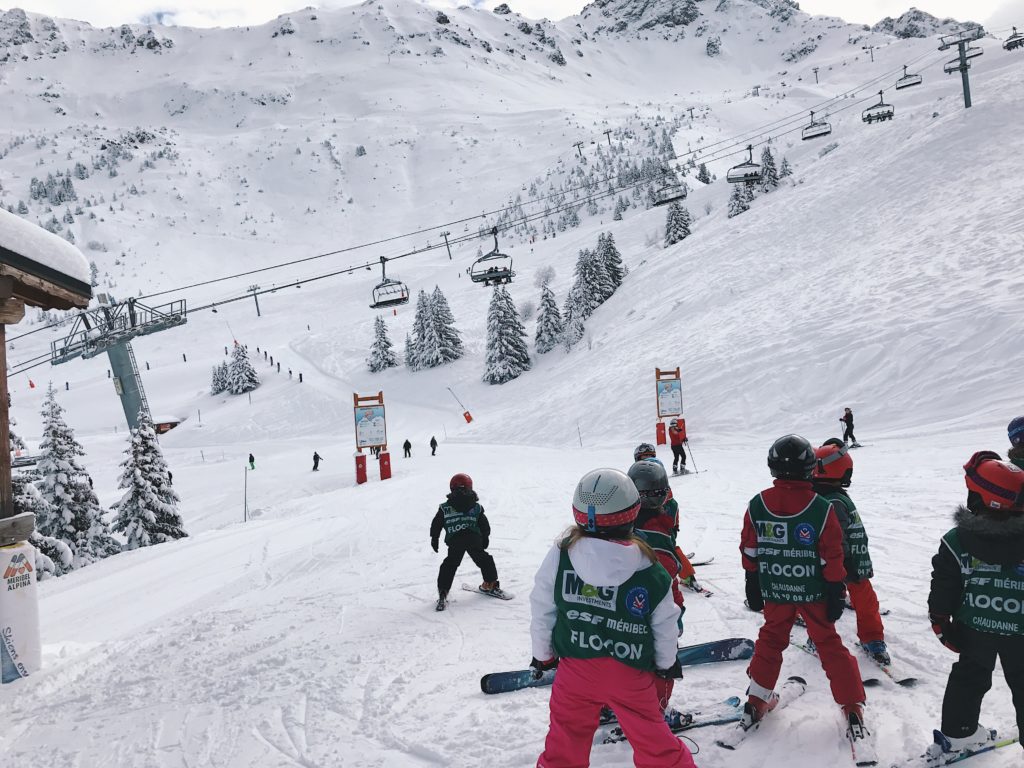 Bluebird days
'Another bluebird day!', his Facebook headline screams at me a fortnight before I am heading on my skiing misadventure. The contrast of cobalt blue sunny skies and glistening white snow looks quite appealing.
'A bluebird day?' I ask him on Facebook while gazing at the picture, scoffing my cornflakes on a dreary January morning in Lisbon. He speaks with a lexicon I am not familiar with.
'Bluebird Kash! A crystal clear blue day for ski', he nicely explains to me.
He knows I am skiing. 'You will love it Kash. Absolutely love it.' He has that nostalgic blue dewy look in his eyes. I see them sparkling like the Tagus when he speaks.
Arriving in Les Menuires
So the day finally arrives. I am both anxious and excited at the same time. After a relaxed flight to Geneva I hop onto a transfer bus that takes me to the purpose built resort of Les Menuires. The much derided modernist architecture dominates the skyline as one fine February evening my transfer rolls into the gare routiers. Considered the ugly duckling of the resorts, thanks to our love of Mad Men and all things retro, the architectural style and resort has made a comeback in years. Plus the prices here are a third or more cheaper than other resorts in the Trois Vallees area. I am staying in the 3 star Belambra Club hotel. My room is basic but clean and comfortable. After a long day of skiing all you want is a warm bed to sleep in and a hot shower. The buffet dinner every evening is a nice plus. The free wine on tap is a huge plus. Not ideal though when you have to wakeup in the morning for ski lessons.
After arriving in the afternoon my first act was to head over to Intersport, the local ski rental shop from where I rented my ski equipment for the week. Helmet, skis, ski poles and the all important ski boots. Ski boots at first feel almightily awkward. They are stiff and restrict movement. At the same time the rigidity is meant to protect your ankle and foot from injury.
Tip: Check when you hire your ski boots that you can wriggle your toes and your heel is flat.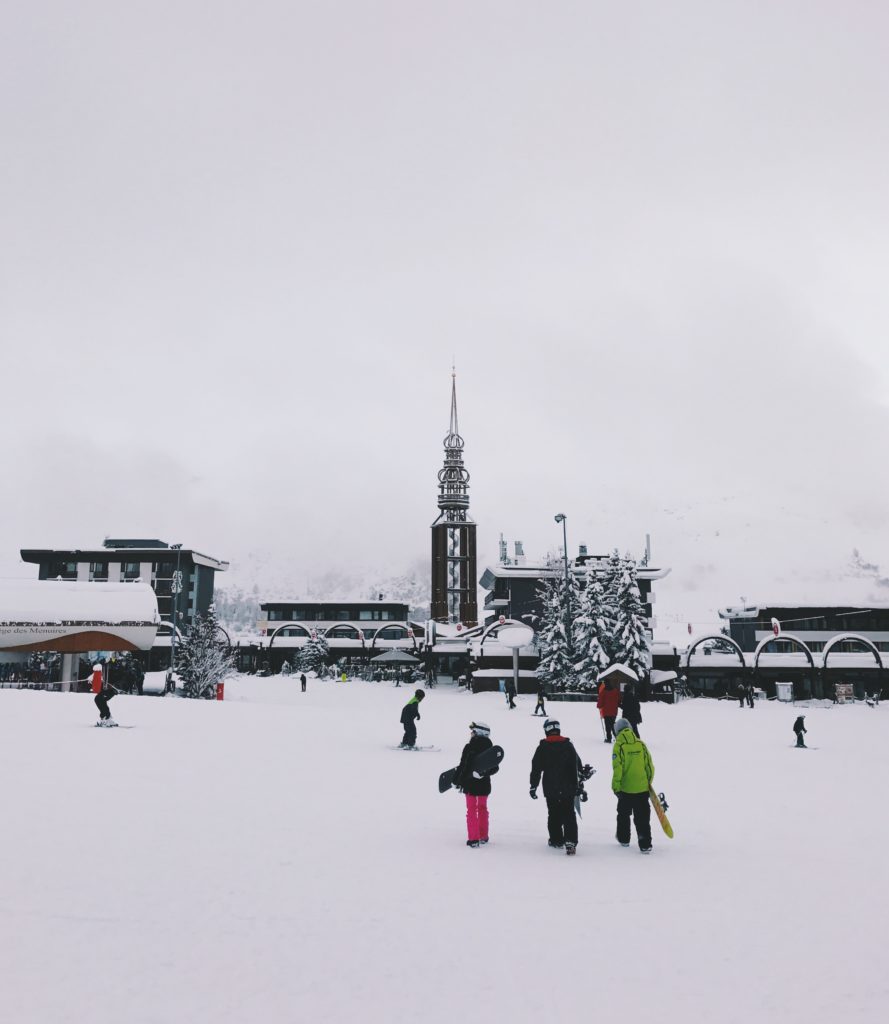 First impressions of skiing
The morning of my first ski lessons dawns under grey skies. There has been a nice dusting of snow overnight in Les Menuires. A few inches of snow I've been told will guarantee me a smooth landing and less bruises.
For my first lesson I am on a slope about hundred metres from the ski rental shop. Calling it a slope does a disservice to the word, but it was the patch of snow where my skiing odyssey was to begin. I introduced myself with a smile to my fellow inept beginners. Few smiled. Few nodded and grunted. United by little more than our incompetence on snow, I did form a bond with a few members of the group. This social 'you're not alone in this' camaraderie is a big plus of having group sessions.
Our instructor Alan from the ESF Ski School is a patient and accommodating man, guiding us from the basic steps of attaching our skis to our feet, through to the rudiments of the 'snow plough' to stop and adjust our weight to turn.
The first day is tough. It is often the hardest day. I struggle with adjusting my speed and mastering the snow plough technique or as some people call the 'pizza'. You have to really spread your legs as wide as possible and make sure your skis are pointing to each other in the shape of a pizza. For some reason I keep struggling with shaping myself into a pizza, spreading my legs as I was going down the slope. This meant I picked up speed very quickly. I could hear Allan hollering at me 'Spread your legs SNOW PLOUGH SNOUW PLOUGHHH'.
I took out a lady near the end of the nursery slope which is embarrassing. Still by end of day 1, I feel I am getting a feel for it. Unfortunately for the 2 fellow Portuguese learners in my class, they are falling over and really having a tough time.
So. One of the best bits after a big workout on the slopes is apres ski. All that hard slog means you have a guilt free pass to enjoying a few drinks and some good food. I had my first initiation into the world of apres ski at Ninkasi bar, an outpost of the Lyon based brewery. They have a nice range of craft beers on tap plus they specialise in homemade burgers, plus do a mean fish and chips. The beer never tasted so good.
Judgement day
My second day on the slopes is a mixed bag. We have a few more practise sessions on the nursery slopes. I finally seem to be able to execute the snow plough but am still struggling with making turns and adjusting my speed. Midway through the sessions, Alan informs us that we are ready to go up the mountain proper and hit one of the slopes. With a mixture of fear and excitement, we are bundled into the gondola and begin a steady ascent up to 2,000 or so metres.
The green slopes have a steady incline but one glance at the slopes, packed with hordes of beginners and kids, I feel a huge wave of fear sweep across me. After reassurance from Alan, we are all set to slide down the slopes. I seem to be doing fine till I lose my footing and fall down. I lose the group which zip ahead of me. I stumble back onto my feet trying to keep up with group. I zip down and again seem to be struggling to control my speed. I almost take out a kid of 8 in front of me before falling down.My nerves are being shredded to bits and I begin to feel close to tears. At this point it's beginning to feel like an uphill task. With the slopes being busy you have people flying past you at all sorts of speeds. Alan comes up to help me down the slopes. I get back to the bottom in one piece but my confidence is shattered. I personally felt it was too soon for me to hit the green slopes. My legs hurt with the boots. That evening I feel a bit depressed. I am loathing the idea of hitting the slopes again. The following morning, after much thought I decide not to go for my lessons.  The idea of putting on those shoes again and going near the slopes terrifies me. At the same time, I feel sad. Defeated in my quest to learn how to ski.
A friend of mine then advises me that I should take a break for a few days and see if I want to try hitting the slopes again later in the week. I take his advice and use the time wisely. The French mountains are not just about skiing.
There is a whole other range of fun activities in the local area like snowshoeing, tobogganing and even dog sledding.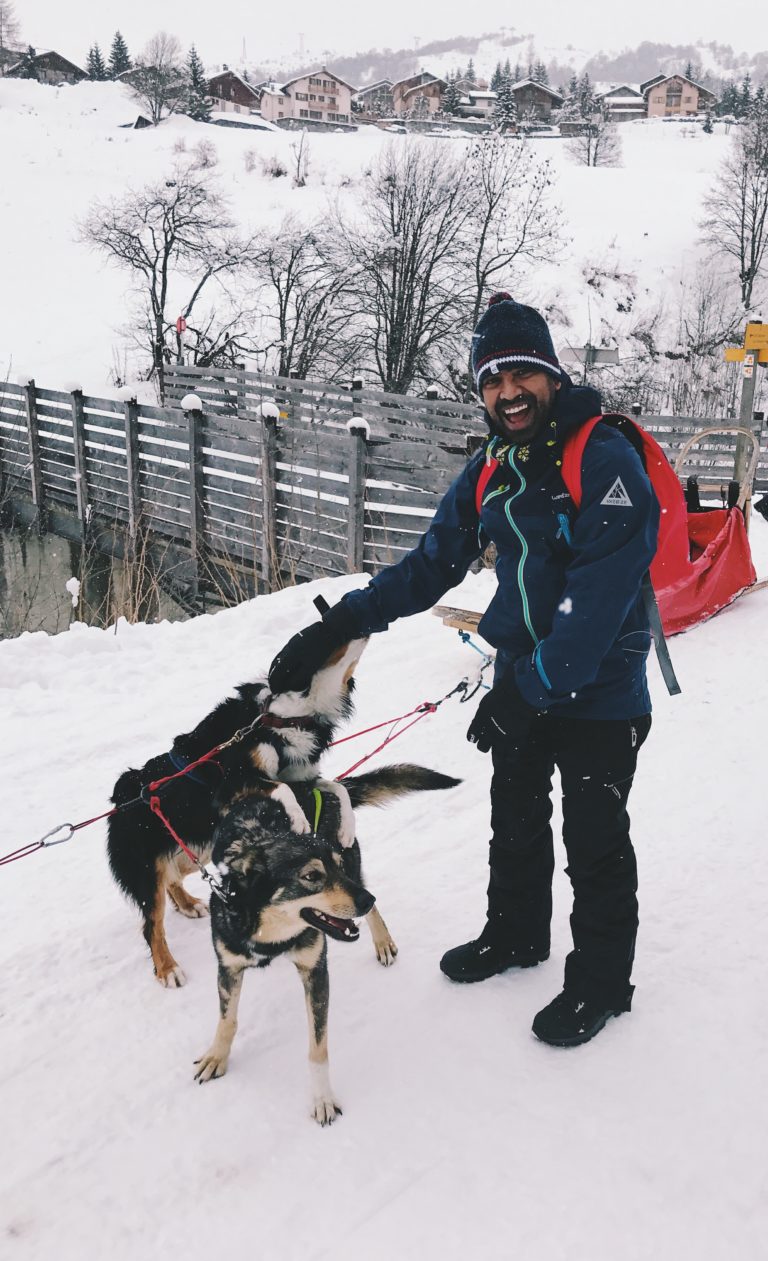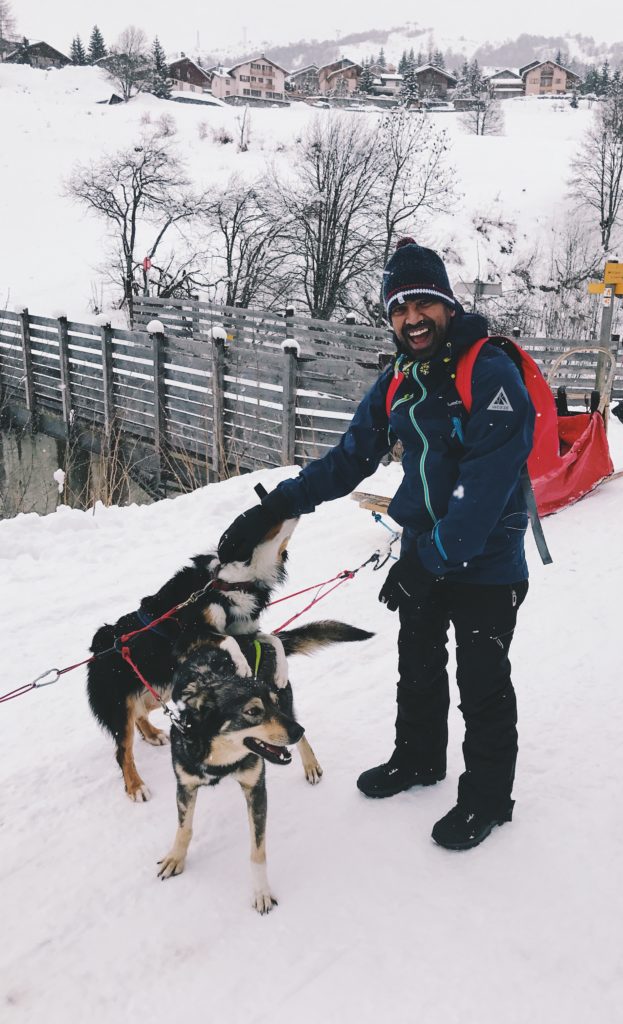 More of which I will talk about in my next post.
Plus if you a food lover, the historic village of St Martin de Belleville is in close proximity to the resort. The village is a paradise for foodies and has a number of highly acclaimed restaurants including the 3 Michelin star awarded La Bouitte. If like me you are looking for something more budget, then go to places like Le Jardin de Joséphine in St Martin de Belleville. It is a small but cosy restaurant with a limited but good menu.
Brides-Les-Bains and getting my ski legs back
Ok. Back to the conclusion of my learning to ski quest. Fortified by a few days of trying out some other fun activities I moved from the resort of Les Menuires to Brides Les Bains which is another value for money, affordable place to base yourself for skiing in the three valleys. The town is famous for its spa and that in itself is an experience which I will talk about later. Hotel prices here are a fraction of what you might spend in Meribel or Val Thorens. I stayed in the 3 star Hotel Amelie which is in the heart of town. Clean, comfortable and a nice bar to boot,  just a few hundred metres from the hotel is the ski 'bubble' lift that takes you into the heart of Meribel in just 20 minutes
With a little help from my friend in the local tourist office, Mathieu, who is an experienced skier, I decide to give the slopes another try. After a short hop on the bubble to Meribel, I tackle the nursery slopes and after a few nervy moments manage to feel more comfortable, making a few twists and turns. I think by the end I start beginning to enjoy myself. I am quite ready to hit the slopes again. However with just a few more lessons, I think I might be able to finally conquer those green slopes. That would have to be another time.
Will I go skiing again?
The big question-would I go skiing again? Yes. I would give it another shot. I definitely would love to come back to the Three Valleys. I met some wonderful people. The resorts are great value for money and offer a nice variety of experiences. Would I recommend it to other people? Skiing is not for everyone but I think at some point in your life you should definitely try it.
Skiing for the first time can be a painful, emotional experience. Nonetheless it is a powerful singular experience. I felt I grew and learnt something new about myself through the week.
As I mentioned in an older post, one of the great things about travel is that it does make you confront your deepest fears. Sometimes those gruelling tough journeys can make you a more resilient, tougher person. I know it's not for everyone. Given the choice, many of you would prefer spending their money on a beach holiday over learning how to ski. Some of you though I am sure would be tempted to try skiing I suspect.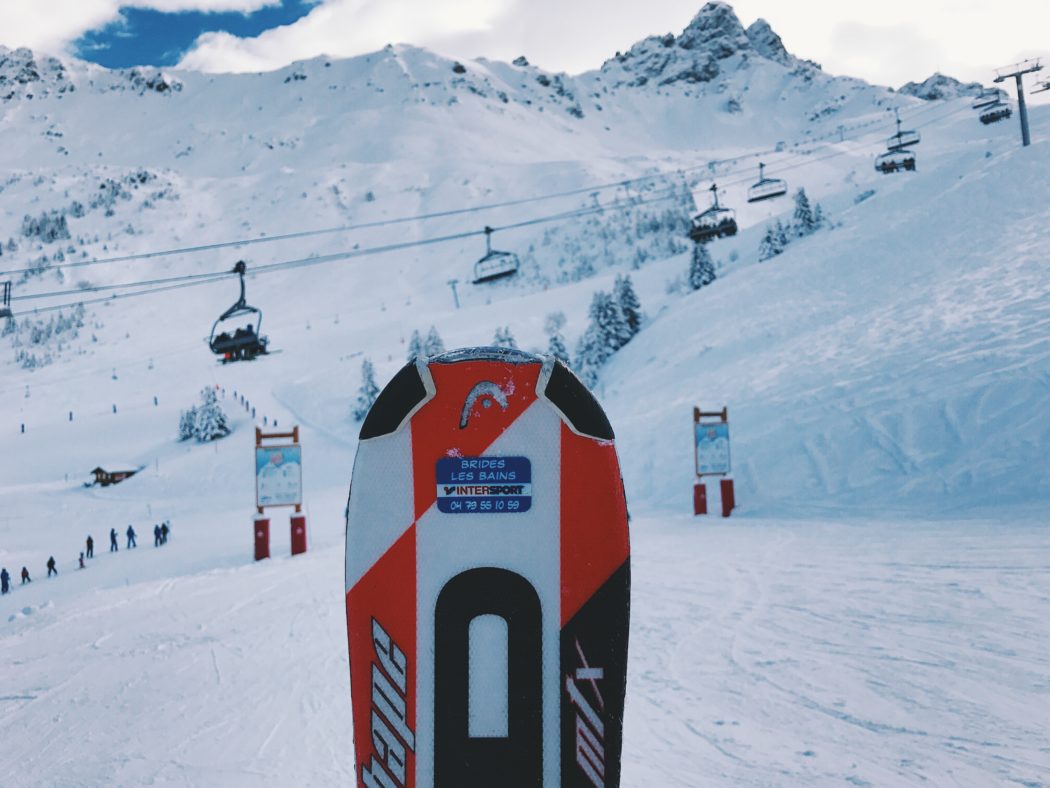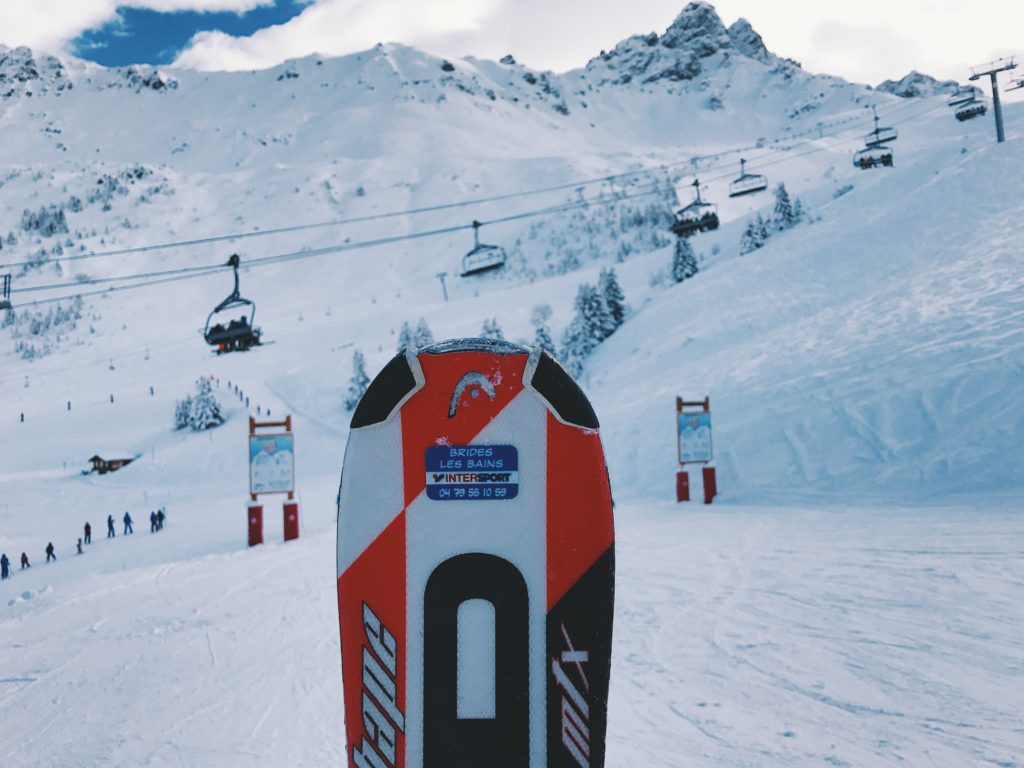 On my last day on the slopes in Meribel the suns comes out and I experience finally a 'bluebird' day. I take off  my ski boots off and gaze up at the mountains. There's a wonderful silence about these mountains high up. I heave a sigh of relief and happiness. I have finally experienced the unknown world I had wanted to see all these years. At peace with myself, I enjoy the wonderful contrast of the towering fir trees, the pearly white slopes and those cobalt blue skies. A happy kind of blue. The happy nostalgic blues you often catch in peoples' eyes when they think of standing high on these pearly white mountains, the heavens above and the earth at their feet.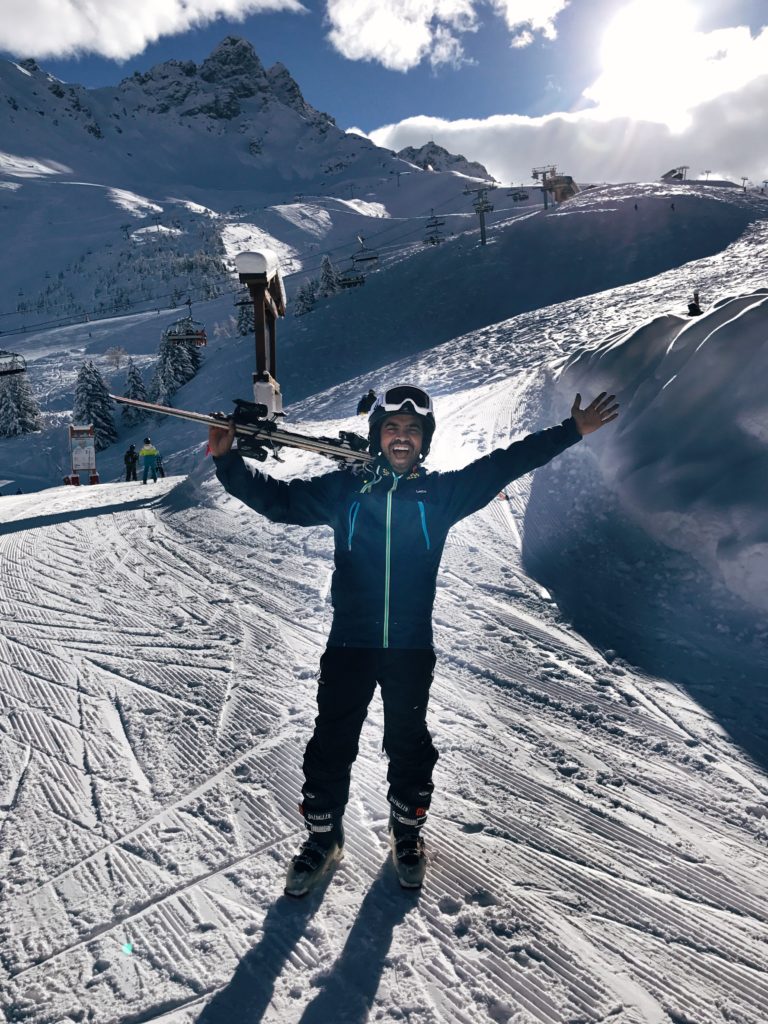 Essentials
I went to Les Menuires and Brides-Les-Bains courtesy of Crystal Ski Holidays (www.crystalski.co.uk; 020 8939 0726) I stayed half board at the three-star Hotel Neige & Ciel in Les Menuires. Prices starts from £539 per person (based on two sharing) including flights from Gatwick to Chambery and transfers ( price given is for departure on 6 January 2018). Or you can stay half board at the three-star Hotel Amelie in Brides les Bains from £605 per person ( departure 25th March) or £628 per person (Departure on 6 January 2018, based on two sharing) including flights from Gatwick to Chambery and transfers. Direct flights are available from all major UK airports.
Other key costs you need to take into consideration is your ski equipment. I used Intersport France. In Les Menuires 6-day ski & boot hire starts from €71.40 while in  Brides Les Bains , a 6-day ski & boot hire starts from €70.80
If you are a first timer like me and would like to take lessons, group lessons from ESF Les Menuires start at €125 (6x afternoons) or €178 in the morning (6x) mornings. Ski lessons ESF Meribel (Brides Les Bains = Meribel ski area) start at the €223 6x lessons (morning or afternoon)
Ski pass is not included. For Les Menuires a 6 day pass comes to €188.00 or if you want access to the whole 3 Valleys area: world's biggest ski area connecting the resorts of Courchevel, Meribel, Val Thorens, Les Menuires and Brides Les Bains, price starts from €238,10 for a 6 day pass
Disclosure : I was a guest of Atout France , France Montagnes,  to help promote winter sports in the French Alps. However, all opinions expressed here are entirely my own