Of all the places I visited in 2017, my trip to Zaragoza was up there with the best: I really didn't expect to enjoy this city so much. That too, with just 24 hours to enjoy the city. Why do I love Zaragoza? It has got everything you would look for in a short break: beautiful architecture: old and new , an incredible food and drink scene, fabulous street art and tons of culture to soak in plus not forgetting that this is a very stylish city with wide modern boulevards, cool shops and bars. Spain's fifth largest city has got so much to offer. Think it is a matter of time before the secret comes out and National Geographic or Lonely Planet features them on their Best of Travel list. Definitely, a place you should consider visiting in 2018. Combined with the fact that it is only a 1 hour 30 minute ride from Madrid thanks to Renfe's highspeed AVE train and you have the ability to enjoy a fantastic twin city short break over a long weekend. Here's my experience of enjoying 24 hours in Zaragoza on a budget.
PS Hope you've enjoyed following my #SpainByTrain adventures. I'm pleased to share with you a cool competition where you have the chance to win two RENFE passes! Please scroll to the end of this post for details on how to enter.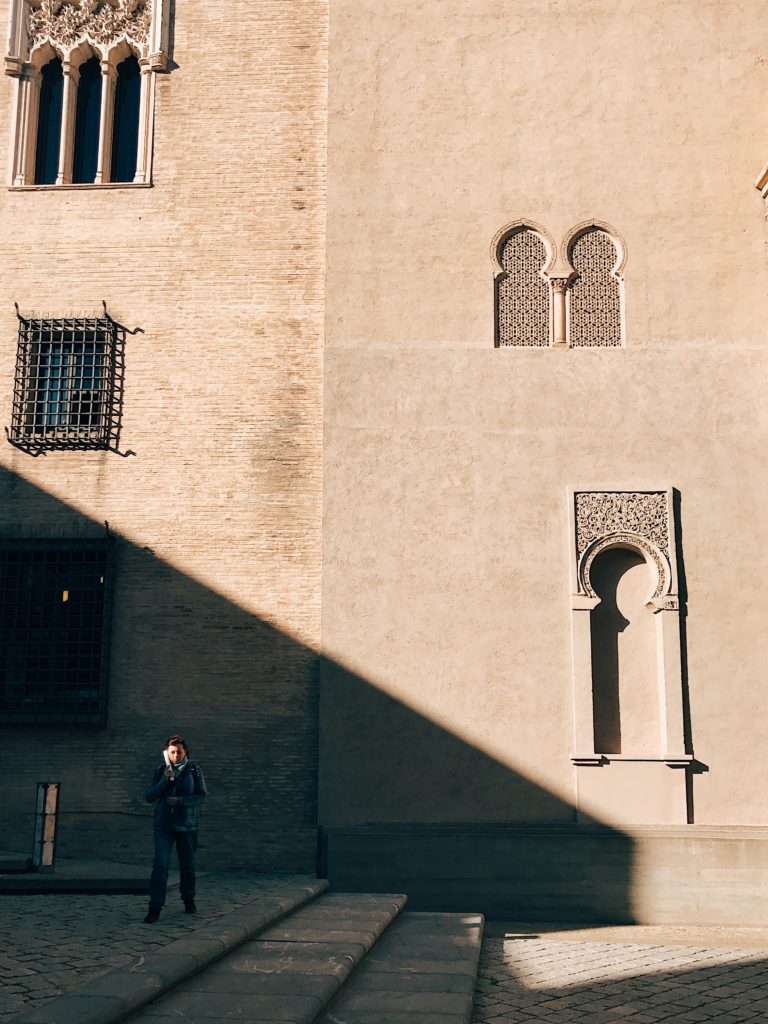 Visit the Palacio de la Aljafería
As I mentioned in my earlier 24 hour guide to Seville, the Moors throughout their 800 year reign of Spain left a rich and lasting impact on Spanish life and customs. One of the most outstanding legacies of their rule was the wealth of architecture they left behind. This is most evident in Andalusia where they built the monumental Alhambra Palace in Granada and the majestic Royal Alcazar palace in Seville.
The one moorish palace that is not so well known to travellers coming to Spain is the Palacio de la Aljafería. This beautifully preserved palace is highly significant as it was the most northernly situated Moorish palace in Spain and Europe. The Aljaferia was built during the second half of the 11th century. It initially served as a residence of the Banu Hud dynasty. Later the palace was converted into the residence of the Christian monarchs of the Kingdom of Aragon, Fernando II and Isabella I. They left their own imprint on the building : don't miss the 'throne room' with its outstandingly rich decorated ceiling. Throughout the building you can observe the signature Mujedar style like the elaborate octagonal prayer room and the mihrab (a semi-circular niche in the wall that denotes the direction of Mecca) which was decorated in floral patterns featuring inscriptions from the Qur'an. Also noting that the Trovador tower features in Verdi's famous opera Il Trovatore plus this was the place where Christopher Columbus received his warrant to sail to the New World.
Essentials: Ticket prices for Adults cost €5. For student or pensioners (over 65) cost is just a €1.Children from 0-12 years go free. If you are lucky to visit Zaragoza on a sunday, entry is free!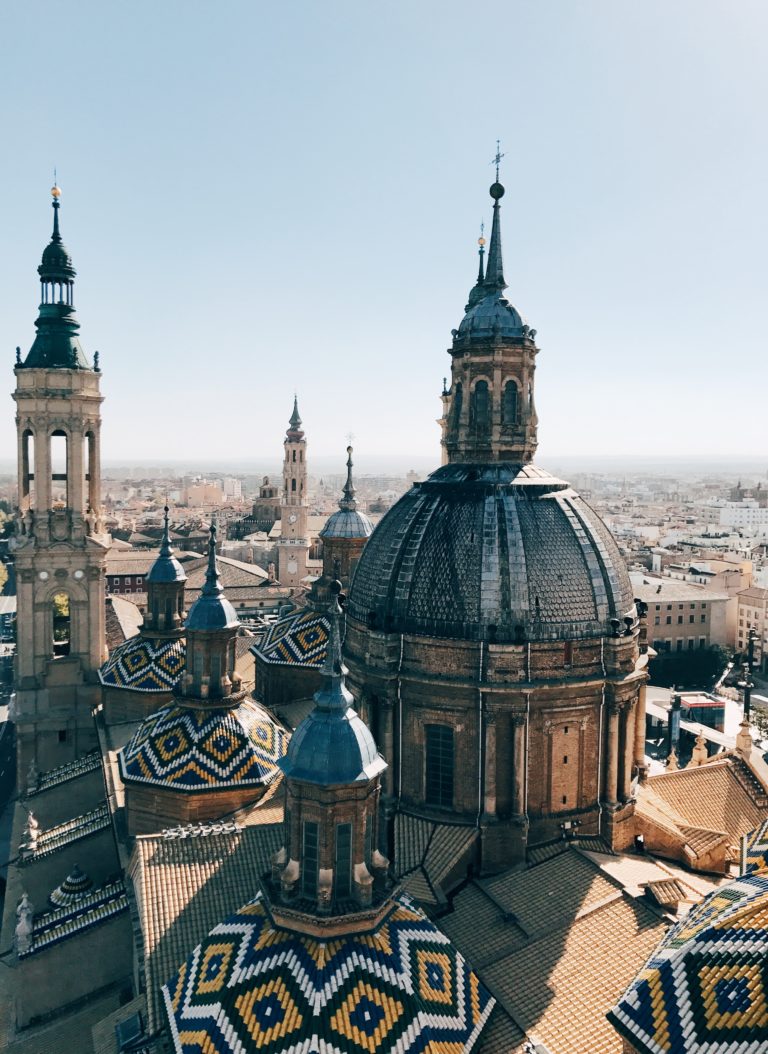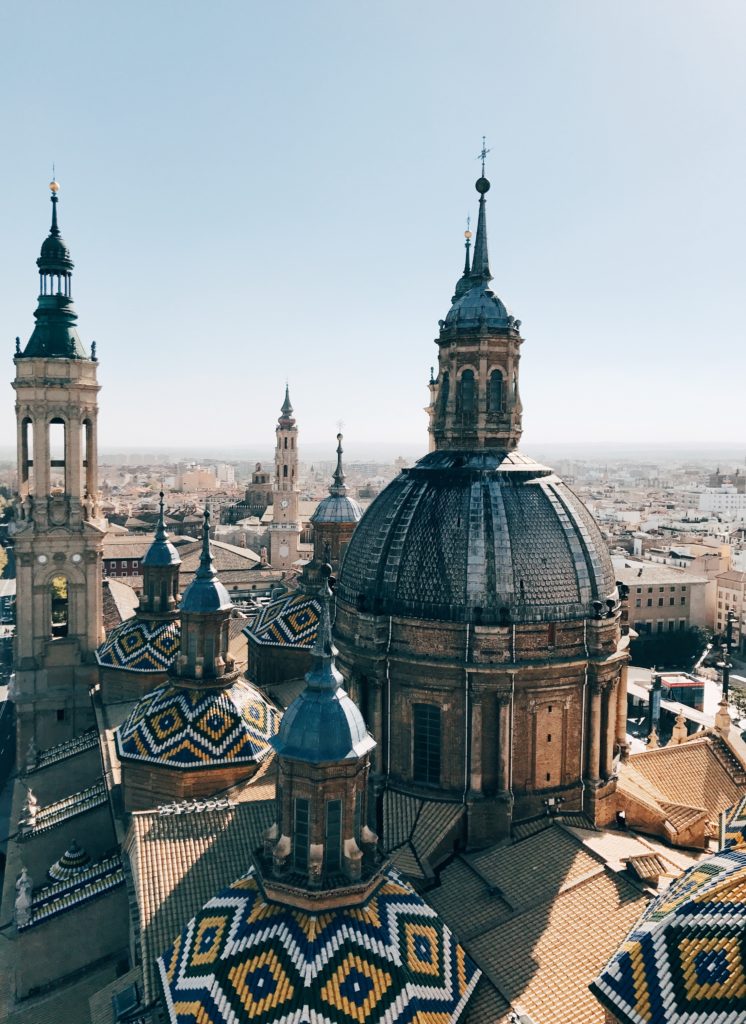 Basílica del Pilar
The first sight of the Basilica (open daily 6.45am-8.30pm; admission free; basilicadelpilar.es)  really is breathtaking. The first thing that strikes you about this cathedral is the length and the vast scale of the building: it is the biggest baroque church in Spain. Again, you can see the influence of the Moors here with the 11 colourful Byzantian style domes and 4 minaret like towers: the cathedral really stands out : one way of getting a sense of perspective is taking the lift from North Tower of the cathedral from where you can enjoy a fabulous panorama of the city, the river and those glorious domes. The church is equally beautiful inside : the highlights for me here were the two frescos painted by Francesco Goya: The Queen of Martyrs and Adoration of the Name of God.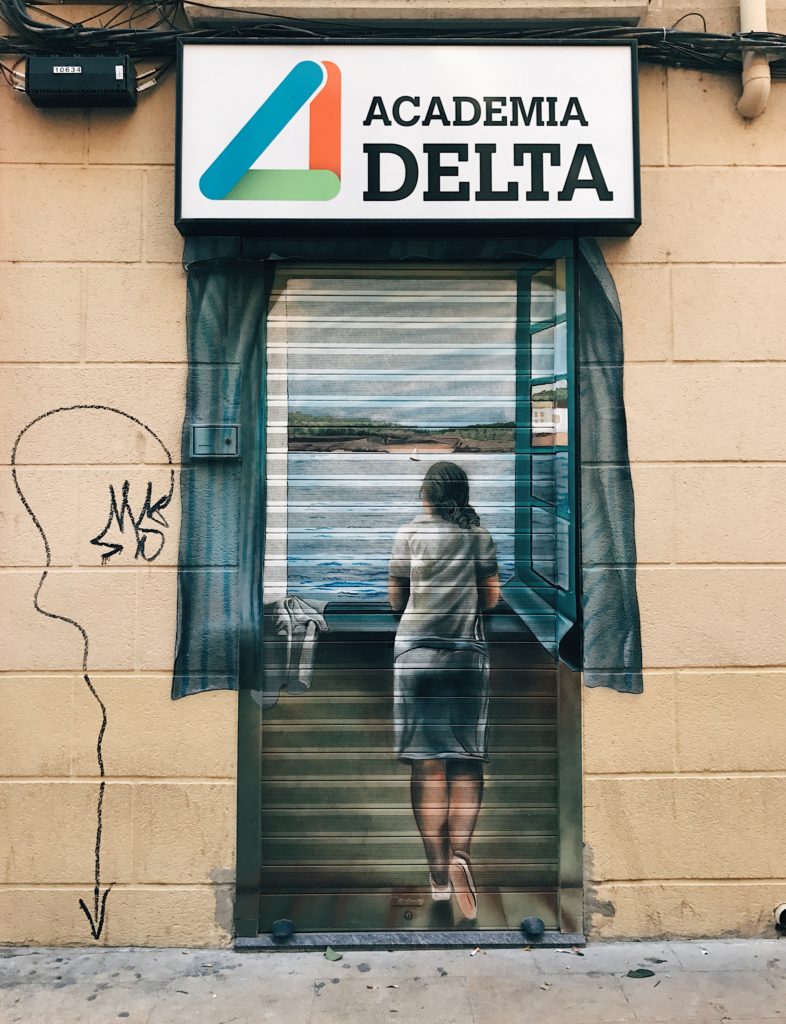 Mecca for Street Art
My brief trip to Zaragoza was filled with many surprises-one of them was discovering the rich collection of street art that the city enjoys.  This is in small fact due to the annual the Festival Asalto that takes place in the city,  one of the finest street art festivals in Europe. The event not brings art to the city but in the process has breathed life into some of the city's poorest neighbourhoods. I was fortunate to have one of the organisers of Asalto, Mr Luis Garcia give me a guided tour of some of the murals that have been painted as part of this annual event. I personally love how urban art projects like Asalto and urban art in general have this transformative power of giving a sense of identity to the most neglected parts of a city and in the process create a sense of civic pride and identity amongst locals who may felt previously disenfranchised. I'd like to share with you some examples of the beautiful pieces that I discovered during my tour.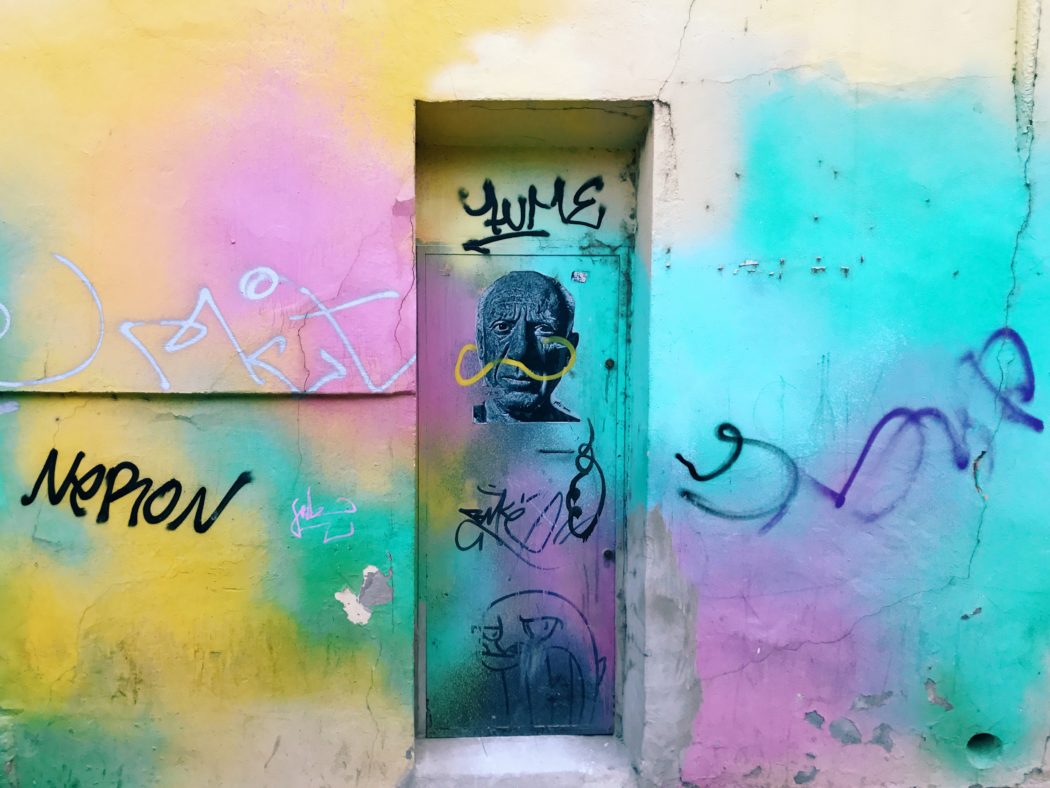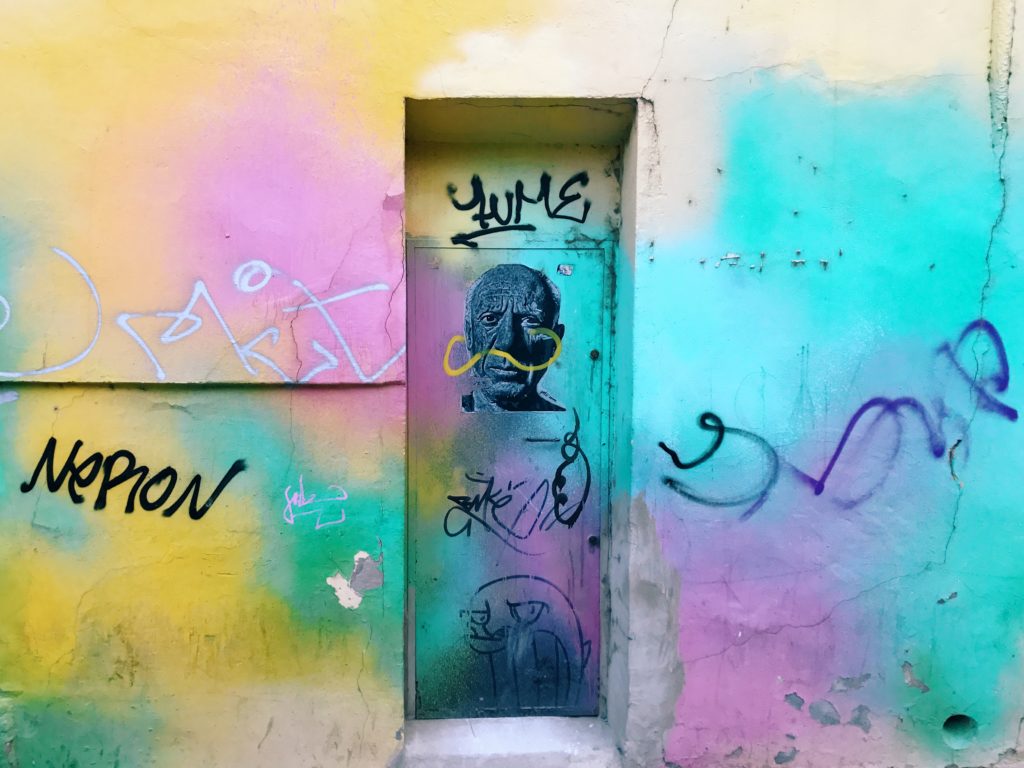 Goya Museum
It is definitely worth squeezing in time to see this fantastic gallery of art (daily 10am-9pm, Sun 2pm; €4/£3; ) that focuses on Zaragoza's favourite son, Francesco Goya. Besides a fantastic early self-portrait from 1773, you can discover here what art came before and after him. The best part of the museum is the incredible selection of prints he made on various topics of the day, varying from the Peninsula War to bull-fighting. Also worth noting that the 16th-century Renaissance building in which the museum is housed is beautiful.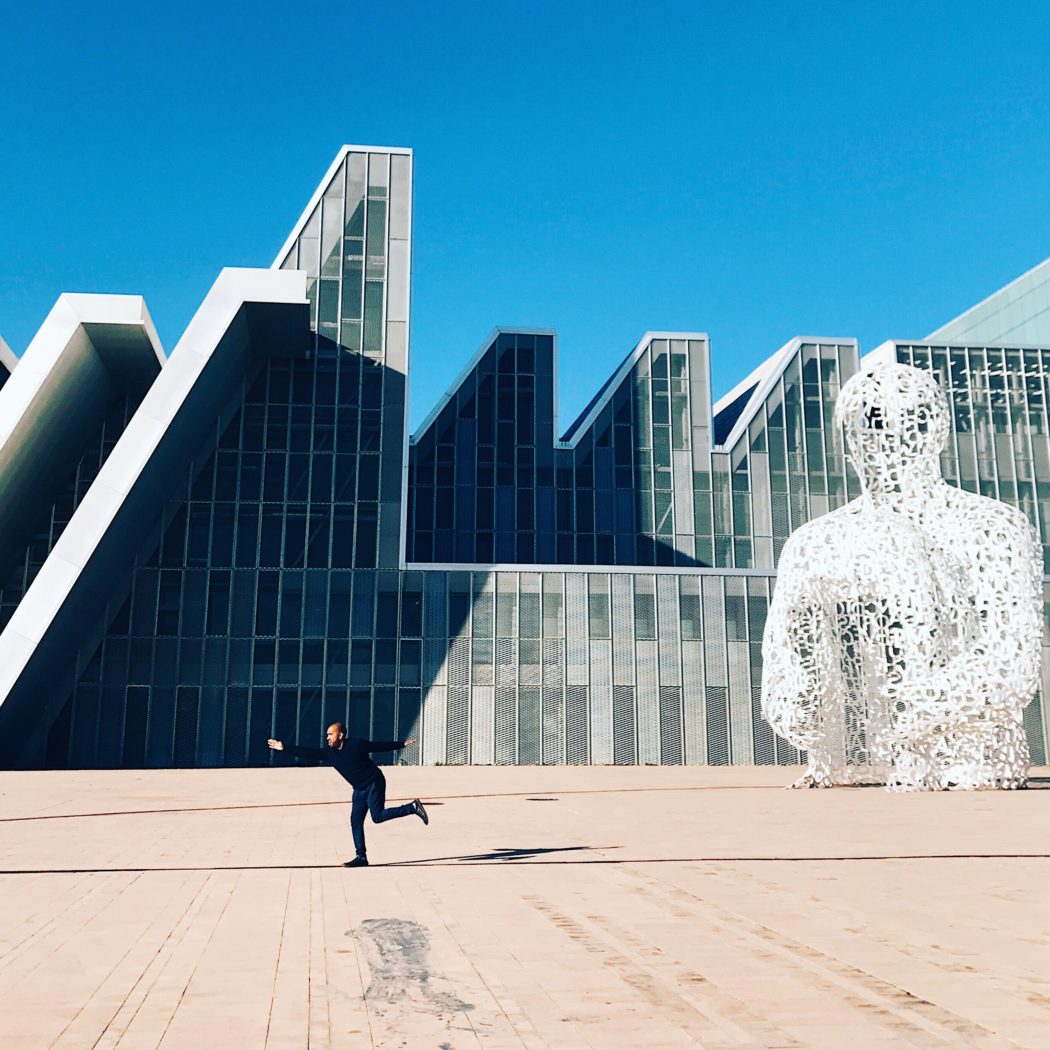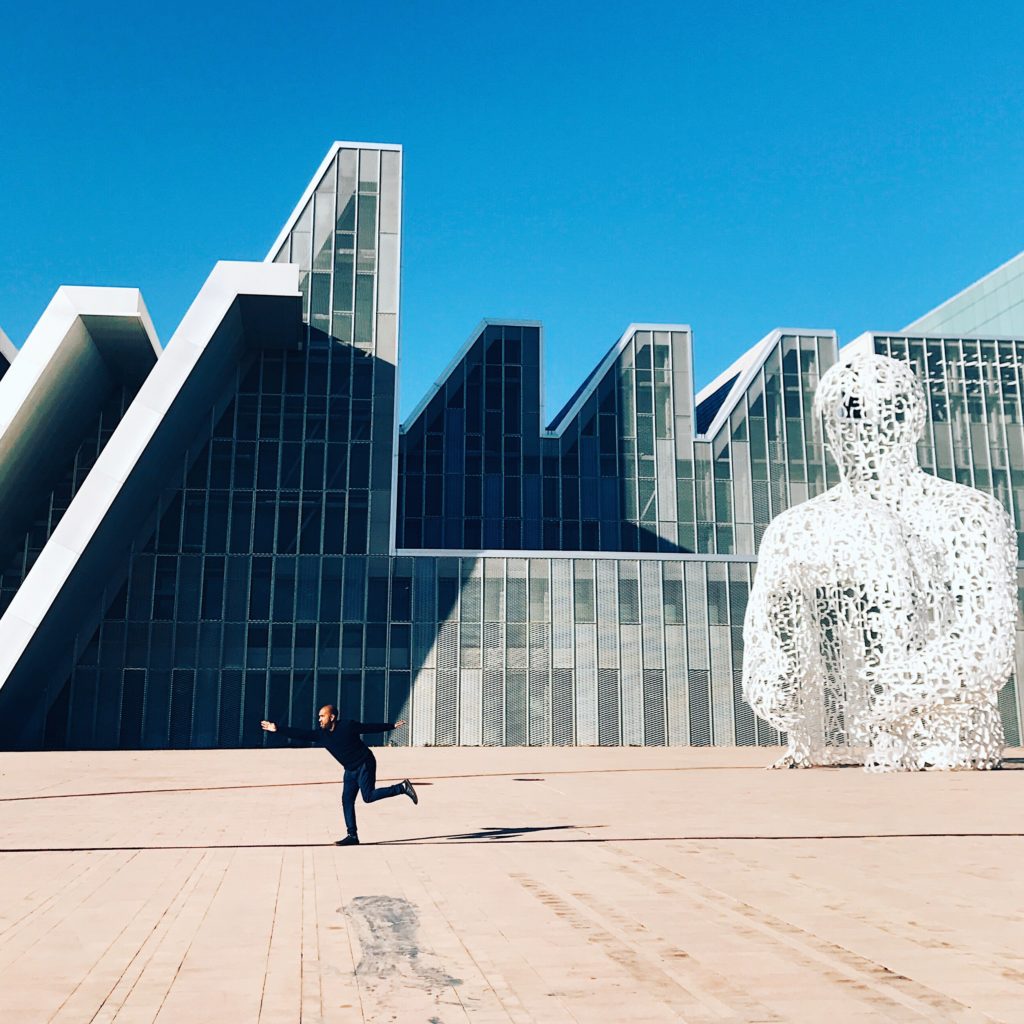 Expo 2008
The Expo 2008 really put Zaragoza on the world map. One of the wonderful legacies of the Expo was several architectural masterpieces that can be found by the city's Ebro Rover. Definitely recommend finding the time to see these beautiful buildings. Highlights include the Water Tower , Zaha Hadid's serpentine footbridge-the Bridge Pavillion and the beautiful Alma del Ebro: Soul of the River Ebro.
Navigating the city's incredible food scene
The food scene in Zaragoza is incredible. I could easily fill 24 hours here just eating and drinking to my hearts content. Sadly I had just a handful of hours to soak up some of the city's famous tapas bars . My first port of call was 'El Tubo' where the city's rich tapas scene is enmeshed in a tangle of streets in the heart of the city's old town.
It was packed on a Saturday afternoon. A quite festive raucous atmosphere with people drinking beer by the gallon and soaking in the late Autumn sunshine filtering into the narrow alleyways.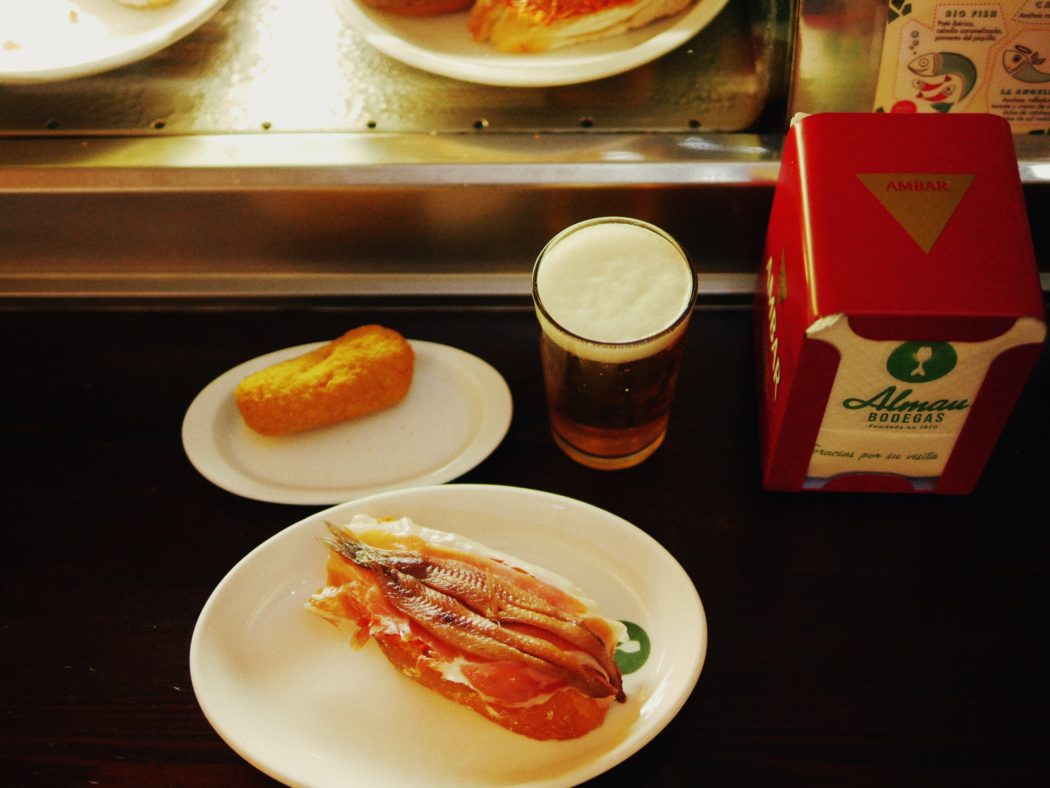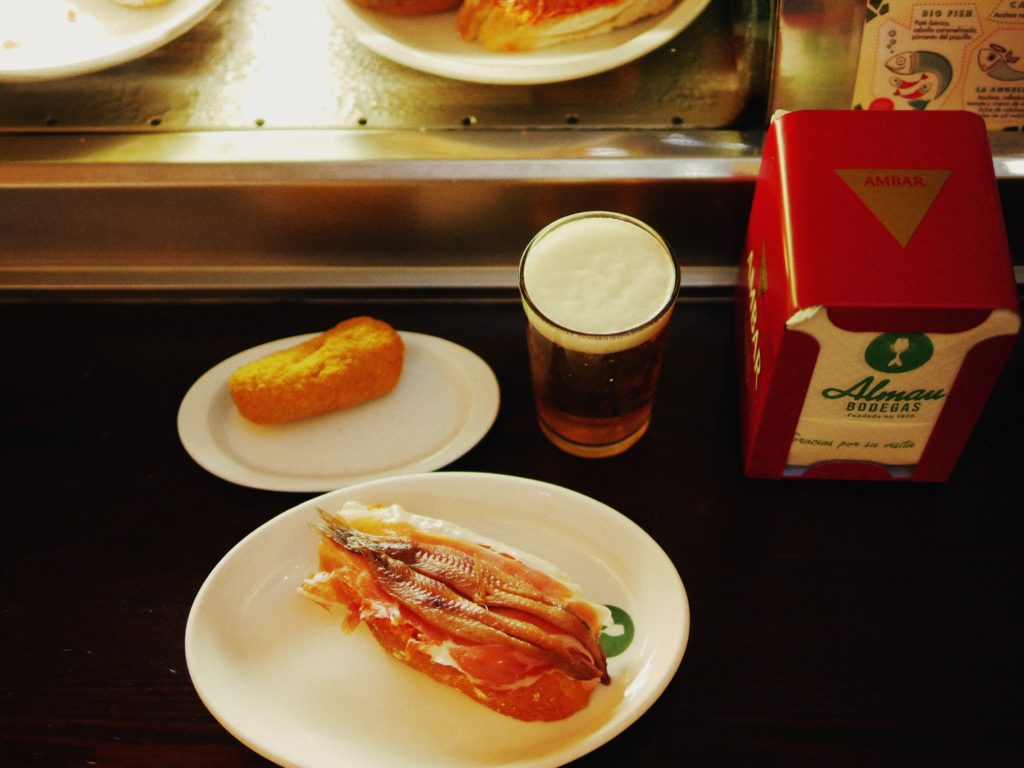 I started at the atmospheric Bodegas Almau which is one of the best tapas bars in El Tubo. I tried their Jamon croquettes and then a simple tapa of bread topped with a slice of jamon and anchovy on top. Really simple but good. That's the beauty of Spanish food. For the more adventurous minded, the bar serves unusual combinations like anchovies with tomato and chocolate. Maybe, next time.
Hop skip and jump around the corner is Taberna Dona Casta. This no nonsense small bar is famous for their croquettes. I tried their Arroz Negro with Aioli croquettes ( €2.50) Again, really delicious. I think in general, you can't go wrong with eating Tapas in Spain. Everything you see is freshly prepared and if you see a crowd of locals, you know you're onto the right thing.
That's how I stumbled upon the next joint : Morris Gastrobar. Attracted by the hive of locals piling in, I followed. I sampled here their award winning Pulpa aka Octopus in a crunchy tempura batter. ( €2.50) Again, so tasty.
My last stop on my whirlwind tour of tapas bars in Zaragoza took me to the rustic Bar La Vina, famous for their crunchy aubergine fries coated in sesame seeds and honey.
Later I popped into Confiteria Fantoba which since 1856 has been satisfying the sweet tooth of locals. You can sample here a wide variety of delicious stuff ranging from pralines, truffles to their signature cherries coated in chocolate, turron and meringues. I personally preferred their truffles. It is pricey but for the history , quality and beautiful ambience , definitely worth popping in here.
For dinner I headed to the La Jamoneria with championship ham-cutter, Félix Martínez at the helm. Their tasting menu (€35 ) was expensive but nevertheless a fab gastronomical experience. The highlight for me was Felix's ham carving masterclass , slicing wafer thin pieces of jamon with the aid of his razor-sharp Japanese sushi knives. His jamon is fabulous, salty and also sweet, melting like butter in your mouth. In between his masterclass, he shared his experiences of an impressive career carving jamón abroad. He also gave me a quick masterclass in carving a leg of jamón but I turned out to be pretty atrocious. Somethings are best left to the experts.
Looking for a local to give you a guided tour?
If you're looking to get a broad perspective of the city , have a few hours to spend in Zaragoza and prefer to be shown around by a local, I highly recommend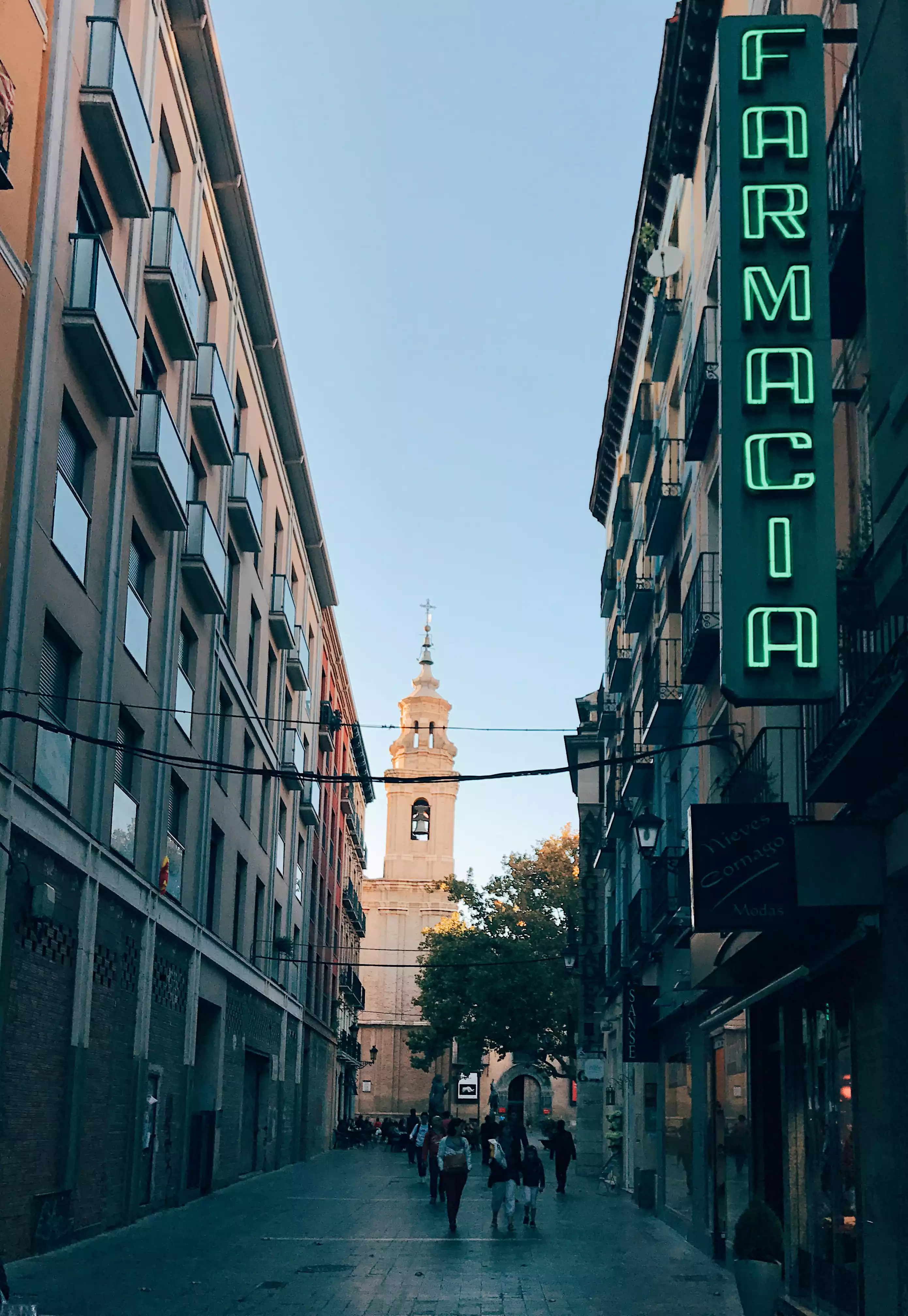 Zaragoza: Private Tour with a Local Guide
Explore Zaragoza with a knowledgeable local guide. Learn the ins and outs of getting around, where to shop and eat and more on a customized tour.
Buy Now
We earn a commission if you click this link and make a purchase at no additional cost to you.
. The tours lasts 3-4 hours and the guide can customise it according to your interests.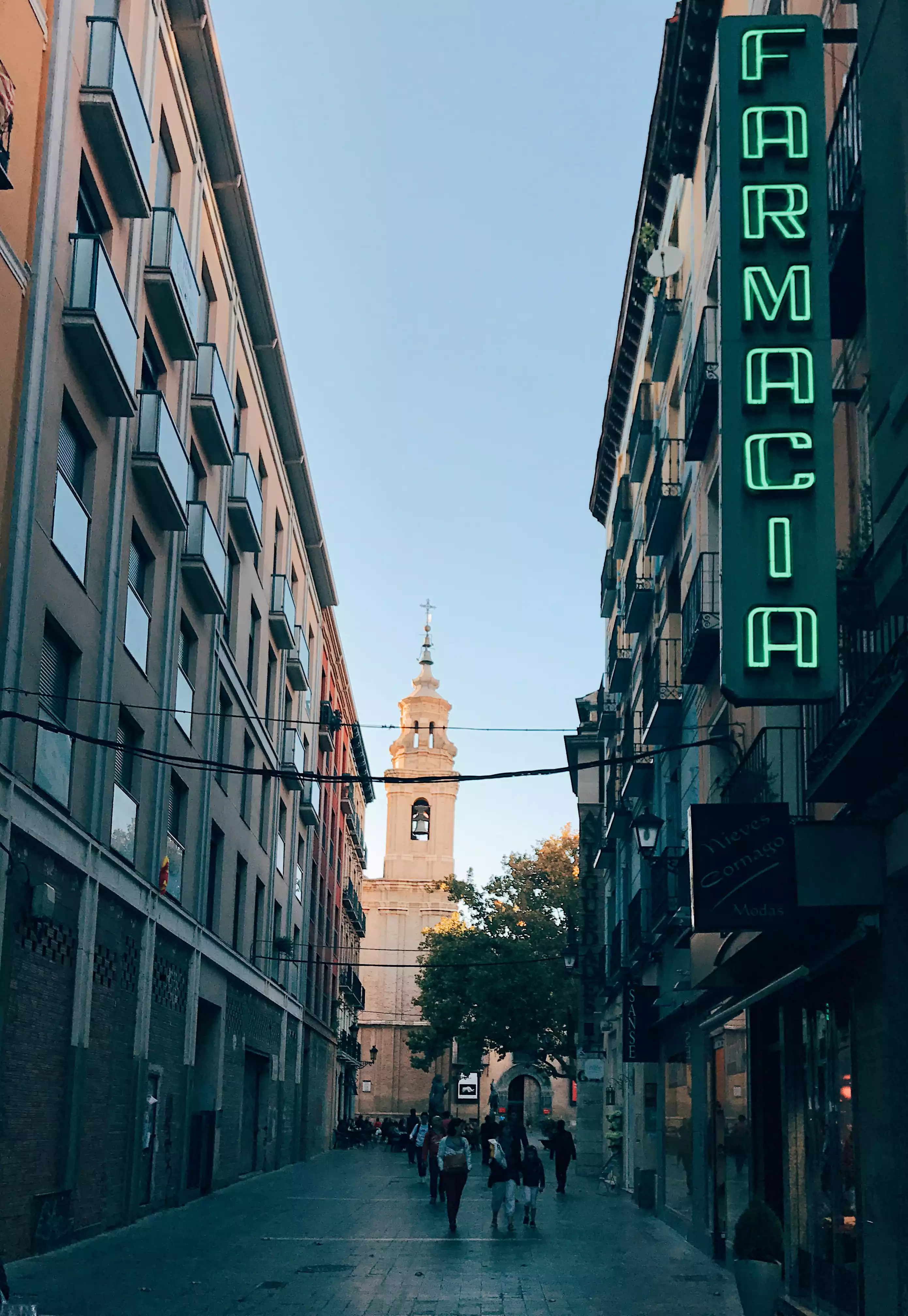 Zaragoza: Private Tour with a Local Guide
Explore Zaragoza with a knowledgeable local guide. Learn the ins and outs of getting around, where to shop and eat and more on a customized tour.
Buy Now
We earn a commission if you click this link and make a purchase at no additional cost to you.
Where to stay in Zaragoza on a budget: Vincci Zaragoza Zentro
Vincci Zaragoza Zentro: Located in the centre of Zaragoza, very near Plaza del Pilar, Plaza de España and Plaza de Aragón this modern design hotel was really comfortable with a nice onsite restaurant and bar plus a very good breakfast.
Booking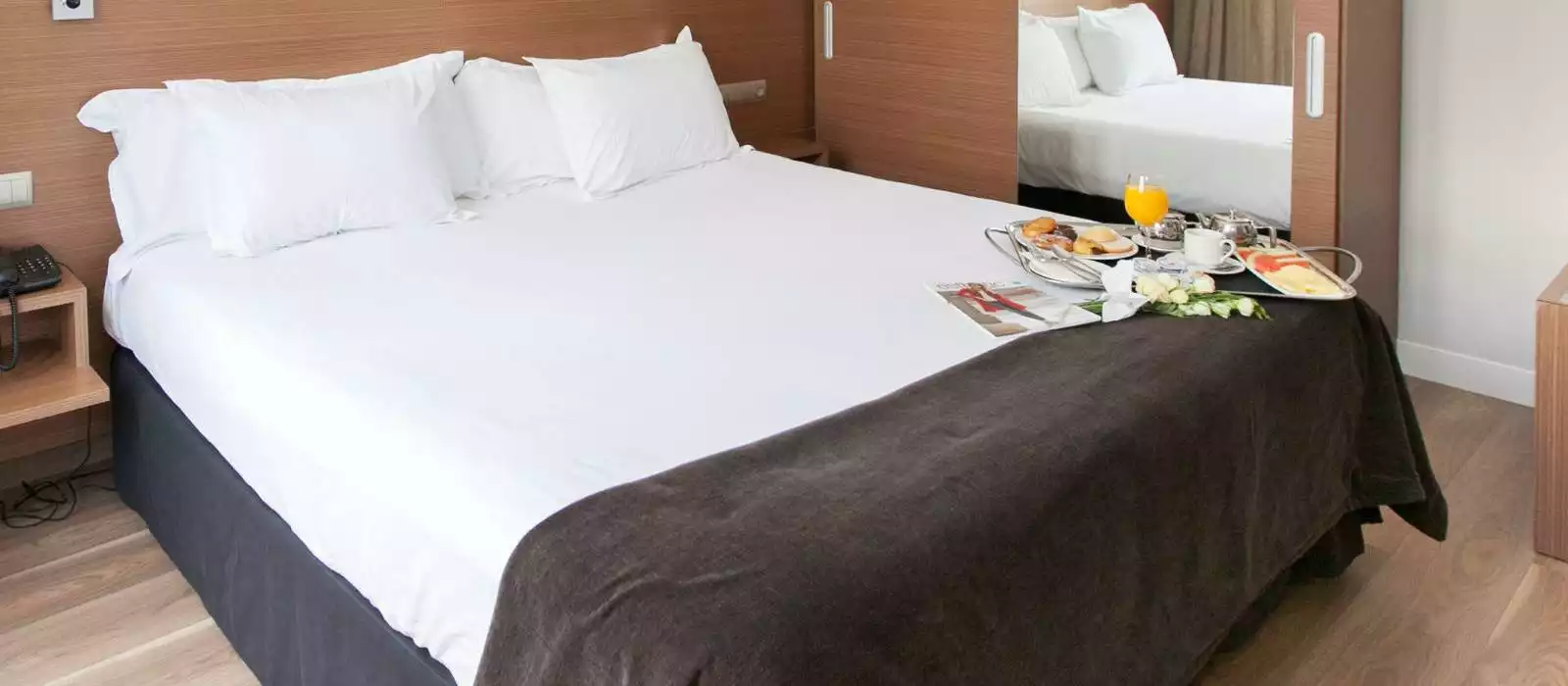 currently room prices start from around the €50 mark ( low season, prices may vary according to the season)  this hotel also represents brilliant value.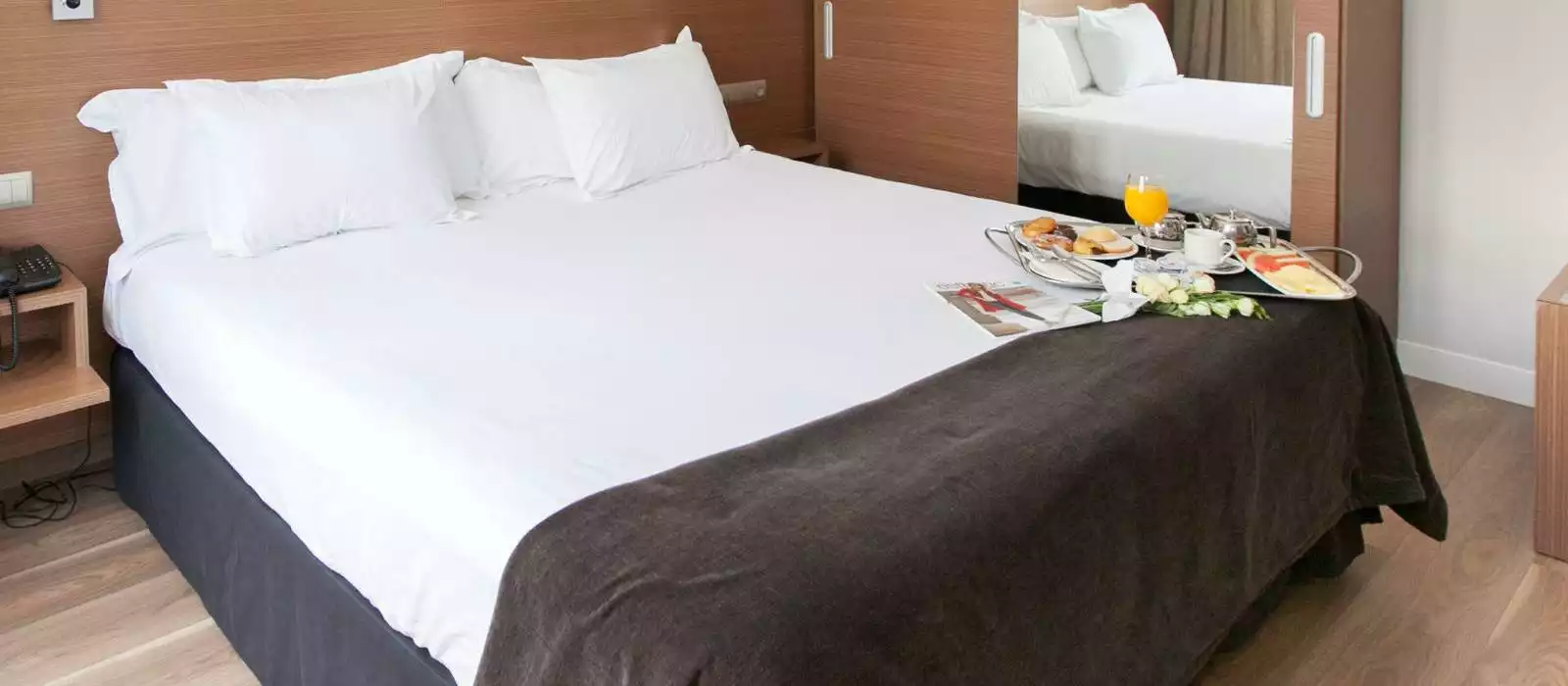 Zaragoza: Getting there and away
Zaragoza is on Renfe's high speed rail line between Madrid and Tarragona. Journey time from Madrid is just 1 hour 35 minutes ( €21) and 2 hours 30 minutes from Tarragona (€25)

WIN 2 RENFE passes: Your chance to create your own Spanish railtrip
You've followed my trip and you've downloaded the guides: 24 hours in Tarragona, 24 hours in Madrid, 24 hours in Seville. Now it is your turn to create your own Spanish rail-trip and to help you achieve that goal, the BudgetTraveller has partnered with the guys at RENFE to give you the chance to win two RENFE passes. RENFE pass gives you flexibility to explore Spain at leisure, similar to a Eurail pass. Do be in a chance to win these two RENFE passes, simply answer the following question:
Which cities did I visit on my #SpainbyTrain adventure?
1.Madrid, Barcelona, Valencia
2.Tarragona, Zaragoza, Madrid, Seville
3. Málaga, Granada, Seville