'Tourists don't come here to see the Eiffel Tower or some grand historic monument. They come here to experience our fantastic gastronomy, our wonderful wines, the beautiful landscapes and of course our culture. There's not one great thing but many small, beautiful things that make our city and region special.'
The patron of the No 5 wine bar summed up nicely the charms of the region on a slightly cool evening in April. I had prepared for the cooler April evenings by wrapping myself in my puffy blue winter jacket. However, what I was not prepared for were the copious amounts of fine wine that would follow that night. I had spent the week before in purgatory, stuck in a windowless hotel room, catching up on a backlog of blogging work and living off a diet of soup and digestive biscuits. The wine, like sweet nectar was disappearing quickly.  The more we savored,  the more our host insisted we try more varieties. Needless to say, that night I stumbled upstairs to my bed feeling pretty merry. Bjorn, my friend who was accompanying me and whose liver is used to super strong Belgian beers, was needless to say far more lucid than me when we said goodnight to each other. As I whatsapped the girl, she asked me how the trip was going.
I summed it up in more than a few words.
'I'm a bit drunk but very happy. Lovely people here.' I spoke to her in half garbled tones. I then whispered into the phone, suddenly conscious if I might be speaking to loud 
'…I love it here. Such an unexpectedly beautiful place. I had no clue what to expect of Toulouse with just a few hours to see the city but I've loved everything I've seen so far.'
Unexpected
In the depths of the Occitanie region, on the banks of the River Garonne lies the fourth largest city of France-Toulouse aka 'La Ville Rose.' I was excited about the trip. I hadn't touched a guidebook or researched about the region online. Which was nice. Travel should be more serendipitous. We need to ditch Google Maps. Depend on the kindness and wisdom of strangers. In that context, I was in excellent company. My very talented and beer loving Belgian friend of Social Traveler fame, Bjorn Troch has carved out an exciting career of telling stories of places with the help of his followers. No guidebook. No Google Maps. Plus there was the added incentive of road tripping in Bjorn's beautiful yellow VW Campervan, Rose.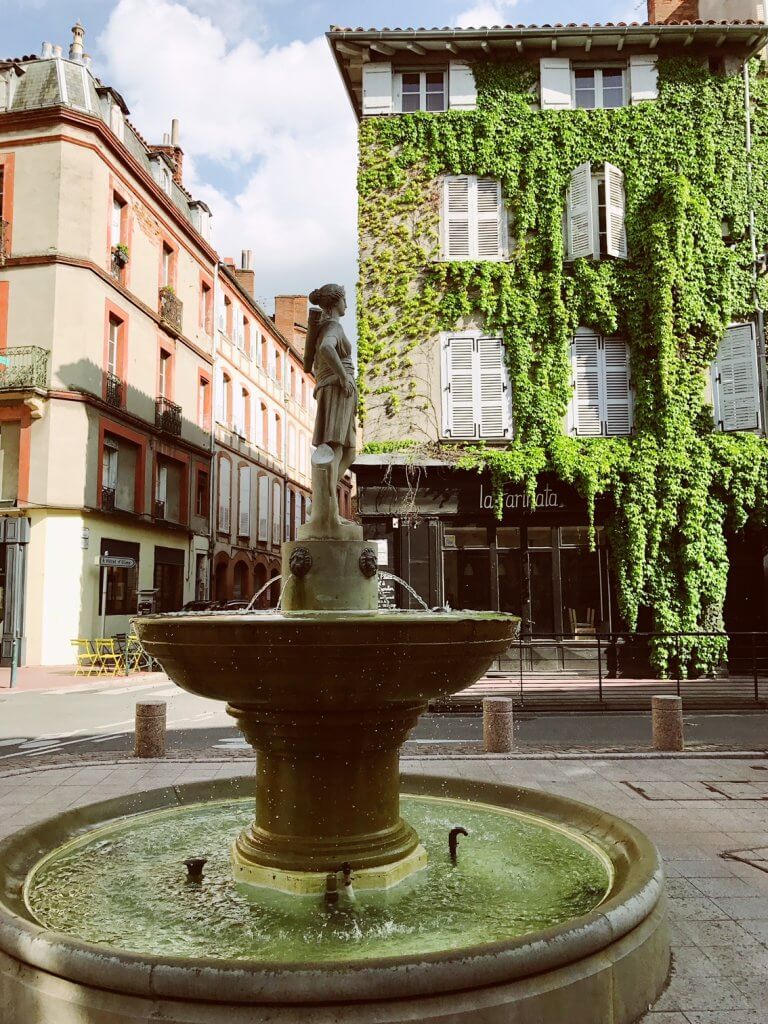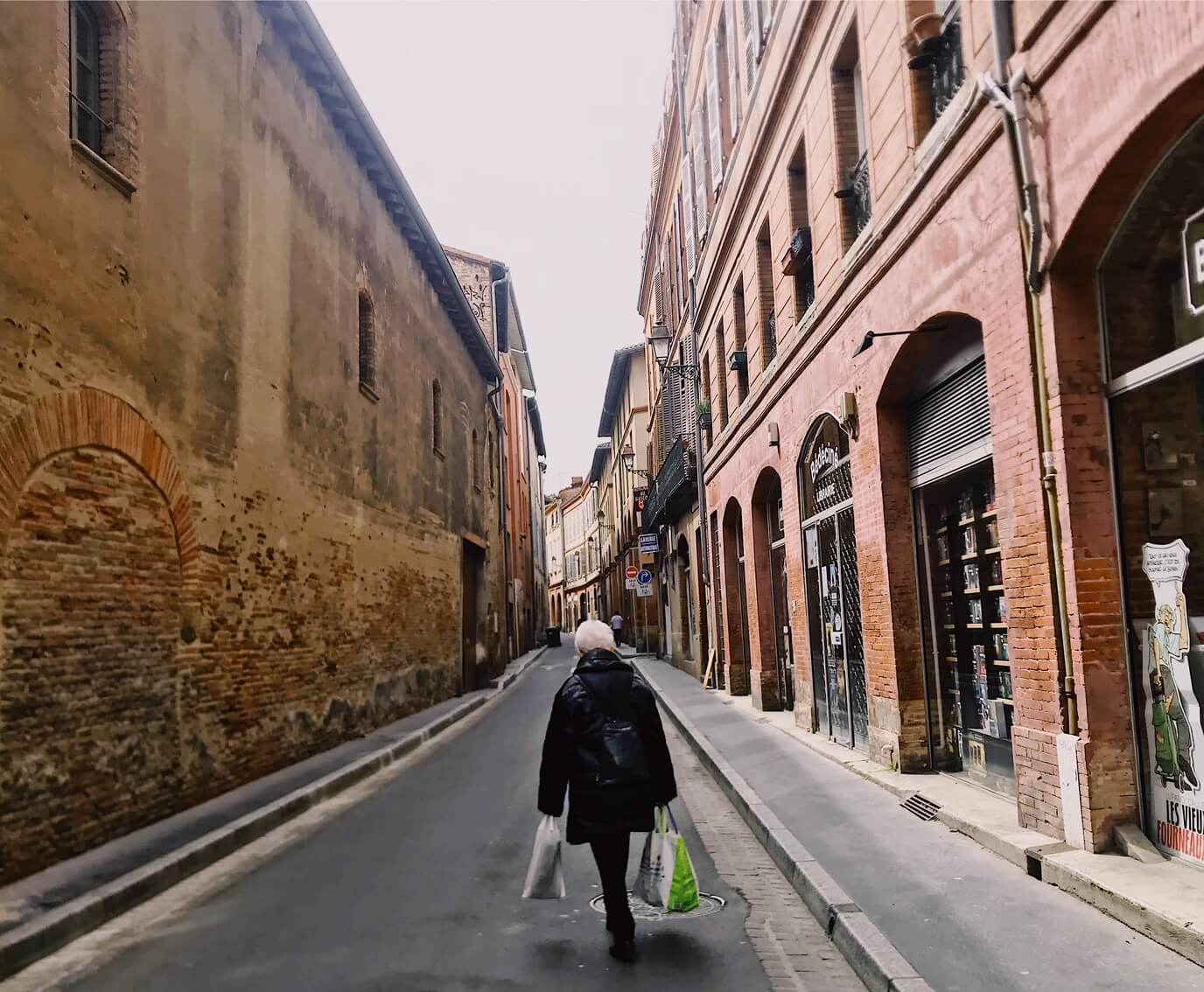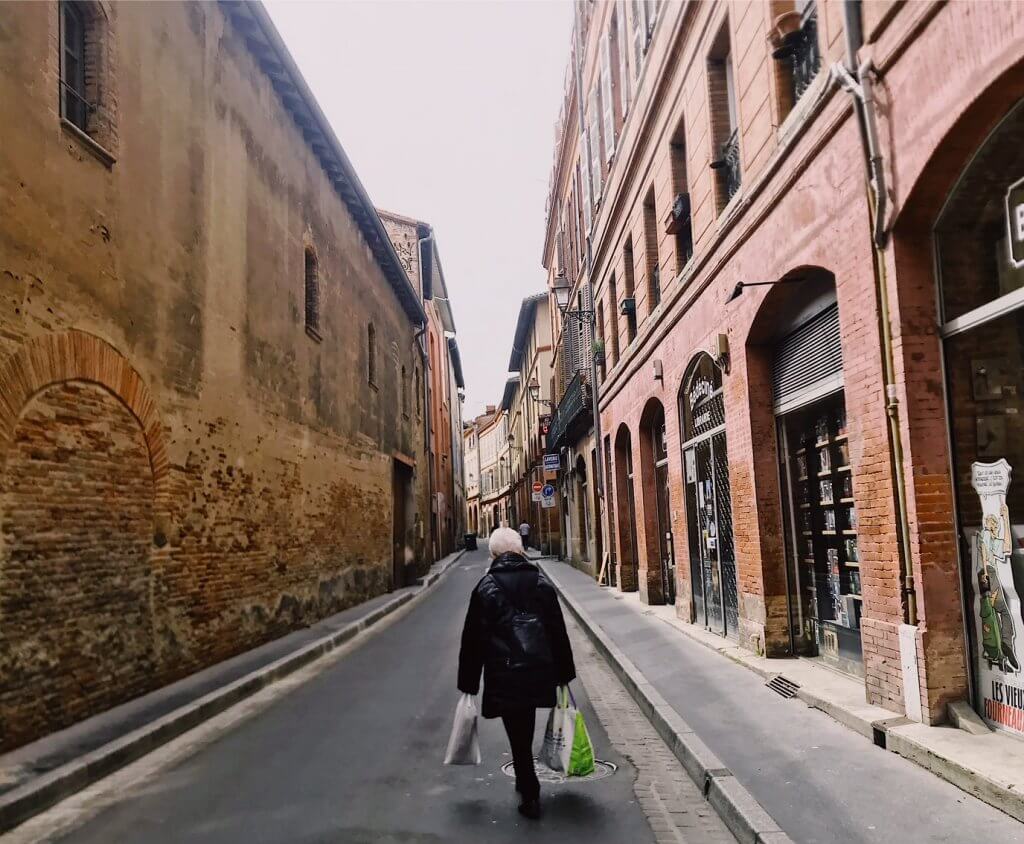 Lets talk about Toulouse. It is hard to describe Toulouse in a few words.
I think Bjorn summed up the place nicely
'If Paris and Barcelona had a love child, it would be Toulouse'.
Toulouse has all the charm and joie de vivre of France's better known cities but noticeably lacks tourists which is great. Just like the region, the pink city too lacks one standout landmark to rival the  Eiffel Tower for example but instead has a series of beautiful landmarks that makes wondering the streets of this city, a real pleasure.  There's plenty to keep you occupied here for a few days but I had only a few hours to see the city so I'll share with you where I visited.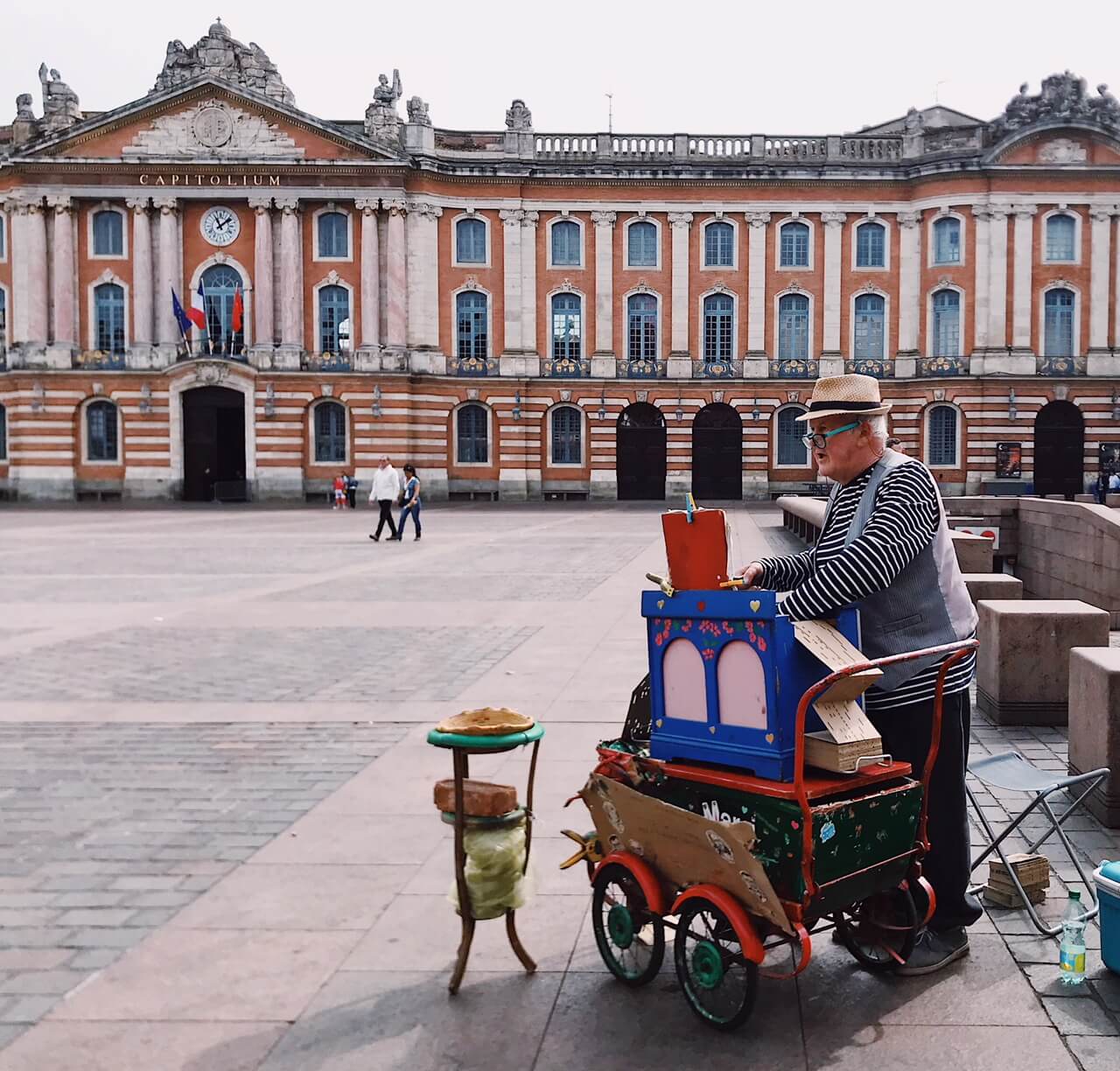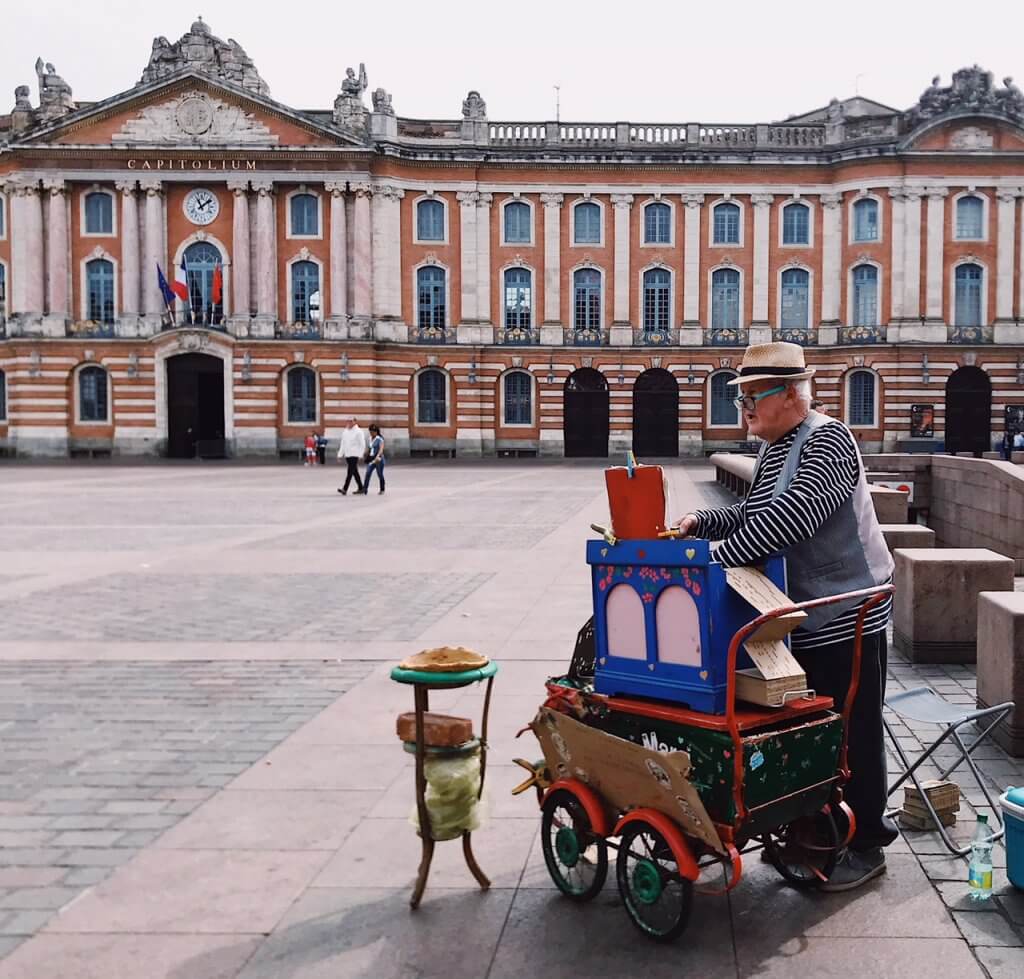 While Bjorn visited the Toulouse Space Centre and was learning how to become an astronaut, I was enjoying a very different perspective of life at the grand central square of the city, the Place du Capitole which is overlooked by a grand neoclassical palace replete with elaborate frescoes. The Capitole houses the city hall, the Theatre du Capitole de Toulouse opera company, and the Orchestre national du Capitole de Toulouse. This is the beating heart of the city. Anytime, night or day, there's always something going on here to keep you entertained. Then you have the fantastic brick and marble facade which takes your breath away.
After a quick coffee at one of the elegant cafes in the square I pop into the pastry shop Regals just off the square to sample Toulouse's local pastry 'La Fenetra'. I enjoy having my taste buds assaulted by the flavours of almonds, lemon and apricot jam.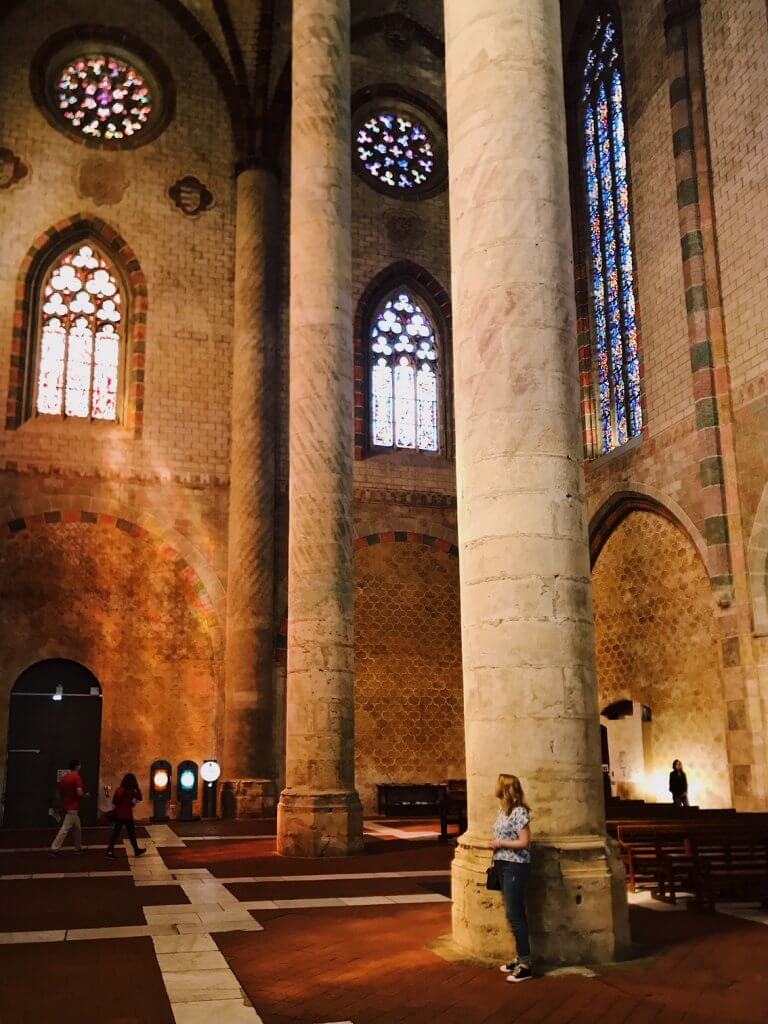 Then on the advise of some locals, I head to the beautiful Dominican Church- Convent des Jacobins to discover the beauty of its famous 'palm tree of Toulouse.' A palm tree in a church? A number of slender columns support the vaulted Gothic roof of the lofty church. One of the columns supporting the 22 ribs of the vaulted roof of the choir gives rise to an ornate structure resembling a Palm Tree!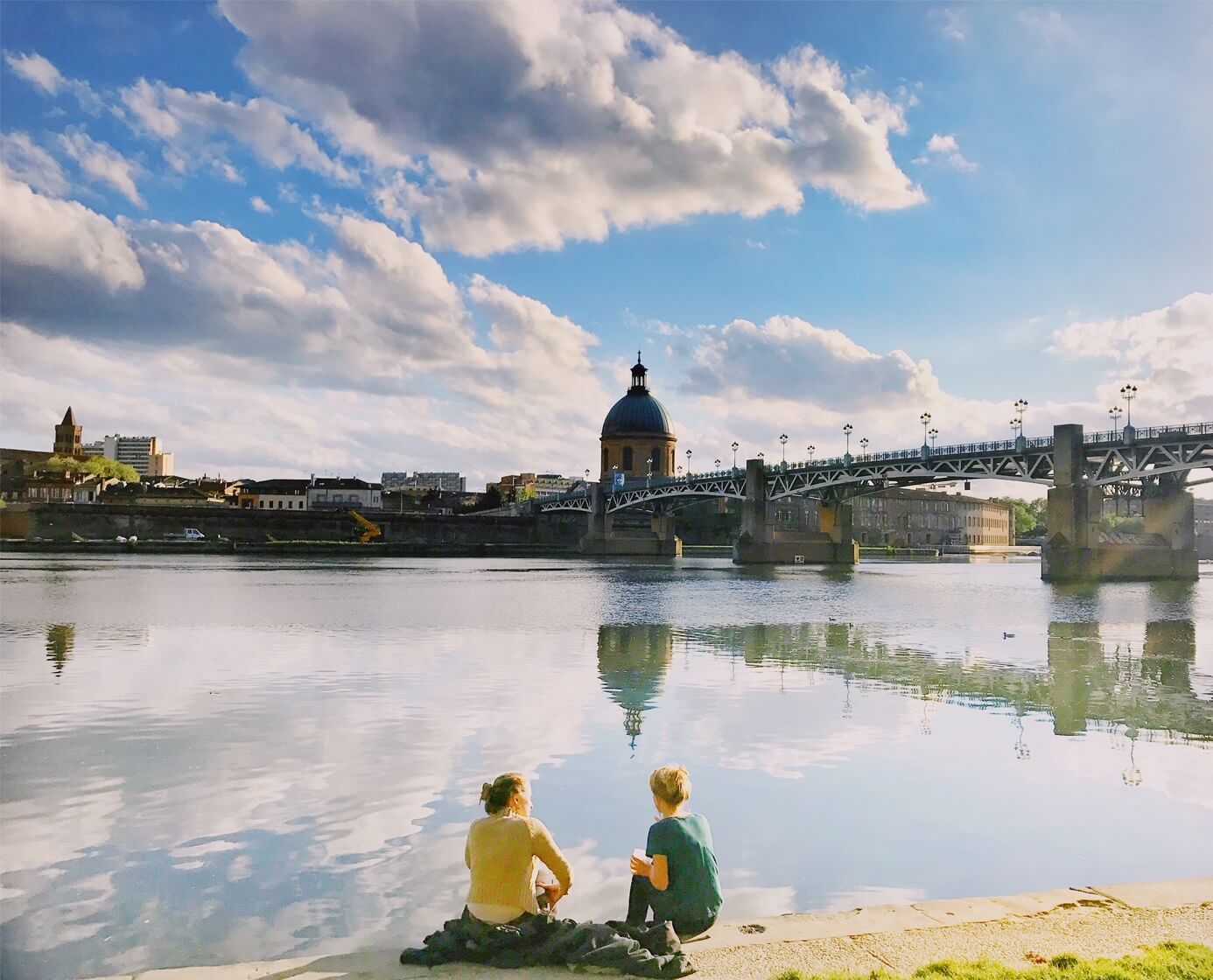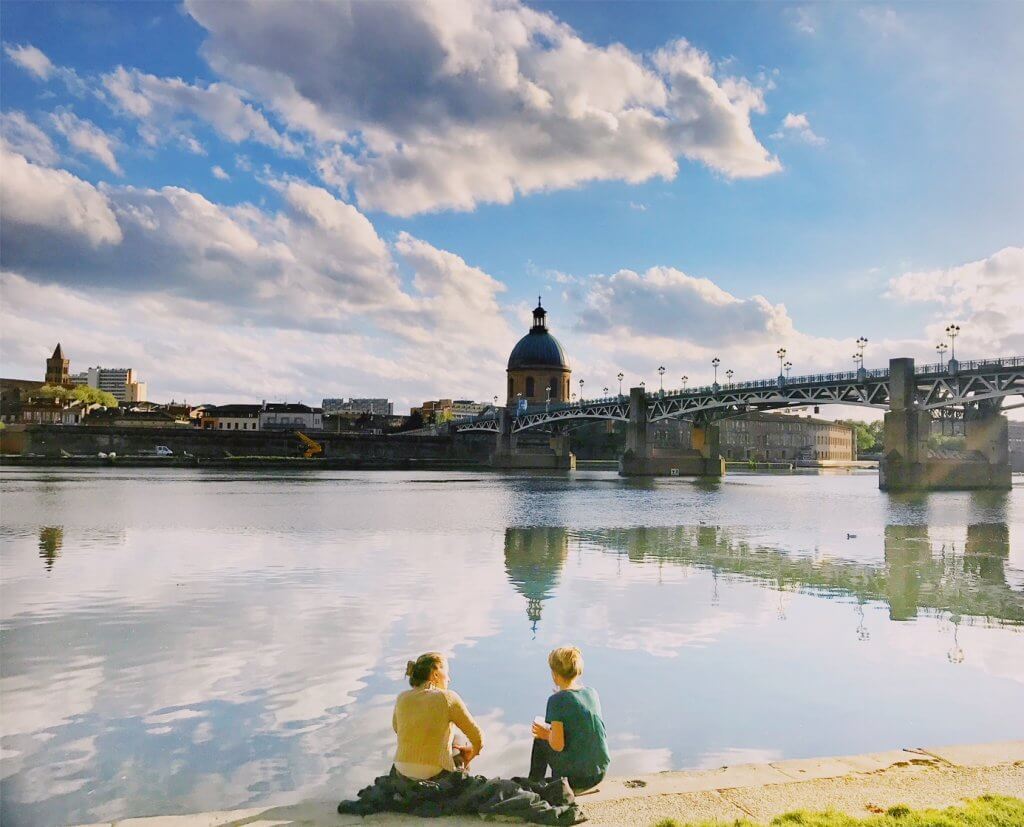 As with every city with a river ( or by the sea) , after awhile I naturally gravitate towards the water. As I approach the banks of the river Garonne I am greeted by the magnificent image of the Pont Saint Pierre de Toulouse. I take a few moments to soak in the view and then walk further up the river. It is a Sunday and there is a flea market in full flow.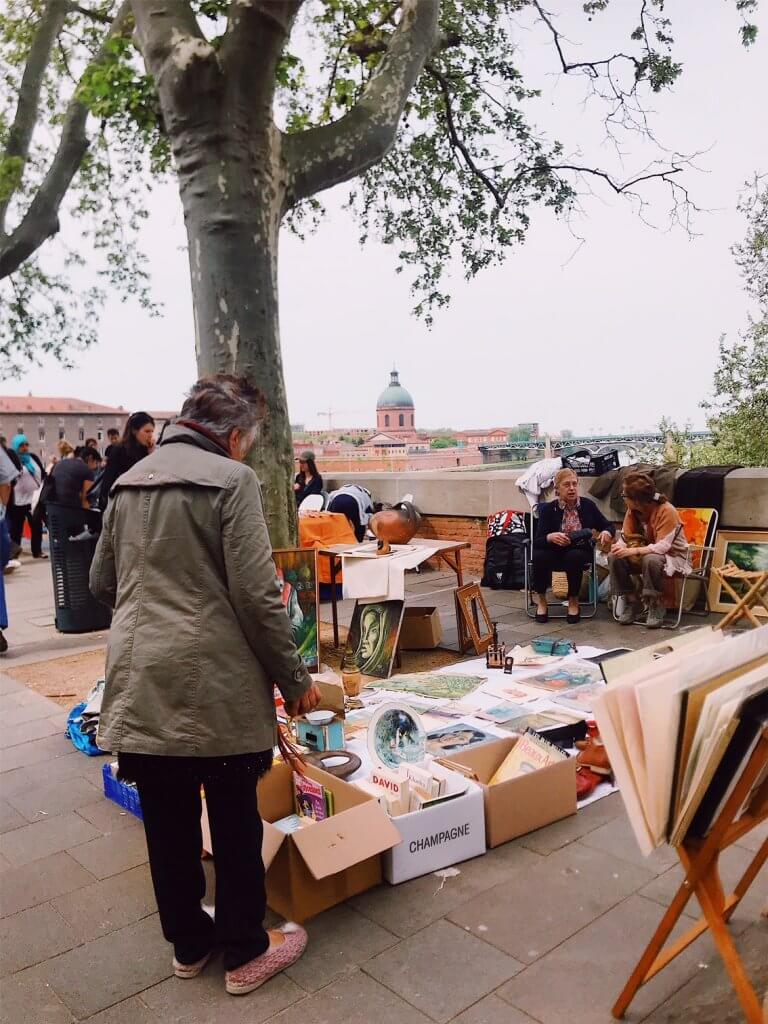 The market is brimming with wonderful old outlandish objects and the eccentric personalities that you always tend to associate with these type of markets. There's a comfort in browsing a market of any sort and also being amongst locals in a foreign land. It grounds me, leaving me inexplicably happy. The Sunday flea market on the banks of the Garonne is a belter.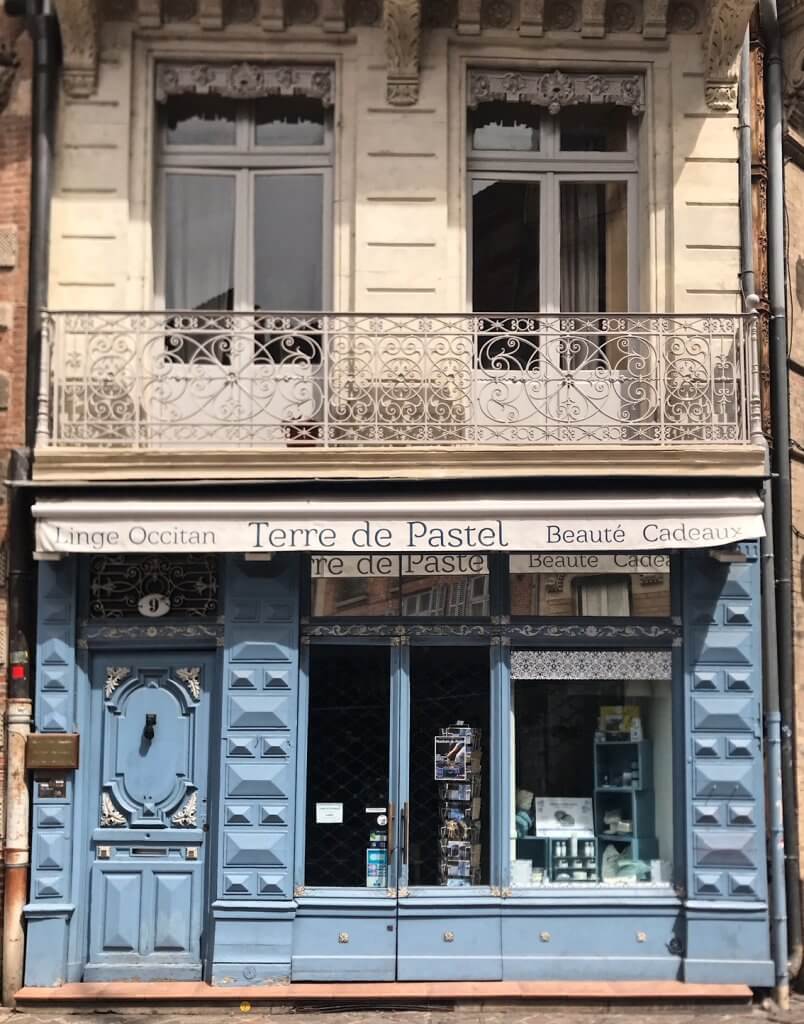 I spend the afternoon like you would do in any foreign land-wondering aimlessly. One of the things that struck my eye wherever I walked in Toulouse was the beautiful contrast of pastel blue and pink everywhere. From window shutters to the doors of Toulouse's homesteads, everything was pastel blue. Dating all the way back to the Renaissance, the native traders of Toulouse developed a trade in 'cocagne' – little balls of pastel blue derived from a yellow-flowered plant that yielded a blue dye. These were highly coverted by the aristocracy of Toulouse, Albi and Carcassone, bringing unprecedented wealth into the area. Pink and blue-I can't think of two more beautiful colours as the palette for a city.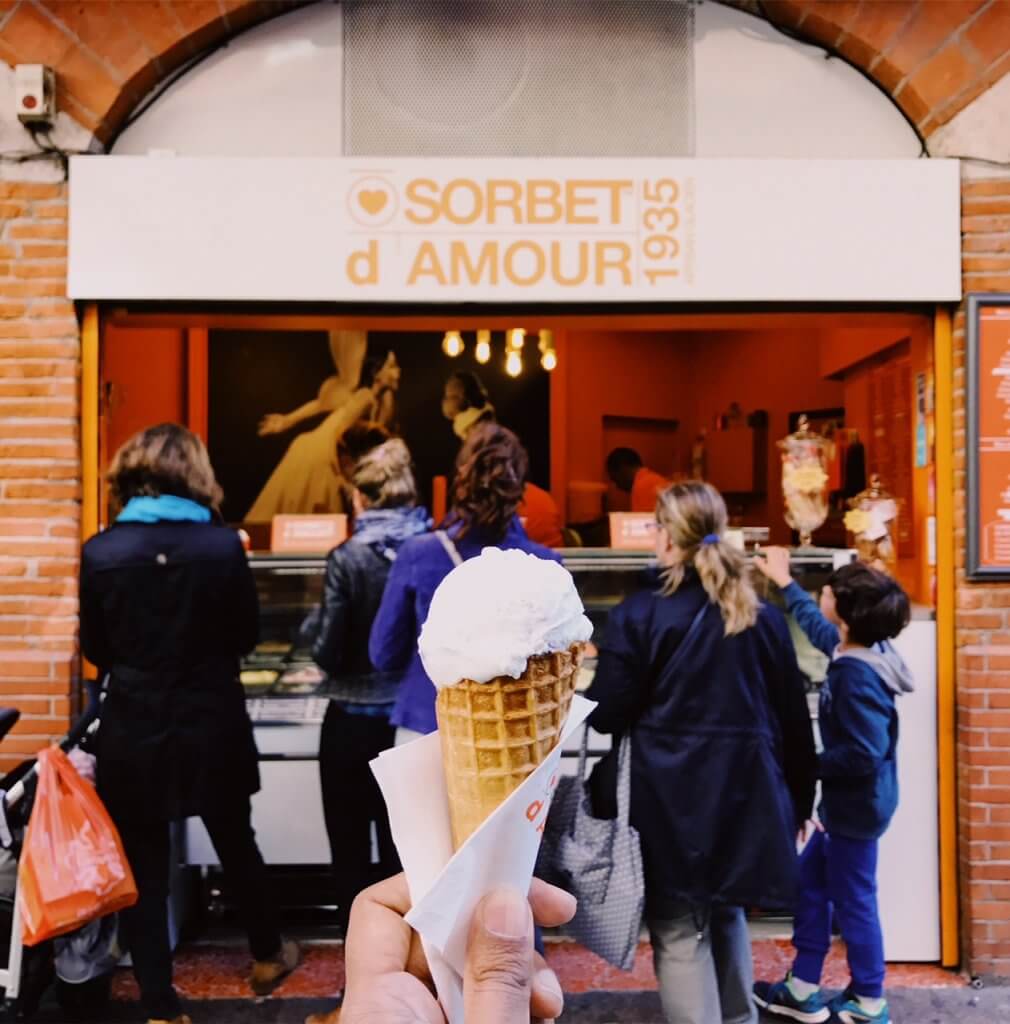 It was pretty warm so to cool down, I popped by the excellent Sorbet D'Amour gelateria which serves a great range of flavour from Plum Armagnac to Caramel with Sea Salt and even Tarte Tatin.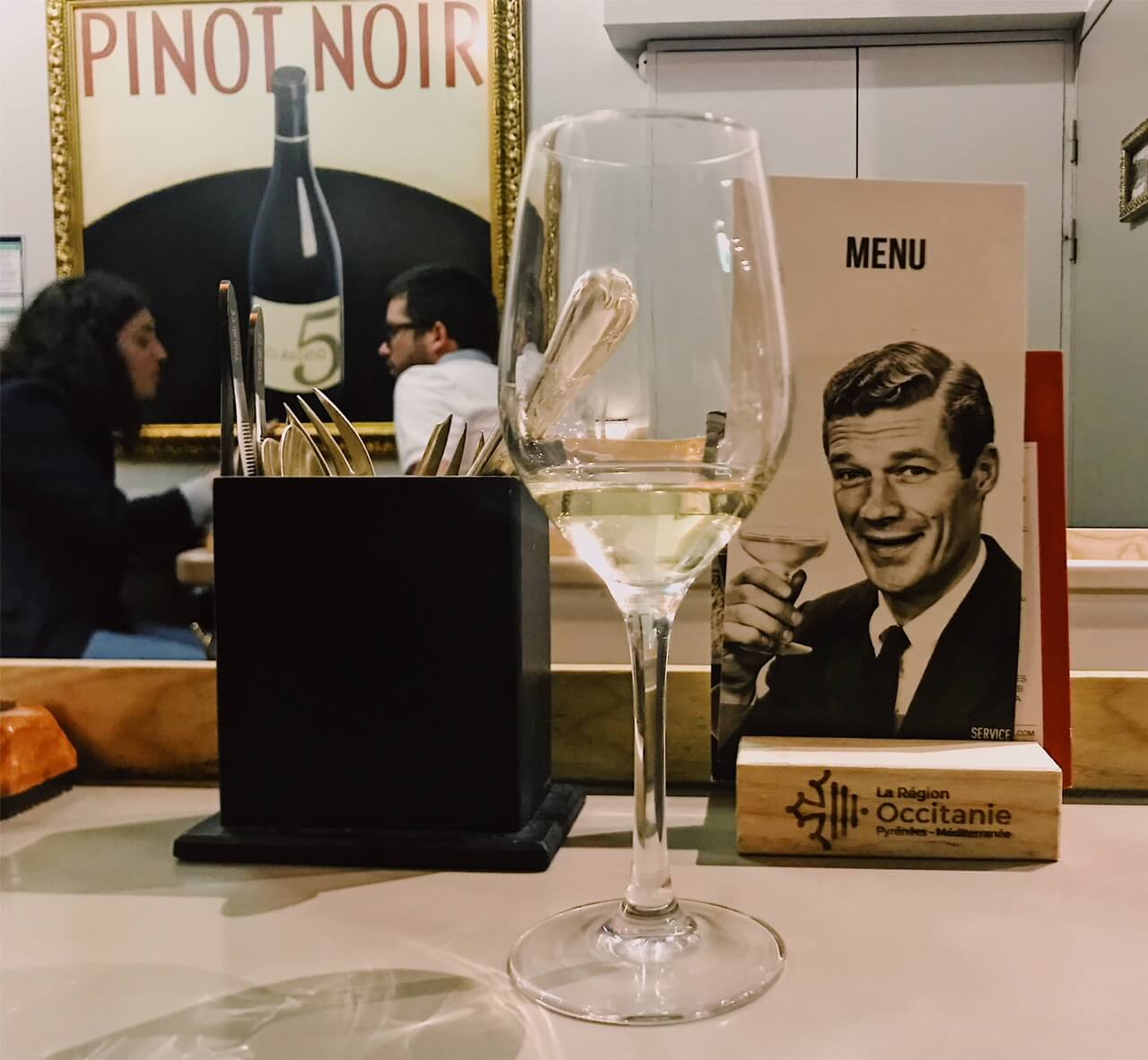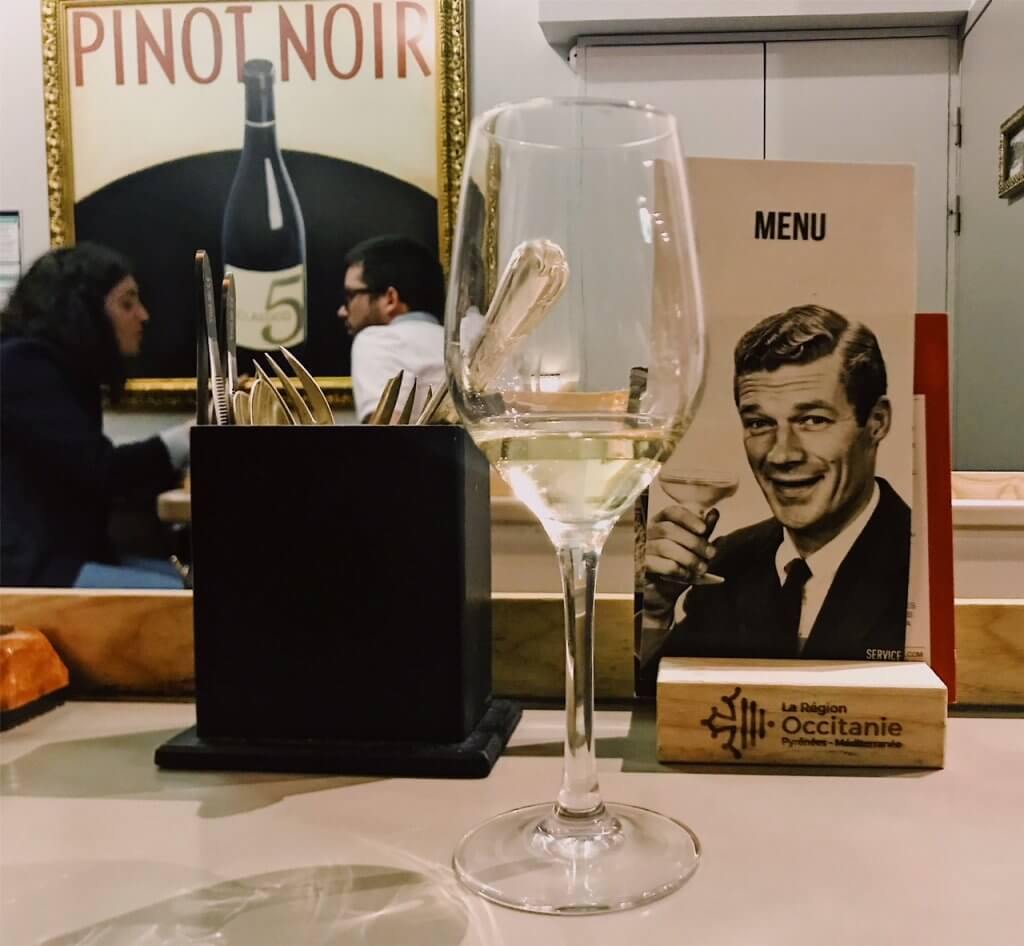 The day flies by and Bjorn joins me after his stratospheric day out at the Space centre. We finish the day with a few glasses of wine at Toulouse's best wine bar, No 5 Wine Bar , once voted the best wine bar in the world. The relaxed unpretentious venue contains one of the most extensive wine lists in Europe but the good news is that the selection here caters to people of all budgets. You are given a prepaid cashcard to load money onto. The idea is that you can then scan the card and pour yourself  wine from any of the 30 odd wine taps. You vary the amount you can drink so even if it you want to taste an expensive bottle of wine, you don't pay too much. So for about €20-€30 you can try a great variety of wines and good wines too. I can't think of a better way to spend an evening.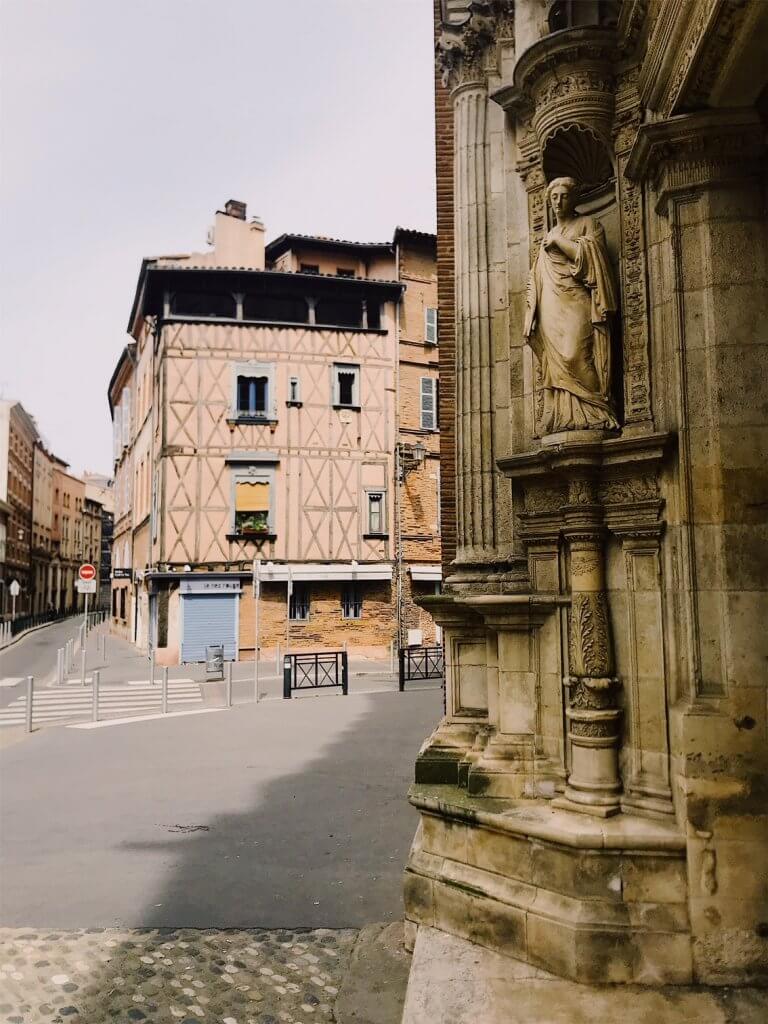 I leave Toulouse with Bjorn the following day for Auch with a heavy heart and a terrible hangover too. I definitely see myself coming back to admire Paris and Barcelona's love child. This time, hopefully it will be for more than just a few hours and hopefully my liver will be prepared to enjoy all that wonderful wine.
Big thank you to Birgitte and everyone at Tourisme Occitanie for bringing me to Toulouse. Also a huge hug and thanks to Bjorn for inviting me on this amazing trip. More stories and moments from this trip-please checkout the hashtag #TourismeOccitanie #Destination Challenges