Can you recommend a good budget hotel or hostel for me to stay in London?
This is probably my most popular request from readers and friends so I thought it would be beneficial to summarise on my blog, my favourite budget places to stay in London. So in no particular order, here are my 7 best places stay in London on a budget. ( Also do check out my recent post on 5 more cool budget places to stay in London )
1. umi hotels, London
A double room for 2 people in a 3 star hotel in the £60-80 price bracket in London is hard to beat and when you add to that the location of the hotel – the trendy neighbourhood of Notting Hill , you've got the ingredients of a great stay in London. Welcome to umi hotels, brainchild of hotelier Steve Lowy who came up with the unique idea of employing interns who were still at university studying hospitality degrees to help run his hotels. The result is a refreshing, youthful and can-do attitude amongst staff which makes a nice change. The hotel boasts a 24 hour concierge service which takes care of your onward travel needs or if you just want to book a ticket for the latest West End shows. Start your day in style at the hotel's groundfloor coffee shop, Yumi which offers complimentary newspapers alongside a choice of hot cooked or continental breakfasts. You can enjoy teas and freshly grounded coffee throughout the day. If you're looking for a hotel stay with a bit of personality, you'll love umi.
Book at umihotellondon.co.uk Prices start from £60
2. Tune Hotels, London
Tune Hotels in London are a breath of fresh air in the hotel scene. It's no-frills approach has been adopted by many but for me the key thing that sets it apart of the other chain hotels are the superb locations in London– Westminister, Liverpool Street, Kings Cross and now Paddington. Plus you the awesome Hypnos beds as standard – a feature which you find in luxury hotels in London like Brown and One Aldwych ( plus superior doubles in umi London) You just sink into these beds and have the best nights sleep. Their ensuite bathrooms are small but offer brilliant power showers that get you going for the day. With advance prices of just £35 per room, per night they represent superb value.
Book at tunehotels.com Prices starts from £35, per night
London now is blessed with a number of a top notch hostels that I visited as part of my Luxury Hostels of Europe project.
If you're looking for a comfortable room to sleep in with a social edge, check out some of my favourite London hostels below
3 & 4) Palmers Lodge Swiss Cottage and Palmers Lodge Hillspring Lodge 
Palmers Lodge run two superb hostels in London- both of them offer a unique experience. Palmers Lodge Swiss Cottage offer a more social atmosphere and that cosy, home away from home atmosphere. The common room is the social hub where guests relax on the sofas browsing on their tablets and laptops using the excellent free wifi or chatting to fellow guests around the tables. Both hostels run an excellent onsite bar where you can meet fellow guests and enjoy an inexpensive drink or decently priced pub grub.
Hillspring Lodge, Palmers Lodge is superbly furnished and offers a more modern décor. It's in a peaceful neighbourhood bit away from the main drag so if you're looking for a chilled out hostel, you'll prefer this. If you like hostels with character both places offer a great experience: Hillspring hostel is filled with quirky objects like deer rugs hanging from the celiing and a garden filled with 100 odd motorcycles whereas the Swiss Cottage branch is located in a stunning Victorian grade II listed building. Beds in the dorm are also a standout feature, made of sturdy oak wood , fitted with nice mattresses plus come with a private curtain and reading light.
Book at palmerslodges.com Prices starts at £16 a night
5) Clink! 78 London
Clink! 78 is set in a stylishly renovated Victorian 200 year old courthouse in an excellent location just a few minutes walk from Kings Cross station . This is a cool party hostel and accommodates upto 500 guests from as little as £12 a night. Facilities onsite include an onsite bar and also travel shop to help guests book discounted tickets for top London attractions and also assist with airport transfers and onward travel arrangements. Guests can chill out in style in the infamous, wood panelled Internet and PC courtroom which previously served as a magistrates courtroom where The Clash were famously tried for shooting carrier pigeons in 1978, provoking them to write the song 'Guns on the Roof'.  For those interested in the indulging further in the criminal past of the hostel you can rent your own private prison cell for as little as a £50 a night. Cells come fully furnished and complete with a barred window.
Book at clinkhostels.com Prices start at £12 a night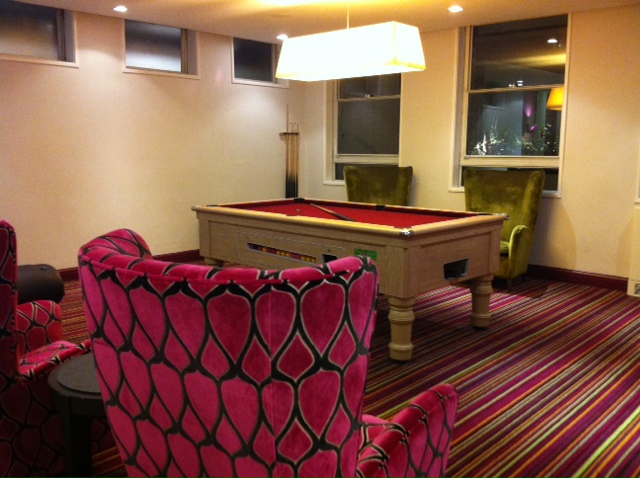 6) Safestay Hostel
The brand new Safestay Hostel is in a great location near Elephant & Castle tube station and is situated in John Smith House which , in a previous incarnation, served as the  Labour party headquarters. With it's bright purple and hot pink colours, quirky design features and lighting by Tom Dixon-its a very stylish affair.  The bar cum common room downstairs is a great shared space for guests with a bar, pool room plus uplholstered armchairs where guests can sink into and access the hostels' free wifi via their internet devices. Beds in the dorm rooms come equipped with a reading light, nice thick duvets and also a private fitted curtain to offer guests privacy and also avoid being woken up whenever another fellow guest walks in. Families are welcomed with the hostel offering private rooms that include a double bed and single bunk above plus 40 inch plasma screen TV's, complimentary tea and coffee making facilities.
Book at www.safestay.co.uk Prices start from £20 a night
7) Meet the locals: Stay in a London ( Miriam's) apartment with Wimdu
Another cool, alternative option would be to choose an apartment rental in London. Till this year, I've traditionally always looked at hotel or hostels when visiting London. When Wimdu invited me in the summer to experience the opportunity to stay in one of their properties across the world, I was intrigued. My opportunity came later in November when I was looking for a roof over my head with fellow blogger Mike Sowden for World Travel Market in London. After a search of their extensive portfolio of properties, we finally plumped for a shared apartment in Stratford on the doorstep of the Olympic Park. It offered great connections to central London with the bus no. 25 running an all day and night service into the city plus it's all on the Central and DLR line. The other benefits of the location is that the Westfield Shopping centre (Europe's biggest shopping centre ) is right on the doorstep. The biggest asset of choosing the property was the hospitality of Miriam with whom we clicked instantly- very warm, open hearted and had some great conversations with her: everything from Indian weddings, Slovakian food to talking about places to travel in 2013. The place itself was cosy, bright colours and beautifully furnished rooms with a great kitchen and common room. Plus excellent wifi connection.  You think sharing with the owner would be awkward but it was quite the contrary-they were very easy to be around and were quite discreet.
Book at Wimdu.com A night's stay at Miriam's apartment booked via Wimdu costs around £100 a night with 2 double bedrooms that sleep 4.
Hope you enjoyed my suggestions. If you have any budget friendly places you would recommend  while staying in London , pleased do share below.