7 of the best budget places to stay in London http://t.co/zGxk68ie… #London #budgettravel

— Kash Bhattacharya (@BudgetTraveller) February 6, 2013
Can you recommend a good budget hotel or hostel for me to stay in London?
This is probably my most popular request from readers and friends so I thought it would be beneficial to summarise on my blog, my favourite budget places to stay in London. So in no particular order, here are my 7 best places stay in London on a budget. ( PS If you are visiting London, you maybe interested in my cheap eats guide to London  by locals Julia Rampen and also Steve Lowy )
1. Generator Hostels, London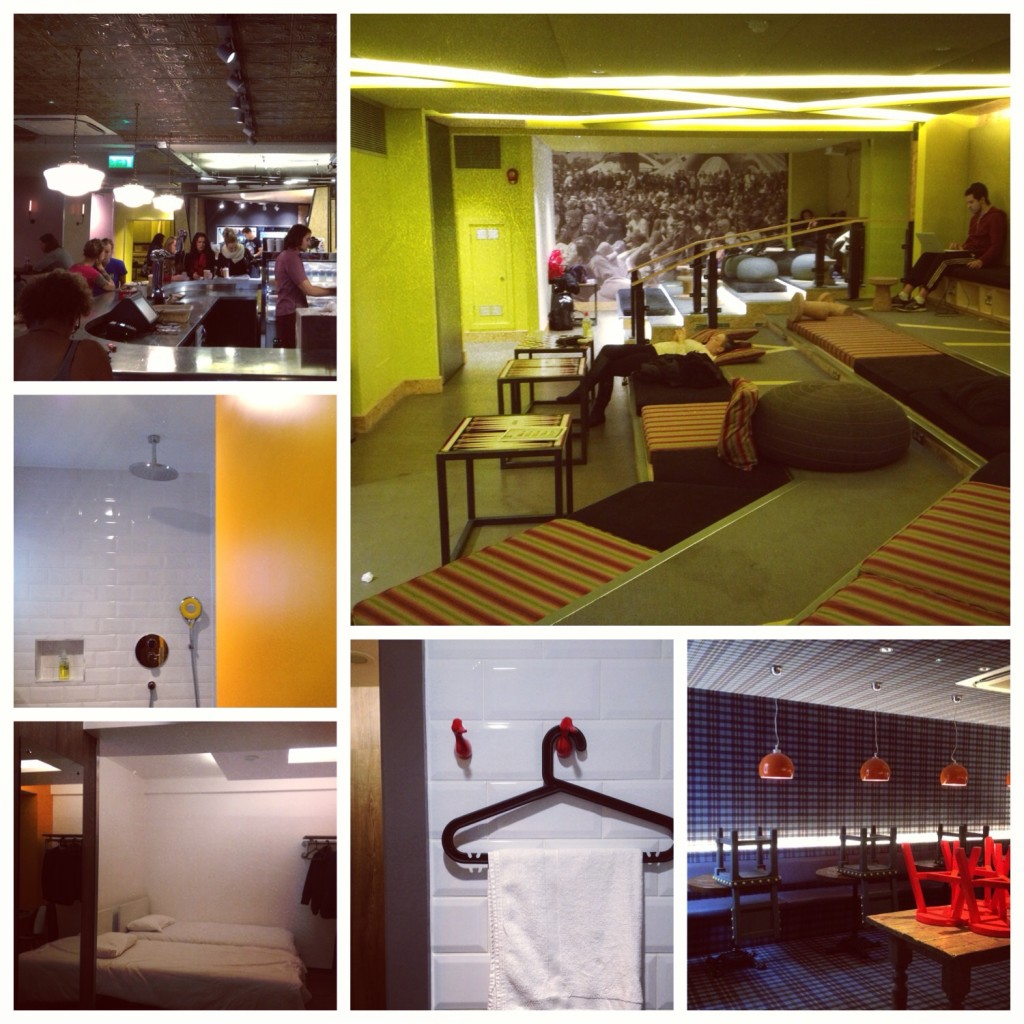 London now is blessed with a number of a top notch hostels that I visited as part of my Luxury Hostels of Europe project.
Generator London is the one of the hostels leading this revolution. It recently has undergone a major refurbishment which has transformed this place in a huge way.
I arrived quite late on a Wednesday night, close to midnight and the place was still buzzing. Reception staff were friendly and checked me in super quick time. There was a problem with lights in my triple bed dorm room so I got quickly checked into one of their very slick twin private ensuites. The room was compact, cosy and very comfortable. There was a clothes hanging rail, full length mirror, comfy beds, linen and towels were supplied plus wifi signal in the room (4th floor) was excellent. It would have been nice to have plug point by the bed instead of in the opposite corner of the room. The ensuite bathroom was very stylish with a powerful Grohe Shower and came with complimentary Waitrose toiletries. It definitely feels more like a budget boutique hotel room.
Downstairs they have a bunch of cool social spaces where guests can relax. If you want to party, they have a cool Generator Bar that organises a number of events for guests. On Wednesday night the Karaoke night was in full swing. Away from the bar they have a nice chillout lounge complete with flatscreen TV and nice low lighting where guests were surfing the net on their laptops or tablets. During the day, within this lounge, they have a nice in-house cafe where you can order coffee and their excellent brownies.
Alternatively they do a very moderately priced ( Around £6 mark) range of hot food and snacks. I ordered a BLT toasted sandwich with fries which washed down with a bottle of Luscombe Ginger Beer. Nice.
The other cool feature in this Generator Hostel is the movie room ( 2nd Luxury Hostel I've found to have a dedicated movie room, the other being U Hostels Madrid) where guests can relax and watch a movie. During the day, it acts as a very cool chill-out space where guests geek out on their laptops or sleep off their hangover. Other top facilities include their travel shop where you can buy your underground tickets, book a walking tour and just get good general travel advice. They also have storage room facilities for storing your luggage.
Areas of improvement? I personally would not go for their £4.50 continental breakfast. Your usual selection of breads, ham, cheese and cereal. Coffee tasted pretty awful.I've had better breakfasts in hostels plus they were for free.
Otherwise, there's not much to quibble about the Generator Hostel, London. Love the location, just a few blocks from Russell Square underground station and walking distance to the British Museum and Leicester Square. Bunch of cool cafes , bars and  budget friendly restaurants in the neighbourhood. It's definitely one of the best hostels I've stayed in London and a cut above many similarly priced budget hotels in the city.
Book at http://generatorhostels.com/
2. Tune Hotels, London
Tune Hotels in London are a breath of fresh air in the hotel scene. It's no-frills approach has been adopted by many but for me the key thing that sets it apart of the other chain hotels are the superb locations in London– Westminister, Liverpool Street, Kings Cross and now Paddington. Plus you the awesome Hypnos beds as standard – a feature which you find in luxury hotels in London like Brown and One Aldwych ( plus superior doubles in umi London) You just sink into these beds and have the best nights sleep. Their ensuite bathrooms are small but offer brilliant power showers that get you going for the day. With advance prices of just £35 per room, per night they represent superb value.
Book at tunehotels.com Prices starts from £35, per night
If you're looking for a comfortable room to sleep in with a social edge, check out some of my favourite London hostels below
3 & 4) Palmers Lodge Swiss Cottage and Palmers Lodge Hillspring Lodge 
Palmers Lodge run two superb hostels in London- both of them offer a unique experience. Palmers Lodge Swiss Cottage offer a more social atmosphere and that cosy, home away from home atmosphere. The common room is the social hub where guests relax on the sofas browsing on their tablets and laptops using the excellent free wifi or chatting to fellow guests around the tables. Both hostels run an excellent onsite bar where you can meet fellow guests and enjoy an inexpensive drink or decently priced pub grub.
Hillspring Lodge, Palmers Lodge is superbly furnished and offers a more modern décor. It's in a peaceful neighbourhood bit away from the main drag so if you're looking for a chilled out hostel, you'll prefer this. If you like hostels with character both places offer a great experience: Hillspring hostel is filled with quirky objects like deer rugs hanging from the celiing and a garden filled with 100 odd motorcycles whereas the Swiss Cottage branch is located in a stunning Victorian grade II listed building. Beds in the dorm are also a standout feature, made of sturdy oak wood , fitted with nice mattresses plus come with a private curtain and reading light.
Book at palmerslodges.com Prices starts at £16 a night
5) Clink! 78 London
Clink! 78 is set in a stylishly renovated Victorian 200 year old courthouse in an excellent location just a few minutes walk from Kings Cross station . This is a cool party hostel and accommodates upto 500 guests from as little as £12 a night. Facilities onsite include an onsite bar and also travel shop to help guests book discounted tickets for top London attractions and also assist with airport transfers and onward travel arrangements. Guests can chill out in style in the infamous, wood panelled Internet and PC courtroom which previously served as a magistrates courtroom where The Clash were famously tried for shooting carrier pigeons in 1978, provoking them to write the song 'Guns on the Roof'.  For those interested in the indulging further in the criminal past of the hostel you can rent your own private prison cell for as little as a £50 a night. Cells come fully furnished and complete with a barred window.
Book at clinkhostels.com Prices start at £12 a night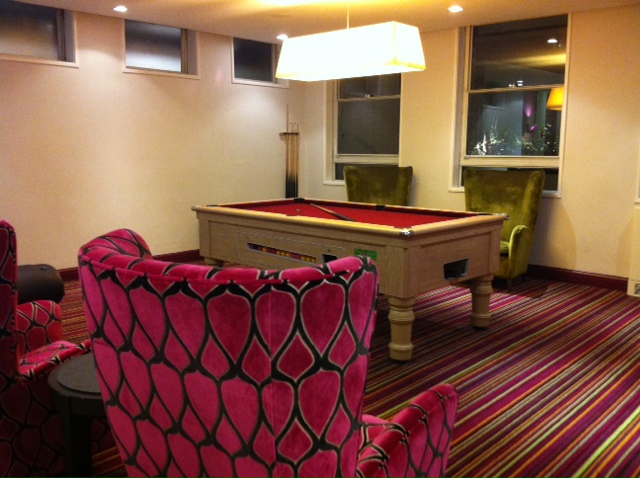 6) Safestay Hostel
The brand new Safestay Hostel is in a great location near Elephant & Castle tube station and is situated in John Smith House which , in a previous incarnation, served as the  Labour party headquarters. With it's bright purple and hot pink colours, quirky design features and lighting by Tom Dixon-its a very stylish affair.  The bar cum common room downstairs is a great shared space for guests with a bar, pool room plus uplholstered armchairs where guests can sink into and access the hostels' free wifi via their internet devices. Beds in the dorm rooms come equipped with a reading light, nice thick duvets and also a private fitted curtain to offer guests privacy and also avoid being woken up whenever another fellow guest walks in. Families are welcomed with the hostel offering private rooms that include a double bed and single bunk above plus 40 inch plasma screen TV's, complimentary tea and coffee making facilities.
Book at www.safestay.co.uk Prices start from £20 a night
7) Rent an apartment with Flipkey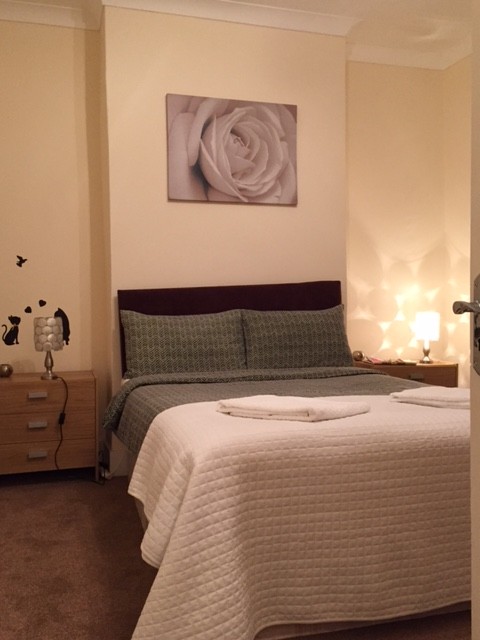 Recently in November , I was back in London to attend World Travel Market. I was spending a whole week and the challenge was to find an apartment that offered easy access to the Excel centre and also easy access into central London.
I finally found a 4 bedroom apartment in the quiet neighbourhood of Maryland which is just one stop by an overground train to Stratford. From Stratford you can hop onto the Central Line to get into central London. Alternatively, the bus no 25 stop ( runs all night) is at the end of the street which gets you into Oxford Circus within 40 minutes.
I was sharing with 5 other friends which worked out really well. There are 3 double bedrooms and a single bedroom. Anna, who looks after the apartment managed to bring in a blowup mattress bed for 2 nights.
Anna was in constant communication till I arrived. She texted me the directions to the flat that were easy to follow and met me at the time of arrival to show me around the apartment.
Place was clean, warm and most importantly, the wifi worked excellently throughout the house.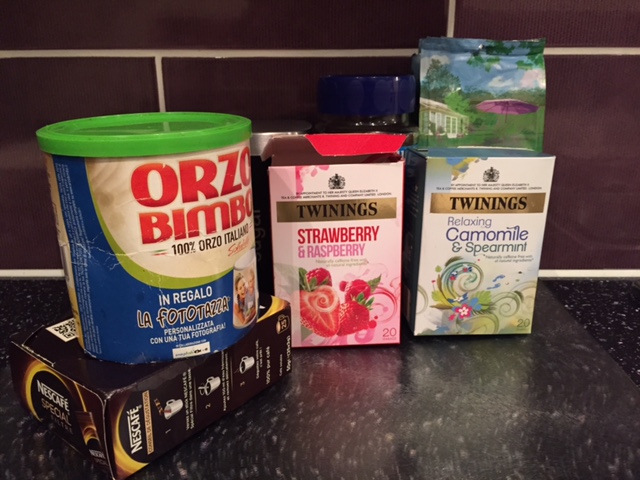 Anna had left some fresh milk and bread in the fridge for us, a small but very welcome gesture. The cupboard had spices, salt, pepper, sugar, oil and also tea bags-all the basics you need to make yourself feel at home. There was plenty of crockery, a nice sized fridge and freezer, washing machine and a microwave for us to use.
The bathroom was nice and spacious. Water strength adequate and it had a nice, hot shower. Towels were supplied to each of us plus they provided toiletries.
Living rooms is cosy and has a large flatscreen TV with all the basic channels. There is a small attached garden that we never saw.
Overall, this was a comfortable and perfect apartment for my trip. I didn't spend much time inside the apartment. Location was great for me. Bus and underground stops nearby. Sainsbury supermarket at the end of the street.
If I was to be picky, I would say that the interior design in some of the bedrooms is slightly outdated and odd but if that isn't a concern for you, then this flat is perfect. The other issue is that from a budget perspective, this flat works out to be a good deal if you are at least 5 people sharing. Based on cost of €178 or £139 a night, that works out to be €35 or £28 a night, per person: roughly what you would pay for a bed in a 6 bed hostel dorm.
To book this apartment via Flipkey, check out the following link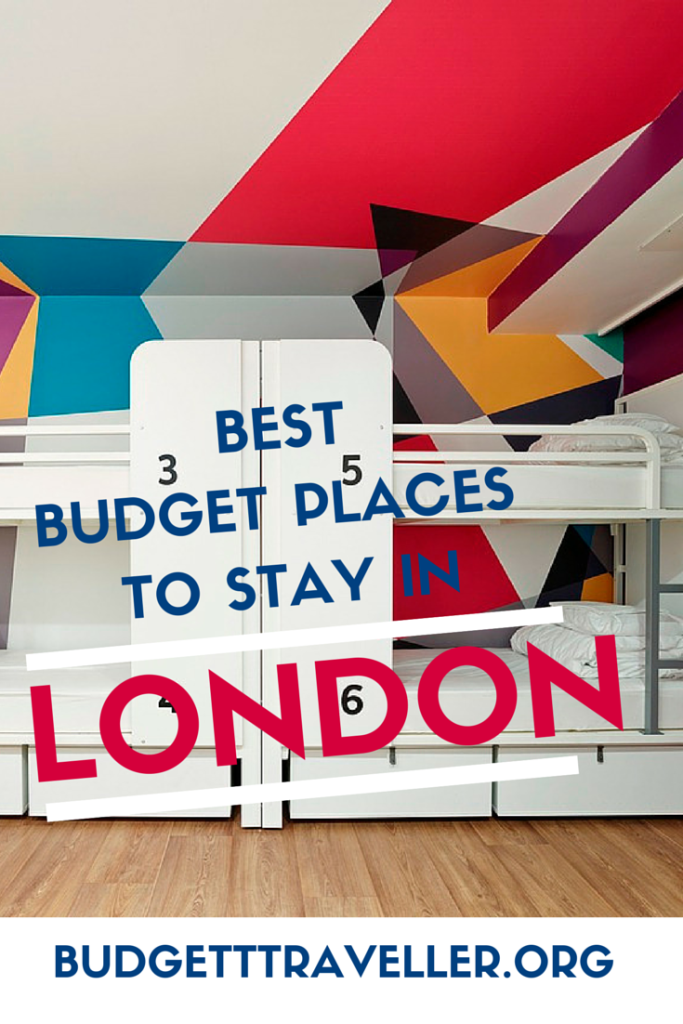 Hope you enjoyed my suggestions. If you have any budget friendly places you would recommend  while staying in London , pleased do share below.