It's Friday evening in the second city of Latvia, Daugavpils. Our legs are numb and throats parched. 
We've been on a train for just under 4 hours from the capital, Riga. Covering a distance of 193 kms and costing just €7, this might be the cheapest train journey we have ever taken in Europe.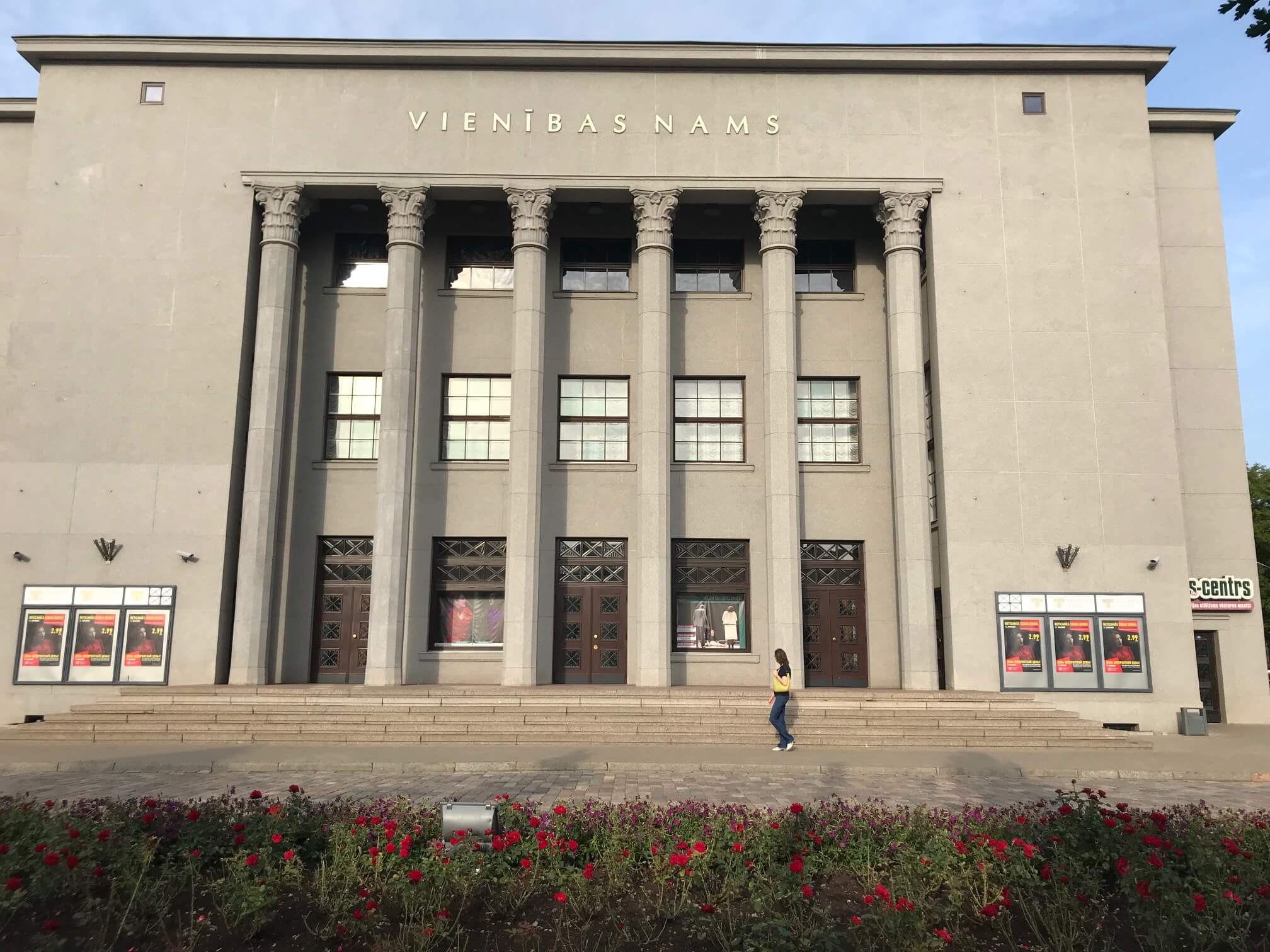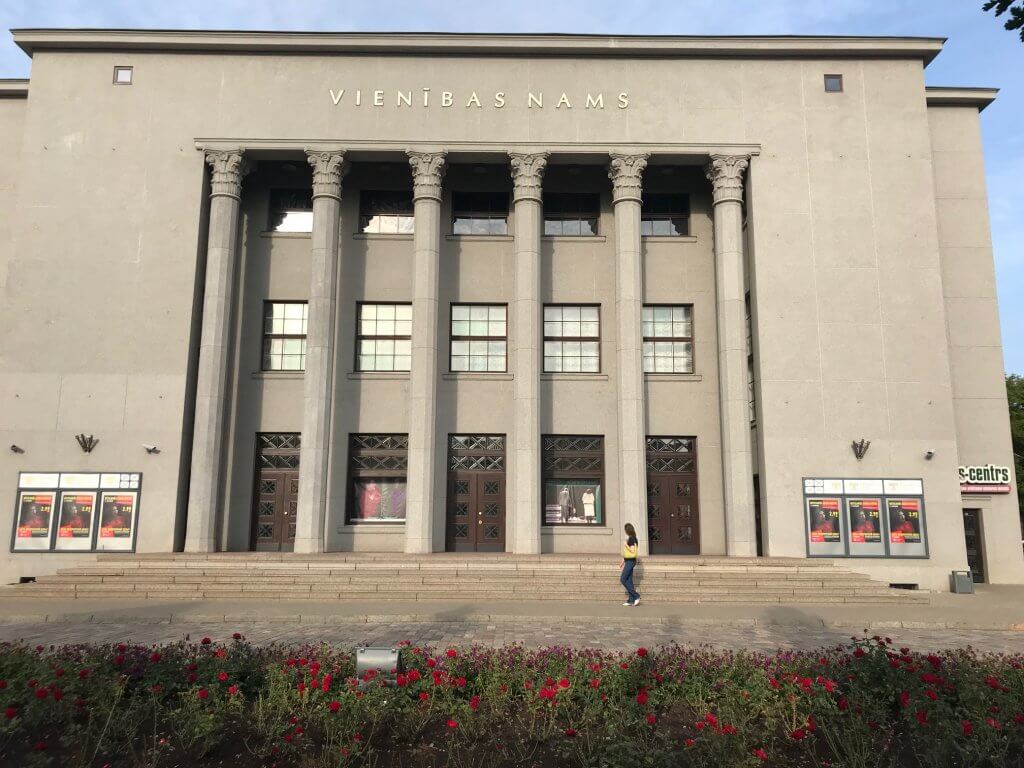 We arrive in the heart of town and find it enveloped by an eerie silence.
The locals we do manage to spot, hunched around tables at the few bars we stumble upon, eye us with a silent suspicion. We try and smile back at strangers who pass a cursory glance but we all we get is this cold, listless stare. Even a polite 'thank you' paldies at the bar when paying for our beers gets a reluctant, shy nod. It might be have been our pathetic pigeon Latvian. It might be also the fact that English and even the national language Latvian is useless here. Twenty years after independence and following decades of Russian emigration, young people moving away seeking better pastures and low birth rates, Daugavpils feels like a forgotten city. It is also the only Latvian city with a Russian majority.  Everywhere we walked, we saw street signs, adverts , restaurant names in Latvian but the voices we heard were Russian.
It feels a world away from the capital city Riga. Throughout our 24 hours there, we rarely came across any tourists. We felt like a complete novelty here. It had been awhile since we both had felt this sensation of feeling completely alien and disorientated in a city.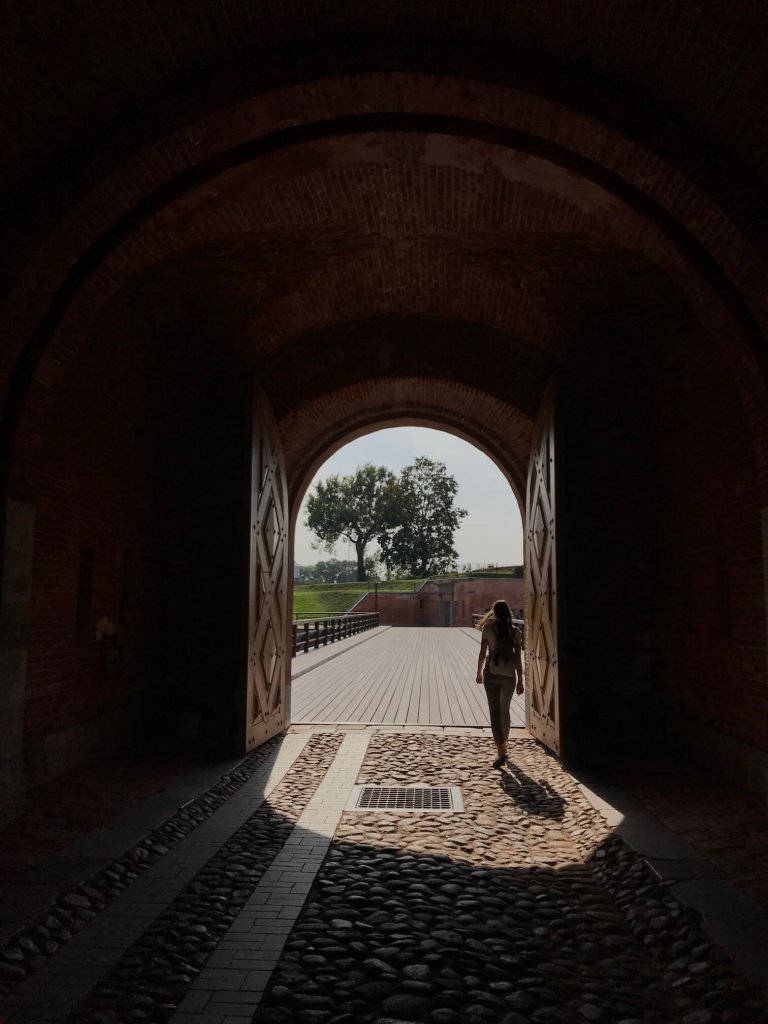 Daugavpils is the last EU frontier town before you hit Russia.
It is just 120km from the Russian border – 33km from Belarus and 25km from Lithuania.70% of the city's estimated 85000 population is ethnic Russian and 20% are Latvian. The remaining 10% is a mix of Polish, Belarussian and Lithuanians. There's not been much written about the city in the guidebooks or even online. That I guess, was weirdly part of the attraction. In this day and age of the internet and social media, there are no more mysteries, no element of surprise and Daugavpils definitely was surprising, a shock to the senses.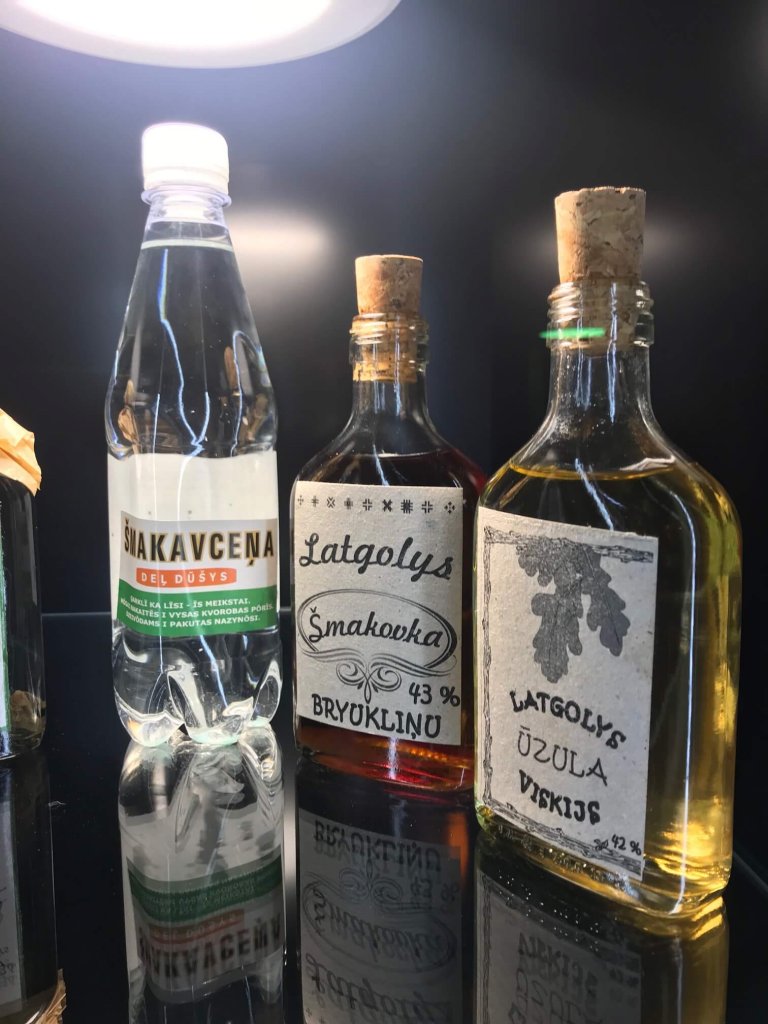 Back to our Friday evening in Daugavpils.
The sensible thing, given the relative solitude and lack of action would have been to return home to our very unique accommodation, more of which I will reveal later. However the truth was, we were still buzzing from the after effects of our visit to the Smakovka Museum. If your time permits when visiting Daugavpils, you can learn here about the oldest Latgalian alcohol called "moonshine". It's a nice museum with lots of interesting facts and a helpful guide to take you through the history of the drink. I'll be straight with you, I'm all for facts and history but when it comes to any alcohol related museum, all I'm interested is in tasting the stuff.
After the tour, a glass bottle is slapped onto a table covered with red chequered cloth. We're served a very large dram of the very potent local beverage. It's pretty strong stuff. I choke a little while Sabrina on the other hand necks it down without batting an eyelid, true to her sturdy Germanic Viking roots. I stutter out of the museum and into the relative calm of the city centre.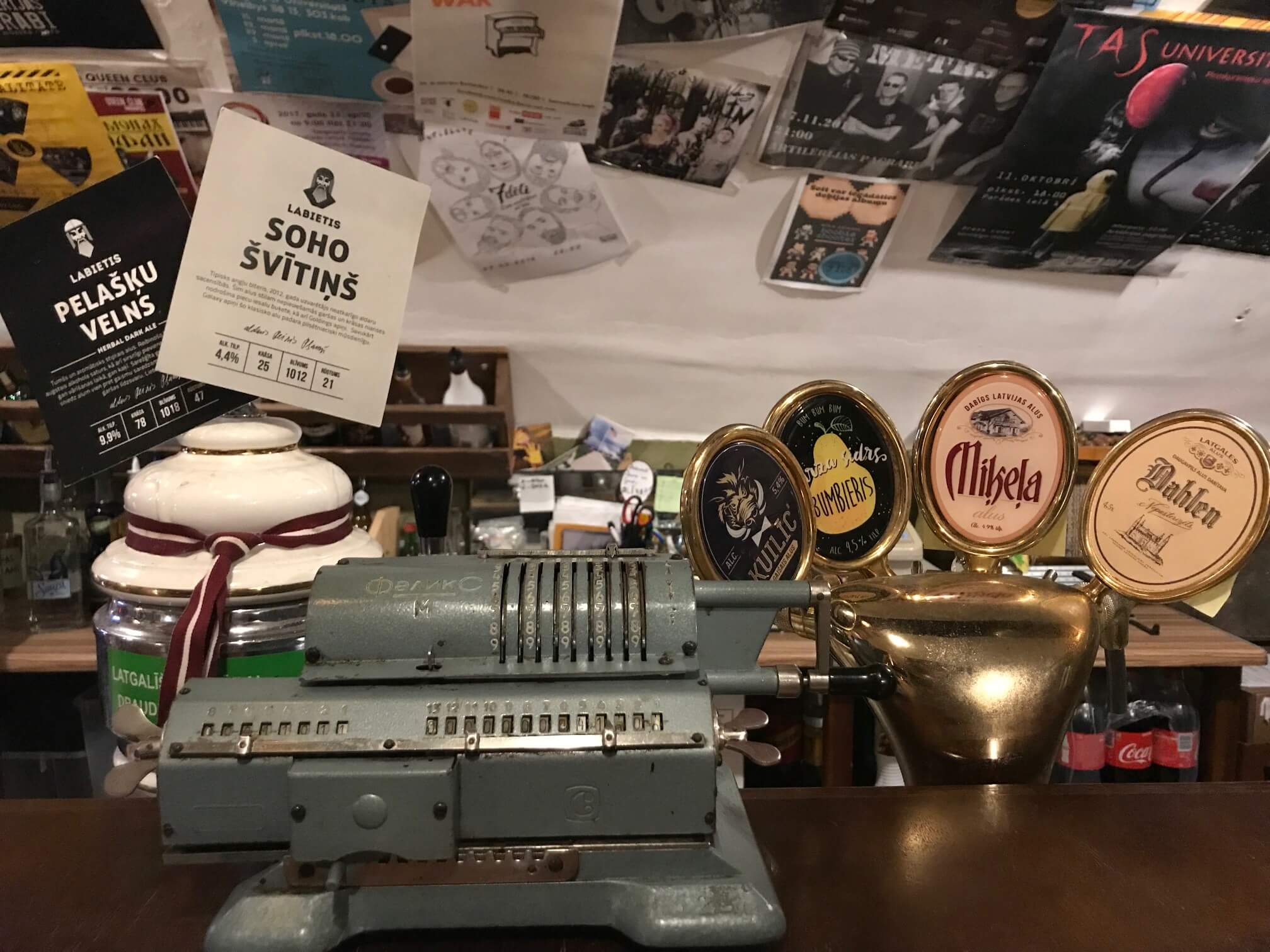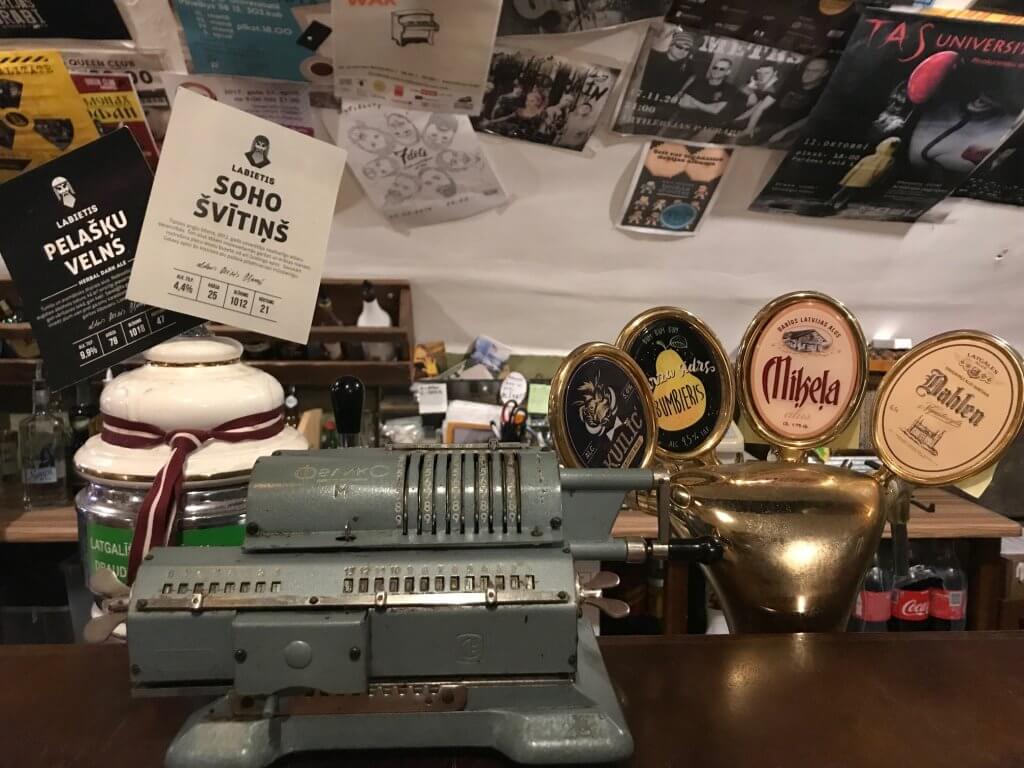 There's not many bars open but the one recommended to us by two people we met that day is Artilērijas Pagrabi, (Rīgas iela 22) We hear they have a live band on at 9pm so we rock up at the bar and order a few local beers. An hour or so later and we're kind of nodding off. The vibe in the bar doesn't seem to be quite there. There's two girls at the bar playing cards and sipping on Coca Cola. The performing live band who I could describe as heavy neo goth metal practiced a few of their songs when we came in but then mysteriously disappearing outside for beers, never to return. I think we were just out of gas, or maybe us just getting too old or maybe the unlikely duo of smakovka and unpasteurised Latvian beer mixing in our belly was knocking us out.
After waiting for an eternity in a slight drizzle of sudden rain, a taxi picks up and agrees to drop us off at our accommodation. Our bald headed driver sways to trashy Russian trance music while purple neon lights taunt us from the front seat dashboard. He drags us up a long snaking road that takes us to the edge of the city to our humble abode, a 19th century fortress where we will be staying the night.
Even in the light drizzle of rain and under the lights, the towering red fortress looks impressive.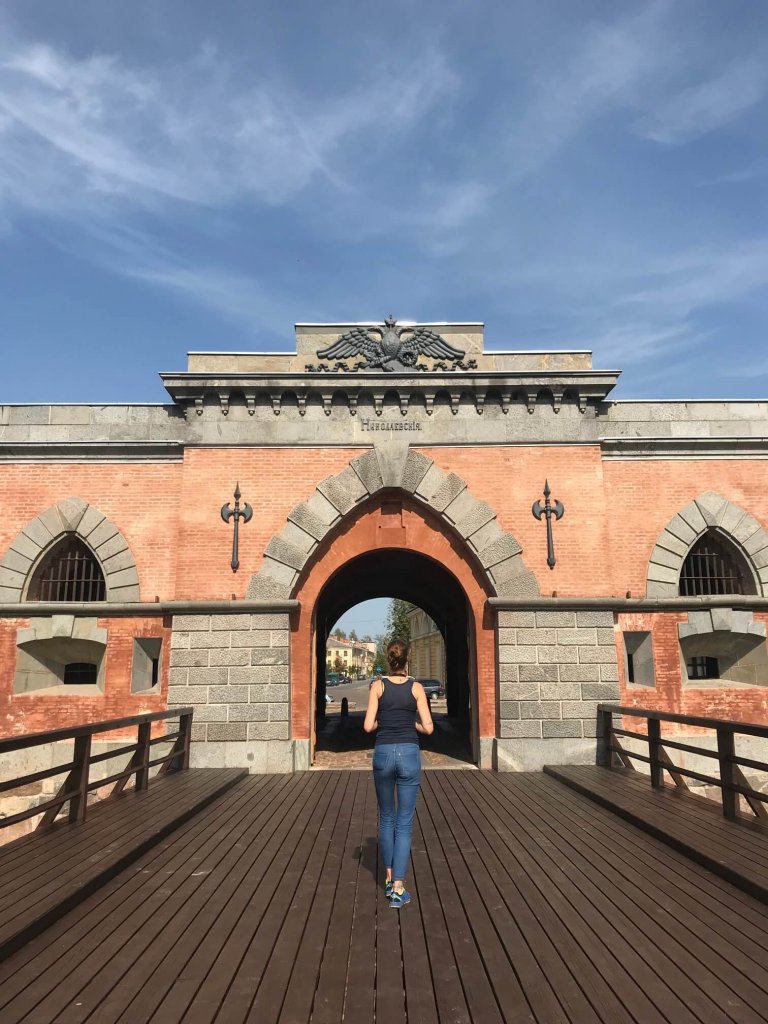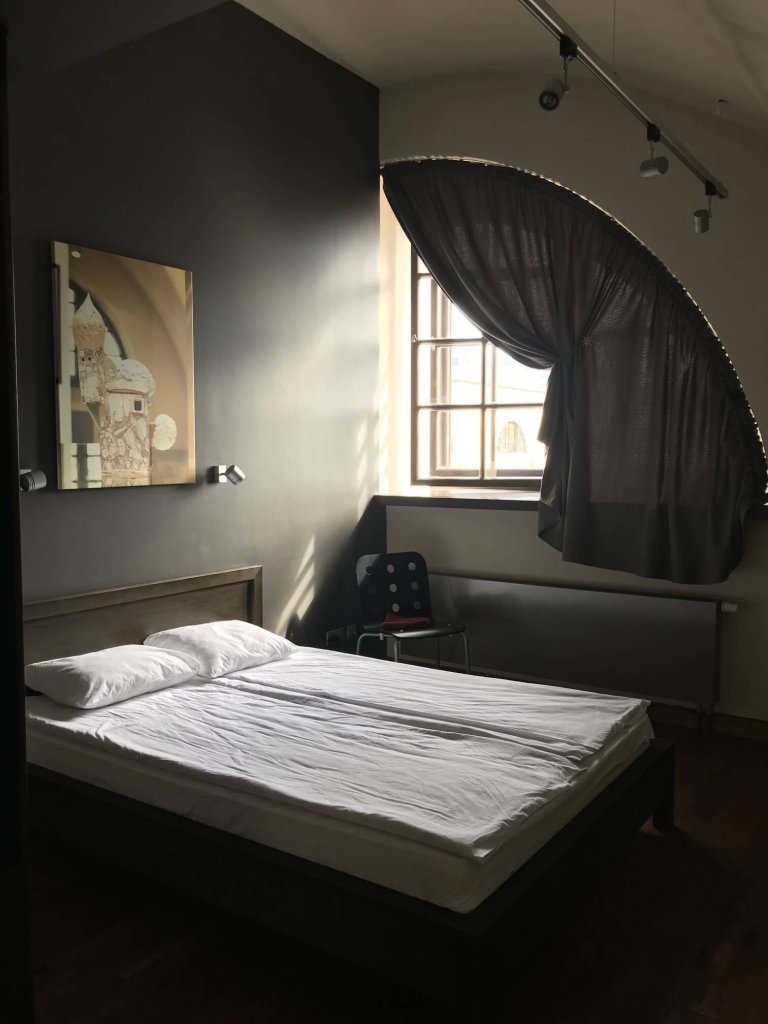 Located directly on what was the highway between St Petersburg and Warsaw, the fortress was built to protect against Napolean Bonaparte.
Later, the fortress was the site of a Nazi Concentration camp during World War 2 before serving as a Soviet military outpost before being abandoned. Only in 2013, with the generous help of EU funds, the fortress underwent a major rehabilitation and was converted into an art centre dedicated to one of the city's illustrious sons, Mark Rothko. 
The key attraction of visiting the Mark Rothko Art Centre ( Entrance: Adults €8, Family Ticket ( 2 adults, 2 children: €14 ) for me besides seeing Rothko's artworks was the fact that the left wing of the fortress has 10 rooms available for overnight stays. 'A night at the museum' can be yours for as little as €40 via Booking.com. The rooms, located adjacent to the museum offer direct access to Rothko's collection so first thing in the morning you can step out of bed and immerse yourself in the moody mysterious abstract world of Rothko's art. Perfect gift for any lover of Rothko's art. I have to admit I'm not a fab of his abstract art but I did spend some time, staring straight at this paintings, trying to let my consciousness guide me as I weave through the many layers , many moody swirls of colour on his canvas. It didn't quite work for me. It might be the fact that I didn't have the time. It might also have been the constant movement of people around me, ruining my silent reverie. With Rothko's works , you definitely need to give it time and space to reap the benefits.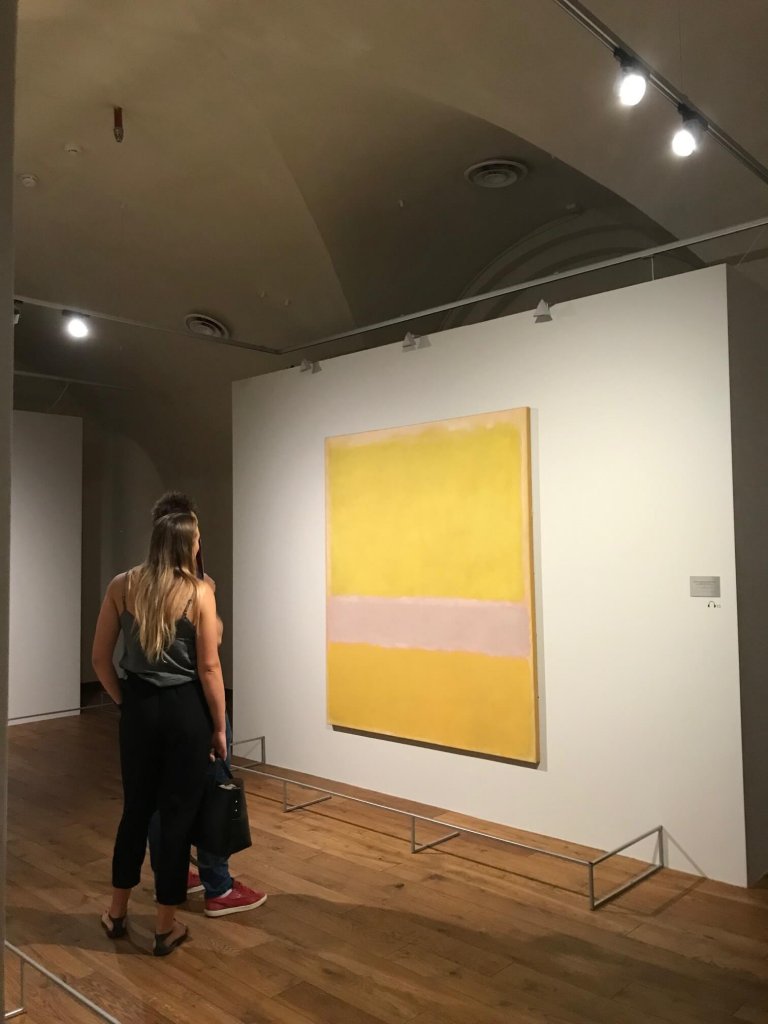 Born in USSR in what was then called Dvinsk, Rothko lived in Daugavpils with his family till the tender age of 10 before emigrating to USA. 
He never returned to his homeland. The opening of the museum , just a few years ago, represented something of a homecoming. Despite the tenuous link to the city, the surviving son and daughter of Rothko made a generous donation to the art centre by contributing 6 of the artists artworks to the centre. Besides the permanent exhibition of several original artworks of Rothko there are also temporary exhibitions of some of Latvia's finest contemporary artists. There is a cinema where you can watch couple of interesting documentaries about the life and work of Rothko. The centre also has a regular programme of cultural events and visiting artists, curating and creating new artworks.
The centre really is a shining light in the depressed surroundings. We went for a wee stroll around the the fortress and discover tucked away behind a 1960's era soviet style blocks of dilapidated apartment buildings.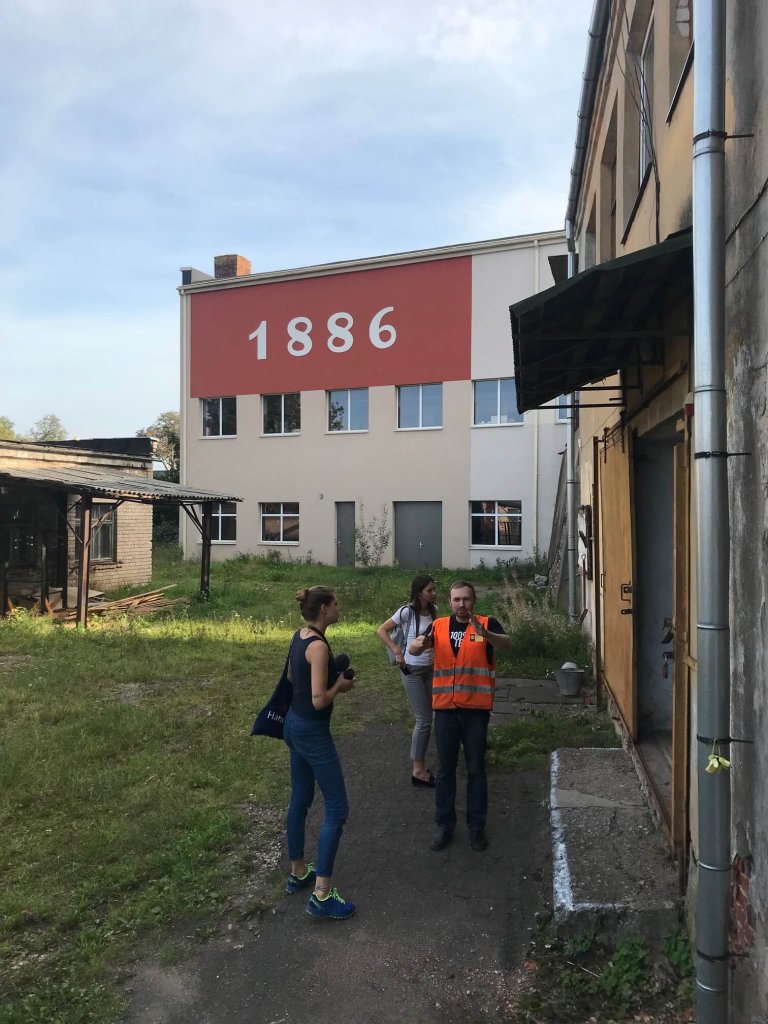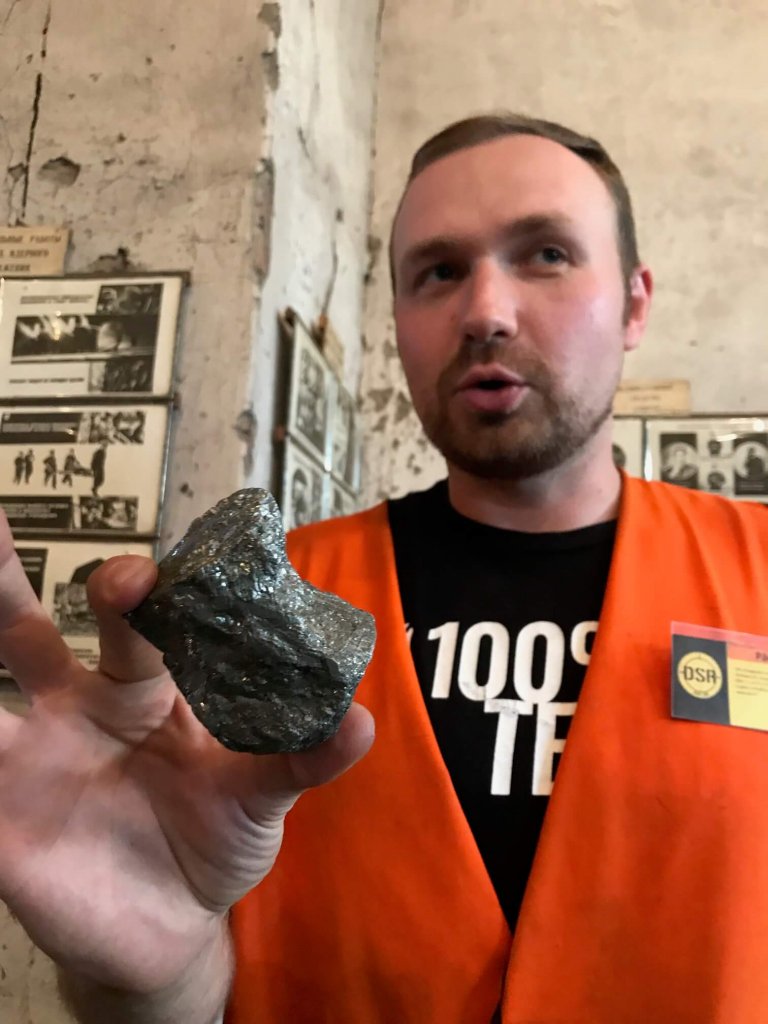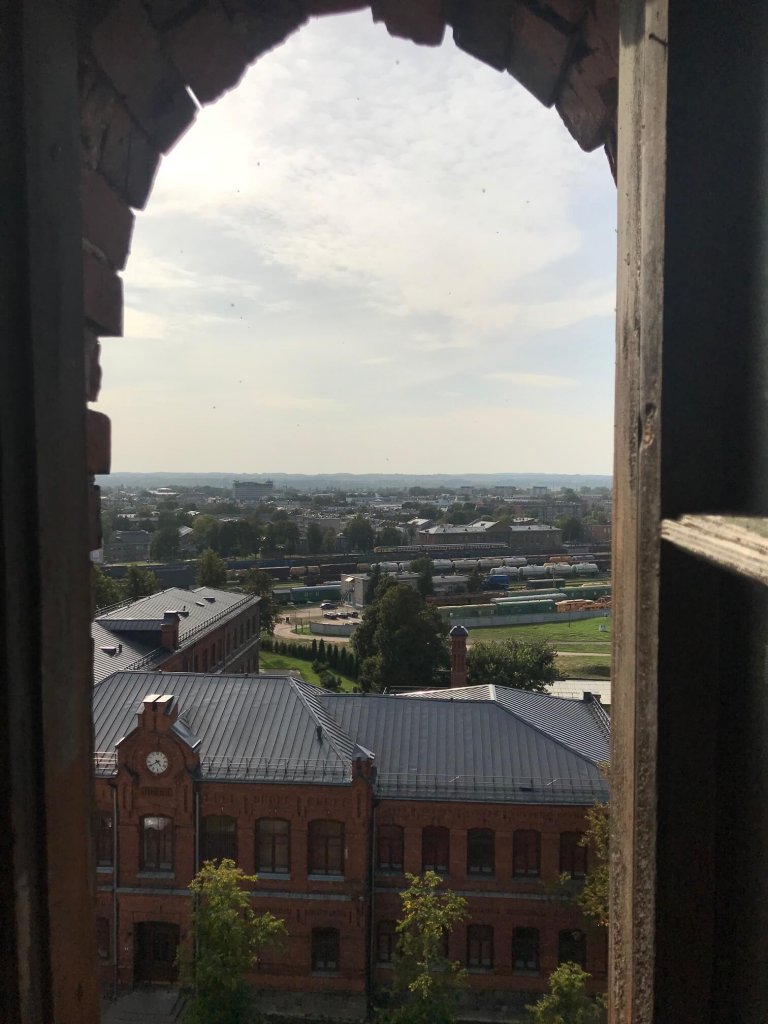 You often feel like stuck in some of time capsule when in Daugavpils and that feeling was reinforced the following morning when visiting one of Latvia's and Europe's most unusual museums- the ammunition lead shot museum.
A working factory , it has the distinction of being the oldest lead factory in Northern Europe, dating from 1886. We were welcomed and shown around the museum by Pavels, a very knowledgable and entertaining host who will tell you everything you've wanted or didn't know about ammunition lead production.  Pavel led us through the factory and went through each step of the lead shot manufacturing process. One of the highlights of the tour is going all the way to the top of the 37 meter high shot tower.  The shot tower , taking inspiration from the first tower that was built in Bristol, was designed for the production of small diameter shot balls by freefall of molten lead, which is then caught in a water basin situated a few meters below ground level. It is pretty fascinating stuff although I was worried about our exposure to lead dust which Pavels reassures would cause us no problem.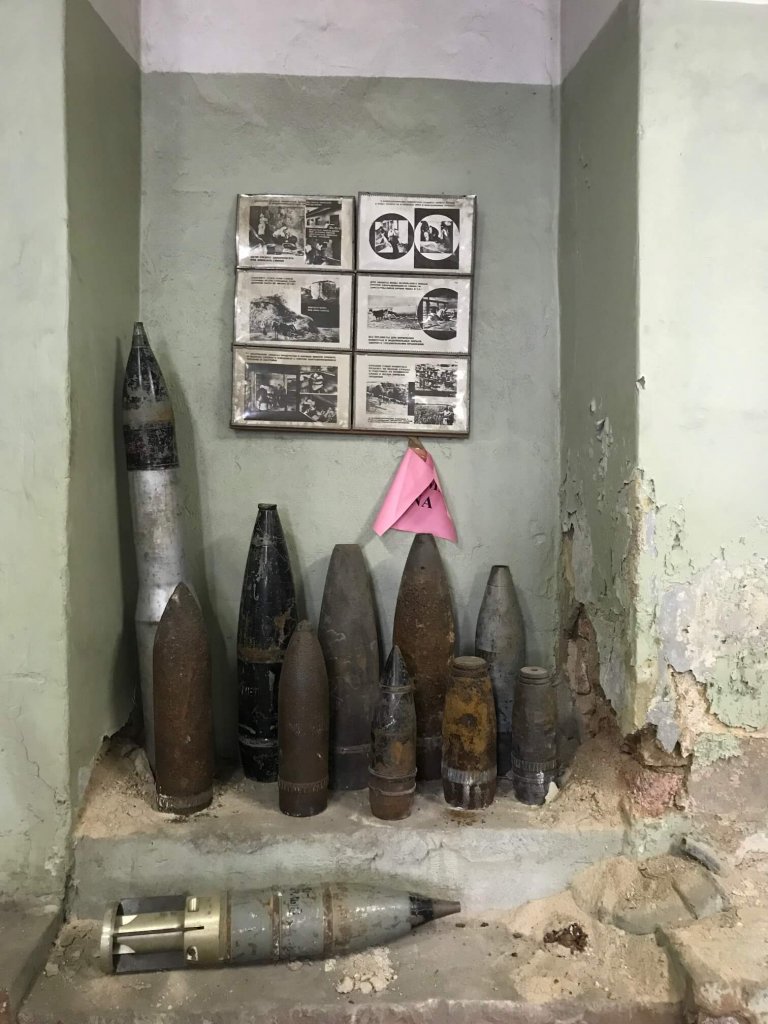 Our tour around the museum takes an interesting turn when in the basement of the museum, an area traditionally used for storing the lead, we suddenly discover a stash of Soviet era rocket and artillery shells lying in the corner.
Turns out that one of Pavel's main hobbies is collecting old rocket shells. Just when you think Daugavpils couldn't be anymore eccentric and zanier. At the end of Pavel's tour we test our aim by popping a few balloons and plastic objects at their shooting gallery.  Guns and bullets are not quite my cup of tea but in keeping with the eccentric nature of the city, I really enjoyed visiting this place and the unique history.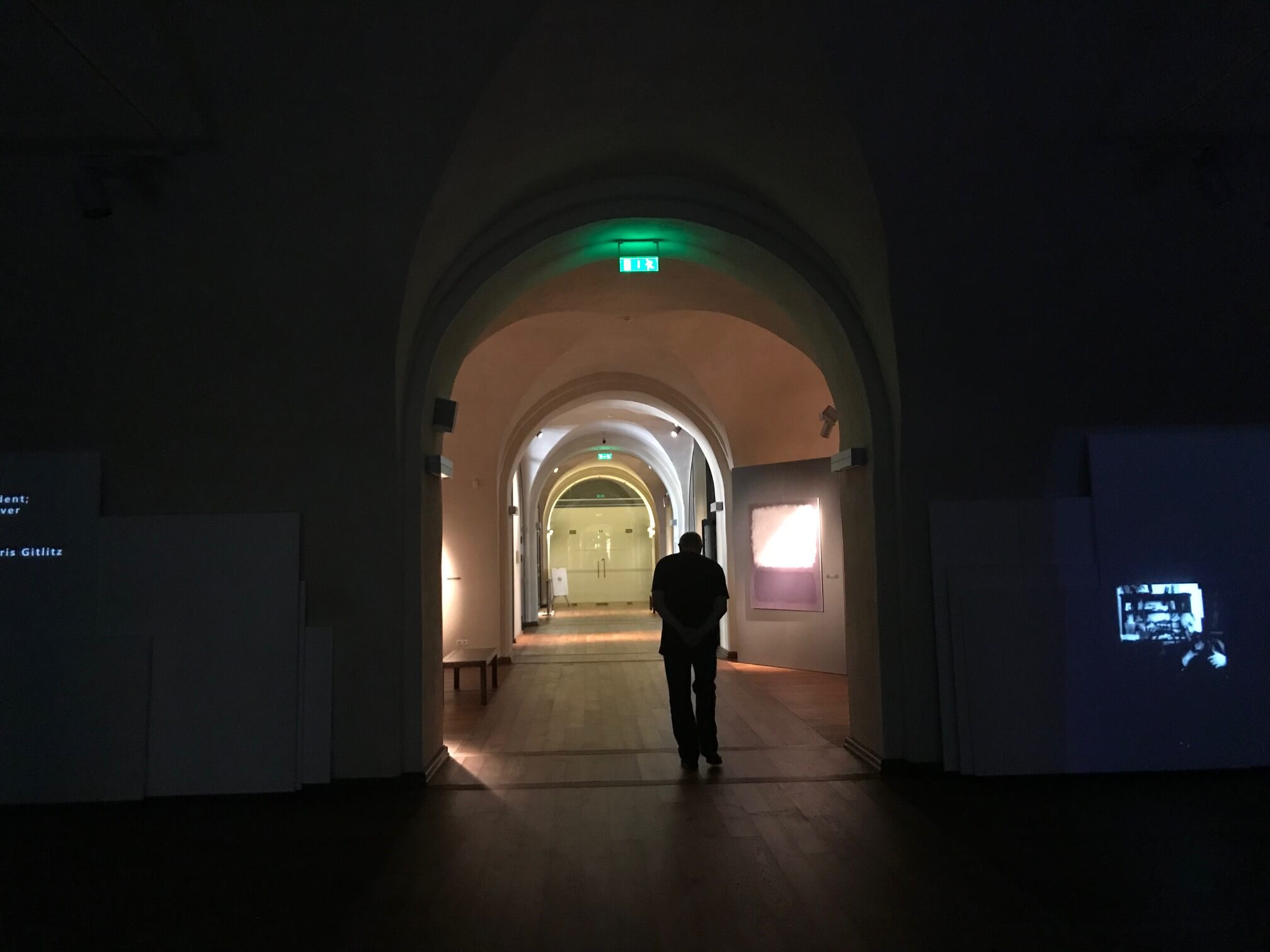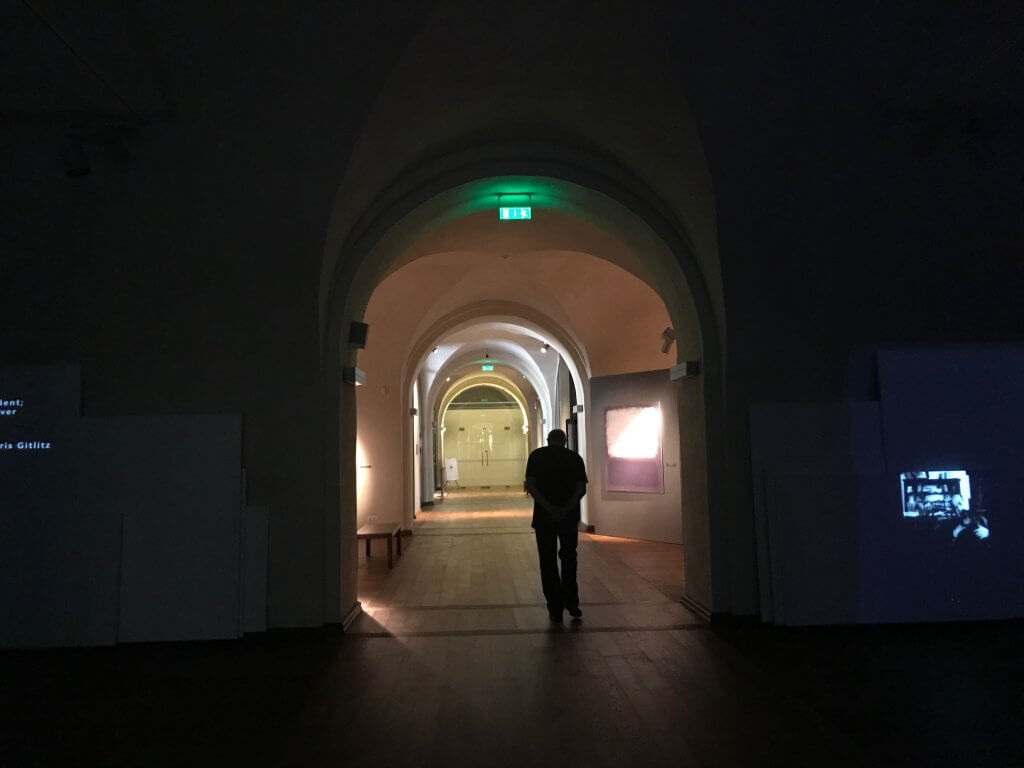 "To see the world, things dangerous to come to, to see behind walls, to draw closer, to find each other and to feel. That is the purpose of life."
The Secret Life of Walter Mitty
Daugavpils will never be a Riga, or Lisbon or London. It probably will never feature high on many tourist itineraries or annual travel must see lists. Even many Latvians were surprised by my choice to come here. With its incongruous mishmash of elegant imperial Russian buildings and decaying Soviet era socialist architecture , the city is definitely an acquired taste.  Like Walter Mitty, you will need to dig deep with this city, go behind the suspicious mistrusting faces, the walls and lose yourself in the many layers of history of this city. You will not get much out of this city just by walking through it or spending a few hours. The city is complex, just like a Rothko painting. If you spend a wee bit of time to immerse yourself within the city, you may reap some form of reward.
We visited Daugavpils as part of a month long storytelling project with Magnetic Latvia (LIAA) While my trip was covered by LIAA, all the opinions expressed here are entirely my own. Paldies to Daugavpils Tourism Board and Lelde Benke for bringing us to this very cool and unique part of Latvia.
More stories to follow and if you haven't already, checkout our earlier account of going foraging for wild mushrooms