'We welcome guests to our hostel as if they visiting our home.' This is the key philosophy that defines the experience of staying at Ostello Bello Grande and makes this one of my favourite luxury hostels in Europe.
The location
Ostello Bello Grande, sister hostel to Ostello Bello is just a stone's throw away from Central Train Station where you are likely to arrive if taking the Airport shuttles from Linate, Malpensa and Bergamo airport or the train from all key italian cities. Milan's Corso Buenos Aires shopping street is just a 2-minute walk from the property.
The Duomo square is easily reachable by 3 subway stops or by a nice 20 minute walk through the main city attractions.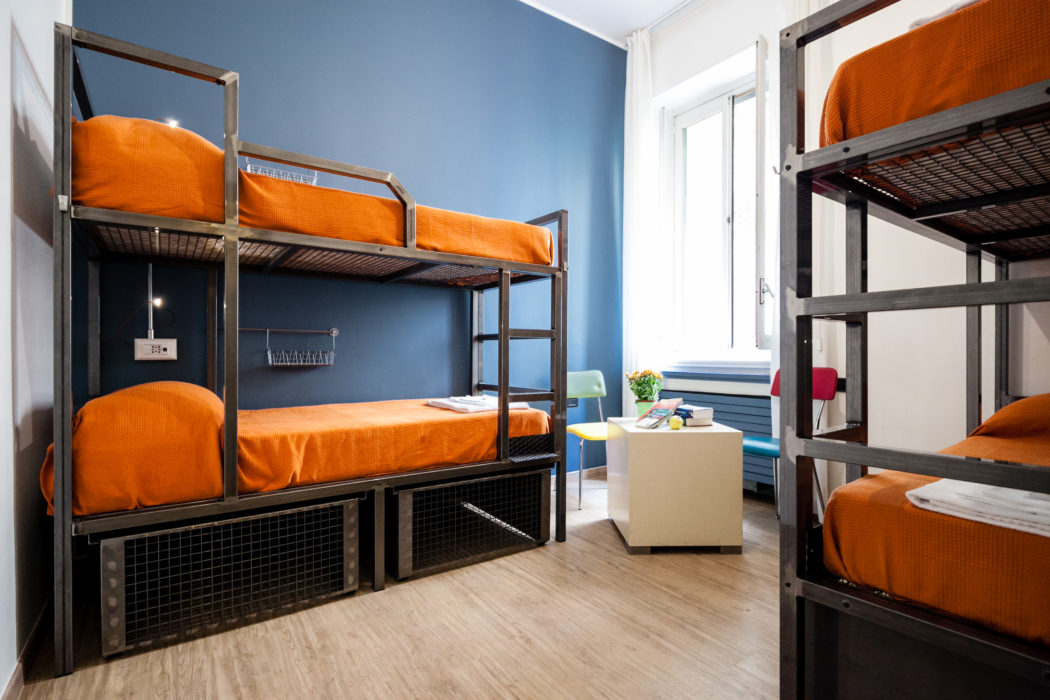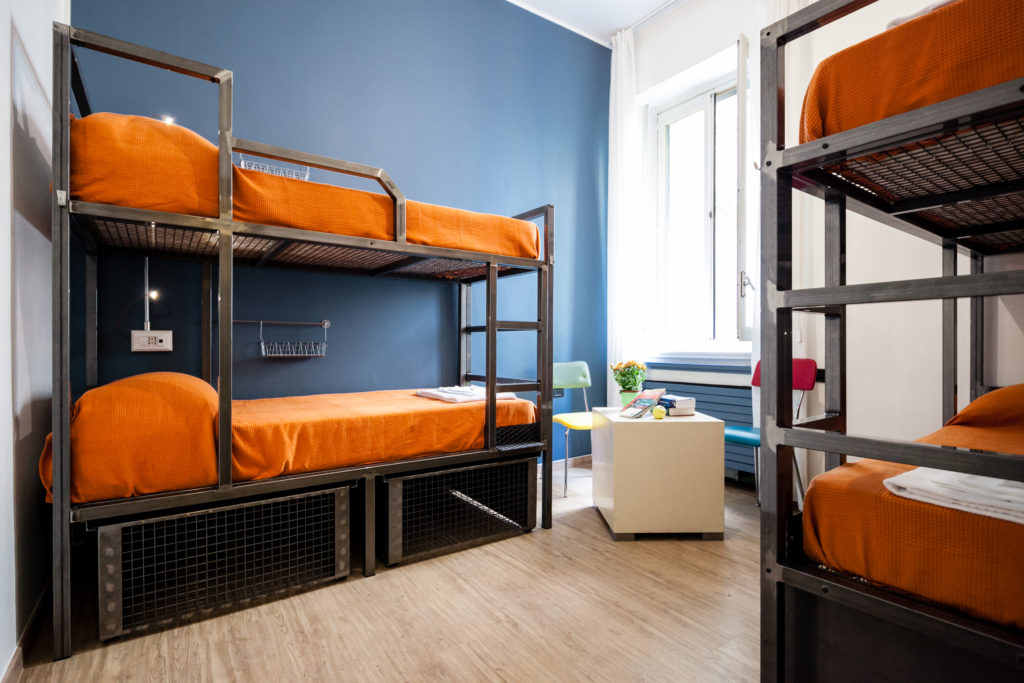 Rooms and bathrooms
All the rooms at Ostello Bello Grande are en suite. There is a choice of rooms for every type of traveller-from 4 and 6 bed female dorms to doubles and single rooms.  Rooms are clean and the bedding very comfortable. Each dorm comes up with a private reading light and plug point. Another key feature is that both dorms and private rooms are separate to the common areas, so you are guaranteed a great nights sleep. Dorms also have sizeable lockers-just don't forget to bring your own lock.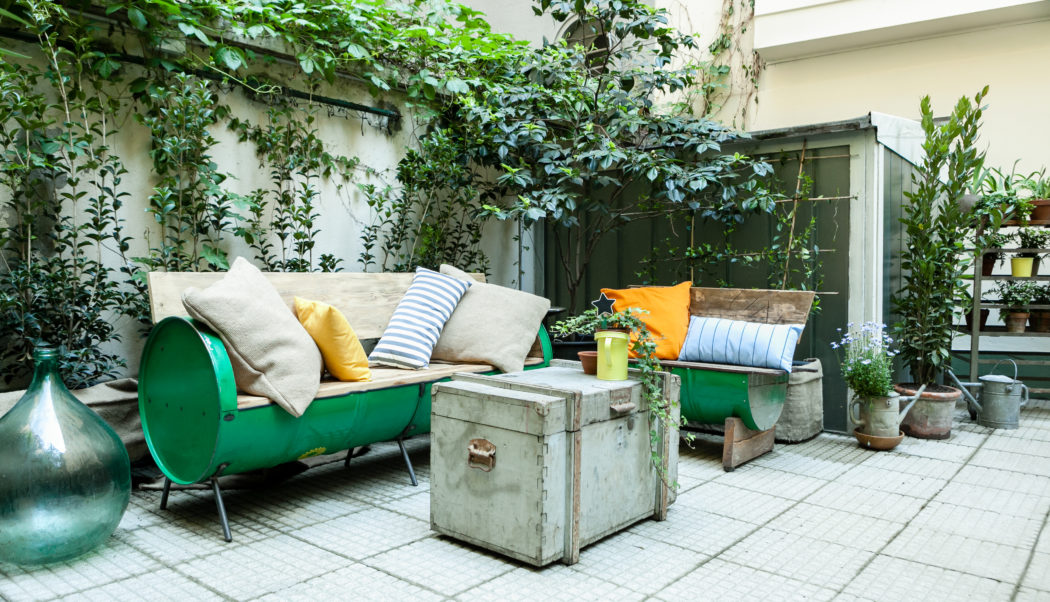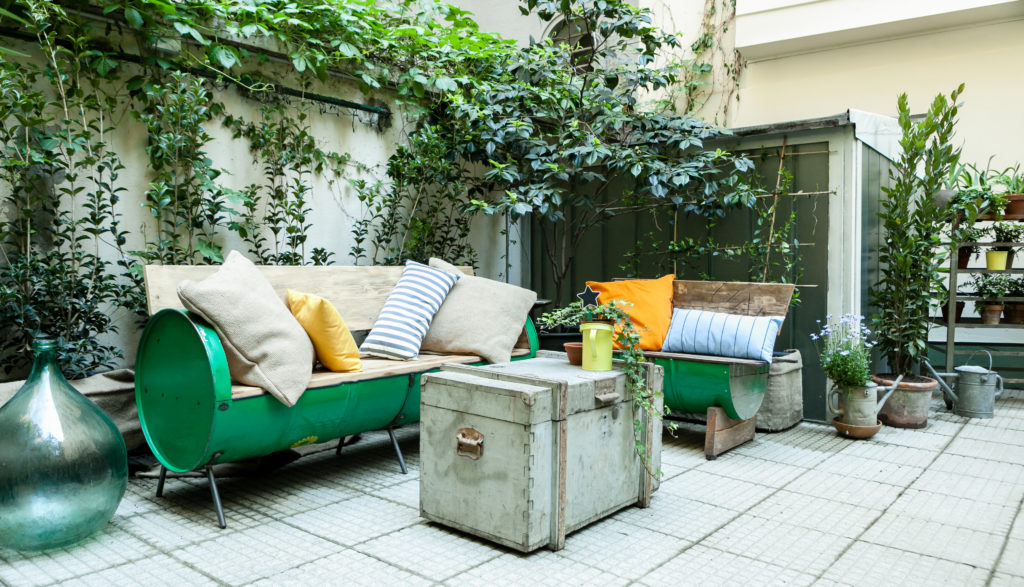 Facilities
In terms of facilities, what they offer is astonishing.
The moment you arrive they offer a free welcome drink, which includes a choice of prosecco, beer, wine or soft drinks. I wish all hostels would offer this.
Breakfast is served all morning and is very filling. You have your choice of cereals, muesli, fresh fruits, scrambled eggs, yoghurt, fruit jams, nutella, bread, juices and milk to kickstart your day. Filter coffee is ok but definitely worth paying the euro and ordering an expresso from the bar.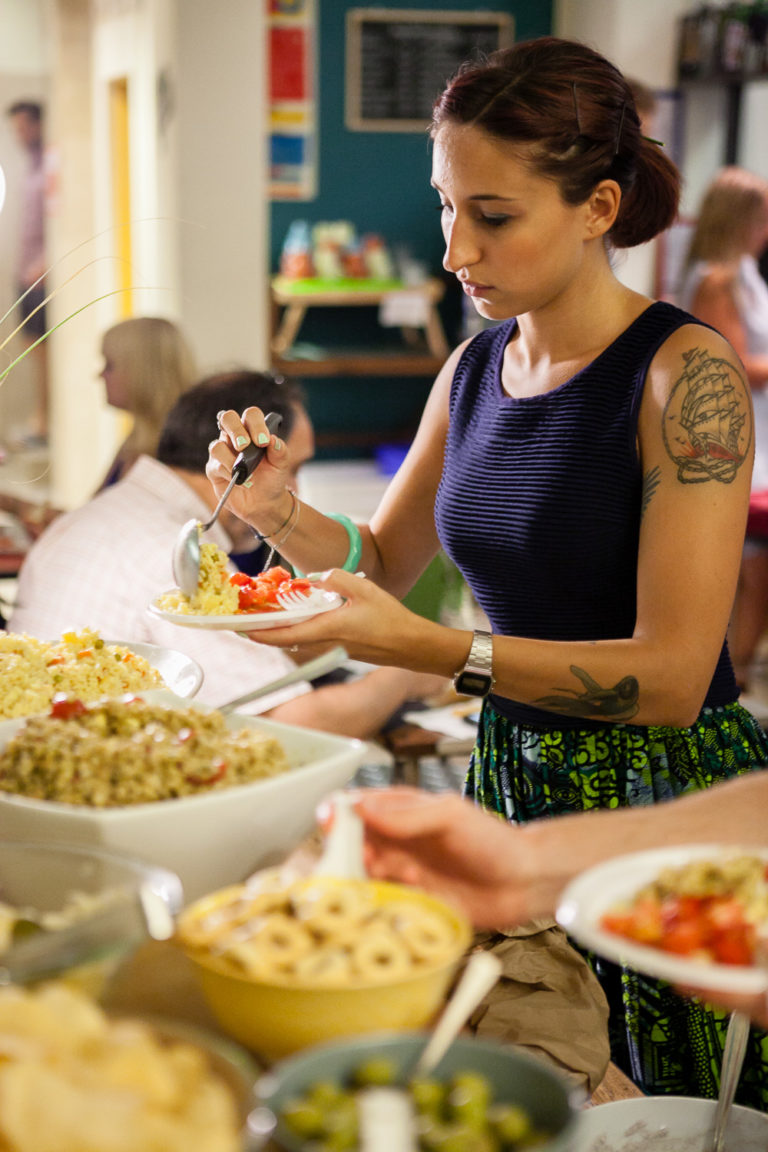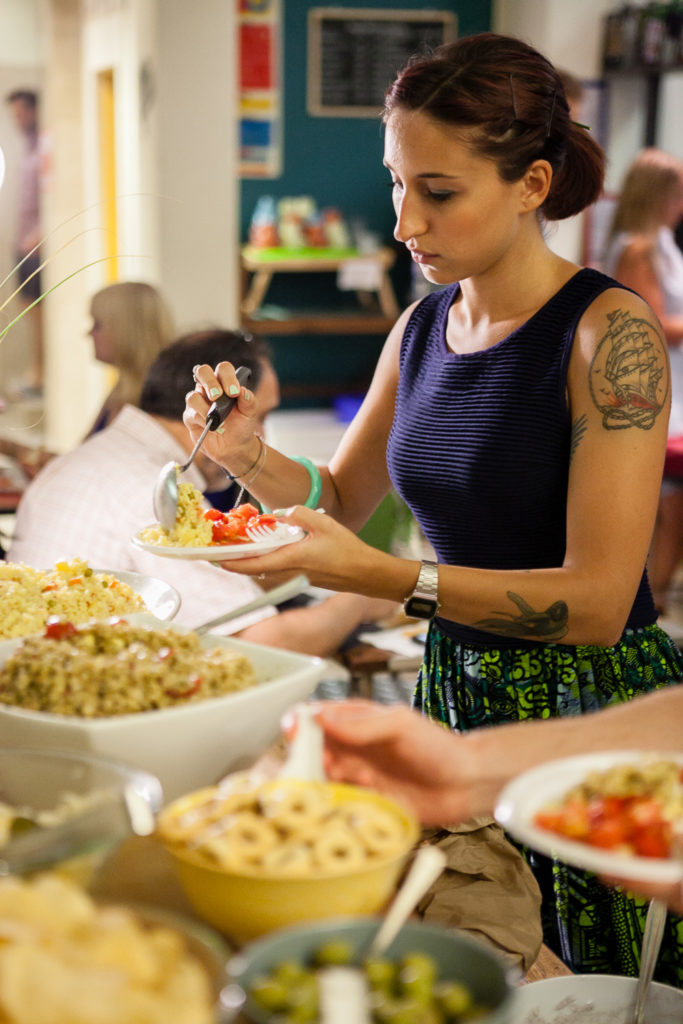 Just as in sister hostel on Via Medici, they offer a simple but very nice aperitivo in the evenings between 7 and 9pm. Oh, that's free too.
If you are peckish between breakfast and dinner, they have free pasta in tupperware boxes in their 24-hour guest kitchen. Just pop it into the microwave and you have a meal.
List of other free things they offer include free shampoos & soaps, free earplugs, free hairdryer, free ironing board, free safe deposit box at the reception, free luggage storage plus free linen and yes even free towels!
Wait. They also offer free mobile Wi-Fi devices with data so if you need to Instagram on the move or call your friends on Skype from the Duomo-Ostello Bello Grande make it possible. Plus also they offer free iPads and laptops for hire. Plus free maps.
What's the catch I asked the owner of Ostello Bello Grande.
'Our aim is to make our guests feel at home. It is very simple as that.'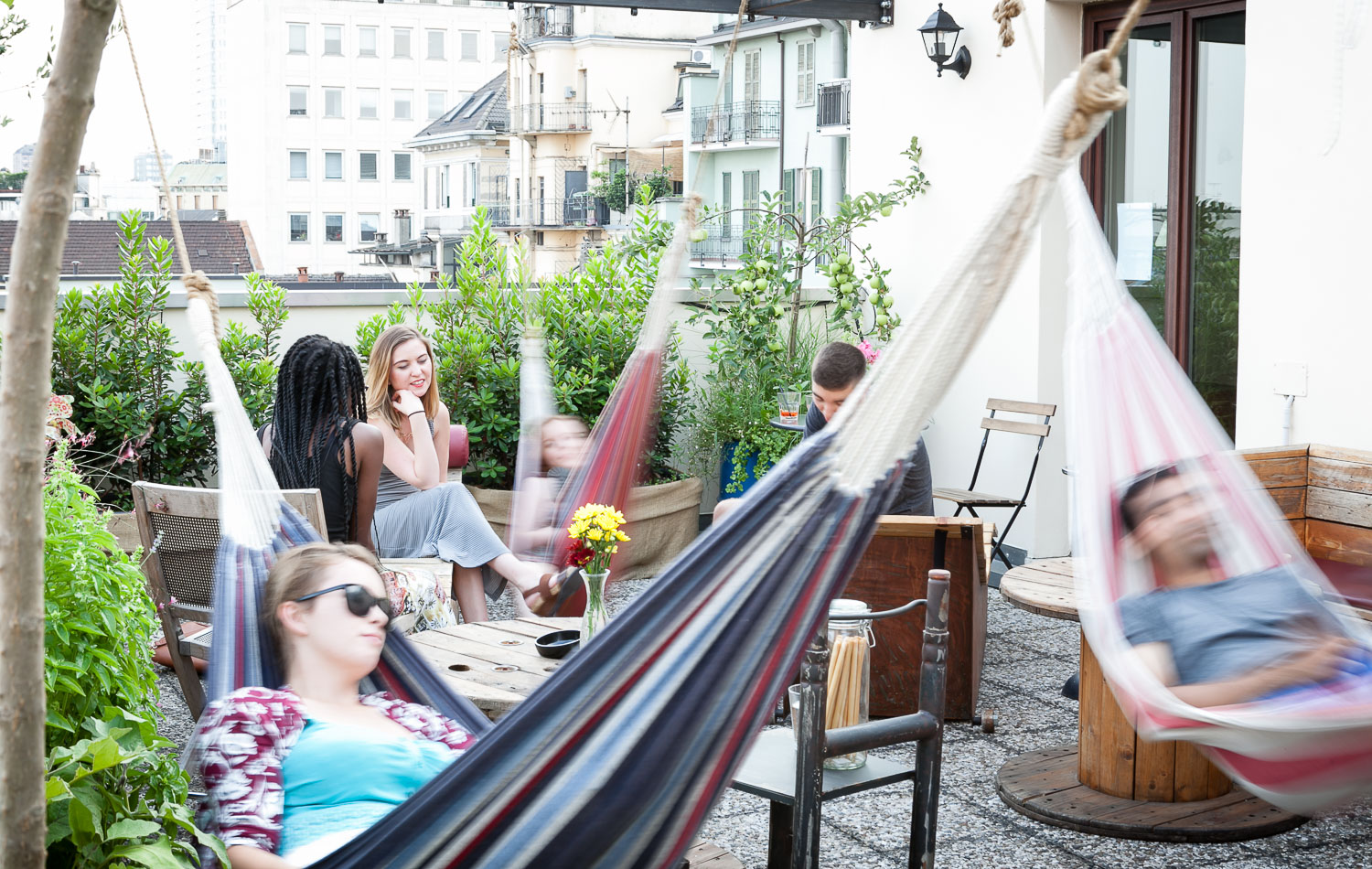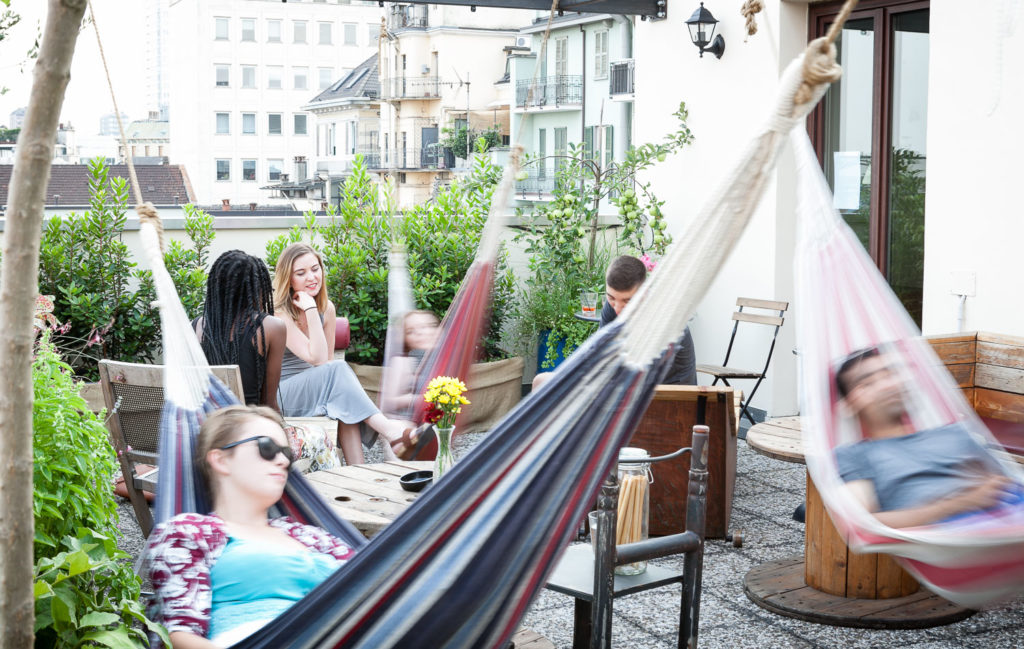 Talking about feeling at home, you have lot of rooms to relax in and escape. You have on the third floor two open-air terraces with hammocks to relax in, complete with a vegetable garden and an attached kitchen if you need some parsley for your pasta. The downstairs common room is the main hub of activity where you will find guests on their laptops or maybe strumming on the guitars hanging on the wall or playing the piano. Music lovers please note that the hostel often organises live music nights plus there is karaoke!
There is a pleasant courtyard where you can enjoy your aperitivo plus a ping-pong table. Wait. I am not finished yet. There is also an additional downstairs lounge with a football table and a big flatscreen TV to watch movies, football or play the Wii or PS3.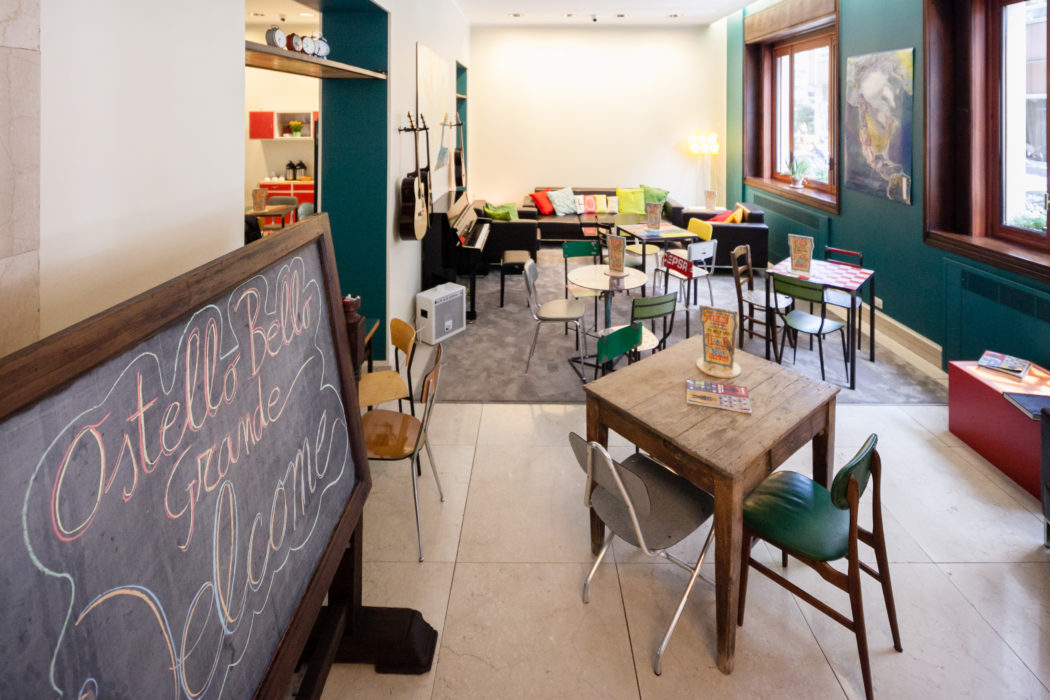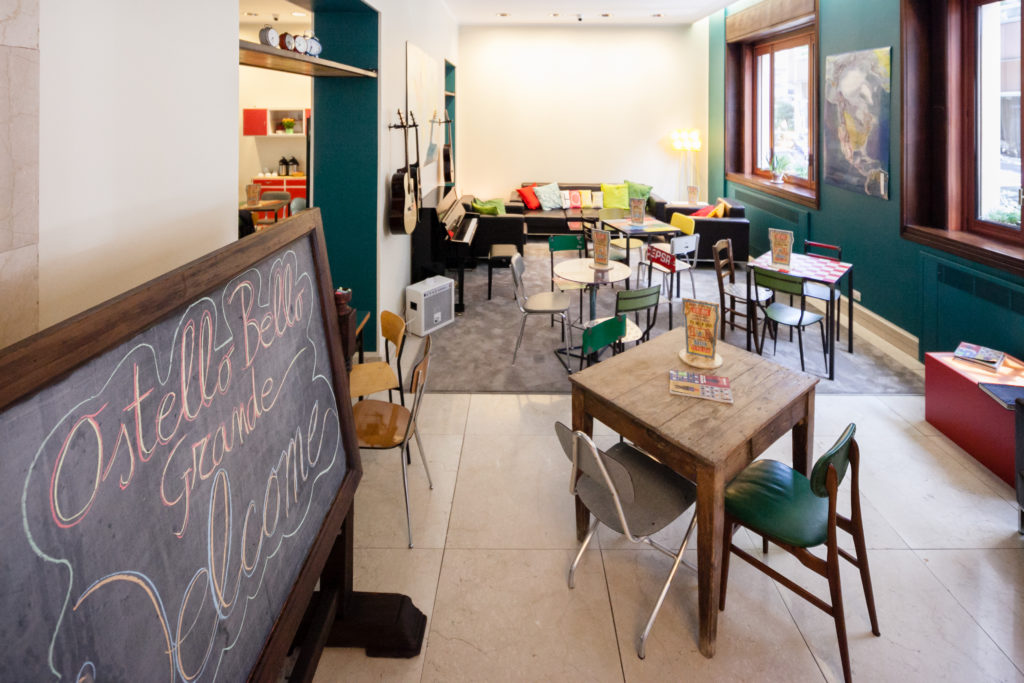 What makes this a luxury hostel 
The central location, friendly multilingual staff, the list of endless free amazing stuff, clean and comfortable rooms plus the fabulous open air terrace with hammocks make this a dream abode for backpackers. It really does feel like home staying here. Your only regret will be not having booked to stay a week here instead of 2 days. A wonderful experience and a great sequel to the original Ostello Bello on Via Medici.
Fact box
Booking Via Hostelworld.com, a bed in a 4 bed dorm starts at around €35 while a double room cost you around €100 a night.