'We have 5 days in the year without wind. Today is one of them. This was the city where wind was born.'
Sintija Pusaudze
The sun came out and the long towering pine trees were dead silent. The deep blue sea in the distance glowed in the late autumn sunlight. What a difference a day makes. Barely 24 hours ago we had arrived amidst swirling gusts of rain and strong winds to Liepaja, Latvia's third largest city located on the sandy fringes of the Baltic Coast about 200 kilometers west of Riga. The rain was ok but oh boy, that almost vertical wind lashing into my face…it reminded me a lot of Edinburgh. No surprise that the once upon a time Russian naval base town Liepaja is often referred to as the 'windy city'. From abandoned concrete bunkers gloriously submerged in the sweeping tides of the Baltic Sea to an eerie infamous military prison once used by the Soviets and Nazis , from sampling the best chocolate eclairs in Latvia to savouring delicious steak and peppercorn sauce , from art nouveau mansions to crumbling beautiful wooden houses hanging onto their former glory -Liepaja like Latvia is a city of many interesting contrasts and flavours. Here's my guide to Liepaja and how you can make the most of your time in the windy city of Latvia. 
PS: If you missed the earlier instalments of my Latvia series, here are my guides to Valmeira, Jelgava and Daugavpils.
Where to stay in Liepaja on a budget
Ezera Maja
Liepaja has a wealth of wooden housing that dates from as early as the 17th century. While some of these buildings have sadly fallen into disrepair , few buildings have been lovingly restored to their former glory and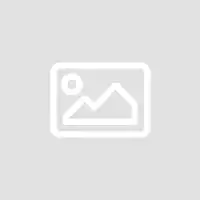 Ezera Maja

Buy Now

We earn a commission if you click this link and make a purchase at no additional cost to you.

is one of the finest examples. With only 7 rooms and with only 1 fellow resident, we practically had the whole house to ourselves! I loved the interiors of this place-the wooden floorboards, antique beds all combine to give a cosy hygge like ambience.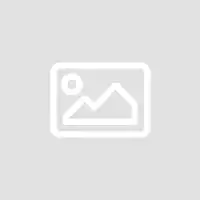 Ezera Maja
Buy Now
We earn a commission if you click this link and make a purchase at no additional cost to you.
The beds were very comfortable, rooms well heated with a spacious ensuite bathroom. The common guests kitchen was very well equipped with all the basic ingredients ( nice local herbal teas too) in case you are looking to prepare your own dinner or breakfast. The star feature of the property is the glorious glass conservatory which is the perfect place to relax with a book. The owners are the perfect introduction to Liepaja- they gave us lots of useful tips plus some interesting titbits of local history. Plus the location, just 10-12 minutes from the sea and the town centre, is perfect. With prices starting around €30-€35 for a double, this place is extremely good value.
Bārtas Krasts glampsite
Sleeping in tents is so last season in Latvia. A new craze for glamping is sweeping across the country and at Bārtas Krasts by the River Barta , 30min from Liepaja (25km) and 3h from Riga (240km) you have the perfect place to relax. The glampsite can host upto 40 people: there are 4 cabin style apartments that can host a maximum of 6 people plus 2 luxurious glamping tents that can host upto 4 people. Each cabin is equipped with refrigerator, shower ( with hot water), toilet , electric cooker plus outside each house has a small terrace with a wooden grill. There is also a sauna onsite which can be booked in advance. The glamping tents are spacious, waterproof and come complete with carpets, comfy beds , coffee tables plus en-suite facilities.
It is so peaceful and chilled out here. We spent here just the one night but wish we could have stayed longer. The tents can be rented for as little as €50 while the cabins start from the €80 mark via booking.com
Cool things to do in Liepaja on a budget
The Great Amber Concert Hall
Designed by Graz architect Volker Giencke ,The Great Amber Concert Hall with its striking Amber coloured conical shape definitely stands out amidst the medieval spires of Liepaja as a symbol of the city's renaissance. In terms of its unusual colour and shape, it reminded me a lot of Olafur Eliasson's magnificent rainbow panorama on the rooftop of ARoS Aarhus Art Museum. The moment you come into view of the building, it really takes your breath away. It is even better from the inside. Even on a cloudy day I was basked in the wondrous amber light of the various amber glass panels. Its a huge concert hall. With 1024 seats it is in fact the largest concert hall in the Baltics. The acoustics are fantastic here and it is definitely worth catching a concert here if the opportunity presents. Sadly there was nothing on offer when I visited but they do offer guided tours on request of the building where you can learn impressive facts about how the hall was built and artistic programmes in the pipeline. The views of the city from the 7th floor are fantastic.
Tour price is €2.50 for adults and €1.50 for pupils, students, seniors. Persons with disabilities children up to the age of 7 years get free access. Guided tours must be booked 3 days in advance – call the Great Amber information centre +371 634 24 555 or send them an email to [email protected] to organise your tour.
St.Trinity Cathedral
Another highlight of a visit to Liepaja is the chance to see the world's largest mechanical organ which has never been reconstructed. Built in 1742 and 1758 in the Baroque-style , St.Trinity Cathedral's famous organ features over 7000 pipes and was built by one of the best organ builders of that time -a certain H.A. Contius. If that organ doesn't excite you , you can also climb the cathedral's 55-meter high tower to get a magnificent panorama of the city. Sadly, at the time of my visit the church tower was under reconstruction so enquire ahead of your visit to check if the tower is open for public visits.
The cathedral is open for public viewing from Monday till Saturday only between the hours of 11 and 1pm.
Karosta Prison
If you're a glutton for punishment and have the fantasy of being holed up in a miserable prison cell for a night where you'll be awoken at regular periods by a prison guard with the luxury of a primitive, dingy squat toilet , then that fantasy is yours for as little as €15 at the infamous Karosta prison. If that sounds a tad too much for you, alternatively you could visit Karosta for one of their hourly tours.
Originally conceived as a infirmary and later a huge naval base, Karosta under Nazi and Soviet occupation gained notoriety for becoming a 're-education' centre where Latvian deserters were subjected to torture  , often locked up in solitary confinement or later released into the nearby woods where they were shot. Used as a detention centre as recently as 1997, the prison now has been reborn as a visitor attraction where a 'Comrade Commander' gives you a reality TV show style guided tour of the prison and what life was like for prisoners here. The tour can initially feel a bit on the grim side depending on your guide but its definitely an experience worth sampling if you're visiting Liepaja. Frozen in time, surrounding by bleak redbrick buildings and a wild unkempt forestland, entering Karosta is like entering into time capsule where you are transported to a much more troubled era in Latvian history.
PS: Guided tours of Karosta start from €5. Schoolchildren, students, seniors pay €3.50. Every working day excursions start on the hour every hour. Duration of excursion is one hour.  If you're looking for a tour with an extra edge, expect to pay an extra euro for a tour 'with elements of spectacle' to directly quote from the Karosta Prison website )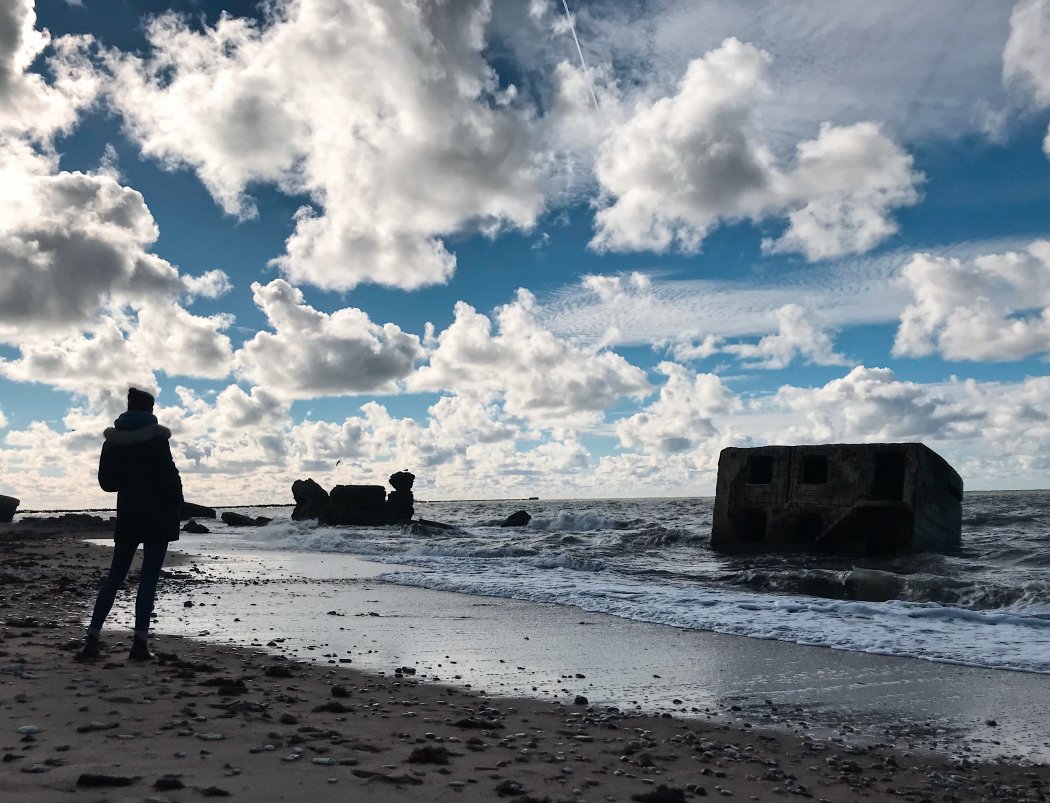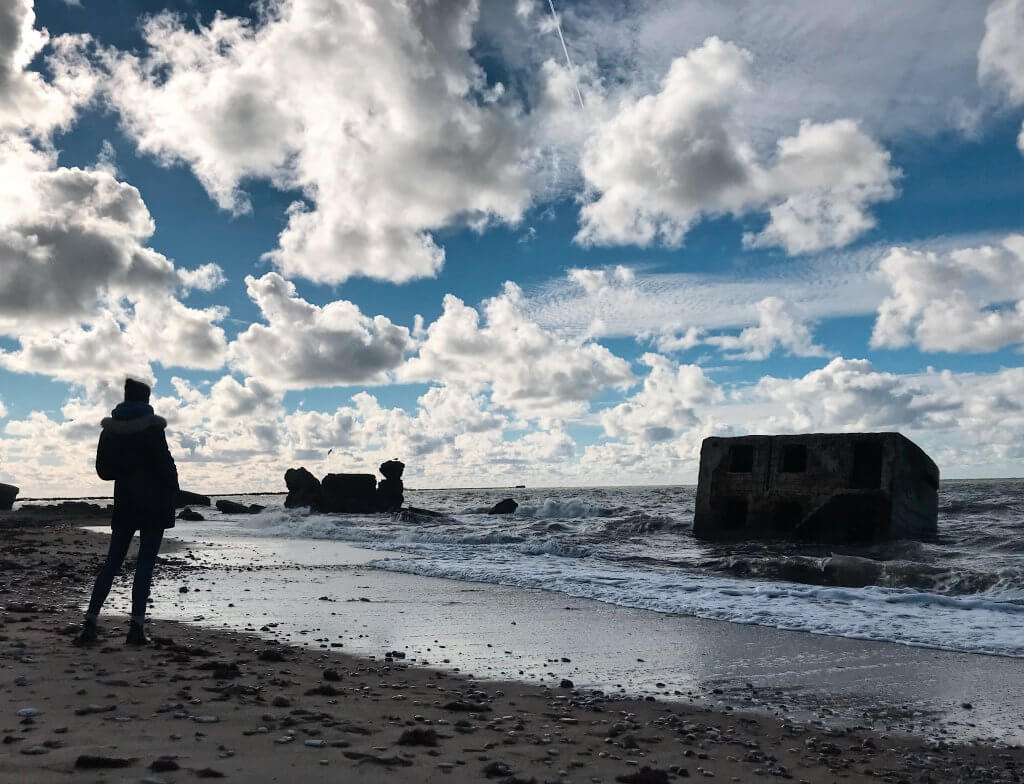 The Northern Forts
There's an unworldly feeling about Karosta. This could be partially to do with the fact that only few people had access to the area and it was shrouded in secrecy. In Soviet times the town almost doubled in size and yet, paradoxically, became a closed town, with non-residents requiring permits to visit family there. Today the naval base and its residential areas are a virtual ghost town with many of the buildings abandoned, empty, stripped, and returning slowly to the earth. The post apocalyptic feeling is amplified when you wade through the nearby pine forest and come across this labyrinth of abandoned concrete bunkers. Those closer to the beach are slowly being reclaimed by the sea and have taken on a sad, nostalgic and haunted charm, partially submerged and slowly being drowned by the furious waves sweeping in from the Baltic Sea. There's hardly a soul in sight when we arrive which lends to the eerie atmosphere which I strangely find comforting. I hope it stays it this way. As much as places like Karosta and Liepaja could benefit from more tourism, my heart shudders at the thought of today's Instagram jetset taking over a place like this and turning into some sort of dismaland.
The St. Nicholas Orthodox Maritime Cathedral
Another prominent building whose towering golden cupolas will catch your eyes when wondering through Karosta is the St. Nicholas Orthodox Maritime Cathedral. Finished in 1903 and christened by Nicholas II himself, the cathedral served as the Soviet Naval Base's church. The Soviets however used it as a recreation and entertainment room, gym, cinema and meeting hall before it was restored to its former incarnation after the Russians left Karosta.
The Northern Breakwater
To the west of Karosta, a further stroll up the beach will bring you to a 7.35 metre wide, 1800 metre long breakwater that cuts into the fiery embrace of the Baltic Sea. This is a great place to come and watch sunset over the Baltic Sea sunsets or join the storm watchers and see some giant waves lash the coast.
Take a ride on the oldest electric tramline in the Baltics
I love a good old vintage tram ride as readers of my blog will be aware of. So when I learnt that Liepaja has an electric tramline that dates from 1899, making it the oldest tramline in the Baltics, I had to fit in a ride. Running on a single tram line the tram cuts through the city's residential neighborhoods from north to south. Cost: Just €0.80. You can buy the ticket from the driver.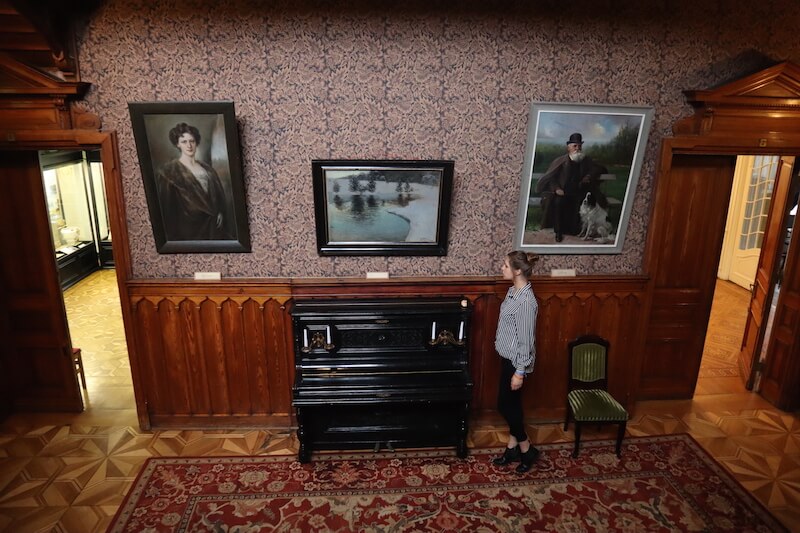 Liepaja Museum
If you're keen to dig into the history of Liepaja and the Southern Kurzeme region from which Liepaja originates, pop into the Liepaja Museum which is not far from the city's main beach strip. From archaeological artefacts dating back to the Vikings to unique historical facts about the city plus an exposition of the life and art of local wood sculptor Miķelis Pankoks, there's a few interesting exhibits to pass the time. Plus, its free.
Where to eat in Liepaja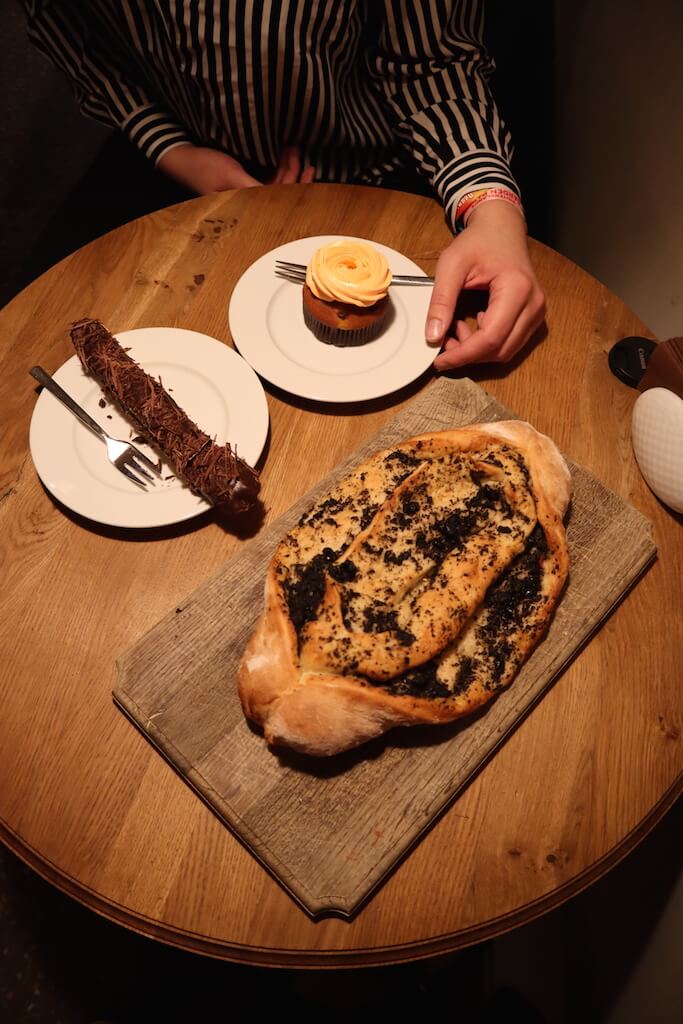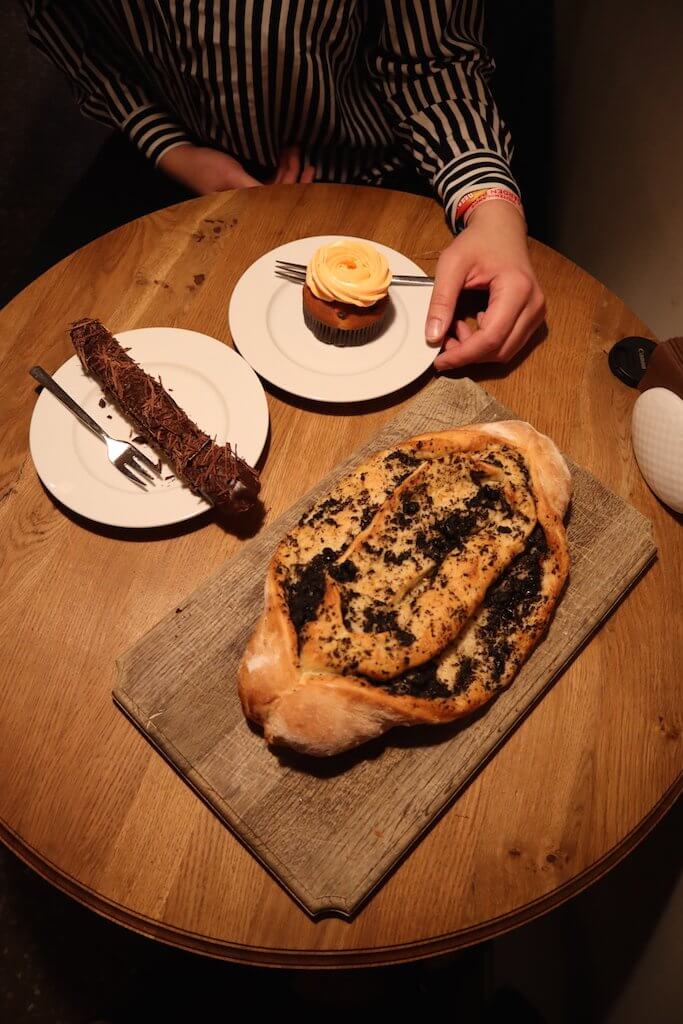 Boulangerie Liepaja
Join the local hipsters in the stylish Boulangerie Liepaja that serves a range of very Instagram worthy delicious sweet treats from almond croissants to delectable cupcakes to the most heavenly chocolate eclairs ( which is now a big thing in Latvia), True, the prices are above the norm and quite expensive by Latvian standards but for the quality, nice ambience, it is definitely worth it.
Upe Restaurant
Situated in the city centre Liva Hotel, Upe Restaurant serves a great value business lunch menu with mains around the €4 mark , starter soup for €2.50 plus dessert around the same price mark.
The menu changes daily but when I visited, I enjoyed their lamb soup with vegetables and rice ( €2.40) while Sabrina had a delicious fried goats cheese salad.
Darbnica
Darbnica was our happy place in Liepaja and I remember swinging by a few times for coffee and wine here during our brief time here. Place is always packed with a mixture of locals, from couples, students to young families. The staff are friendly, the coffee great , food well priced and the wifi excellent. I saw a few locals plugging away at their laptops here so if you need to get some work done, this is the place to come to.
Roma Restorans
Flanked by a contemporary art gallery right across from a beautiful water fountain, this restaurant is situated in the historic Romas Dārzs courtyard aka Rose Square, where roses were first planted in 1910. If the weather is nice, come here to enjoy a glass of wine or a cup of coffee on their outdoor terrace, sheltered from the infamous wind of Liepaja. The menu has an emphasis on fine dining with an extensive wine list. Their business lunch is great value if you're on a budget. I enjoyed a fillet of steak in a peppercorn sauce which was delicious and the food portions were very generous here. The interiors have a warm, welcoming feeling with wooden flooring. Highly recommended!
So. To summarise my trip to Liepaja. Totally unexpected.
From the eerie Karosta to the majestic Great Amber Concert Hall , from the post apocalyptic Northern Forts to the sweeping grandeur of its pearly white sand beaches ( oh yeah, you should definitely checkout the beach here) , from the crumbling decadence of its wooden architecture to its magnificent art nouveau mansions- my trip to Liepaja was another journey of contrasts that has been a defining feature of my time here in Latvia. I definitely see myself coming back. Just to eat those damn fine chocolate eclairs….
Know before you go to Liepaja
Getting around Liepaja
Liepaja is a small compact city and all the main sights are within walking distance including the beach. The city is served by an excellent public transport system ( see map here ) with tickets for a local tram or bus costing as little as €0.70.
Liepaja: Getting there and away
There are 3 flights a week from Riga to Liepaja. This will increase to 5 per week from 31st March this year. For more information click here
Number of coach services ply the route between Liepaja and Riga. Journey time is around 3 hours , tickets costs as little as €7 and can be bought at Riga Bus Station or from the driver.
For more information about Liepaja and current, upcoming events checkout the official Liepaja Tourism website
Disclaimer
We visited Liepaja as part of a month long storytelling project with Magnetic Latvia (LIAA) While my trip was covered by LIAA, all the opinions expressed here are entirely my own. Paldies to Liepaja University, Sintija from Liepaja Tourism ,Gundega from Bartas Krasts, Monta Krafte from Ezera Maja and to LIAA for bringing us to Liepaja-another city in Latvia we hope to return soon!