Paris is a good idea but Vilnius might be an even better one?
Earlier this summer I had a chance to visit a city that has long been on my Europe bucket list – Vilnius. We were searching for a romantic short break in Europe – our main criteria was warmth, somewhere with character, tons of culture plus most importantly, it would have to be cheap. Romance is always better with a cheap cold beer, right? Step forward the G-spot of Europe– Vilnius.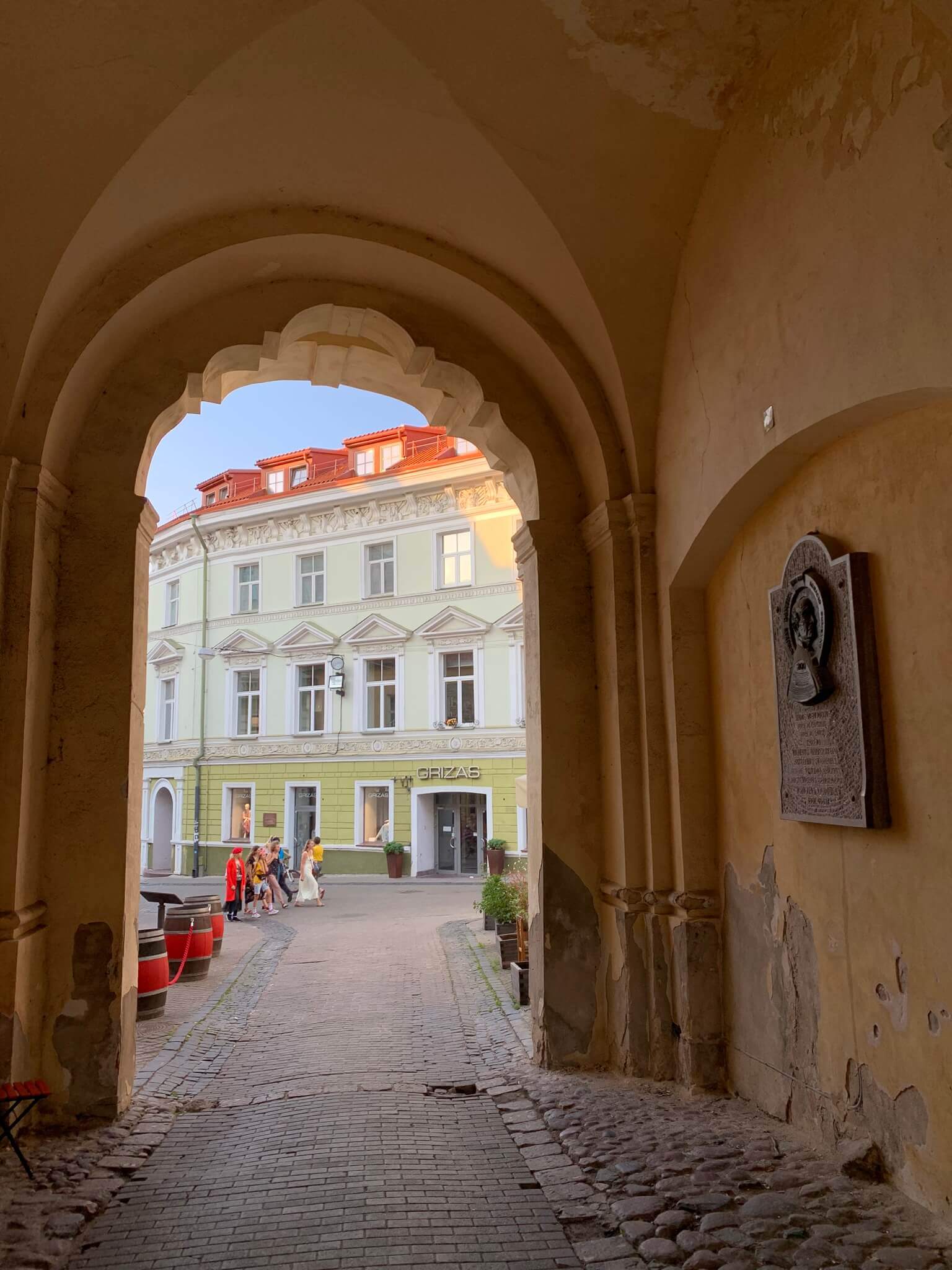 First impressions were wow. It is an impossibly romantic and beautiful city to wander, thanks to its preserved old town which is a UNESCO World Heritage site. Nothing beats losing yourselves in the labyrinthine cobbled streets in the core of Vilnius's old town, slowly peeling back its complex layers of history, architecture and culture – we loved every moment.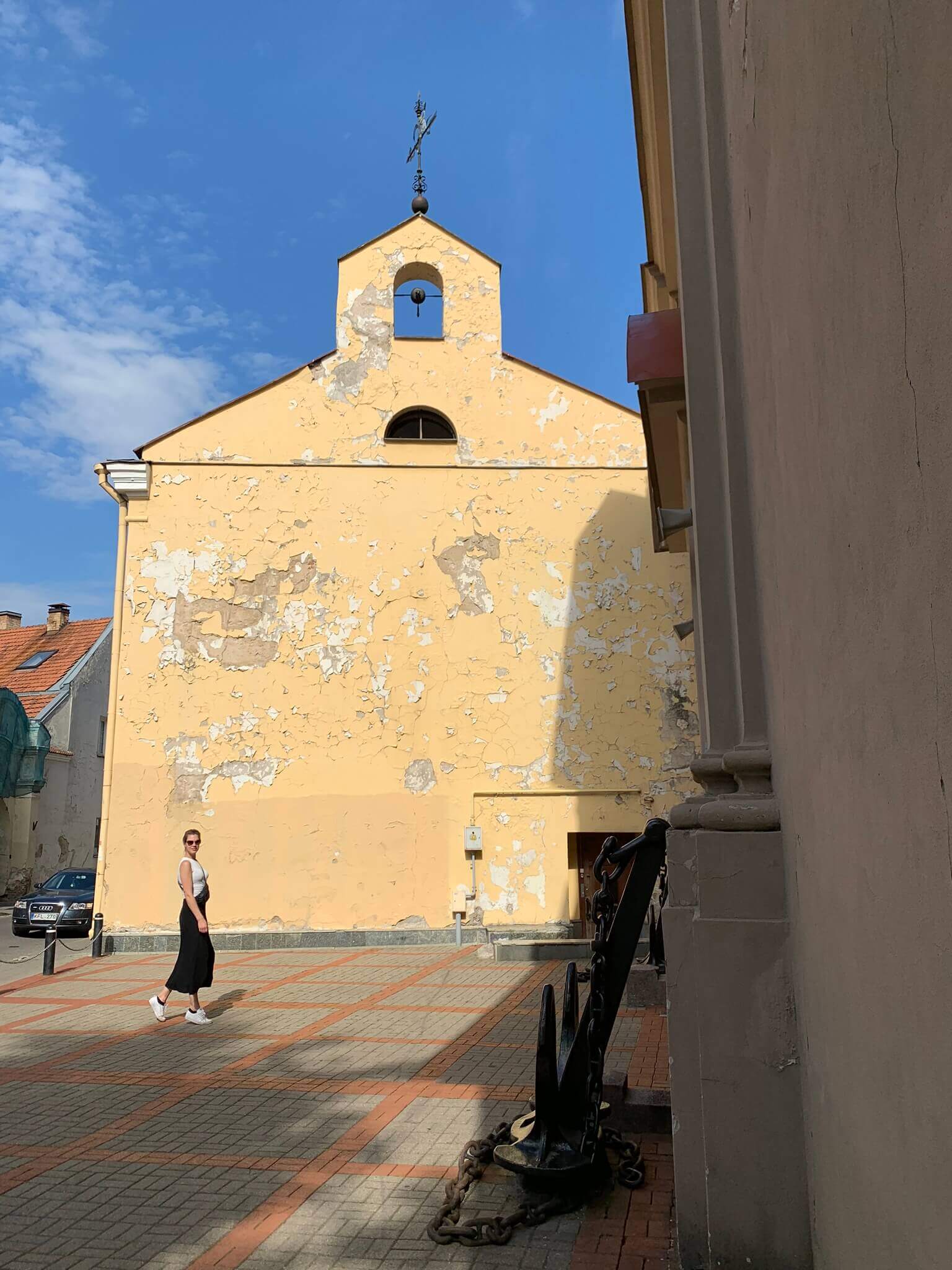 Besides 'love' another word that sums up Vilnius is 'history.' Every street you turn in Vilnius, you enter a different era and turn a page of history. Its has been inscribed as a UNESCO World Heritage site because Vilnius had a profound influence on the cultural and architectural development of much of eastern Europe. Soaking in the eclectic mix of Gothic, Renaissance, Baroque and Classical styles spread across the city gives you an idea of the grand status that Vilnius enjoyed as the heart of the Grand Duchy of Lithuania, which was the largest country in Europe back in the 15th century (stretching from the Baltic to the Black Sea).
Fast forward to 2020, Vilnius is back in the spotlight thanks to a thriving modern art scene, a growing underground music scene, a fantastic array of gastronomic experiences while still remaining one of Europe's best value cities.
Here is my list of the best things to do in Vilnius during a 48 Hour shortbreak.
1) Gate of Dawn
The 'Gate of Dawn' or the 'Sharp Gate' is a gate in the city of Vilnius and an important national monument. It's origin harks back to the early sixteenth century when ten such gates aligned themselves along the city's periphery. As of today, only the Gate of Dawn still remains standing.
When visiting the gates, make sure to stop and see the 'Our Lady of the Gate of Dawn' icon of the Virgin Mary at the Chapel of the Gate of Dawn. Do notice the embellishments on the city gates – which are meant to guard and protect the city!
Address: Ausros Vartu g. 14, Vilnius 01303, Lithuania.
2 St John's Church
Definitely unmissable when walking the streets of the city is- the Gothic Hall Church of St. Johns which has the enviable status of being Vilnius Old Town's tallest building!
Consisting of three naves, seven asymmetrical chapels this lofty tower was built to impress. During you visit do not miss the 10 presbytery altars arranged in a semi-circle at varying heights and also the illuminated Gothic presbytery windows . The panoramic views from the top are the icing on the cake.
Address: Sv. Jono g. 12, Vilnius 01123, Lithuania.
3. Museum of Occupations and Freedom Fights
The Museum of Occupations and Freedom Rights is a museum occupying the former KGB headquarters of Vilnius. However, whatever the Museum lacks in cozy atmosphere, it makes up for in the dedicated display of objects and documents related to the Soviet Occupation of Lithuania in the 19th century.. Collections include various books and publications related to the non-violent part of the resistance and also that of armed resistance. Photographs, personal effects and papers of the victims of deportation are also on display. Even before the KGB days, the building was a Gestapo headquarters. The most chilling part of the museum however, are the prison cells and torture chambers in the basement where many prisoners lost their lives.
Essentials: Admission to the museum is 4 Euros for adults; 1 Euro for children and students and free with the Vilnius City Card.
Address: Auku g. 2A, Vilnius 01400, Lithuania.
4. Church of St Peter & Paul
Nestled in the Antakalnis neighbourhood of Vilnius, the Church of St Peter and Paul lays claim to having 2000 stucco figures and if that wasn't enough, it's considered a masterpiece of Polish-Lithuanian Commonwealth Baroque architecture.
The main entrance is guarded by two stone statues of Saint Christopher carrying Baby Jesus and a skeleton. The message is that although Saint Christopher is the Protector, Death comes as an inevitable end to each and every living person.
The vestibule contains a scene from the Last Judgement. The central nave has sculptures of the twelve apostles. The central nave leads into four chapels: The Queen's Chapel, The Knight's Chapel, Saint Ursula and Saint Augustine. This Church has incredible detail and you could easily pass the better half of a day observing the fine religious art that embellishes its interior.
Address: Antakalnio g. 1, Vilnius 10312, Lithuania.
5. Užupis Republic
If searching for a place a bit bohemian, artistic, a place that doesn't follow worldly rules, then you will have found your nirvana in The Užupis Republic of Vilnius Old Town. In Lithuanian Užupis means "beyond the river" and it refers to this part of the city that is set across the Vilnia River. Visit the Bernardino Cemetery, one of the oldest in the city and the gilt Angel of Užupis sculpture in the main square – a tribute to the memory of caricaturist Zenonas Steinys but now rather an emblem of the Republic. Winding cobbled streets, strange and wonderful art installations and the compete disregard for protocol in the Republic, makes visiting this out of the world neighbourhood, an experience to remember.
Cool fact: Legend has it that the bronze figure of the Užupis Mermaid that greets you when crossing the bridge into the tiny Republic, lures travellers from all across the world.
6. Vilnius Cathedral
The Cathedral Basilica Old St Stanislavsky and St Ladislaus of Vilnius or more simply known as Vilnius Cathedral is a Roman Catholic Cathedral situated in the heart of Vilnius Old Town, at Cathedral Square. Apart from being a place of worship and the coronation cathedral of the Grand Dukes of Lithuania it is also the resting place of many Lithuanian and Polish royals. During a dark time in the Cathedral's history, it was converted to a warehouse and known as the "The Gallery of Images"- housing more than 40 works of art. With origins as a Gothic Cathedral, Vilnius Cathedral has undergone many changes to assume its current Neoclassical style with facade embellished with beautiful sculptures of the Four Evangelists.
Address: Sventaragio g., Vilnius 01143, Lithuania.
7. Gediminas Castle Tower
Take the quaint funicular railway from the foot of Gediminas Hill to the top of Gediminas Castle Tower and admire panoramic cityscapes set against the River Neris. Alternatively, a path from the River Vilnia side will allow you to walk to the top. An observation deck at the top of the tower will provide you with all the bird's eye view shots of Vilnius your heart desires. Those interested in history will marvel at the Vilnius Castle Museum with constructs of models of Vilnius' castles from the 14th to the 17th century.
Essentials: Entry is 5 euros for adults and children and free with a Vilnius City Card.
Address: Arsenalo g.5, Vilnius 01143, Lithuania.
8. St Anne's Church
According to legend, Emperor Napolean upon seeing St Anne's church wanted to carry the church back to Paris 'in the palm of his hand'. Could this be due to the superior architectural style – a mix of Brick Gothic and Flamboyant Gothic? Or the beautiful interior with nave and towers, decorated in the Baroque style? Whatever the reason, this reddish-clay brick church from the 1500's occupies a place of prominence in Vilnius' Old Town.
Address: Maironio g. 8, Vilnius 01124, Lithuania.
9. National Gallery
In contrast to the antiquity of Vilnius Old Town, the National Gallery of Art has a modern facade. The Gallery is the largest archive of information and artifacts related to Lithuanian artists from the 20th and 21st century. A library reading room, permanent exhibits including installations, objects of art, painting, sculpture, photography and video art are all part of the Gallery's excellent repertoire. Admission is three euros for adults and free with the Vilnius City card and on the last Sunday of each month. The museum is closed on Mondays and public holidays.
Address: Konstitucijos pr. 22, Vilnius 08105, Lithuania.
Alternative ideas for Vilnius
Vilnius might have the prettiest old town with countless number of churches but the key to enjoy the city is to look for the alternative and quirky things around. And there're plenty of them: Uzupis district, street art, cute little angels or incredible cemeteries just to name a few.
10. Mint Vinetu Bookstore
This is the best place in Vilnius to relax with a good book or have a good browse of the excellent second-hand stock in a chilled, laidback and cozy atmosphere. Sip on a cup of refreshing tea or hot chocolate and browse the bookshop's excellent collection. The serene atmosphere will rejuvenate you. There are many comfy chairs that will help you to discover new books or reacquaint you with some classics. The bookshop is divided into an English and Lithuanian section but there are second-hand books in Russian, Polish, French, German and Spanish.
Address: Sv. Ignoto g. 16, Vilnius 01144, Lithuania.
Where to eat and drink in Vilnius
11. Vieta- Conscious Vegetarian and Vegan Food
For the best vegetarian food in Vilnius with a friendly, lively vibe look no further than Vieta. The menu has a bit of everything, ranging from their delicious blue cheese and caramelised onion Panini ( €5.60) or their soy chilli with vegetables (€5) or tofu steak/ soy patty burgers with fries (€6.60). They do some fantastic cocktails here and the ladies who run the place are wonderful.
12. Snekutis
If you're looking for traditional Lithuanian food in a relaxed, unfussy atmosphere accompanied by cheap local beer, Snekutis is the place to go to. Choose from a range of hearty local classics like the favourite Cepelinai -large dumplings prepared with a mixture of raw and cooked potato dough filled with pork and then soaked in a sour cream and bacon sauce ( €4.90 for a big portion), bright pink chilled borscht soup aka Saltibarsciai which is a beetroot soup served in summer with boiled potatoes or boiled eggs ( €1.50 for a small portion) or try their cured cheese or potato pancakes served with sour cream ( €5 for a big portion) – so many delicious food options at amazing prices.
13. Busi Trecias
Another great option for cheap tasty Lithuanian food in a simple unfussy bar packed with locals, is Busi Trecias. If you're interested in more dark and also sweet flavoured beers, this family run bar with a brewery in the basement has a good selection of affordable tasty beers.
14. Pinavija Cafe & Bakery
The pastel perfect Pinavija is a chic family run bakery with an excellent range of sugary and savoury treats to satisfy you. One of their signature products is the 'Kibinai' pastry which originates from the Karaite ethnic minority in Lithuania. The half moon pastry which reminded me a lot of a Cornish pasty or a Pastizzi is traditionally filled with mutton or beef but in Pinavija they have a number of savoury (vegetarian too) and sweet options.
15. Alchemikas Cocktail Bar
With low-lighting and a quirky decor that could belong to Sherlock Holmes' living room plus friendly mixologists, Alchemikas Cocktail Bar is all about the experience and enjoying classy cocktails in a very classy ambience.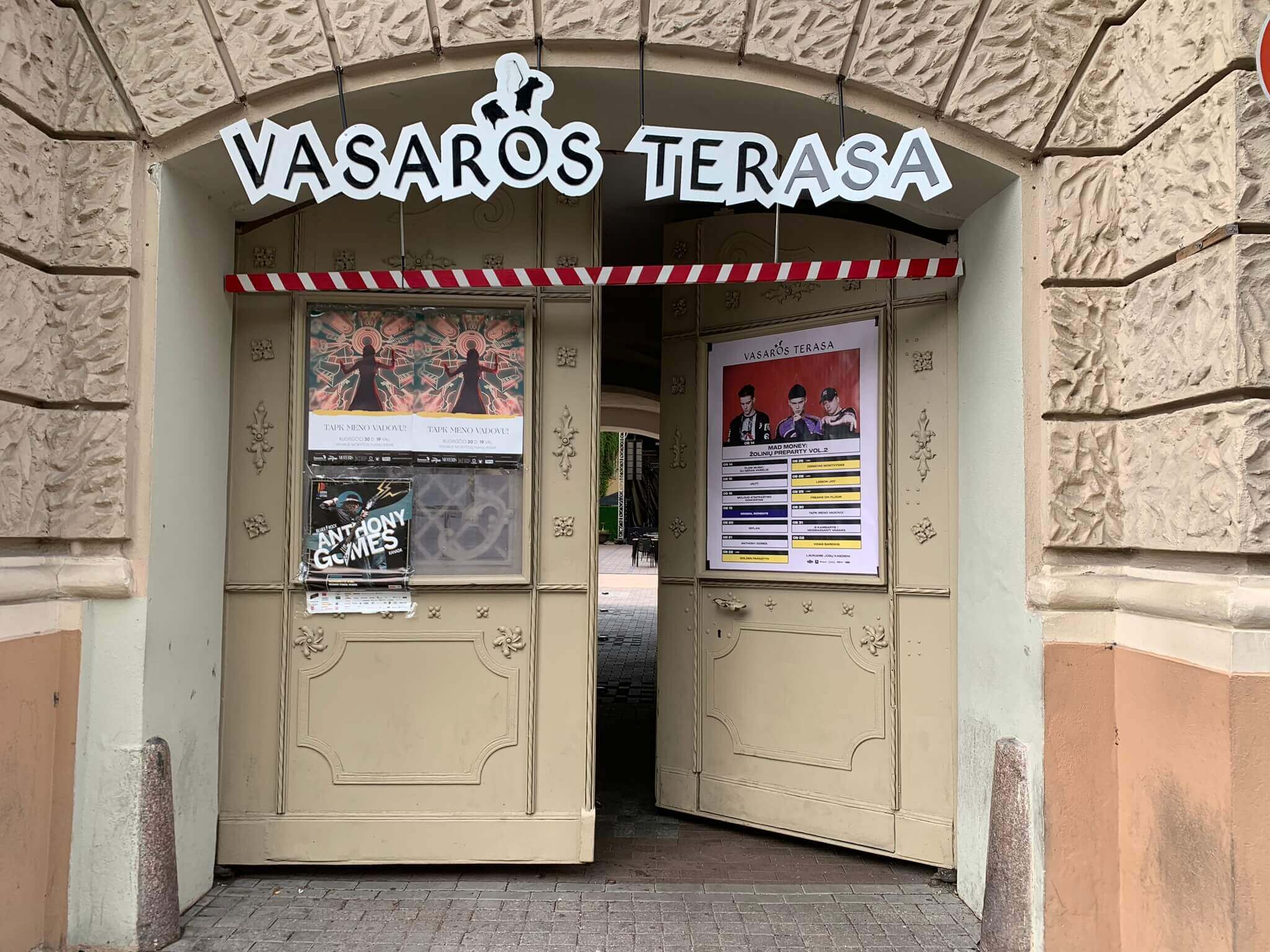 16. Vasaros Terasa
Vasaros Terasa (which translates as the Summer Terrace ) has been a prominent fixture of the Vilniuscity life for fourteen years. From live concerts and live DJ sets, to flea markets and outdoor al fresco drinks in the summer – this is definitely a place you shouldn't miss out when visiting the city.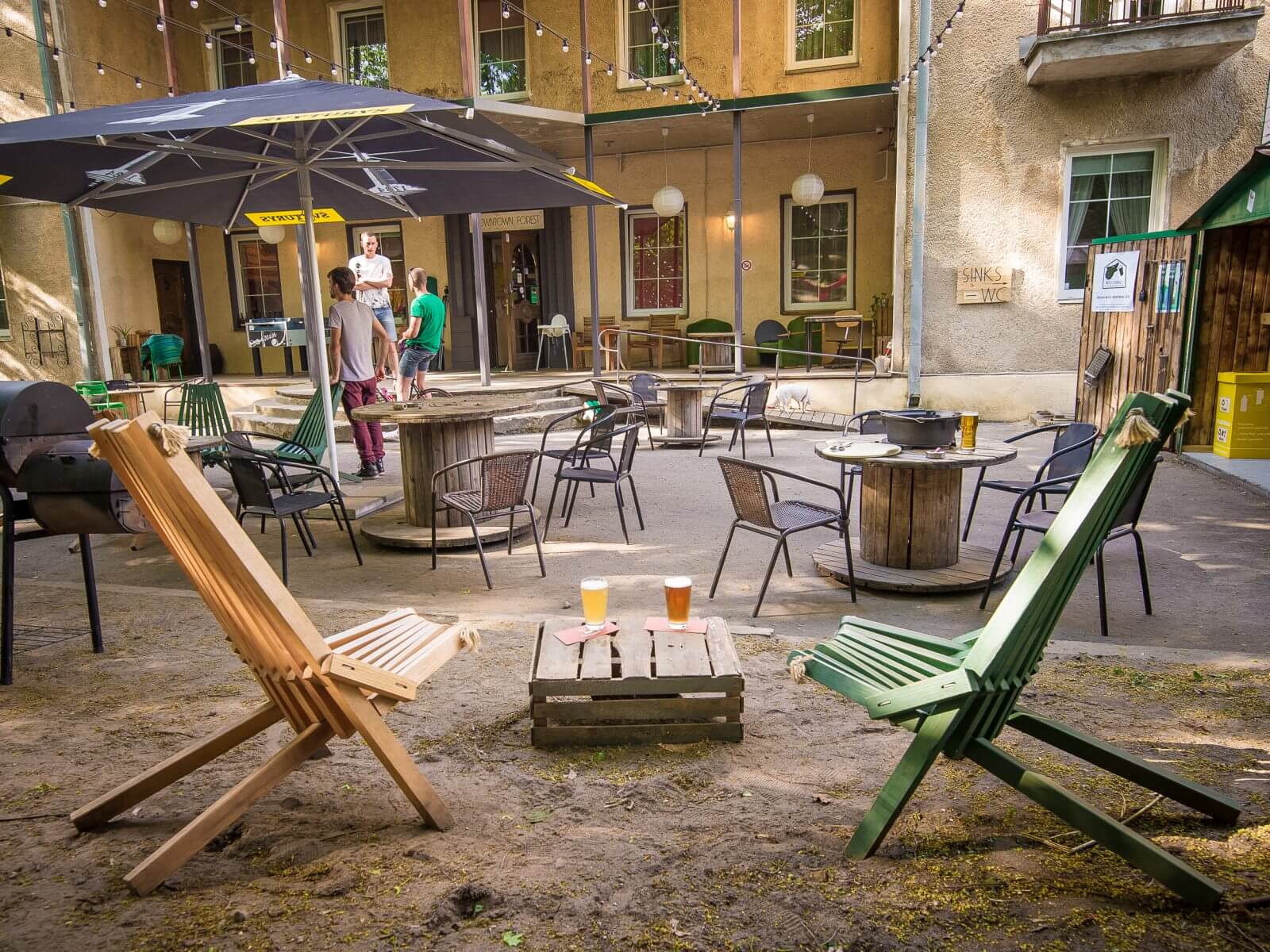 17. Where to stay in Vilnius
The perfect place to base yourself for your 48 Hours in Vilnius is the Old Town. There's a great selection of very affordable and stylish apartments to rent which start out at €40 a night.
If you're looking for something bit more social, Downtown Forest Hostel & Camping is located a short walk away from the main Vilnius attractions, yet in what many argue is the coolest district of the city – Uzupis (known also as a self-declared independent republic). Guests can choose from dorms or private rooms (both ensuite and with shared bathroom) depending on their budget. The star feature of the hostel is their outdoor terrace which transforms into a bar in the summer. Every now and then there are concerts happening outside the hostel. Locals come here to have their own BBQ or chill so it is the perfect place to meet locals.
I visited Vilnius as part of a new storytelling project with UNESCO and the new World Heritage Journeys of the European Union project. This project wasimplemented with the support of the European Union in partnership with National Geographic brings together 34 World Heritage sites through four different thematic itineraries: Royal Europe, Ancient Europe, Underground Europe and Romantic Europe. For more details and plan your own UNESCO World Heritage adventure, hop over to the Unesco World Heritage Journeys of Europe website.