Far from Kuta's party beaches and high rise hotels, tucked away on a comparatively peaceful sidestreet, you'll find Kosta Hostel. It's the perfect place to relax and enjoy some tranquility, a bit of a contradictory concept in the happening town of Seminyak, Bali.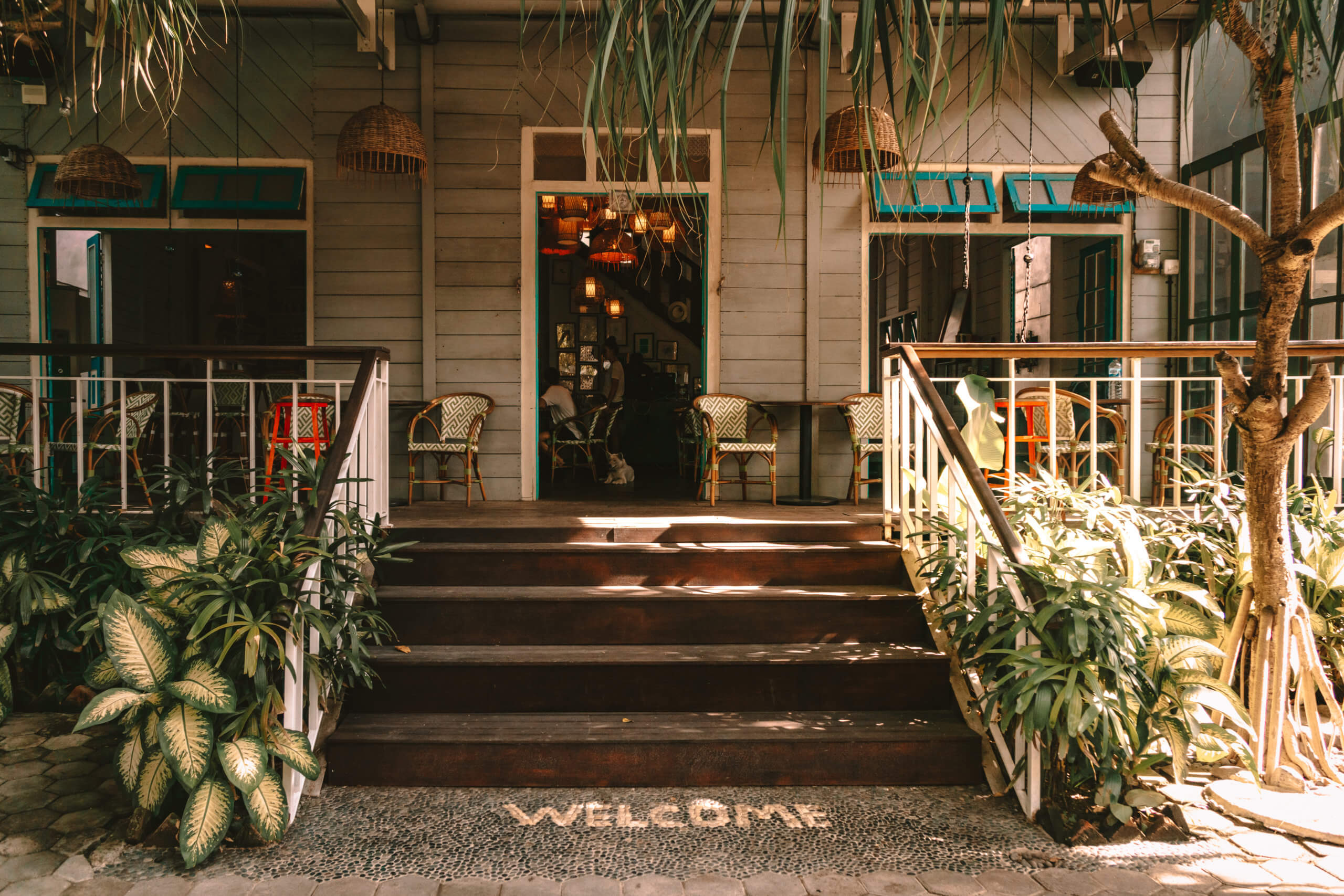 First impressions..
When you first walk onto the grounds, you might mistake it for a hotel. The atmosphere is calm and mellow, with guests lounging by the pool or eating a smoothie bowl at the cafe. There are dogs sitting on the steps, drinking out of the fountain, or jumping on your leg to excitedly greet you. The hostel is small, with all rooms visible from the pool deck. Right away, it feels inviting.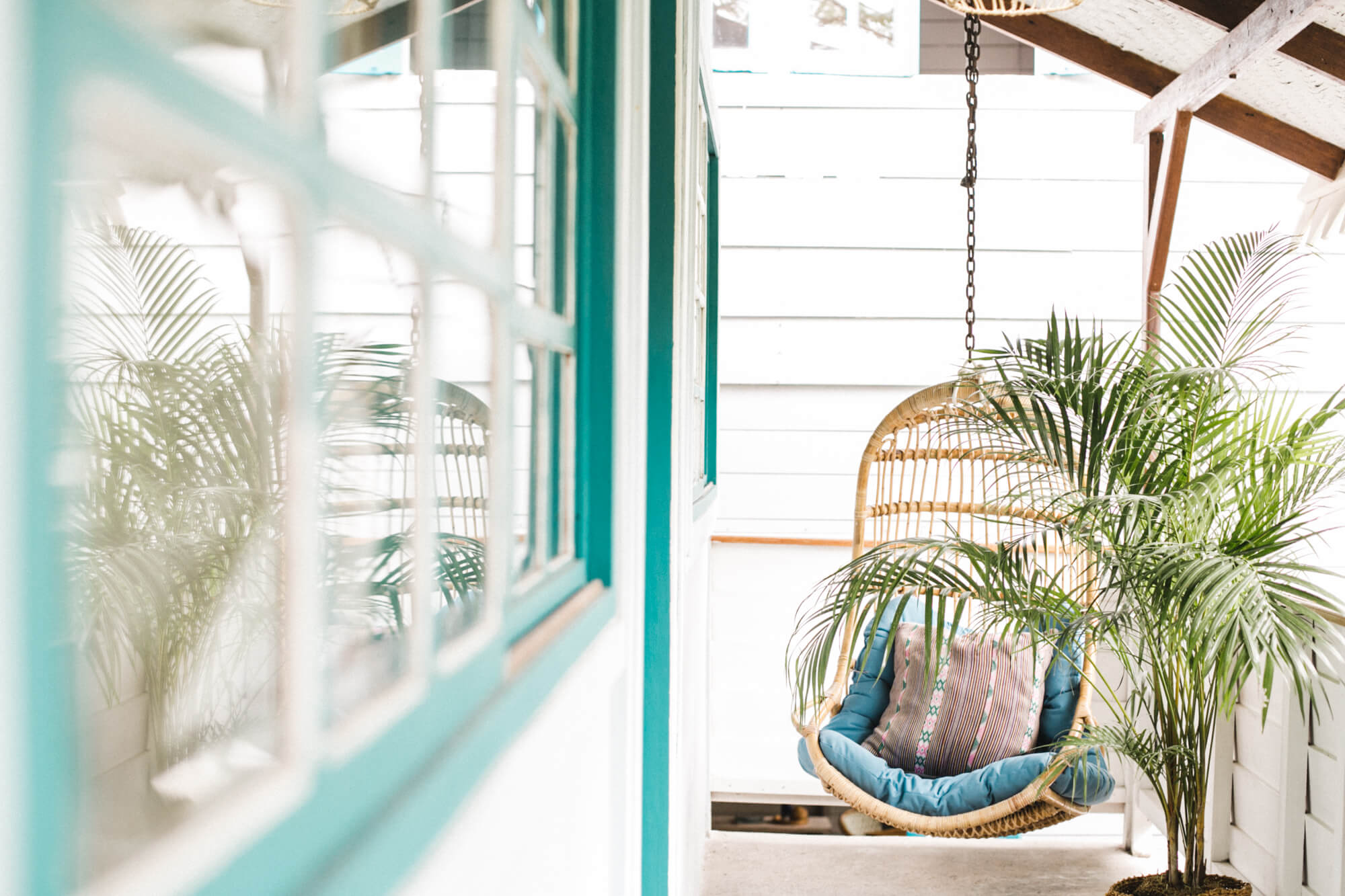 Design
Kosta Hostel has done a lovely job matching the decor to the hostel's vibe. Bright blues, steel greys, whites, and earth tones dominate the design. There's a lot of concrete framed by a giant collection of cozy green plants. Comfy cushions, lounge chairs, and bamboo furniture are scattered about the property.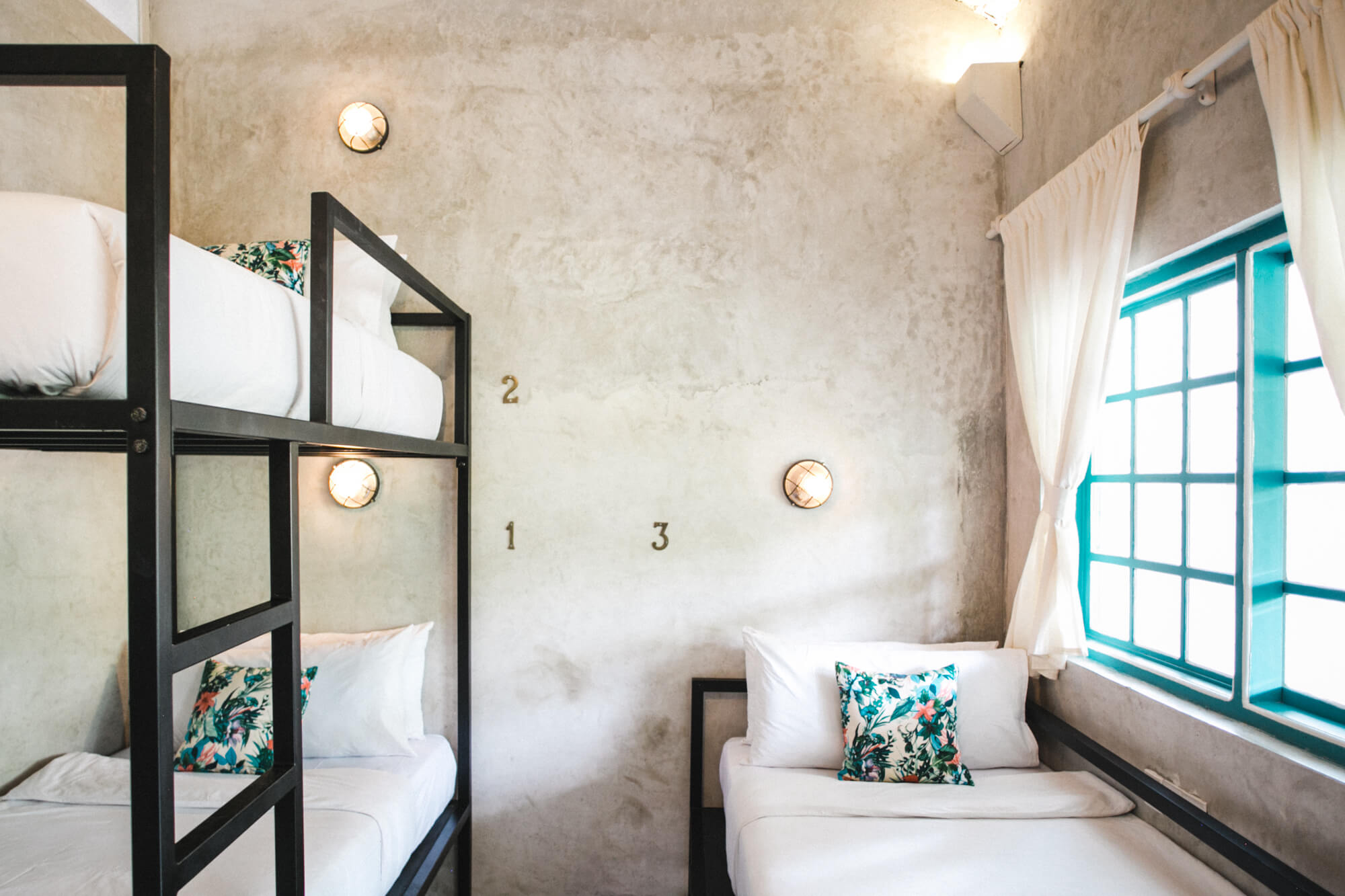 The Rooms
The rooms at Kosta Hostel are large for a hostel and don't feel crowded at all. Each room has either 3 or 4 beds, so there's no need to worry about massive groups of people in your room. You can book a single bed or book out an entire room if you wish. All of the dorms are equipped with medium-sized lockers to store your valuables. There is also free luggage storage available at the front desk.
Some of the rooms have shared bathrooms and others that have their own enormous ensuite bathrooms (and all of them have good water pressure, a true luxury in Southeast Asia.) The beds are clean and comfortable, and all rooms have a view of the pool.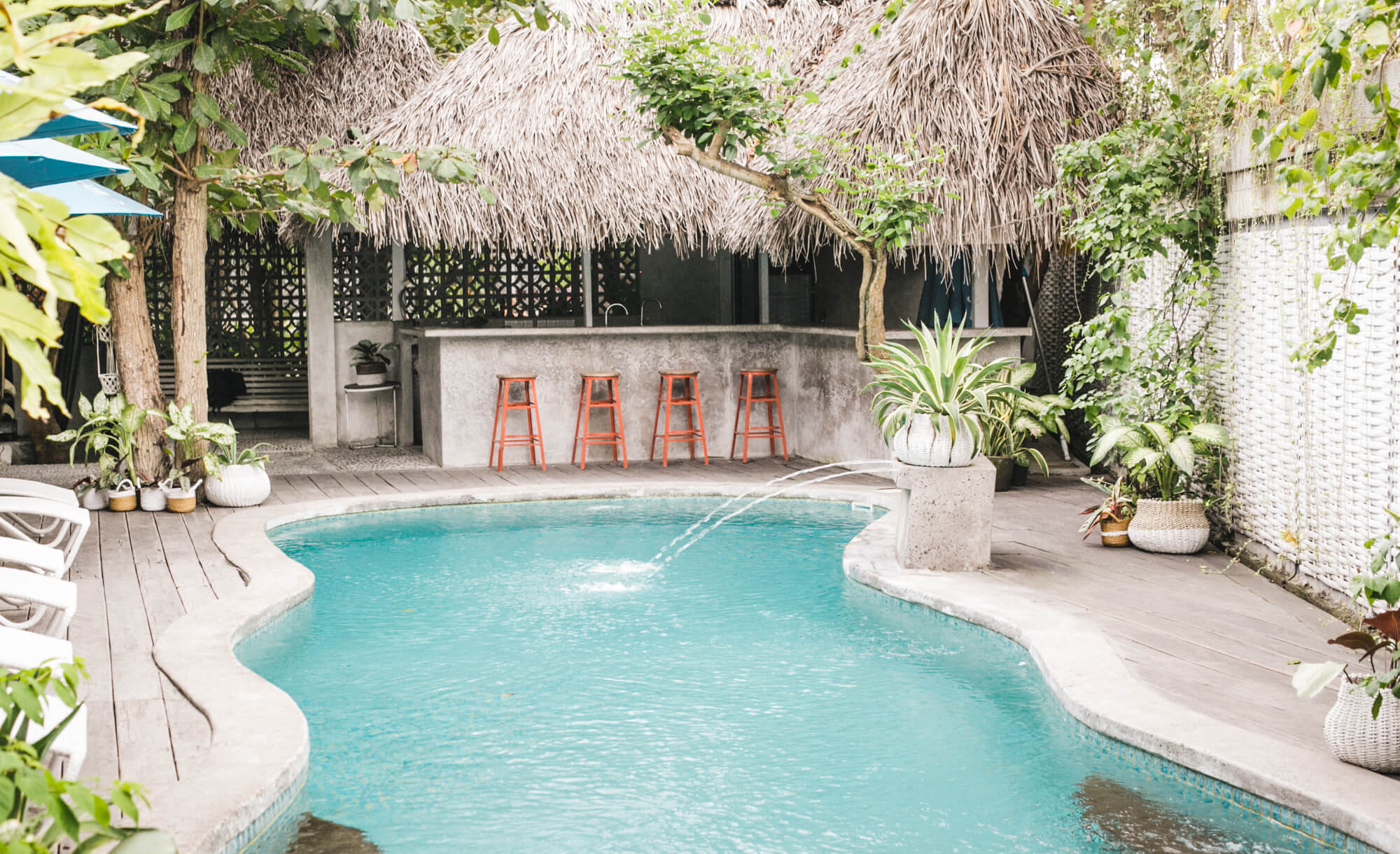 The story so far…
Kosta Hostel is fairly new, having first opened in 2017. With the slogan "Beds for Nomads," it attracts long term travelers who have come to Bali for an authentic experience. The owner and founder, Feby Jabrik, has created a wonderful concept around the hostel:
"The name 'Kosta' was inspired by the word 'coast,' actually, as all our properties are very close to the coastline in Seminyak, including the upcoming one near Berawa Beach in Canggu. Kosta is a lifestyle hostel and is a home away from home for all the nomads just as our tag line 'Beds For Nomads' implies. The hostel is specifically tailored to those who appreciate nice esthetics and comfortable spaces."
Location
Although located in a fairly out-of-the-way area, Kosta Hostel is still in an accessible location. The center of Seminyak with its cafes, bars, and nightlife is only about 20 minutes on foot. If you don't mind walking a little further, Legian Beach is 30 minutes away. Otherwise, renting a scooter is possible right across the street.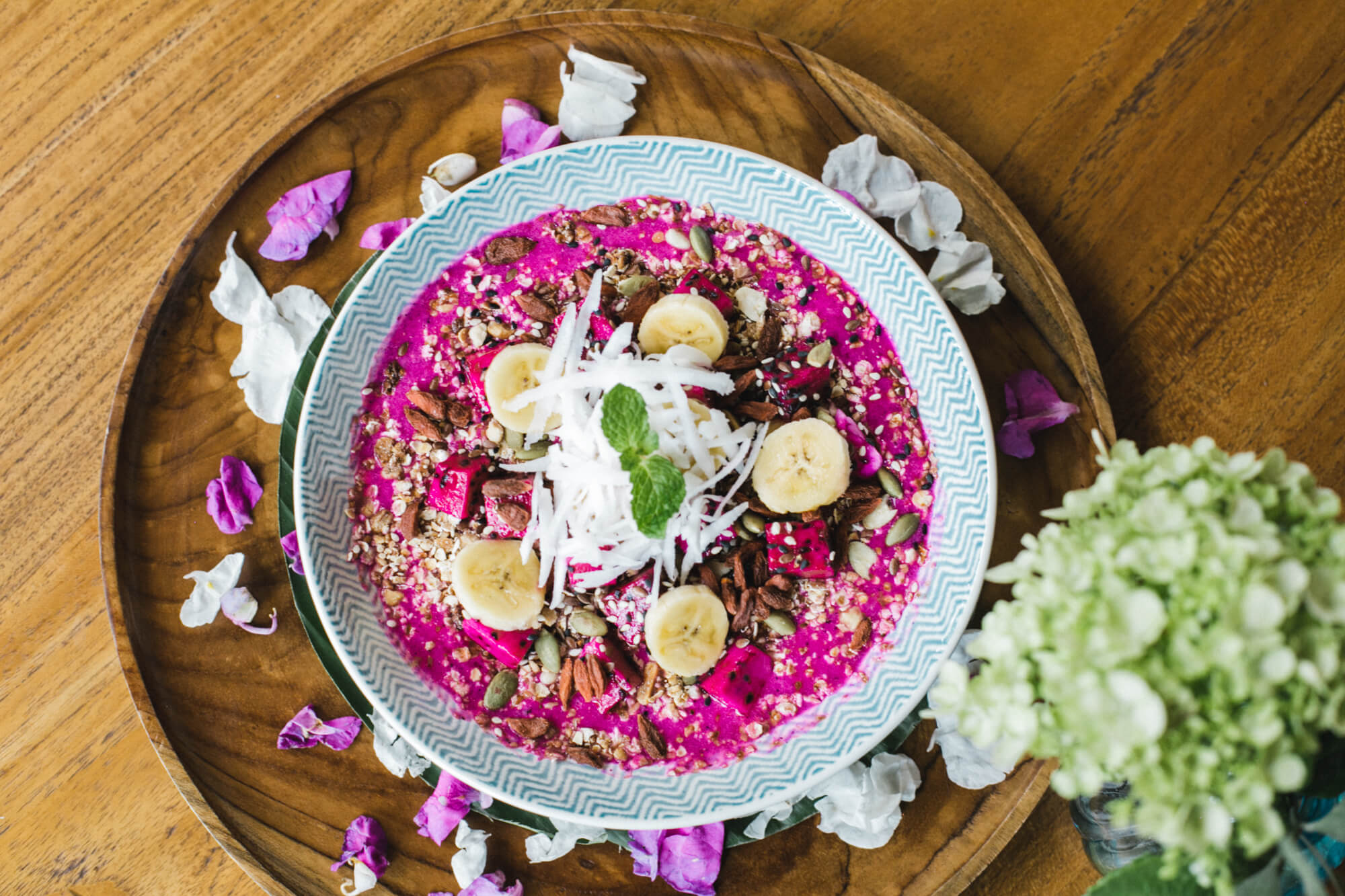 Facilities
Since there's no kitchen available for guests to use, it's great to know that Kosta Hostel has plenty of dining options nearby. The Good Mantra Cafe is right on the property and serves up great breakfast and healthy lunch options. Since neither breakfast or tea/coffee is included in a stay at the hostel, it's fantastic to have a cafe right next door. In addition, the cafe is a great place to work on your laptop as a digital nomad (with strong wifi included!) The picnic table and lounge chairs around the pool can also serve as a great office for a nomad.
Unlike so many of its neighbors, Kosta Hostel is not a party hostel at all. There are very few organized events on-site or big happenings near the property, but that's kind of the point. It's stirring up the assumption that Kuta is exclusively about the food and the nightlife, and showing that there is peace and quiet to be found nearby. Ultimately, Kosta Hostel is perfect for those who want a hotel vibe on a backpacker budget.
Essentials
Address: Jalan Dewi Saraswati III, No.77 Kunti 2, Seminyak, Bali, Kuta, Indonesia
Phone: +62 361 9347500
Mobile: +62 812-4650-9698
Email: [email protected]
Website: http://www.kostahostel.com/
Prices: Dorms from 9€, privates from 35€
How to reach Kosta Hostel
From the Ngurah Rai International Airport in Bali, you'll need to take a taxi to Kosta Hostel. You can catch a ride right at the airport or you can order a Grab or Gojek (similar to Uber in Europe) for a cheaper price. The hostel also offers an airport pickup at an additional price. The ride will take about half an hour depending on traffic.