[tweetmeme]
[fbshare type="button" float="left"]
[fblike style="standard" float="left" showfaces="false" width="150″ verb="like" font="arial"]
[google_plusone size="standard" float="left"]
Hey folks- greetings from Kolkata, India !
I'm in Kolkata for the next 2 weeks , taking some time out (trying to!) but in between will be writing a few posts about my time here and the things I love the most about my hometown.
Yes, there will be a lot of talk about food since that is my/the  favourite pastime of people here so prepare for a few gastro-orgasms
So…I present to you my first instalment of the Kolkata Diaries. Enjoy!
I am still jet lagged after 2 days in Kolkata.
My body is still adjusting to the different cycle of life here.
I fall asleep late at night to the bedlam of stray dogs on the street fighting their territory and wake at 5am to the sound of crows bawling from the rooftops.
I left Edinburgh on the first day of winter snowfall 2 days ago.
It was 4c.
I've arrived in Kolkata which is around 27C.
The winters are mild here.
Despite having lived here for 9 years, everytime I visit Kolkata…it takes my breath away – I call this city my 'parallel universe.'
Beneath the chaos and confusion there are plenty of stories happening in front of my eyes.
For instance, I visit our family tailor on Rashbehari Avenue.
I hop on a tuk tuk or auto rickshaw. The fare from my house is a measly Rs 10.
My old pair of jeans needs loosening at the waist a wee bit ( I've gone from 30 to 33W in 3 years) -for the adjustment, he charges a paltry Rs 50.
I am also getting a tailor made shirt done for Rs 160 ( $3 )
While he notes down the measurements I observe outside a stream of cackling mothers gathering in hordes, waiting expectantly for their children to finish school.
Exams are on.
Finally, I see a few children emerging pale faced, worn out with their test paper in hands.
Mums grab the paper from their hands.
The kids are virtually made to resit the paper then and there, mumbling all the answers standing on the street.
In a city of 30 million people where good jobs are at a premium, a good education is the ticket to a better life.
The rat race begins at an early age and the weight of expectations are high.
One person who has survived the Kolkata rat race and built a successful career is my very own father.
At 70, he is still quite an active guy and works as an ENT consultant, part-time.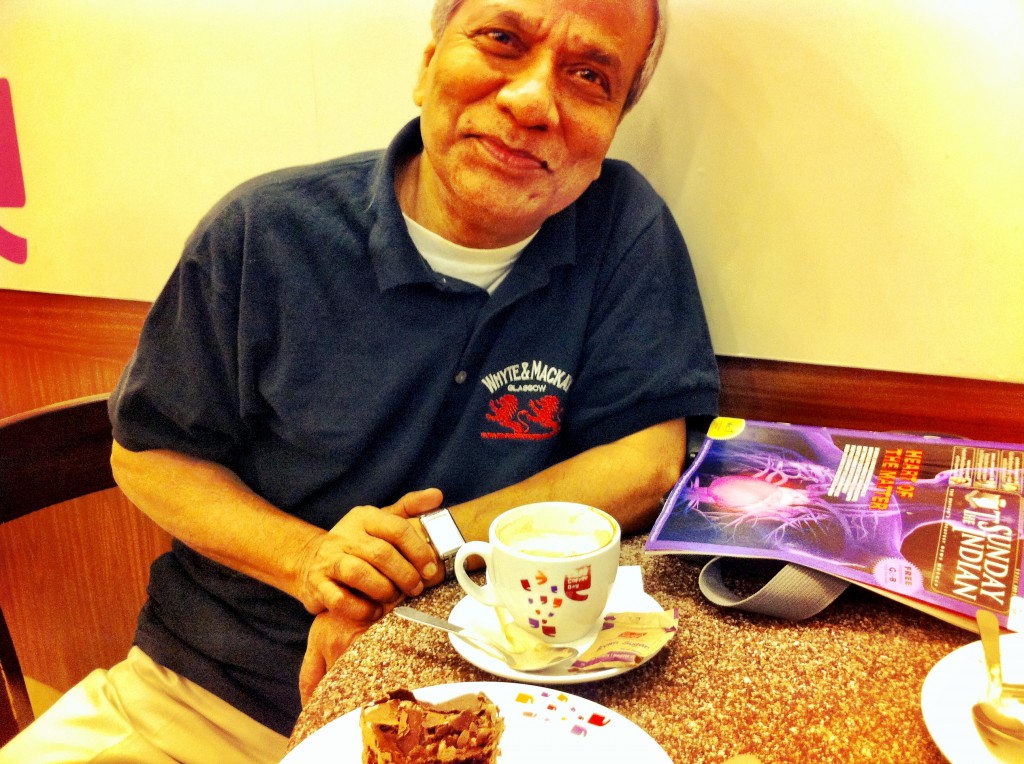 He still has the biggest smile and enjoys life as if he was 20.
He is my hero and my greatest inspiration in life.
I arrived in Kolkata on the day of his 70th birthday.
We celebrate with a delicious homecooked lunch that my Mum has prepared.
The meal consists of traditional Bengali classics- Alu Potol Posto, Chana Alu Tarkari with rice and  Kalai Er Dal [dal made of split white (skin removed_ Urid dahl ]
This is the ultimate in traditional Bengali cooking for me – as I eat, I feel a tear of happiness coming into the corner of my eye. There are so many happy memories associated with the food you love and know so well.
The years melt away…
After a nice wee siesta in the evening we go for a nice cup of coffee at Cafe Coffee Day at the local shopping mall -Southcity.
Coffee here is great. Standard cup of cappuccino is Rs 30 ( $0.75)
Birthday cake for Dad is the black forest gateau.
Its sensational and highly recommended [ Rs 70 $1.20 ] If you're feeling peckish they also serve a nice range of grilled sandwiches at around the Rs 70 mark.
Shame that they don't have free wifi
It's a strange feeling to be in a city where there is a sparsity of free wifi points.
I guess there are some benefits of not being connected when you're on holiday.
In that sense, Kolkata is a great place to come on holiday if you're looking to switch off.