[tweetmeme]
[fbshare type="button" float="left"]
[fblike style="standard" float="left" showfaces="false" width="150″ verb="like" font="arial"]
[google_plusone size="standard" float="left"]
Kolkata.
I am back to the place where my life began.
It's always a deeply moving experience, going back to the place where you grow up.
Sleeping on the bed where you daydreamed for years, dreaming of a life you never had.
Being back in the safe cocoon of your parents care.
Mum is serving up dollops of nostalgia, cooking all the food you love and know so well.
Dad has turned 70 but still is showing the enthusiasm of being 20.
We talk about everything from the state of English football to exchanging tips on photography over umpteen cups of his favourite Darjeeling tea.
In the hot afternoons I retreat to the comfort of my library of books- I dust off the books I have read, re-read and know so well from my youth.
Amitav Ghosh's ' Shadow Lines' , Leo Tolstoy's 'War and Peace' , Short stories of Guy de Maupassant, Collected works of Roald Dahl- leafing through the pages of these books, I feel like not a day has passed since I left Kolkata in 1998 to study in Scotland.
Just as I settle in the warm embrace of the past, death pays a visit.
Few days ago, Calcutta woke up to the shocking news of the death of 90 people at a fire at one of the city's leading hospitals.
The scene of the disaster- AMRI hospital is just a stone's throw away from my house in Jodhpur Park.
As the tragedy unfurled, horrific images of the dead and the next of kin who have lost their nearest and dearest appear on national TV.
Everyway I go, the talking point on the street is the tragedy and why in this day and age, it could not have been prevented.
Once the fire was spotted in the middle of the night, the fire service was not alerted for a few hours.
Staff were not trained in fire evacuation procedures.
Even worse, after failing to control the fire, night staff ran from the scene leaving patients to a horrible death.
I feel morbid. Suddenly, the holiday is over.
Then in the evening things take a turn for the worse when my 83 year neighbour is rushed to the hospital with chest pains.
The events have rattled me and my parents too.
Death is suddenly our neighbour.
My parents are concerned about my health and insist I go for a medical checkup.
I haven't been to see the GP in 13 years.
I feel good. I don't feel the reason for a checkup.
However recently, one of the few downsides of travelling constantly has been an irregular lifestyle, not enough sleep and the pressures of trying to carve out a career in an area where few people have gone before.
I am not complaining.
I feel alive, I'm living life to the fullest.
Sometimes only when you take life to the edge do you really see the difference between life and one where you do no exist.
I see this difference clearly when I go for my executive healthcheck.
For a sum of 2700 rupees, I am being given a full MOT.
Everything from an E.C.G, blood test, Ultrasonography, Chest X-Ray, lung function test and also being put on a treadmill to check my heart rate. For just £35 ( $55) it's an amazing service.
Spending the whole morning in hospital is a wakeup call- going through all those health checks-being strapped onto a bed and all kinds of things prodding/poking your body, confronted by all the smell of antiseptic and ethyl alcohol, the sight of those pallid, glum looking patients , the depressing dim lights and narrow long corridors.
I start developing an appreciation of how complex my self is and how important is it to look after myself.
I emerge, feeling much happier. Results are due today so wish me luck but it looks ok…. other than a wee problem of high blood pressure.
After the trauma  of recent events, comes the hope of new beginnings.
I attended a wedding yesterday.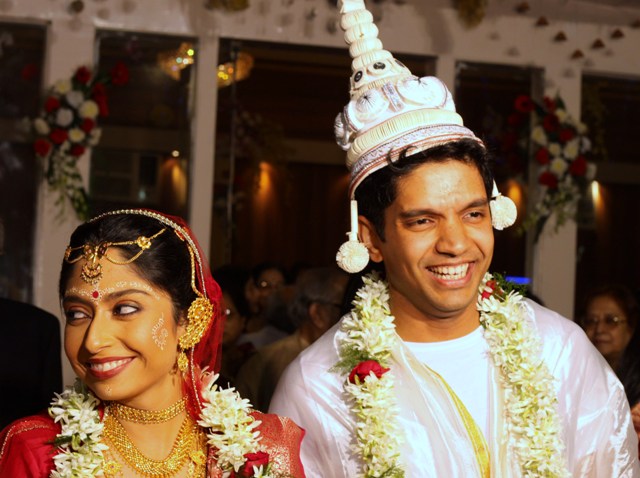 One of my oldest, dearest friends from school – Kamalini is finally taking the plunge.
I am happy for her. His name is Souvik. He looks like a kind, caring guy.
Plus he's always smiling, cracking jokes- I get a good positive, good vibe from him.
I am an optimist.
Despite marriage having not worked out for me, I am still positive and admire those who decide to take that big step and make a life long commitment towards spending their lives together.
It's not a perfect idea but its at least offers people a starting point, a base on which to build something of meaning.
Marriage is like a seed.
If cultivated properly, it flourishes, promises something fulfilling and nourishing.
If the seed is not watered, looked after…ultimately it will die an untimely death.
However, marriage is a choice of life for some.
Just like life and death can be a choice.
So it's sad when people are not offered the dignity of choosing between life and death.
As the AMRI hospital tragedy showed, that choice is often taken out of our hands.
The lesson is that we have to live life to the fullest while we still have the power to make that -so carpe diem folks!
Make the most of now friends.
If you missed here are my earlier instalments of the Kolkata Diaries: Part 1  and also a photo essay of my friend's wedding .