Spring is yet to arrive in Germany and indeed for the most of northern Europe.
It's been bitterly cold.
I've been walking around in mostly sub-zero temperratures for most of the day.
In this kind of weather, my wanderlust has been more restricted to discovering more of the indoor sights and delights of Hamburg.
My search for Hamburg's youth hotspots has taken me through a few museums, the odd bit of window shopping, few bars and checking out some of the city's inexpensive fast food joints.
Cruising on Alster Lake, long walks in some of the city's 1400 parks and gardens of Hamburg will have to wait till my next visit to the city when it's a little bit warmer.
I have visited Hamburg a few times before and on those trips done some of the more touristy stuff like go on a cruise around the harbour, the obligatory hop on and hop off bus tours plus I loved the now sadly closed Beatlemania museum.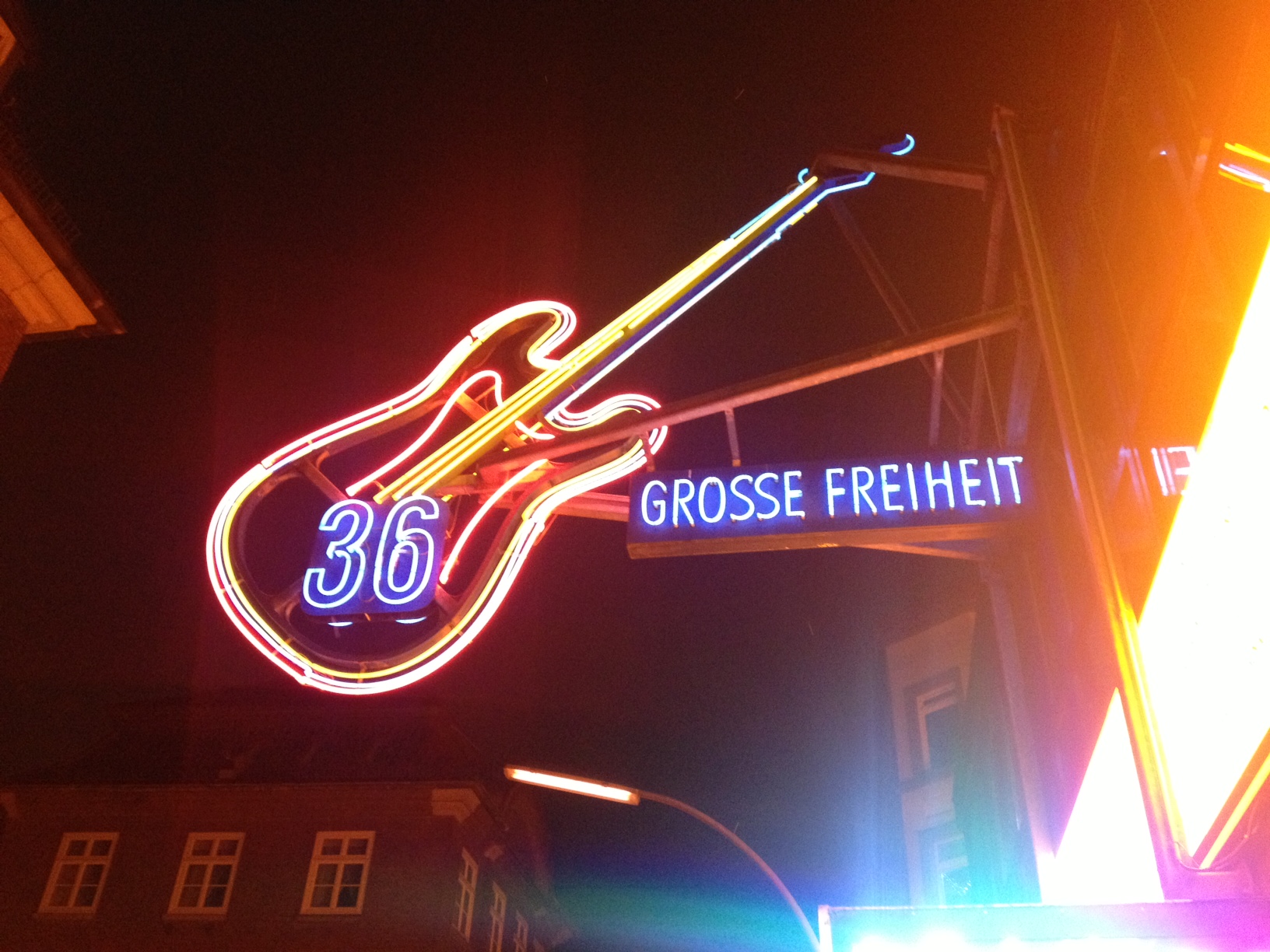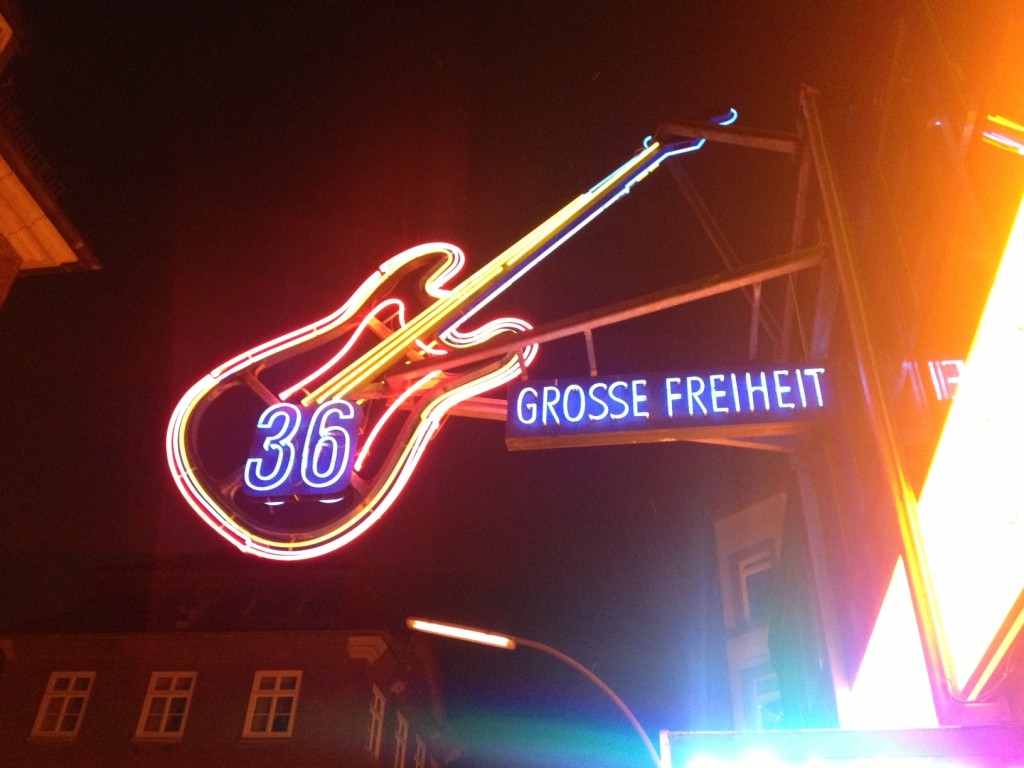 This time, I've tried to go more local and also dig into the musical and maritime history.
Hamburg is one of Germany's leading musical cities: it's where the Beatles started their long winding road to fame and discovered their sound, it is home to musicals like Lion King, Dirty Dancing and Mamma Mia plus you can enjoy world class classical concerts at the Laeiszhalle-Musikhalle and soon visitors will be able to enjoy the highly anticipated opening of the Elbe Elbphilharmonie.
My musical pilgrimage of Hamburg started at the cool district of Karoviertel ( Nearest U-Bahn stop: Feldstrasse )
While the Schanze is more hip and where the creative, cool types go ( Hence, the prices of everything are a little higher) neighbouring Karoviertel has that more rugged, alt-rough at the edges feel. In many ways it reminded me a lot of Shoreditch.
There's a ton of great shops to discover here-from second hand stores to designer boutiques to lots of smoke filled bars like Mono.
Yup, you can still smoke inside bars and restaurants in Hamburg. In a separate room, according to the law….
Mono has a very laidback feel with chatty barstaff and played a great selection of tunes everything from Massive Attack to Faithless. In the spirit of trying all things local I ordered a glass of the local Alsterwasser- 'water of the Alster.' ( Cost: 2.50 euros for a half-pint ) Basically it is the local version of a shandy but  ordering a 'Alsterwasser' sounds much cooler + masculine.
I am going to try that the next time I'm in the UK 🙂
For casual window browsing and as a refuge from the cold I visited Hanseplatte (Neuer Camp, 32) , unwittingly discovering a store which is a bit of everything that is local and unique to Hamburg.
Besides stocking music of local Hamburg musicians you can find a whole bunch of stuff from local artists –from art prints , designer tees to even locally made chocolate.
The music scene is quite eclectic in Hamburg and caters to people of all tastes: next store I popped into in Karoviertel was the Groove City Record Store,  which sells mainly vinyl records of funk, soul, hip-hop, jazz, Latin, Afro and electro.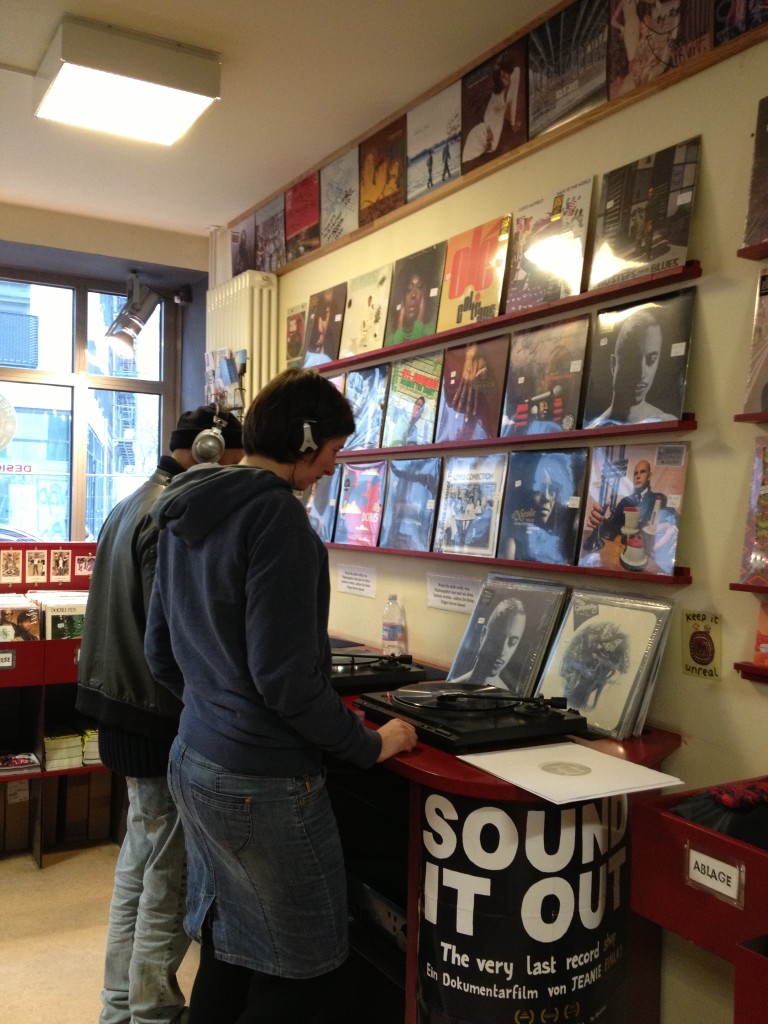 I had fun hanging out in this place. Has real character and great music.
It's a shame to see record shops die out in the UK and everywhere else but I am happy to report to you that in Hamburg the spirit of music that the Beatles discovered is still well and truly alive.
This is more than evident on my unexpected last-minute invitation to the Adam & Binki gig at Mojo Club- one of Hamburg's hottest nightlife hotspots that in the 90's was the hotspot for dancefloor Jazz in Germany hosting a bunch of great music artists like Gilles Peterson, Massive Attack, Moloko, the Propellerheads, Pizzicato Five, Roni Size, Goldie, the E-Z Rollers as well as Kruder & Dorfmeister.
It was a great gig and had I good company in the shape of local bloggeratti : Kathryn Wittich and David Phillipe. Even though I hadn't heard of Adam Green and Binki Shapiro before, I loved their honest, bittersweet songs of heartbreak and well crafted, chilled out melodies.
The locals love, appreciate good music and the loud hollering, whistles that followed at the end of the show, show that they clearly loved their personalities too.
Adam Green with his good natured banter and ridiculous dance moves clearly warmed the hearts & voices of the crowd.
The last stop of my Hamburg musical pilgrimage fittingly ends with a silly picture of me at the Beatles Platz ( Is that Paul or John, John was lefthanded right? ) a vinyl record shaped memorial at the crossroads of Reeperbahn and Grose Freiheit, dedicated to the memory of the Fabulous 5's ( Stuart Sutcliffe, who left the band after Hamburg) time in the city from 1960-1962.
So….Brahms, Beatles or Binki ? Whatever music turns you on…do make a date with music on your next visit to Hamburg.
Next instalment : I'll be digging into the maritime history of the city. Catch you soon.
If you're coming to Hamburg definitely I would check out some of the city's cool live music scene and also check out concerts. Here are some links to some local concert venues to have a look at
http://www.fkpscorpio.com/en/ , http://kj.de/.
I've been a guest of the cool Hamburg Jugendherberge Stintfang hostel which I've found a cool base for exploring the city and highly recommend.
Big thanks to Catharina, Martina and everyone at the German National Tourism Office , their partners for the 'Youth Hotspots' campaign – Jugendherberge : The German Youth Hostelling Association and Deutsche Bahn for sponsoring my 'German Wanderlust' tour.
I'm touring Germany as part of an effort to highlight and discover the country's emerging 'Youth Hotspots.'
Find out more about these hotspots at their website , feel free to add your own and also do download their free youth hotspots app that is now available on the Apple Store & Android Store .
Please note: While my trip has been sponsored, the views and thoughts represented in this article are my own.