Latest slice of inspiration on the BudgetTraveller comes from, regular contributor Sophie Rae who with the help of renowned sleep expert checks out the brand new Ibis Shepherd Bush, London.
Being a city girl, the rumour of a new hotel in London popping up never really fazes me.
With no room to build out, they usually go up and up and up, and with that height, we disgruntled Londoners who rarely make eye contact hardly notice they've even been built. So when I was told that the popular hotel chain Ibis had turned an old dishevelled block of offices into one of their signature collection, right in the heart of Shepherds Bush, I was intrigued. What with the colossal Westfields Shopping Centre right on its doorstep, excellent travel connections into the city and a promise of luxury on a budget, this one seems to tick all the boxes. Even for me. I do love a bargain.
Only a 2 minute walk from the busy tube station, the hotel sits just off the main road, tucked peacefully away on an unassuming street. First impressions are good.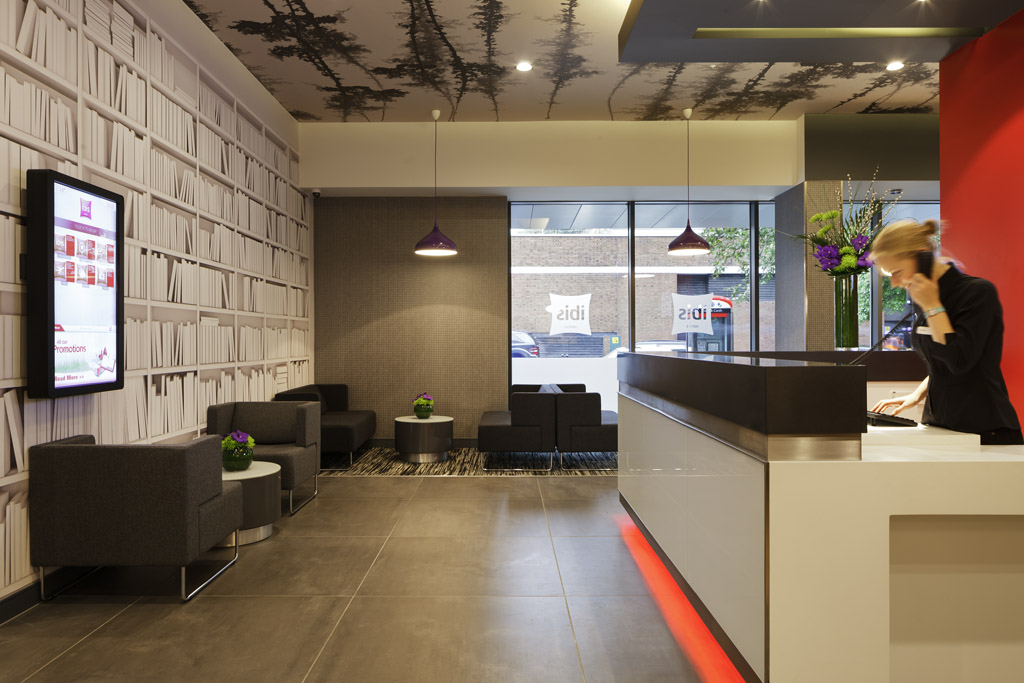 An eclectic nod to the naughties, with grey and orange furnishings and monochromatic bookshelf wallpaper, the reception is ultra modern. A little further investigation reveals a plethora of techie gadgets.
The handy digital concierge screen acts as a giant iPad, giving up-to-date news, travel and weather reports and a connection to the free reception printer for instant access to any boarding passes and tickets. More impressive is the completely free wifi service available throughout the hotel. A definite plus in my opinion. Then there's the twitter feed wallpaper…I know, that was my reaction too! But hear me out…a live stream of BBC news tweets project against the reception's wall and they even invite customers to tweet their experience in the hotel. A brutally honest customer feedback system if ever I saw one.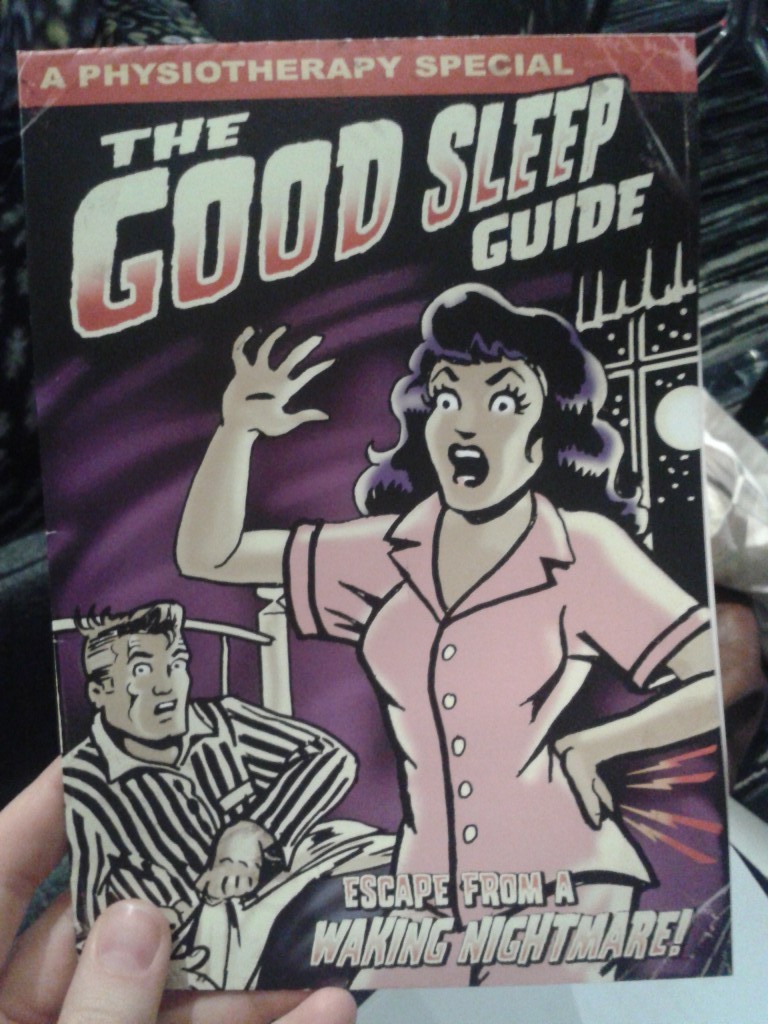 On the day I was invited to visit the hotel, I was lucky enough to meet Sammy Margo, a renowned sleep expert. Ibis are setting the reassuring trend that just because the prices are lower, doesn't mean the quality should be. This is good news. In fact very good news for the average sleeper who needs more than a lumpy hay stack to feel well rested. I'm talking pillows that bounce back like candyfloss clouds and a mattress made especially for Goldilocks; not too firm and not too soft. But before I am invited to the slumber party of the decade, first I must go to school; sleep school that it. Sammy kindly offers some expert tips and advice on how to achieve the perfect night's sleep and knowing how grumpy I can be if sleep has eluded me, I will of course share my new found know-how with you…
First, take a look at the room you sleep in. It should be clutter free, cool (ideally 16°c – 18°c) and dark with preferably green décor which is apparently calming. Think of the sleeping space as just that. Not a games room or canteen. Now living in a rented shoe box of a flat in West London, this proves harder than imagined, seeing as my bedroom doubles up as my office, our tenant contract states were not allowed to decorate and not to mention the entrance to Narnia if you dare look under my bed. But I promise Sammy I will try and resolve to buy a green pillow to ease my guilt.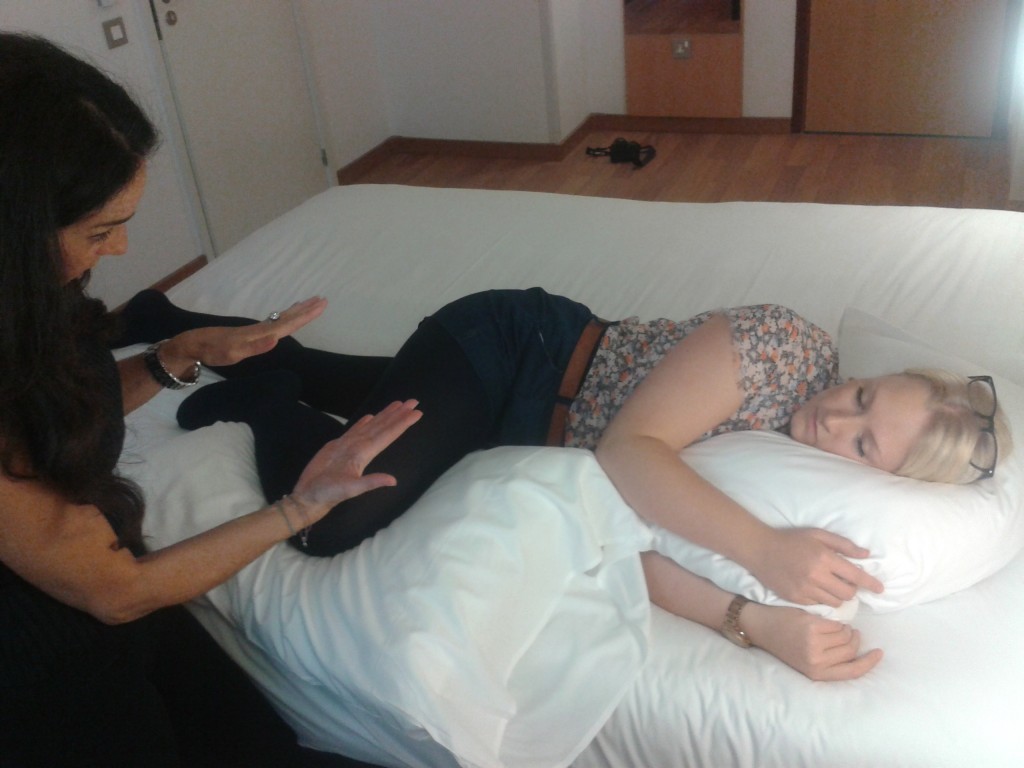 Sammy then goes on to help me find my perfect sleeping position. Now unless you sleep exactly like I do, I'm fairly sure her tips won't help you but the general rule of thumb is to aim for balance. Try to align your back with your hips and fill in any gaps with pillows to ease pressure. Invest in good pillows which support the neck and last but not least try to create a bedtime routine to relax the body and gently unwind. That means no idly playing 'angry birds' on your phone whilst you wait for the yawning to kick in.
Now after a fun day at school, it's time for the exam. It's bed time. The rooms are fairly basic, let's be honest for £89 a night in zone 2 of London, you're not going to get the Hilton, but sometimes basic is all you need. Laminate flooring offers a sleek, clean look and the adjustable air conditioning and LCD TV screen are welcome additions. Plus the black out blinds and super thick double glazed windows means not even the early morning sun or rush hour traffic wakes me from my peaceful slumber. I wake feeling fresh with no niggling aches and pains. Now this is what I call sleeping success. With the prospect of a buffet breakfast to entice me out of the bed, i'm happy to report the most exciting part of my day ahead looks set to be my scheduled afternoon nap.
To sleep, per chance to dream. Goodnight all!
Ibis Shepherds Bush
3-5 Rockley Road,London W14 0DJ
020-7660 0836  accorhotels.com