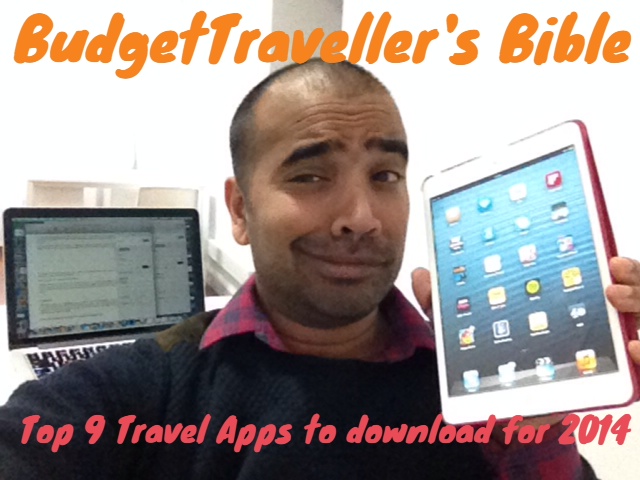 My iPad is my go-to entertainment device whenever am travelling. Without it, I am pretty lost.
That my happiness depends on one device is pathetic, but I have to admit…there are SO MANY cool things you can do with an iPad or any tablet device nowadays.
You can listen to your favourite music in one place, read your favourite magazine or blogs, play games, plan your trips, check the weather in your destination, watch movies or TV-there are hours of fun to be enjoyed with this device. Perfect for those long trips and hours stuck in transit or at an airport.
So in time honoured tradition followed by bloggers, I've compiled a list of my ….top 9 travel apps ( in no order, all are great) to download for your iPad, iPhone or tablet device.
PS: Scroll down to the bottom…and you will find a special bonus cool app to checkout that you may not have come across.
Love to hear your feedback on must downloadable apps for the iPad-comments and tips please.
1. Flipboard ( £ Free )
I love the Flipboard app for turning my social network feed and news sites I follow into a flippable digital magazine. Flipping brilliant.
2. Bloglovin ( £ Free )
Want to follow all your favourite blogs ( including mine) in one place?
Following the death of Google Reader, Bloglovin has become my go to news-reader app to keep track of stories of all my favourite blogs in one place.
3. Duolingo: Learn Languages for Free ( £ Free )
If like me one of your new year's resolutions was learning a new language then you should download Duolingo: Learn Languages for Free, a clever app where you can start learning Spanish, French, German, Portuguese, Italian or English.
First few lessons are nice and easy- you'll start off matching words with pictures, hearing what they sound like and saying words into your phone or tablet.
The app also has a "gamification" element , including a trumpet that celebrates your advancements, earning XP (experience) points and hearts, and keeping track of your progress.
4. Prizmo ( £ Free )
After every conference or networking event, I usually end up with a heap of business cards. Now I've discovered a cool free app called Prizmo (for iOS) ( or use HandyScanner for Android) which turns your phone into a portable scanner, allowing you to scan travel documents, receipts, business cards or hand-written notes and sketches
Naturally, you don't carry around a flatbed scanner with you to digitize documents, receipts, business cards or hand-written notes and sketches.The app also enjoys features like "optical character recognition," which will make the text editable and searchable with very good accuracy (though not perfect). Prizmo can detect words in more than 40 languages (10 are built-in) Cracking app.
5. Dots: A game about connecting the dots ( £ Free )
For those hours lying idle in an airport or at a bus station, they are few games that I found that more addictive than Dots– it's a simple puzzle game – trace lines and boxes of dots of the same colour on a grid and score points. It's fun, addictive and relaxing.
6. Vivino Wine Scanner ( £ Free )
Do you enjoy a good glass of red wine on your travels?
Thankfully turns out a lot of other travellers do too. Now thanks to this new cool app called Vivino wine lovers can share their discoveries.
All you have to do is take a photo of the label of the wine you've just enjoyed and Vivino scans it and creates an entry where you details the price and your thoughts. You can then search for wines by several parameters, or just view what your friends are drinking. A great way to explore a destination-cheers!
7. Napster ( £10 a month )
Music plays a big part during my travels. They are pretty much the soundtrack to my trips. Gone are the days where I had to lug my CD's or tapes around. Music is now digital. I've binned my Mp3 player and gone one step further- I recently have become a huge fan of the Napster app.
While I don't own any of the music that's download via Napster in terms of choice,  I do have an amazing music library to choose music from- 20 million tracks in total.
Presented with such a huge choice can be daunting so when I am not sure what music I want to listen to, then there's always Napster 's Artist radio option. If you type in an artist's name you like and press the radio button, Napster unearths similar tracks and artists for you. It is a great way of discovering new music. To use the mobile app, you need to cough up £10 a month. However with the option of downloading songs and listening to them offline, great sound quality and a fantastic music library to dip into-it's money well spent.
8. World Around Me app ( Lite version – Free. Paid version- £0.99 )
Augmented reality apps are all the craze now and few are more cool and slick than the WAM- World Around Me app. Once you've downloaded the app you can discover a whole bunch of useful stuff for you, based on your gps- nearby restaurants, banks, bars & pubs, cafes, clothing stores, doctors and gas stations.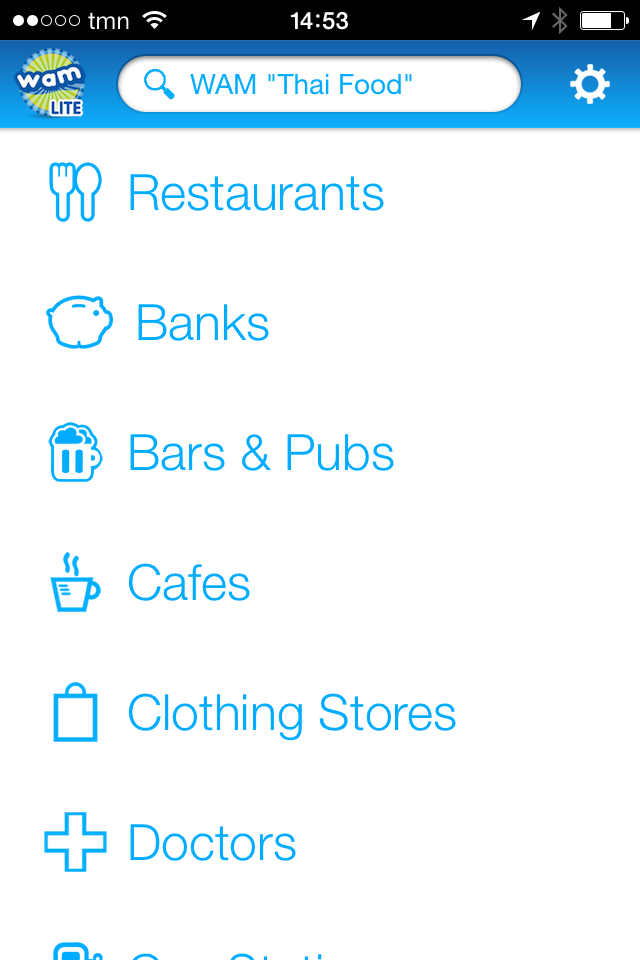 Or you can just simply type into the 'search' box what you are looking for. I love good coffee so I popped into the search box 'coffee' and it immediately pulled up a bunch of coffee places in Funchal.
Some good recommendations there- 'O Calhau' is a favourite of mine in Funchal. What I love about the app is gives you a rough estimate of the distance of the cafes from your position.
Once you click on the name of the cafe, besides the distance it also gives you the physical address, phone number and website.
Also, you can find reviews by locals below.
This is a really handy app that I recommend you try on your next trip. foursquare is still my go-to app for discovering places while I travel. However the augmented reality layer of WAM makes it much easier to see where things are in relation to you which is a functionality missing in Google Maps.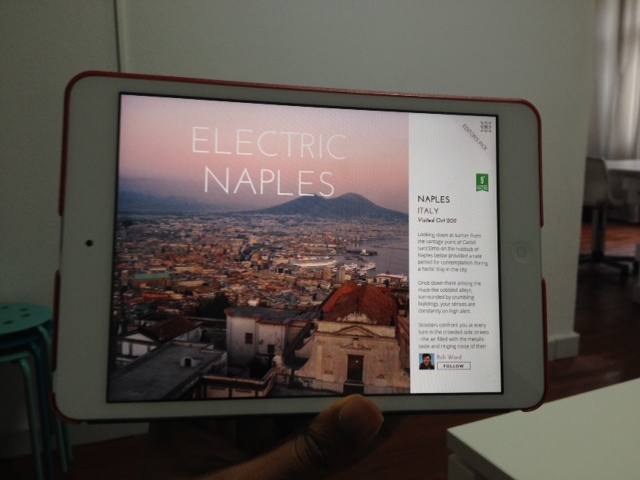 9 Triptease ( £ Free )
The thing I love about Triptease is how via it's army of travel teasers, it curates great travel experiences and via fantastic photography turns them into truly visual experiences. Once you open this app up, you are hooked. Your iPad never looked cooler. This is the perfect app for the armchair traveller.
My bonus tip is Video Downloader Pro app ( $3.99 ) where you can download movies from Youtube, Vimeo and watch them on your iPad during your travels. Just download the app and search for films, programmes in the search box. Once the show or film pops up you'll find a pop-up come on your screen with the option to download the programme. Later, you can find the downloaded programme in your 'files' section.
I love watching my cooking programmes so via the app from Youtube I've managed to download the whole series of Rick Stein's travels in India, few of Bourdain's 'No Reservations' episodes plus a few full length movies like Crocodile Dundee.
 I hope you enjoyed my list. Love to hear your feedback and recommendations. Please comment below with your suggestions. Thank you.