The good news is that Thailand is open for international tourism. Since July 1st, Phuket reopened carefully to vaccinated tourists under the Phuket Sandbox project. Thanks to the Phuket Sandbox scheme fully vaccinated travellers do not need to do quarantine but they must stay in Phuket for at least 7 nights and after that they are allowed to visit other destinations in Thailand. How does the Phuket Sandbox work? What are the requirements for the Phuket Sandbox? Plus how are things in Phuket at the moment? I arrived in Phuket this week under the Sandbox programme so I thought I would pull together a quick post to help address all the questions you might have about the Phuket Sandbox and the current situation.
So first some basic questions.
Why should you should consider applying for the Phuket Sandbox
The Phuket Sandbox model was created as a safe way for Thailand to reopen to international tourism without having the need to quarantine. Especially with the recent indefinite suspension of Test & Go quarantine exemption scheme , the Sandbox programme was currently the best way to enter Thailand. In the last week, more islands have been approved so besides Phuket, you can apply via the programme to stay at Krabi, Phang-Nga and Surat Thani.
Update: From February 1st, Test & Go is restarting.
What is the difference between Test & Go and Phuket Sandbox
If you registered for Test & Go and already got your Thailand Pass approved, you can still enter with your Thailand Pass. You have to take RT-PCR test on arrival and stay at a SHA+ approved hotel until you get your results.
If you register for Test & Go after February 1st, according to this source, you will have to book RT-PCR test on day 1 and day 5. You are also required to have insurance with a minimum coverage of $50000. ( More on that below ) You will also required to stay at SHA+ hotel on both these days while you wait for your result. On Day 2-5 and on Day 6, you can stay at any accommodation of choice. Worth noting that the hotel does not need to be the same hotel as Day 1 and can be in any province. Yup. Not entirely as straightforward as you would hope. In the end, there really is not a lot of difference between Test & Go and the Sandbox programme.
Who can travel to Phuket under the Phuket Sandbox programme?
Under the current rules, vaccinated Thai nationals and any foreign travellers can visit under the Phuket Sandbox programme. From 11th January, also travellers coming from South Africa and other African countries are also allowed to visit Thailand under either the Sandbox programme or the Alternative Quarantine system. It also worth noting that unvaccinated children under 18 years old while traveling with vaccinated parents, are also allowed to enter. Adults who are unvaccinated will be required to undergo mandatory quarantine at any AQ Hotels in Phuket for period of 10 days.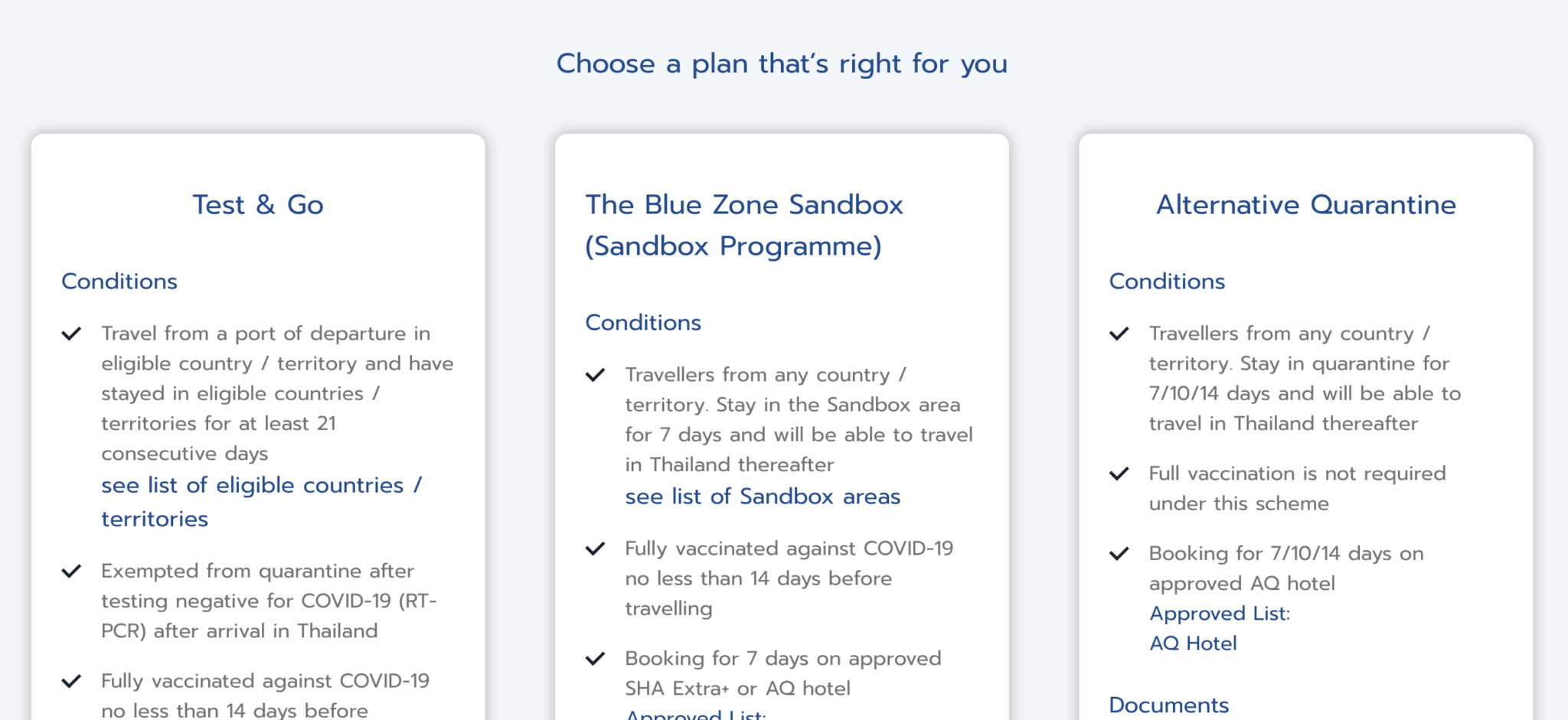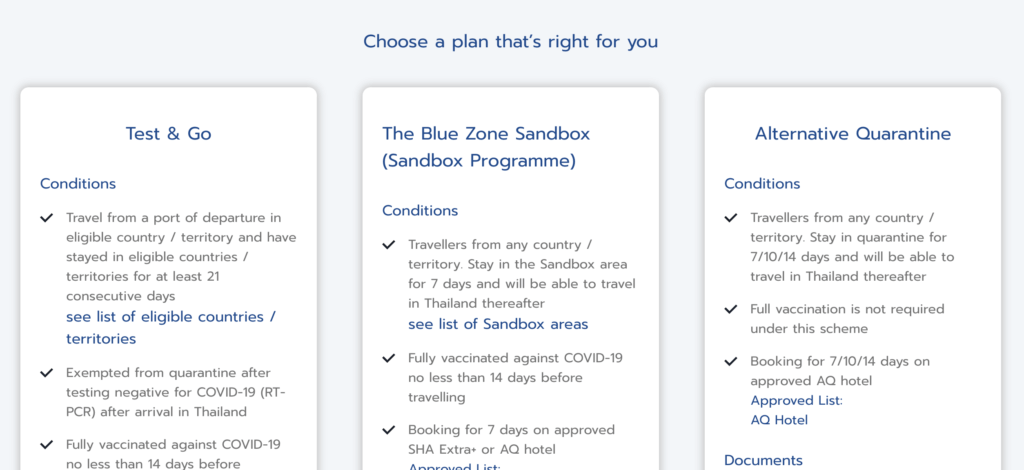 What are the Phuket Sandbox requirements?
There is a comprehensive list of requirements for the Phuket Sandbox programme. It is quite a long exhaustive list but if you meet all the following, then your chance of application are pretty perfect.
1. Vaccine Certificate/proof of vaccination
You will need to have proof of vaccination ( you need to be fully vaccinated at least 14 days prior to your departure to Thailand and not more than 12 months. The vaccines must have been approved by the FDA or WHO at least 14 days before arriving. ) when applying for the Thailand Pass for the Phuket Sandbox programme. When applying for the Thailand Pass online, have to upload the PDF copy and also the QR code. As you will see when applying, the file format in which you upload the documents has to be jpeg or png format. It is tiresome and annoying but remember to convert into Jpeg to make sure your application goes smoothly. ( I found this video by Skye Samuels really informative and useful when filling out my application )
2. Get a RT-PCR COVID 19 test before you travel
You will need a negative RT-PCR test taken 72 hours before your departure. This was one of the trickiest parts of the application. I am based in Berlin and most labs at the moment take 24-36 hours before delivering your result-that is still not guaranteed by some labs. So to avoid disappointment and last minute stress, get a same day PCR test or express PCR 3 hour test. Yes it will be expensive but please do not try to scrimp on this vital part of the requirements-it could screw up your entire trip.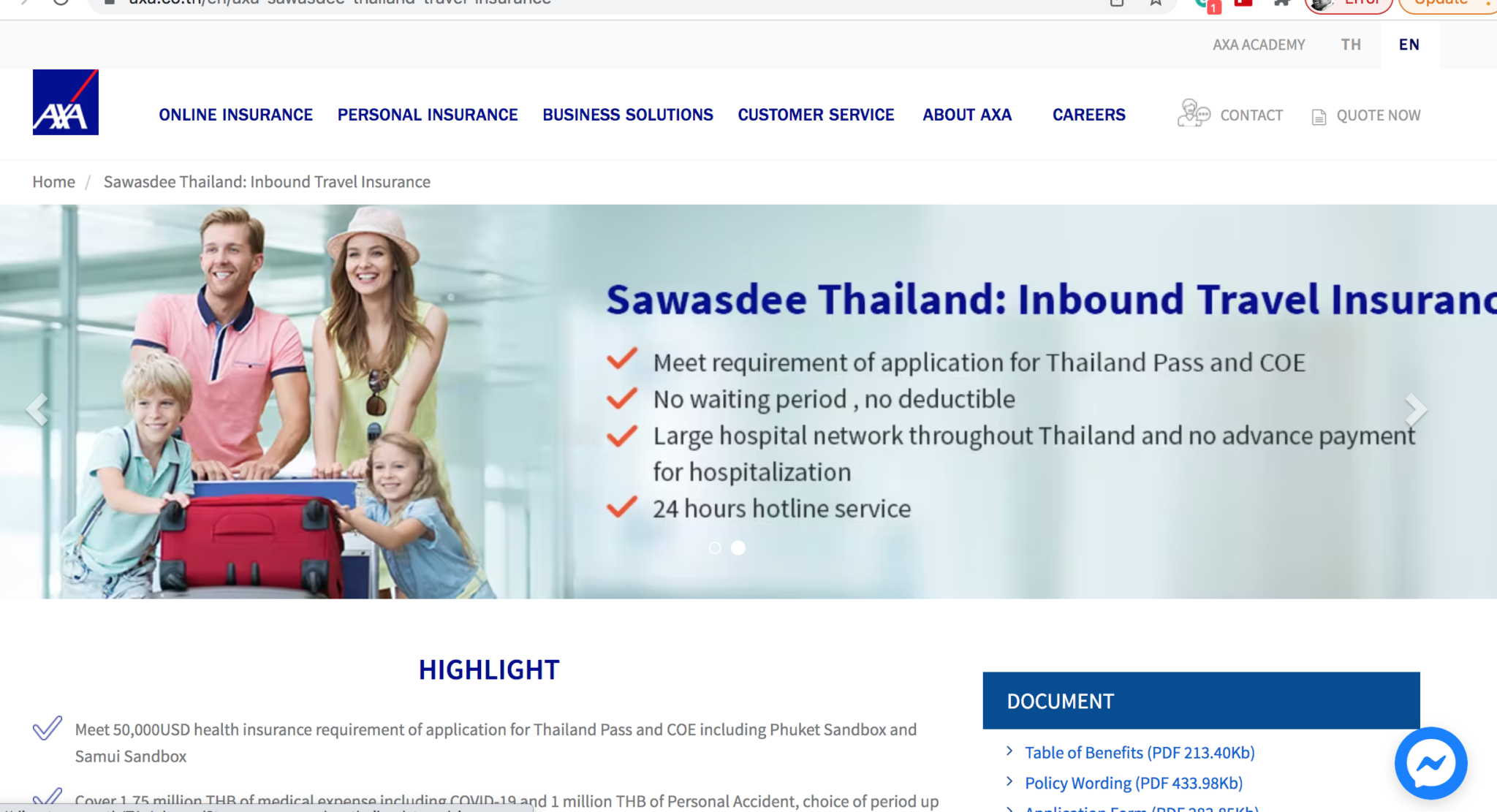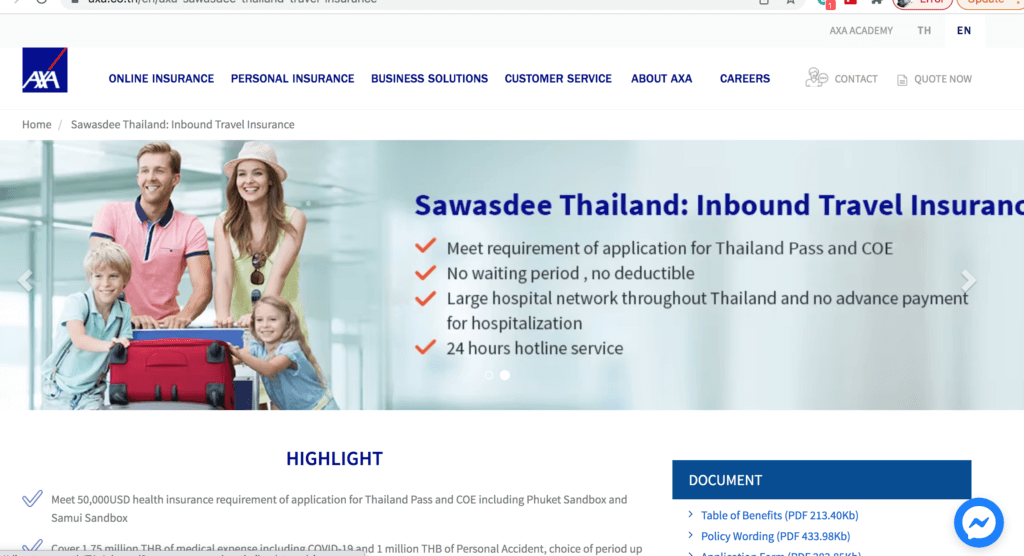 3. Thai Govt approved COVID-19 Insurance
You will need a Thai Govt approved Covid-19 insurance with a coverage no less than US$50,000.
This is a special type of insurance that will cover all your hospitalisation costs if you catch Covid-19 and has been designed by the Thai Govt to give you peace of mind. If you already have travel insurance, it might feel like another unnecessary expense but just to be on the safe side, cough up and get this via a Govt approved provider. There are bunch of providers – I went with AXA Thailand who offered me coverage ( covers asymptomatic persons too ) for 30 days for 2250 baht which is about €60/$68/£50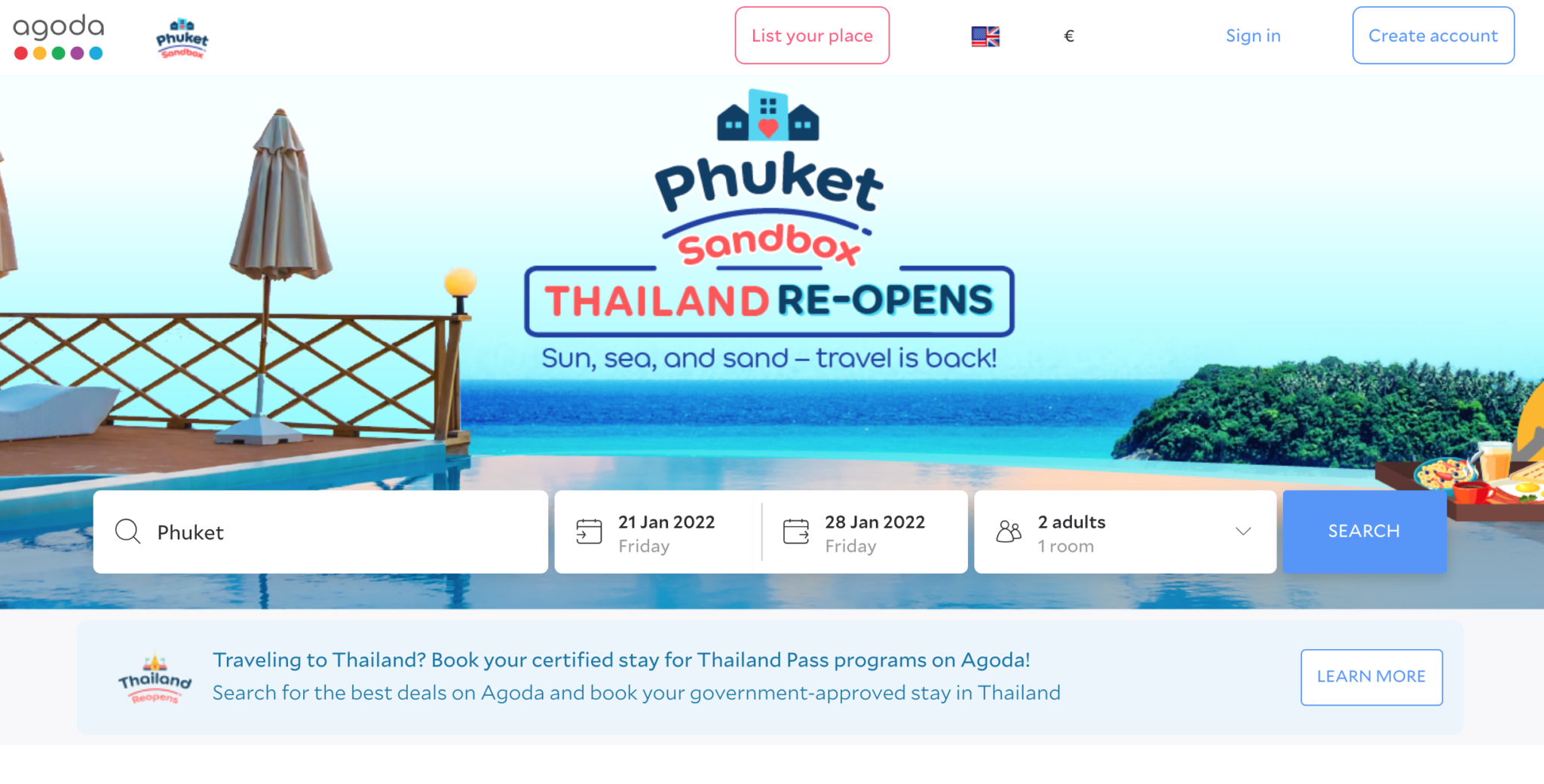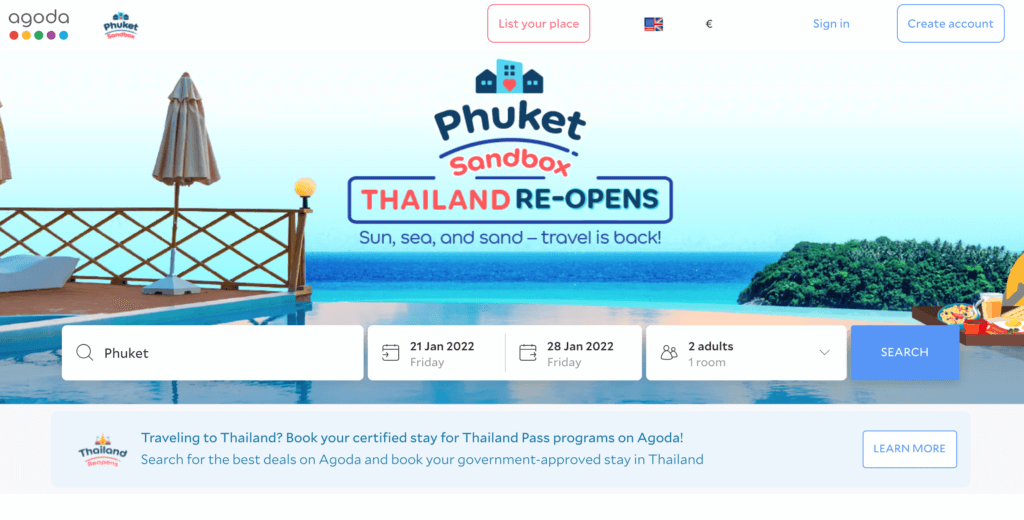 4. Book a SHA Extra Plus approved hotel in Phuket
It also critical that you stay at least at a SHA+ hotel during your 7 day stay in Phuket. If you book a hostel or Airbnb , you will not qualify for the Thailand Pass. Rates can vary, but there is a range of affordable and also luxurious places to stay in Phuket so there will be something suitable for your budget.I booked our stay via Agoda which has created a special database of all SHA+ hotels in Phuket. Some hotels have SHA++ (SHA Extra Plus) certification – this is to assure guests that the hotels in question have taken steps to prevent the spread of the COVID-19 will also guarantee you that more than 70% of their employees have been vaccinated. The other key benefit of booking a SHA Plus hotel is that they have an approved partner hospital in case you need hospitalisation for Covid-19. If you need a tip for a SHA++ certified hotel, I would recommend the Besavana Phuket Hotel in Phuket Old Town. I got an incredible rate of €21/$24/£17.50 a night for the week of our stay. Not ideal if you are seeking to be near one of Phuket's beautiful beaches but in terms of value for money, quality, a swimming pool and also fantastic hospitality-they have been a great place to stay plus it is located in the heart of Phuket's dreamy Old Town.
You will also need a book your 2 RT-PCR Covid 19 tests via – first one you take on arrival at Phuket International Airport and on the 5th day, you will take a 2nd test. If you clear both tests with a negative result, you are free to travel onwards to any destination within Thailand after your week is over. The total cost of the tests is 4200 Baht which is €110/$126/£92
Tip: Make sure you have all your documents printed besides having a copy on your phone in case you need backup.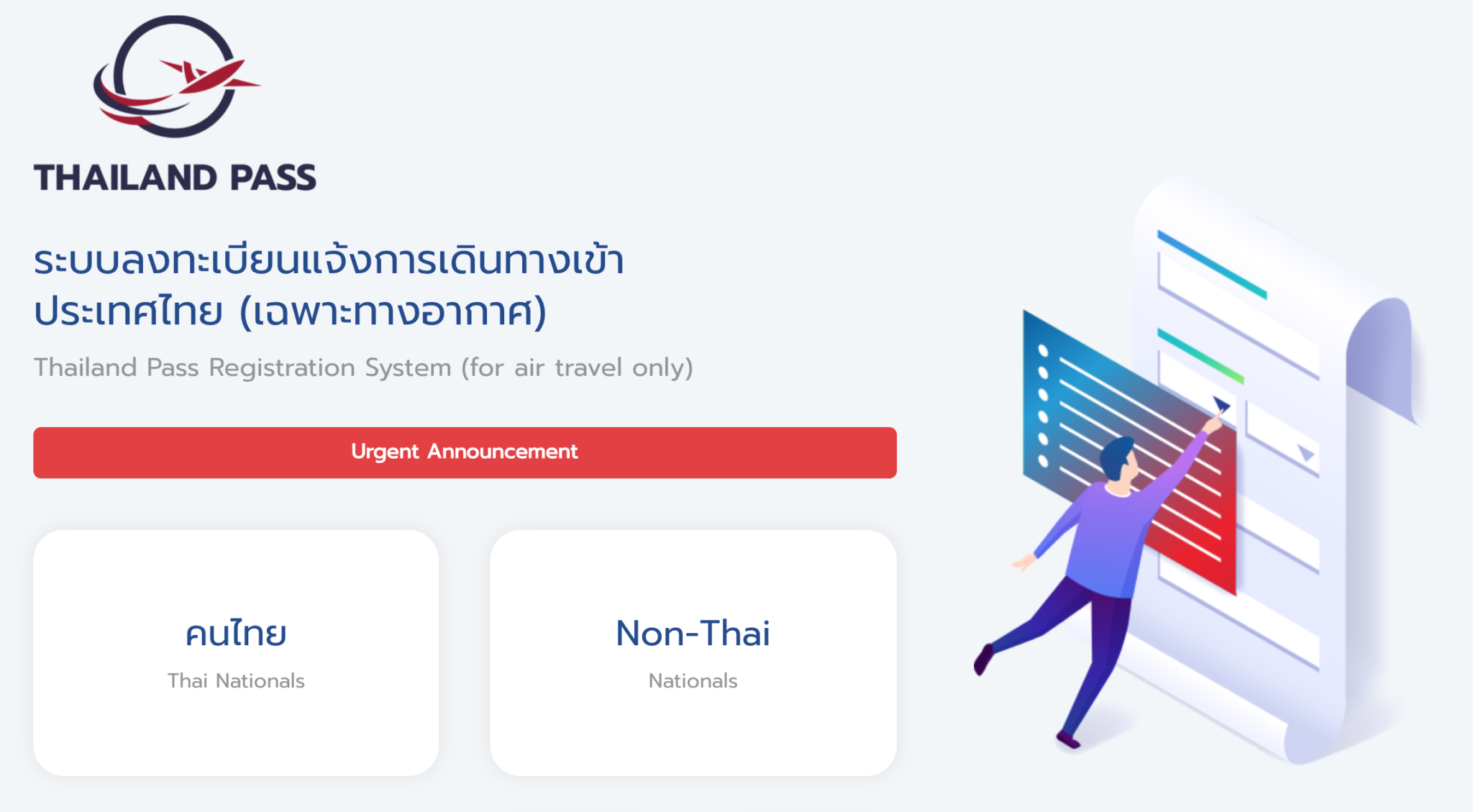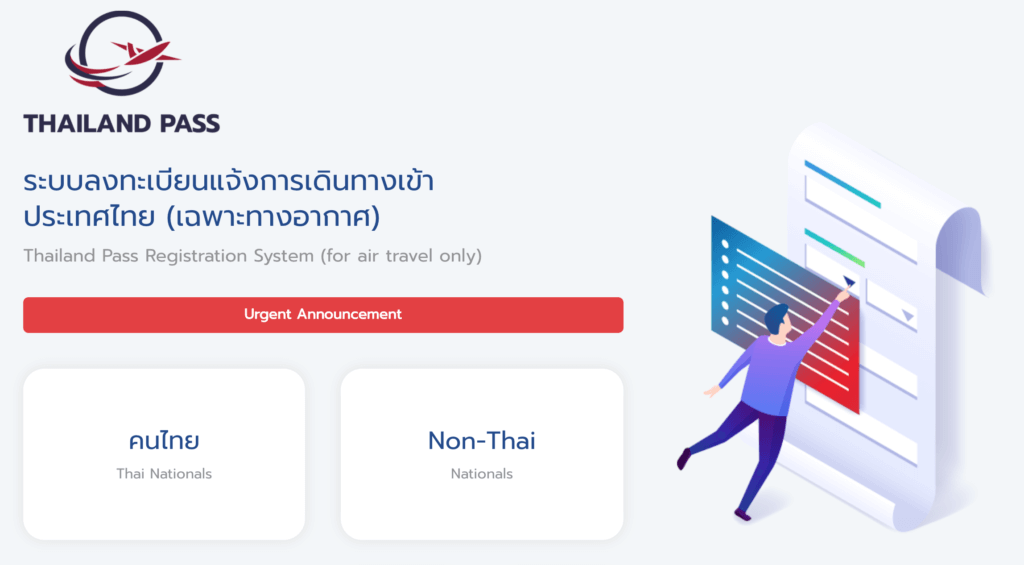 Few key questions about Phuket Sandbox programme
Can I visit Thailand if I have been previously infected with Covid-19?
As far as I am aware, you must be able to provide proof that you recovered within 3 months by presenting a "Certificate of Recovery" plus you should have proof of a single dose of Covid-19 vaccine. One passenger on our Berlin -Singapore flight with proof of recovered status was not allowed to fly to Phuket after authorities in Singapore spotted that she had no evidence of being vaccinated.
Can I transit via Bangkok for the Phuket Sandbox?
No. You will not be allowed to transit via Bangkok. Book a direct flight to Phuket from your country or go via Singapore like we did with Scoot Airlines.
Where can I apply for the Phuket Sandbox programme
To apply for the Phuket Sandbox programme , please visit https://tp.consular.go.th/ to register. You will need supporting documents such as a copy of passport, copy of your vaccination and COVID-19 travel insurance. As I noted before, make sure all your documents have been uploaded in jpeg format to ensure no hiccups.
How long does it take before my Thailand Pass is approved for the Phuket Sandbox?
I have heard some people getting approvals within 30 minutes but for me it took 24 hours. Sometimes it can take 3 to 7 days to process the approval so please take that into consideration when booking flights and planning your trip.
Can I change my travel date after registering and receiving my QR code?
You are permitted to change the travel date within 72 hours of your original flight time registered in the Thailand Pass. If you need to change the travel date for more than 72 hours, then you will need apply for a new Thailand Pas
How was the whole experience of flying to Phuket?
We flew from Berlin earlier this week. We flew from Berlin to Singapore with Scoot Airlines and after a 12 hour wait, transferred onto the Singapore-Phuket flight. Scoot is the low cost, no-frills budget airline of Singapore Airlines. Fares can be as little as €180-€200 from Berlin, one way to Singapore but this doesn't include check in luggage, your seat or any meals. It was a pretty smooth trip. We had downloaded a bunch of stuff from Netflix to pass the time and had our kindles for reading. We had some snacks of our own but did splurge on a hot meal from Scoot- Veggie Korma with Basmati rice which was pretty decent. Layover in Singapore for 12 hours was tough after such a long flight. All travellers from Germany, Netherlands, UK and France have to be kept in a holding area of Changi airport before boarding so that means no duty free or going to the international food court. To help breakup the journey, we treated ourselves to Aerotel Transit Hotel in Changi airport for 9 hours. It cost us a ridiculous amount but we didn't fancy being cooped up in the holding area. Once we arrived in Phuket, it was a very smooth process. They initially checked our Thailand Pass, negative RT-PCR test. We arrived late in the evening at the airport and it was empty besides the 30 passengers on our Scoot flight. We quickly passed through immigration and getting our 30 day visa on arrival. After passing immigration we picked up our bags and then proceeded to registration area for the Phuket Sandbox programme. They then checked our SHA+ hotel confirmation and also our 2 prebooked RT-PCR test results. Once they verified the documents we then proceeded to get our 1st RT-PCR test. We got a QR code to scan to check our results-it takes usually 8-12 hours or more, depending on how busy they are. After the PCR test, we left the airport and greeted by our driver who would take us straight to our hotel. You have to prebook your hotel transfer. It costed us 800 baht. Once we arrived at our hotel, after registering we downloaded the Morchana app where we could check our RT-PCR test results. We had to stay in our room till we received our negative result. It took us 6 hours to get our results. We arrived late in the evening at 10pm so by the time we woke up at 4am because of jet-lag, we had got our results. The QR code turns green to show that you have tested negative. ( See below ) At 6.30am we went for a sunrise stroll through Phuket Old Town and it was magical.
What is Phuket like at the moment?
The numbers of tourists are low at the moment so it feels chill and quiet, especially where we stay in the Old Town-most tourists prefer staying near one of the beaches.
You have to walk around with a mask everywhere-if you don't, you risk a huge fine or imprisonment ( yet to hear anyone being imprisoned or fined but be warned in case….)
Bars close at 9pm. Restuarants are only allowed to serve booze till 9pm. So things get pretty quiet after 9pm. So if you're looking to come and party in Thailand, you might be disappointed. However, given the current situation in Thailand and the rest of the world, it still feels very relaxed and normal here. The weather is fantastic.30c today. We haven't ventured to any of the beaches or Patong but in the Old Town, lot of really good restaurants are open. On the weekend, there will be the famous weekend market taking place so there's plenty happening that you can look forward to.