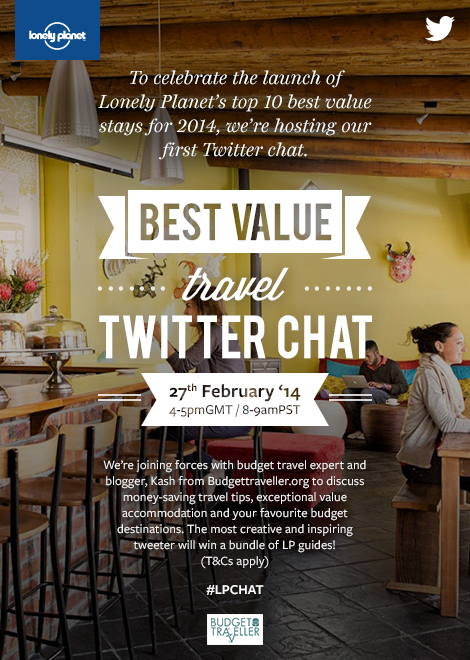 A very exciting announcement to share with you all!
To help celebrate the launch of Lonely Planet's top 10 best value stays for 2014, I am very excited to announce that the BudgetTraveller is joining forces with the Lonely Planet to help co-host their first ever global Twitter chat on Thursday, 27th February, 4-5pm (GMT) and 8 – 9am PST. 
Everyone is invited and can be involved in this unique event!
We will be discuss money-saving travel tips, exceptional value accommodation and finding out about your favourite budget destinations. The most creative and inspiring tweeter will win a bundle of LP guides!
How can you take part?
1) Follow the hashtag #LPchat on Twitter on 27th Feb '14 from 4-5pm GMT/8-9am PST
2) Questions will be ordered Q1, Q2, Q3 etc. To answer Q1, begin your tweet with A1. For Q2, A2 and so on.
3) Add #LPChat to all of your tweets during the twitter chat, so others including Lonely Planet and myself can see what you're saying.
4) Bring your best travel tales and tips!
One week and counting till the 27th February, 2014. 4pm GMT. Keep the date aside for the diary, grab your popcorn, tell your mates to join in the fun!
I look forward to chatting with you soon!
Terms and conditions are as follows:
Terms and Conditions: Entrants must be  13 years old or over. Judges' decision is final. Promoter: Lonely Planet Publications Ltd of 201 Wood Lane, London, W12 7TQ, UK. The winner will be notified via direct message and public tweet on Twitter. The winner must claim their prize and provide and address for delivery within 7 days of being notified, otherwise the judges may select another winner. Prize: A pack of 4 Lonely Planet Shoestring guides, as chosen by Lonely Planet, valued at £76.96.