[tweetmeme]
[fbshare type="button" float="left"]
[fblike style="standard" float="left" showfaces="false" width="150″ verb="like" font="arial"]
[google_plusone size="standard" float="left"]
Now I am the first to admit that even though I travel on a budget, I do like my luxury.
However who dictates that you cannot enjoy luxury while travelling on a budget?
Every now and then a hotel comes along that fits the luxury on a budget tag and York Hotel Lisboa is one of these.
York Hotel Lisboa started out life as a 17th century convent.
Its modern day incarnation is an elegant boutique hotel: Polished wooden floors, marble tiled bathrooms and a labyrinth of mazy corridors lined with rugs that lead you into whitewashed, very tastefully designed bedrooms.
It may have lost its monastic austerity but still retains that sense of blissful monsastic sense of exclusion.
At the entrance you are met by a steep but charming ivy covered winding stone staircase. You will bust a lung climbing this but it's worth the climb because at the end you are greeted by the hotel's stunning centrepiece: a palm shaded courtyard where people are dining to the excited chatter of birds above.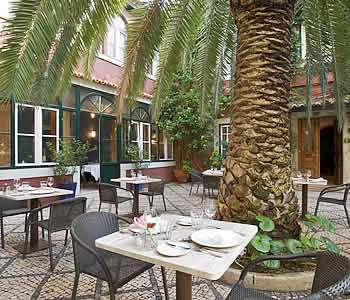 By day I'd be enjoying breakfast in the patio to the sound of morning song and by  candlelight, I'd be dining on some of the seafood dishes from their excellent menu like grilled octopus with mashed potatoes, chorizo and served with asparagus ( 19 euros, hell not budget but for Michelin Star dining, awesome value for money)
Some of my happiest memories in Lisbon were spent in this courtyard, armed with pen and pad scribbling inspired thoughts and poems. I can see what would have attracted writers like Graham Greene to such a peaceful oasis of calm.
Our bedroom overlooked the courtyard and was very spacious and clean. On arrival we were presented with a plate of the famous Pasteis de Nata fromBelemand a carafe of Port. Nice touch.
The beds were oh so comfortable. After long days of clambering up Lisbon's narrow travessas and partying on the cobbled Barrio Alto, my weary feet would sink happily into the soft embrace of the mattress.
Breakfast was included for us but for 10 euros you get a very decent buffet that will keep you well nourished into the afternoon.
Also if you're looking for superb seafood dishes for lunch, then I recommend checking out their daily lunch market menu where for 18 euros you get a superb 3 course meal.
Tip: Do not leave town without trying to chocolate mousse here- it's the best chocolate mousse I have ever tasted. I would go back to stay at the hotel just to eat this amazing mousse!
Overall I can't highly recommend York House Lisboa.
It's in a great location off the beaten track in the aristocratic Lapa district but still with convenient access to the main districts of Lisbon.
It's perfect for a romantic break. Not a place to bring your best friend. Like I did 🙂
Cost: Booking off season you can get double rooms for as little as 85 euros which is not budget but still represents superb value for money. Book via the York House Lisbon website for the best rates.
Disclosure: My stay in Lisbon was sponsored by York House Lisbon. The views and opinions expressed by me here are entirely my own.