[tweetmeme]
[fbshare type="button" float="left"]
[fblike style="standard" float="left" showfaces="false" width="150″ verb="like" font="arial"]
[google_plusone size="standard" float="left"]
At first glance Hotel Cedran looks very unassuming.
It's location is impressive just off one of the main traffic arteries of Granada: the Gran Via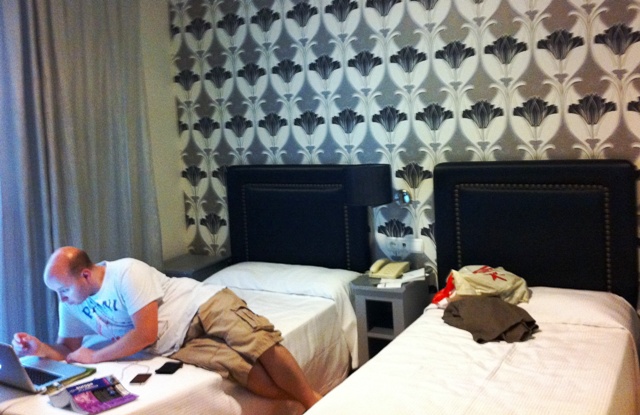 My room for the night in Granada: The budget friendly, Hotel Cedran
Once you step inside, there is a small reception area. The receptionist was friendly and helpful.
The room was comfortable and clean.
Recently I suspect it has been redecorated so was clean, comfortable and quite minimalistic.
There's a small TV in the corner of the room if you're looking for some form of entertainment.
The key thing for me and my travelling mate : the awesome @theaussienomad was the Free Wifi-excellent signal and not one bother during our stay.
Plus it had a great, working AC unit. We were there in late June and it was baking inGranada-around 40C so this was great.
The bathroom is clean and equipped with good range of basic toiletries and clean towels.
Verdict
Overall for a price of just 40 euros for a double via BudgetPlaces.com for the price, location this is a great budget hotel option in Granada.
Highly recommend.
Disclosure: My stay in Hotel Cedran was sponsored by BudgetPlaces.com
The views and opinions expressed by me here are entirely my own.
Hotel Cedran
C/ Cedrán 5
Granada