Every week on the BudgetTraveller, I'll be picking out the best stories on budget travel from across the web.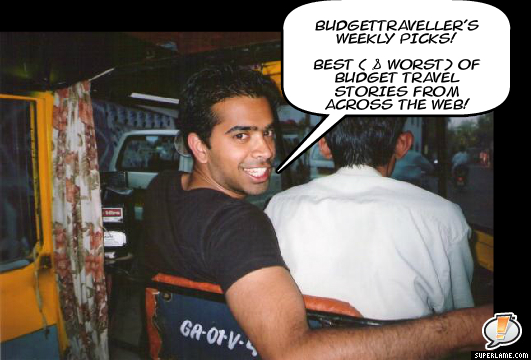 Here are the highlights from this week's roundup
1. Check out Jason from Locationless Living blog , review the spanking uber budget cool Tune Hotel in Liverpool Street, London
2. Theodora Sutcliffe from the excellent Travels with a Nine Year old blog s about how not to go skiing on a budget.

3. If you're looking to visit Munich on a budget check out this excellent video by the Dime Traveller on Tripfilms where he shares awesome budget tips like communal camping and also cool stuff to do like checking out the surfers on the Eisbach River in Englischergarten.
( If you're looking to do Munich on a budget also check out my video of my epic 15 hour £100 easyJet challenge I took part earlier in 2010! )
4. Katja Presnal from Skimbaco Lifestyle offers 15 cool tips on how to travel on a shoestring budget  and never pay mediocre hotel prices again
3. Also catching my eye this week was a thought provoking debate on Lonely Planet about whether the concept of budget travel has changed ?
An important question to ask. Is budget travel more about saving money and less about the experience nowadays?

Best post of the week
Time is money remember.
This week's top post is all about saving time : Budget Travel's ace contributing editor Sean O Neil ( if you missed earlier , here is the cracking  interview with Sean on Budget Traveller sharing his budget tips ) shares 3 ace internet tools that help you to locate hotels that are nearest the popular landmarks.
From the blog
If you missed out, this week on the blog I've reviewed Wagamama Edinburgh  which is now one of my favourite cheap eats in Edinburgh.
Agree or disagree with my weekly picks?
Leave your comments below and also free to submit your budget travel stories every week to be considered for inclusion using the hashtag #budgettravel on Twitter