Every week on the BudgetTraveller, I'll be picking out the best stories on budget travel from across the web.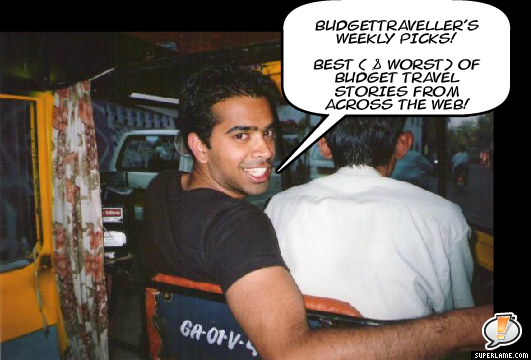 Here are the highlights from this week's roundup
1. Check out Wanderlust magazine awesome post on 10 free things to do in Naples which includes great moneysaving tips like visiting St Elmo castle for free, just an hour before closing.
2. Interesting thought provoking piece on Smarter Travel about what implications the demise of the Euro might have on travel costs in Europe and whether it could become a budget travel paradise
3. Gadling's budget travel guru, Alex Robertson Textor visits Italy's southernmost island , Lampedusa in January. ….Where he is the island's only tourist.
Curious to know what his experience was like.
Check out his post
4.  Also making the budget travel headlines last week was a hotel in Crete called the Aegean Sky hotel which apparently has been voted by holidaymakers ( people who use the Travel Republic website ) as the best hotel in the world.
At £26 a night, wow, I am intrigued to know more about this hotel.
Anyone with any experience of visiting this hotel, leave a comment or tweet me at @BudgetTraveller I'd love to hear from you.
5. Also if you're a caffeine addict and planning a trip to Dubai this year , then have a peek at Timeout's guide to Dubai's cheapest cafes
Best post of the week
I am veering away from my Turkey of the Week category and including instead my most thought provoking, interesting article of the week.
This week I've picked out a story by Hidden Europe's editor, Nicky and Susanne who have written on Eurocheapo about the missing gaps on Europe's rail network. ]
From the blog
If you missed out, I've done a study on the top 11 countries where you can drink the cheapest beer in Europe s diary of how to enjoy 48 hours in Paris on a budget  : £100 plus also what do in Barcelona if you have the misfortune of having your money, possessions stolen.
Agree or disagree with my weekly picks?
Leave your comments below and also free to submit your budget travel stories every week to be considered for inclusion using the hashtag #budgettravel on Twitter