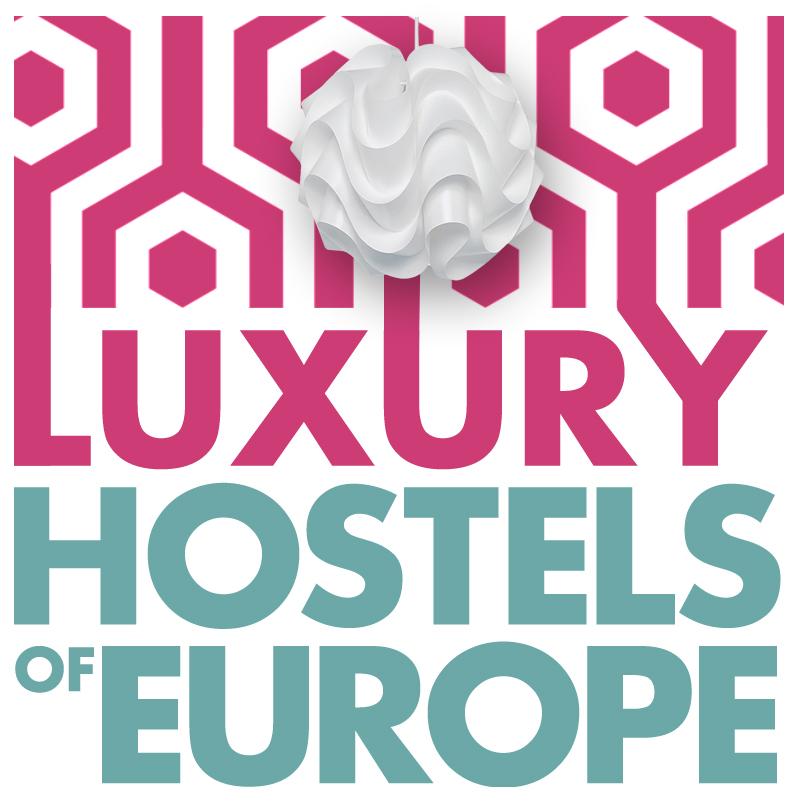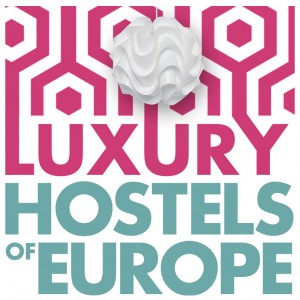 I should openly admit at the beginning of this post that I do not like to ski or snowboard. 
I am definitely a non-adventurous traveller.
I have an immense fear of heights.
Excuse I have used uptil now was that I grew up in the plains of India.
The highest thing I climbed was up the four flights of stairs to the roof terrace on top of my parents house in Kolkata.
So maybe ….you can understand my slight sense of intrepidation when I visited earlier this summer, the Loft Mountain Hostel , a ski hostel in the picturesque ski resort town of Bourg St Maurice, 800 metres above sea level in the Les Arcs mountain range.
The local tourism office sent me some very handy exciting tips of things to do in the area.
I could so go zip lining from 1800 metres in Les Arcs.
Or checking out the area's excellent road biking circuits which in the summer of 2009 hosted one of the finishing stages of the Tour de France.
It's also a popular spot for 'Parapenting'. Paragliding I've heard of. Parapenting?!!!
I look at the email and then look at the mirror.
As usual I beat myself up emotionally, torturing my timid soul.
' You are such a wimp Kash. Where is your sense of adventure?'
I have blocked out a few days for my stay at Bourg.
I am already dreading what I will do these days.
My sense of intrepidation is heightened as the train pulls into the station of Bourg.
I see a glut of people gliding in the beautiful afternoon sunshine at around Les Arcs 1800- one of the resorts.
Maybe I was observing people Parapanting. Sorry Parapenting.
It's a beautiful sight nevertheless.
My eyes soar to the towering, panoramic mountain skyline of the Les Arcs range.
It's quite a contrast to last few days I've had strolling down the palm tree lined promenades, gawping at tanned beauties and the blue azure waters of Cote D'Azur.
Despite being a 7 -10 minute walk to the hostel, I enjoy the luxury of being picked up at the station by Charley, Loft Mountain Hostel's owner and patron saint.
She has a cheerful and very easygoing disposition – I instantly feel at ease.
Moment we started planning about my visit , 6 months ago, I was really drawn in by her story.
She was a frequent visitor to the area coming to spending half the year enjoying what she loved most-snowboarding.
Then rest of the year she'd work hard to save up for the next year.
Until one day with the support of her mother, she started up a hostel in Bourg.
Which was unheard of in these parts.
All you see are chalets and apartments. The youth market had been neglected.
2 years on , after months of hard grind the Loft Mountain Hostel, is a massive success story.
I arrive at the hostel- first appearance it looks like a very chic, French chalet.
Outside, there is a nice terrace and garden patio area where guests can relax in the sun.
The place is impressively geared with its customers in mind: At the entrance before you enter the hostel there is a handy drying room for your boots and gloves plus there is also a skitech on hand in case you forget to wax your board before you come out.
Once you walk in, the Loft has the feeling you've been welcomed into someone's home. It's very spacious and has a very comfortable, snug feeling about the place.
After weeks on being on the road, I suddenly felt very much at ease and home in the space.
The Loft is on 2 levels and rooms upto 15 people. No bunk beds.It is large enough for you to hang out with everyone in the large communal kitchen and living areas.If you wish to seek privacy there is a quiet in chillout area upstairs.
The communal bedrooms ranging from 3 bed dorms to the bigger 6 bed dorms and are very spacious.
The living room is like that of a 5 star chalet- big comfy sofas, cushions  with large windows that give it a nice bright, ambience. There is a huge 40 inch plasma screen TV with Sky channels so if you've been travelling on the road for awhile and missing your favourite UK shows-you can have your fix.They also have massive collection of movies which are stored on their server which guests can access from their laptops to watch movies in the comfort of their own bed.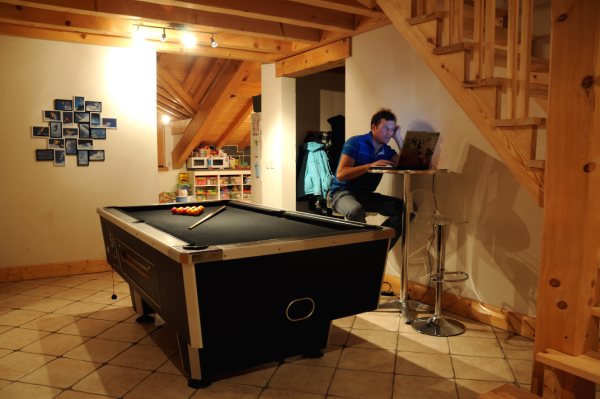 There is also a nice pool table in the centre of the room that is free to use.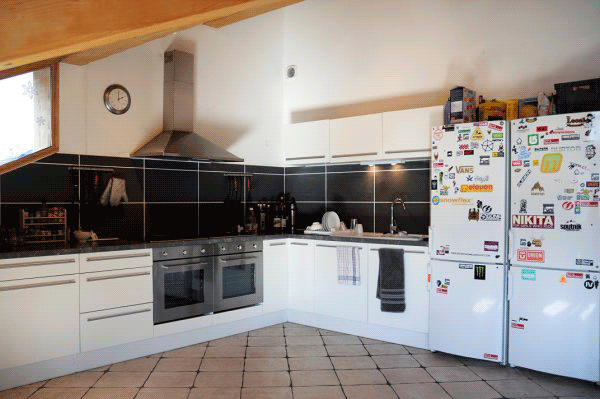 The kitchen is probably my favourite part of the Loft –so much so that I featured Loft in my top 5 Luxury hostel kitchens.
There is a Lidl handily across the road that also stocks a number of local French specialities. My favourite part of the room is the massive long wooden table by the kitchen.This is where people eat, surf the internet during the day, play board games and often you find the owners-Charley, Robin and the guests just drinking wine, chatting into the late hours of the night. The showering facilities are shared but large. For a 15 bed hostel, you have unfettered access and the showers are powerful with hot water.
With superb facilities like these, I felt very much at home at the Loft and in Bourg.
You can also call home for free to over 100 destinations -Cordon Bleu! How cool is that!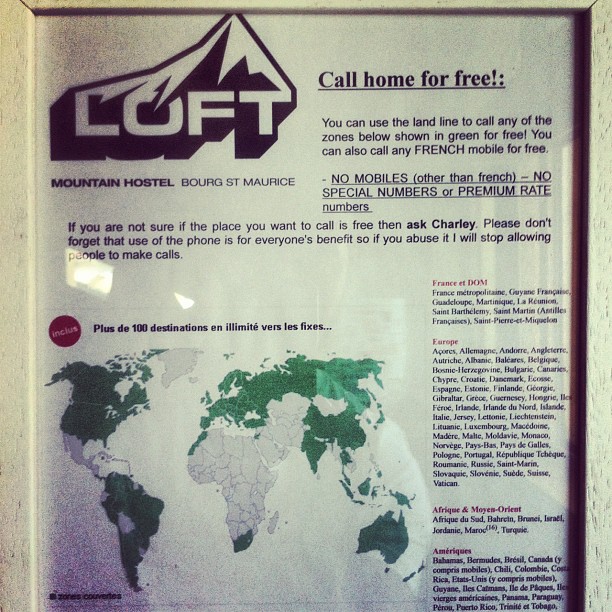 There's a nice sense of tranquility about the hostel and the village itself that makes you feel a world away from everything else.
In the end I did find plenty of things to did not involve anything remotely death defying (apart a little wobble while climbing up the slated gravel track on top of Aiguille Rouge at 3226 feet )
I also loved visiting Chez Felix in Vanoise National Park, a short drive away from the Loft Mountain Hostel. It's a great place to go hiking and offers some breathtaking views. After a good hike you head to Chez Feliz where you get the best crepes.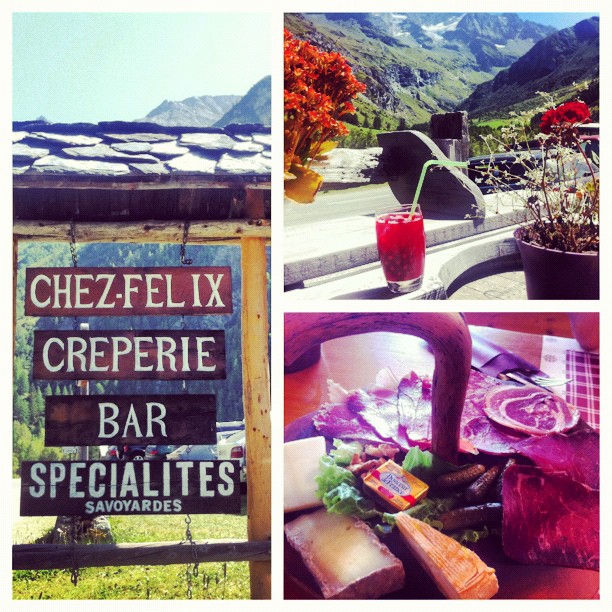 I drank their famous freshly pressed raspberry juice which was followed by a garden salad accompanied by a selection of jambon cru, saucisson , Reblochon and the amazing local Beaufort cheese.
Beaufort!
I am kind of mad about Beaufort cheese after my visit to the Loft. Really nutty sweet flavour but has real depth and taste. If you want to know more about more about the region's favourite cheese it's worth visiting the local cheese factory in Bourg where you can get a hands on view of how this delicious cheese is made and plenty of free sampling after.
The key thing I loved about my stay was just chilling out in the Loft and the village of Bourg with it's quaint narrow streets, patisseries , nice restaurants and weekend markets where you can buy an amazing array of local produce.
Also it's worth investing in a ski pass and hopping to the resorts of Les Arcs 1800 and 1950 where you can grab a few beers and also drink in the amazing views of Mont Blanc in the distance.
If you're missing out on the nightlife, Charley and Robin often pop upto Les Arcs 1800 on a Friday and Saturday evening where there is a few good bars and nightclubs.
When you've been travelling constantly on the road through Europe, it's great to find a place where you can just zone out for a few days.
Plus I guess Charley and Robin, being my own age, I felt very much at home , almost as if I was staying at a friends place.
To conclude…
A great home away from home.
If you are an adrenaline junkie, this is your hostel , summer or winter. Also in terms of relaxation, long walks and great gastronomy- it's a great option for a very chilled out shortbreak.
Definitely, recommend a stopover here in the summer while Interrailing plus in the winter if you're looking for a ski break on a tight budget, Les Arcs and Loft Mountain Hostel are the perfect choice.
Essentials
Prices for a bed in a 3, 4 or 5 bed dorm start at 28 euros. Charley encourages guests looking for short stays but there is option of booking for anything between a 1 week to 3 month stay.
Check the Loft Mountain Hostel for details.
For more about what range of activities  Les Arcs offers as a winter ski and summer resort, check out http://hiver.lesarcs.com and also have a look at http://www.bourgsaintmaurice.com for more things to do in Bourg
Best way to reach Bourg St Maurice is via Eurostar from London. You can reach your destination with a change in Paris, on to a Corail Lunéa train. Typical cost of a return ticket is £120 return.
Alternatively, fly to Geneva , Lyon or Grenoble airport with low-cost airline easyJet and then hop on the CoolBus who provide door to door transfers from all these airport.
Disclosure
My stay was sponsored by Loft Mountain Hostel and Savoie Mont Blanc Tourisme but the views represented here are entirely my own.
Big thank you to Celine Guillermin and also the Bourg St Maurice Tourism board for your kind support and help with organising my visit.