Like most Human Beings my thirty-five year old life has had its share of highs and lows.
Undoubtedly one of the highs has been the opportunity to live for five years in the city of cities-New York.
Here are my top tips for having a good time in New York covering all seasons without busting the bank.
1) New York in the Winter
New York dazzles in all seasons: there is no best time to visit.
Around Christmas, Fifth Avenue sparkles with window displays, the tree at Rockefeller Centre sparkles and my favorite thing to do is to watch the colorful skaters on the ice rink.
There are Christmas markets at multiple locations in the city, notably the ones at Bryant Park and Union Square.
I love drinking hot chocolate in a bowl with a huge marshmallow at the City Bakery to defrost frozen noses and toes.
Museum hopping is an ideal way to keep warm while being intellectually stimulated.
TOP SEASONAL BUDGET TIP: Remember to visit during pay as you wish hours: each of the museums has this option with the Metropolitan Museum having suggested entry AT ALL TIMES.
Treating yourself to a showing of the Nutcracker Ballet at the Lincoln Centre is also an unforgettable New York tradition.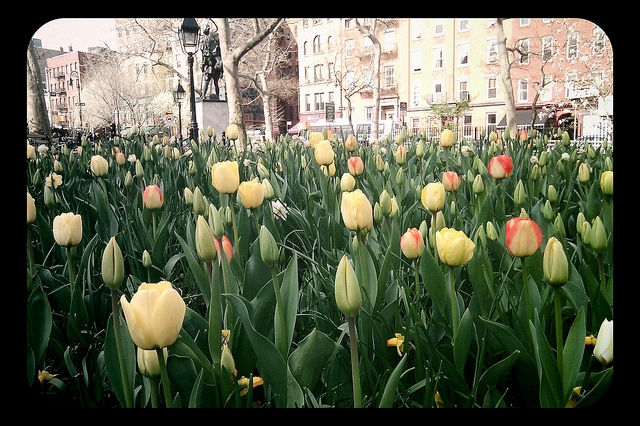 2) Spring in New York
Spring is the time that New Yorkers become one with the few expanses of nature that the city holds.
The New York Botanical Garden- the jewel of the Bronx is aflame with a riot of spring flowers. Daffodils, magnolia and cherry blossom make this trip a fragant memory.
TOP SEASONAL BUDGET TIP: Admission to the Botanical Garden grounds is free on Saturday mornings and Wednesdays.
Spring in New York is a runner's paradise: people are out and about in Central Park, along the East River and Hudson Riverside promenades. The water bodies in Central Park gently thaw and red little robins and sparrows are heard twirping again.
It's an ideal time to explore different parts of the city when temperatures are not extreme.
3) Summer in New York
Sun deprived New Yorkers go crazy on an average sun-drenched day: it's not unusual to see beach towels and bikini bods in nooks and corners of Central Park.
A wonderful day out is to pack a picnic hamper, a travel pillow, blanket and a good book, to seek the shade of a tall green tree and watch the world go buy.
TOP SEASONAL BUDGET TIP: There are a number of excellent free summer concerts at Summerstage, Central Park.
Summer is incomplete without a trip to one of the beaches along the Long Island Coastline.
A daytrip to Jones Beach or Long Beach is possible with the aid of the Long Island Railroad.
An overnight trip to Montauk or the Hamptons on the Hampton Jitney is also an ideal way to sample the Atlantic sea air and a cup of clam chowder.
4) Autumn in New York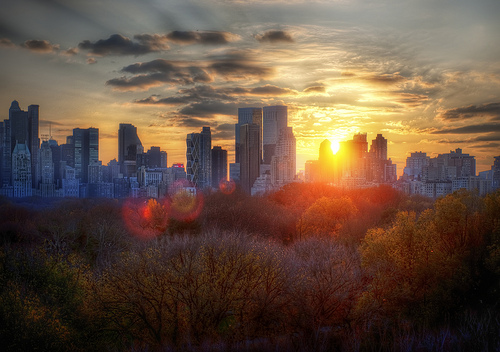 Fall is the most beautiful season in New York and the New England Region.
New York is the ideal base to travel north for a couple of days of leaf-peeping to either New Hampshire, Vermont, Connecticut and Massachusetts.
The Hudson River Valley, Bear Mountain State Park in New York are rampant with flaming fall colors.
Visit different Fall Festivals on Manhattan street corners, beat the summer crowds and walk the Brooklyn Bridge or see the Statue of Liberty on the free Staten Island Ferry.
TOP SEASONAL BUDGET TIP : The Metropolitan Opera also starts it's season during this time. If you book early cheaper tickets can be obtained otherwise standing room only tickets are available at discount prices the day of the performance.
Whilst it's possible to scrimp and save on many experiences on New York and still have a great time there are some things that are not worthwhile missing as they are once in a lifetime experiences.
MY TOP NEW YORK  TIP
In my opinion the most wonderful thing to do in New York is to climb to the top of a very tall building (The Empire State or the Top of the Rock) just before sunset and watch the sun go down over the Hudson River and watch very slowly Manhattan light up with a thousand glittering lights.
The serpentine sight of a gold trail of city lights along Fifth Avenue is a dizzying, breathtaking spectacle.